2016 in review: Of controversies, freaks, and madmen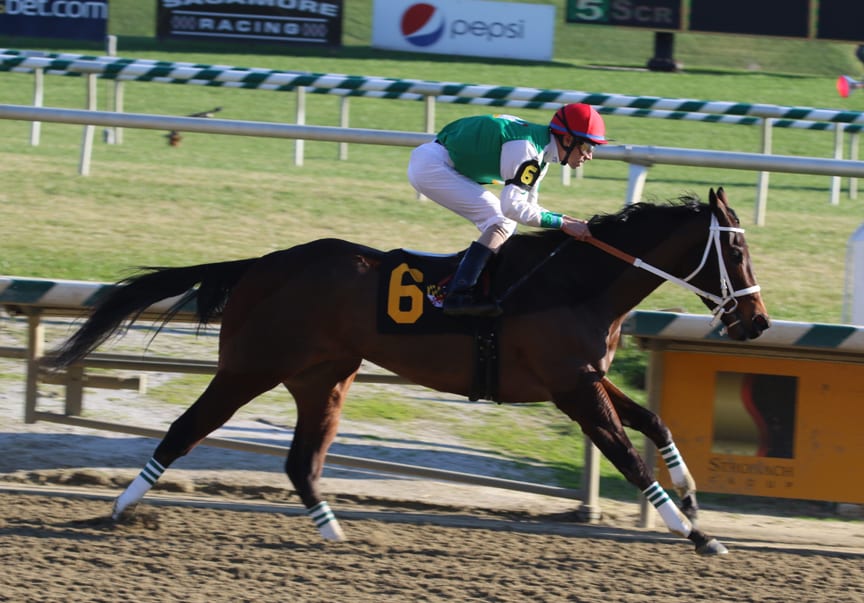 Cathryn Sophia burst on the scene, winning three graded stakes in 2016. Photo by Laurie Asseo.
Herewith, the first of our four-part Year in Review in Mid-Atlantic horse racing, a look by turns personal, quirky and bemused at the year that was.
by Frank Vespe
So, that was the year that was: a full serving's worth of happy and sad, smart and stupid, funny and quirky and odd, in the world of mid-Atlantic horse racing and breeding.
Maybe it was fitting: with 2015 having ended with the Corvus non-disqualification controversy, maybe it made sense that '16 would begin with issues of its own.
JANUARY
In mid-January, two riders joined the "Jocks behaving badly" department.  Jockeys Nik Juarez and Xavier Perez both were suspended in January after running afoul of Maryland's drug-testing regime.  Both were in a race in which all jockeys were ordered to submit to a drug test; Perez's came back with the presence of amphetamines, while Juarez disappeared before submitting to the test.
Both were subsequently reinstated after passing follow-up tests.
In what turned out to be a recurring theme for the year, although Parx Racing was dark for most of January, trainer Ramon Preciado still got dinged in January for two clenbuterol positives at that track, both having occurred in the latter part of 2015.
In the "fighting a battle already lost" department, the Old Dominion Thoroughbred Horsemen's Association, a rump Virginia horsemen's group, issued an open letter defending Colonial Downs's owner, Jeff Jacobs, and assailing the state's horsemen, in the dispute that led to the closure of Colonial and the rewriting of the state's horse racing law.
"All I can say is, King Charles II must be rolling over in his grave right now," wrote ODTHA president Tim Valente.  Wait, what?
January wasn't all bad news, though.
It began on a high note, when one-time mid-level claiming horse Page McKenney won the Native Dancer Stakes at Laurel Park, pushing his career earnings past the $1 million mark.
Page McKenney is as Midlantic as he can be: a Pennsylvania-bred based in trainer Mary Eppler's Pimlico barn.  "I know, isn't that cool?" asked Eppler after the race.
But she wasn't quite counting the cool million yet, because he hadn't earned all of it in her tutelage.  The final bump would come the following month.
Triple Crown nominations came out in late January, with 16 horses bred in the region nominated.  Of those, two Pennsylvania-breds – Mor Spirit and Tom's Ready – were in the starting gate on the first Saturday in May.  Mor Spirit finished tenth, while Tom's Ready was twelfth.
THEN IN FEBRUARY…
All of which which leads us to February, a month in which Ramon Preciado didn't receive a single clenbuterol positive.  So there's that.
A couple of horses hit new highs in the month.  It started with the coming-out party of Maryland-bred Cathryn Sophia.  (Technically, actually, January ended with her coming out, but our story on it was February 1, so…)
The three-year-old daughter of Street Boss thrashed her rivals in the Grade 2 Forward Gal at Gulfstream Park, recording her first graded stakes victory.  Bred by Robert Manfuso, Cathryn Sophia was trained by John Servis for Cash Is King LLC.
Of a minor in-race glitch – Cathryn Sophia finished up on her left lead – Servis said, "I asked [jockey Joel Rosario] about that, and he said she was just getting bored."
Well.
At least we weren't getting bored, however.
A couple weeks later, Page McKenney struck again, winning the biggest race of his career when he surged late to win the Grade 3 General George Stakes by a head.  It was Page's 16th career win – in 43 starts – and marked his 23rd consecutive in-the-money finish.
"It's like Little Bold John, 30 years ago," said Mike LaRochelle, Eppler's assistant.  "It's the same thing.  They're freaks.  They only come along once a generation."
In Maryland controversy flared mid-month when residents of the neighborhoods near the Timonium fairgrounds rather abruptly decided that an off-track betting facility proposed for the racetrack grandstand there was, you know, not in keeping with… something.  Or something else.
For one thing, the anticipated 100-150 patrons projected daily, neighbors argued, would snarl traffic in the area.  The facility is located along York Road, which handles more than 33,000 cars per day – 300 times the projected OTB attendance.
Oh, and also, the OTB would lead inevitably to a full-fledged casino at the Fairgrounds (in violation of local and state law, but never mind).  Eventually – after heated negotiation, various bills introduced in the state legislature and county council, a packed-house hearing on a frigid night, and two successive meetings in which the state Racing Commission declined to take action, it finally approved the OTB late in the month.
And all that outrage?  Crickets…
Eric Camacho joined the jocks-behaving-badly crew, earning a suspension for the presence of marijuana in his system in February. He also was later reinstated after a clean test.
There was tragedy in February, too.  Racing stalwarts Harry Meyerhoff, who owned Spectacular Bid; trainers Gretchen Mobberley and Butch Cave; and breeder Nellie Mae Cox all passed away during the coldest month.  And young rider Fray Martinez – newly married and expecting his first child – was diagnosed with the acute myeloid leukemia that would take his life in April.
AND IN MARCH…
Things were looking up in March.  Maybe it was the unexpected spring-like weather that arrived early in the month.  Or maybe it was simply that after the sad news of February, there was no other direction to go.
In the "rebirth" area, mad genius trainer Michael Dickinson – 66 years old and eight years removed from training horses – returned to the game, his operation based at his spectacular Tapeta Farm near North East, MD.  His comeback, based on the idea that "I've got 26 levers I've got to pull that the guys at the racetrack don't," began in early April when Tide Is High whizzed to the early lead and never looked back en route to winning a Laurel Park allowance race.
Dickinson reacted exactly as you might expect a mad genius to.
"I'm not the slightest bit pleased," he said after the win.  "The boys have done a really good job settling her at home.  But when I got her in the paddock, I loaded [jockey] Trevor [McCarthy] on a dynamite keg, and I wanted to ride him on a nice sensible horse."
Go, team.
Other folks were happier.
Lady Sabelia, winner of the 2015 edition of the Grade 2 Barbara Fritchie at Laurel Park and third in the '16 version (behind Dancing House), returned to action to win the Primonetta Stakes at Laurel Park by a half-length, much to the relief of trainer Robin Graham, who'd "nearly had a fit" a week earlier when, during a morning work, her barn's star took off in hot pursuit of another worker half a furlong ahead.
As it happened, the win would be the final start of Lady Sabelia's distinguished career, which ended in April after she fractured the inside sesamoid of her left front ankle during a morning work, necessitating the end of her racing career.  The six-year-old finished with 11 wins from 20 career starts and earnings in excess of $740,000 for owner-breeder Mrs. Frank P. Wright.
Six is old these days in horse racing, but not to Ben's Cat.  The popular Maryland-bred turned 10 on January 1 and returned to training at owner-breeder-trainer King T. Leatherbury's Laurel Park barn in March.  Leatherbury – not known for his free-spending ways – made sure to mention the free help he received with his big horse.
"I got my people who watch him, and I have other trainers tell me how good he's doing," the Hall of Famer said.  "I get their opinion and it doesn't cost me a penny."
Oh, and no rulings came down against Ramon Preciado in March, which, of course, went out like a lamb.