Trainer Eppler set to become first woman to win Laurel meet title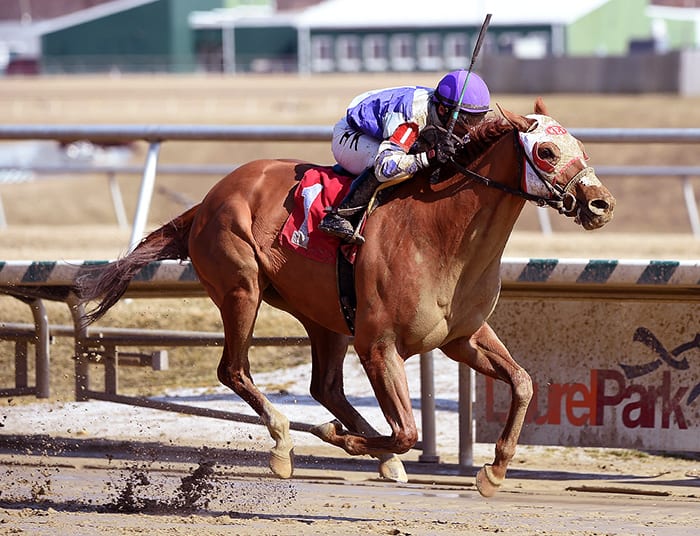 Eppler's star, Page McKenney. Photo by The Racing Biz.
From a Maryland Jockey Club release
Mary Eppler is days away from possibly making history in Maryland.
The longtime trainer, based at historic Pimlico Race Course, is approaching a career season in wins. She's already eclipsed her personal best in purse earnings.
But Eppler heads into the final five days of Laurel Park's season with a meet-leading 21 wins, six more than Hamilton Smith and seven ahead of Gary Capuano and Hugh McMahon – all of them former Maryland meet champions.
If Eppler holds onto the lead through Dec. 31, she would become the first woman to capture the training title at Laurel. The last woman to win a training title in Maryland was Karen Patty, working for owners Emilio and John Alecci, during the 1992 Pimlico fall meet.
"Gosh, I haven't even thought about it. I didn't even know that I was in the lead until they told me," Eppler, 62, said. "It would be wonderful, and it would be great for the barn because my help has been great. But, I just take every day and every race one step at a time because anything can happen in horse racing. You have your ups and your downs. It's a tough game."
Last weekend, Eppler won with each of her only two starters: 6-year-old New Jersey-bred mare Read All About It on Dec. 16 and 3-year-old Maryland-bred gelding Raven Rush on Dec. 18. Eppler also owns both horses.
Eppler has four horses entered on Friday's nine-race program: Northern Prancer in Race 4, Visual Effect in Race 7, Enough is Enough in featured Race 8, a $42,000 entry-level allowance at about 1 1/16 miles for 3-year-olds and up, and Startdwithawhisper in Race 9.
"We've got [five] days left and I'm sure Hammy and Gary are going to have a lot of horses to run," Eppler said. "You can only do so much. If the races go, they go and if they don't, they don't. You have to stick with the same game plan."
Through Dec. 19, Eppler's 46 wins are just two away from matching a career high reached in 2000. Her $1,680,898 in purse earnings passed a previous best of $1,622,430 from 2015.
She was third in purses ($615,401) and fifth in wins (15) at Laurel's winter-spring meet to open the year, and finished in the top 10 in purses earned at its summer stand. Among her stakes wins this year are the Jameela, Politely and Willa On the Move with Lovable Lady, and the Claiming Crown Iron Horse Preview with Double Whammy.
"Back in 2000, and 2007-2008-2009, I really thought I'd be out of the horse business. It was just bad," Eppler said. "If you look at what The Stronach Group has done, and the slots, it has really helped improve Maryland racing."
Eppler said she got her love of horses from her grandfather, an owner and trainer who passed away when she was just 8 years old. Though she graduated from Loyola College with an accounting degree and worked as an actuary analyst for medical insurance company Blue Cross Blue Shield into her mid-20s, the racing bug never left her.
She took a job with the late Alfred G. Vanderbilt at Sagamore Farm, breaking and hot-walking horses, and later worked for late Hall of Fame trainer Grover 'Bud' Delp before going out on her own. Eppler won her first race in 1980 with a Maryland-bred son of Jet Traffic named Jet to Victory.
"I just had one little horse that I won two races with," Eppler said. "I liked working for Delp. He taught me to just listen to the horse and what he's telling you."
Among Eppler's 759 lifetime victories are four graded stakes including the Futurity (G1) with Vanderbilt-owned Traitor and Selima (G3) with Raise the Top in 1996, and 2002 Gallorette (G3) with Quidnaskra.
Her most recent graded win came with Page McKenney in the General George (G3) Feb. 15 at Laurel. Claimed for $16,000 in July 2013, the 6-year-old gelding has gone on to earn more than $1.4 million in purse money and finish in the top three in 28 of 30 starts for Eppler and owners Adam Stable and Jalin Stable with 15 wins, nine of them stakes.
In addition to the General George, Page McKenney has finished second or third in four other graded stakes. He hasn't raced since his runner-up effort in the Charles Town Classic (G2) April 23, having his year ended prematurely with a minor tendon injury discovered the morning of the Pimlico Special (G3) May 20.
After getting time off to rest and rehabilitate, Page McKenney returned to Eppler's barn in October and has had five published works since mid-November, most recently going five furlongs in 1:05.60 on Dec. 11.
"I would imagine he might run at the end of January," Eppler said. "He's doing good, very good. It doesn't matter what time of year it is, he likes to run."