Family connections mean "everything" in Laurel Park stakes wins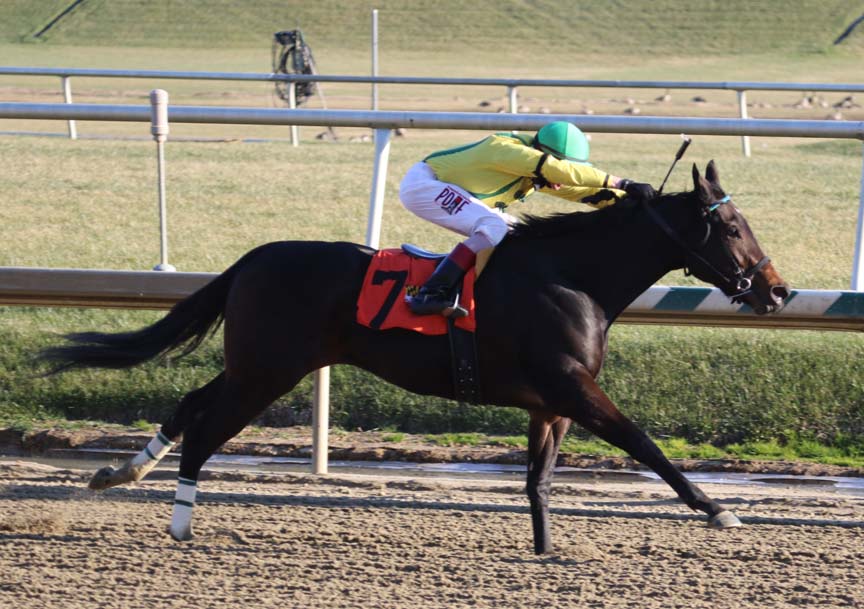 Crabcakes. Photo by Laurie Asseo.
by Frank Vespe
For one winning owner in Saturday's state-bred stakes at Laurel Park, her connections span the equine generations of a female family that's been good to her human family.
For another, the connection is through a single mare and the stakes winners she's produced.
And for a third, the connection is through the sire, rather than the dam.
In all three cases, the winners emphasized that the breeding game is one of gut and feel and patience and connections not always apparent to the handicapper's eye.
"I've always liked her," said trainer Bernie Houghton of his charge Crabcakes, who surged to victory in the $100,000 Maryland Juvenile Filly Championship.
Liked her enough that — after her debut was delayed when high winds caused the cancellation of Laurel Park's November 20 card — he told rider Angel Rodriguez prior to her actual debut, a week ago at Penn National, "When you make the lead, make sure you slow her down a little bit because I want to run her back in a week if she wins."
That said, when Houghton said "always" he may not have meant to restrict that to Crabcakes' time in his barn.  Crabcakes, a daughter of Great Notion bred and owned by his Aunt Binnie's Buckingham Farm outfit, is the latest in a long line of good horses produced from that operation on Maryland's Eastern Shore.
In fact, she's the latest in a direct line; her lineage traces back through her dam, Buckingham-bred Aunt Elaine, to granddam Annie Cake, a graded stakes winner bred by Binnie Houghton's father Anderson Fowler and raced in the colors of Binnie's mother, making Crabcakes just as Maryland as her namesake dish and just as much a part of the Houghton equine story as she could possibly be.
The same's not quite as true of Just Jack, the dominant winner of the day's seventh, the first running of the Howard M. Bender Memorial Stakes.  But he's part of a pretty good story — and a pretty strong connection — in his own right.
Also a son of Great Notion, Just Jack, a homebred for veterinarian Dr. Michael Harrison, is a full brother to another top Harrison runner of recent vintage, Talk Show Man.  The Hamilton Smith trainee romped home to a two-length score in 1:09.50 for six furlongs, one of two stakes scores on the day for Smith and jockey Alex Cintron.
Though Just Jack's two prior races had been long on the turf, Harrison said they'd always had eyes on this dirt sprint.
"The race was coming up because it was the opportunity to run a Maryland-bred or Maryland-sired horse at a higher level because we think he's in that level," Harrison explained.
And now, like big brother, he's proved it.  It was the first stakes win of Just Jack's career, just one fewer than Talk Show Man has.
As for Talk Show Man, the earner of more than $300,000 is slated to return to Smith's barn next week, Harrison said, with an eye towards a late winter or early spring return.
"We're going to simply let him tell us as we go along with his return," Harrison said.  "He's such a great horse."
Another horse from the Smith barn who looks like he may live up to similar description is the Kathleen Willier-owned Greatbullsoffire.  The Bullsbay colt decimated the field in a flashy score in the Maryland Juvenile Futurity, exploding through the lane to win by six lengths in 1:22.85 for seven furlongs.
It was the horse's fourth win, third in stakes company, in six outings and pushed his earnings past the $190,000 mark.  Willier paid $50,000 to purchase him at the Fasig-Tipton Eastern Fall Yearlings Sale last October, for a very simple reason.
"A few years back we bought a filly at the Timonium sale named Miss Bullistic," she said.  "She was by Bullsbay. This colt is by Bullsbay.  That's what made me buy him: Miss Bullistic was so nice, tried so hard, and was such a runner."
Miss Bullistic won two stakes and over $180,000 in her career, numbers that Greatbullsoffire, no longer just Willier's "other Bullsbay," has already surpassed.
Still, no matter the connection — whether spanning the equine generations or triggered by a single good horse by a single $3,000 sire — it's safe to say that Harrison and Willier would likely echo Binnie Houghton's one-word answer when asked what today's stakes win meant to her.
"Everything," she said simply.