Unaquoi, Scottish Denis meet again in Casey Memorial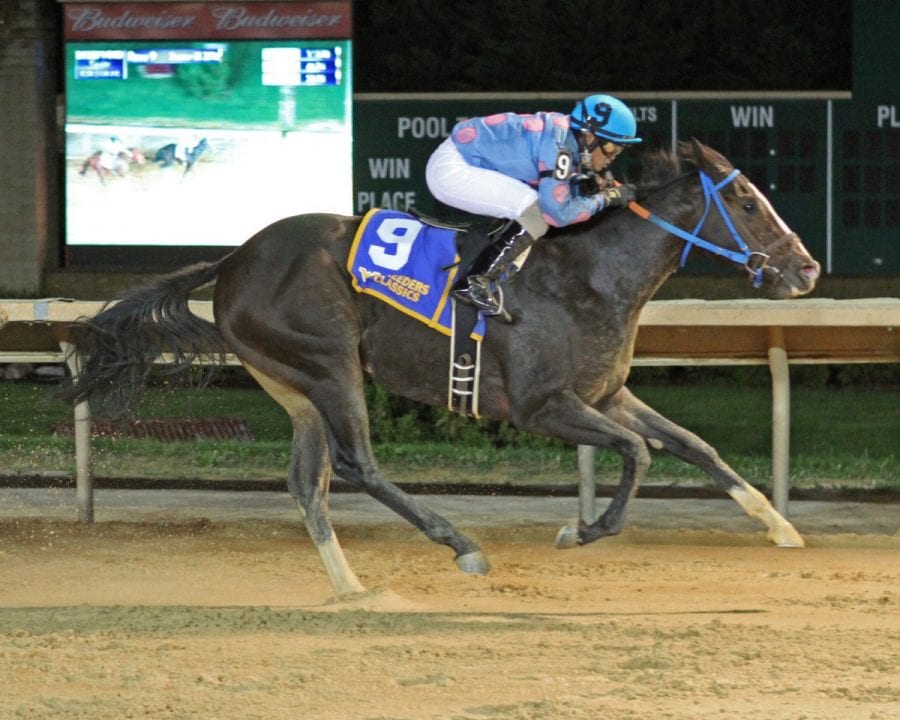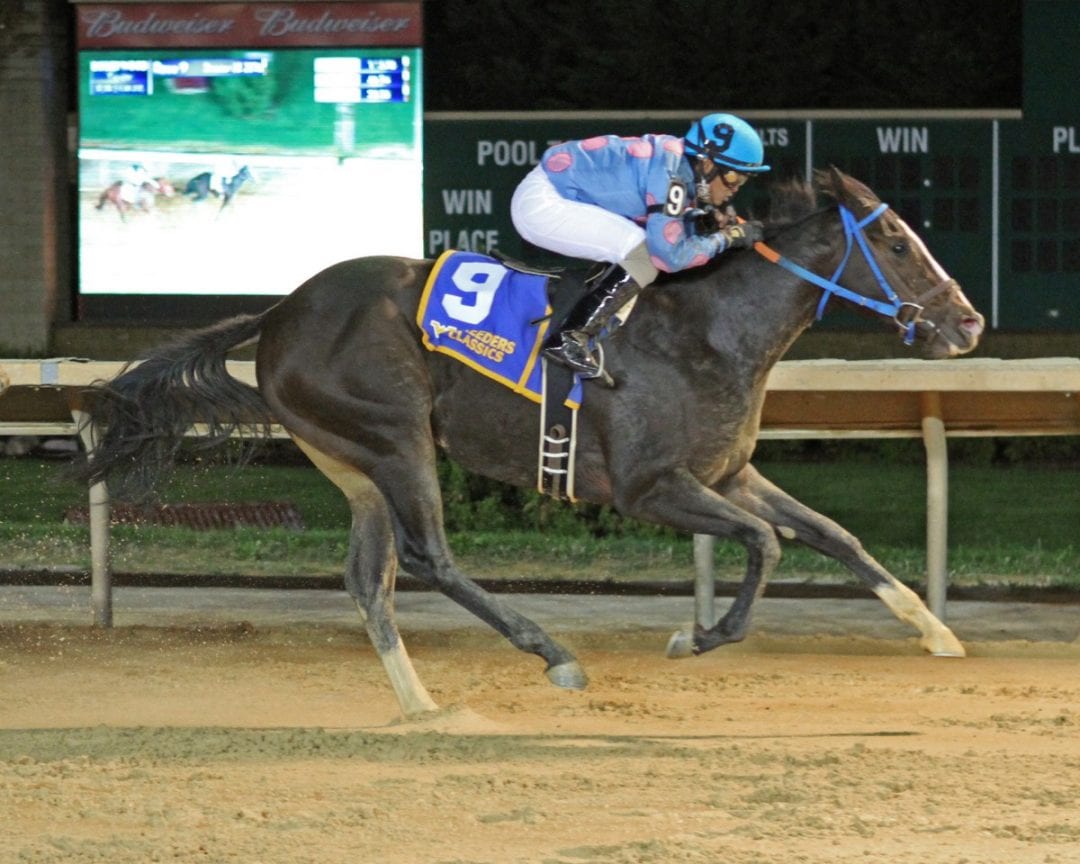 Scottish Denis won the WVBC Triple Crown Nutrition. Photo by Coady Photography.
by Frank Vespe
It may not be a full-blown rivalry just yet.  But Saturday evening's Eleanor Casey Memorial Stakes will bring Unaquoi and Scottish Denis together for the third time in their young careers, and the winner of this contest will go a long way towards securing divisional honors among the juvenile filly set at Charles Town.
Unaquoi, trained by Ollie Figgins, III for Ray Pennington, III, drew first blood when, on the heels of her maiden score, she earned a mild upset by posting a front-running win in the 4 1/2 furlong Rachel's Turn Stakes in September.  Scottish Denis checked in an even fourth that day.
Three weeks later, however, Scottish Denis — who'd failed as the 2-5 favorite in the Rachel's Turn — wore down her rival to win the $75,000, 6 1/2 furlong West Virginia Triple Crown Nutrition Breeders Classic and improve her record to two wins from three starts.  Unaquoi, who led early in this one, finished third.
In the intervening two months, Unaquoi made a trip to Laurel Park to win a grassy allowance on November 5.  She now has a record of 6-3-1-1 and earnings of more than $80,000.
Scottish Denis, meanwhile, has not raced since Breeders Classics night but has posted three solid works in the meantime.  Trained by James W. Casey — the widower of the race's namesake — Scottish Denis will have regular pilot Antonio Lopez in the irons and will be hoping that the seven-furlong distance of this event again gives her the advantage.
Yet those two won't be the only contenders.  In fact, the top six from the Triple Crown Nutrition — and the top four from the Rachel's Turn — are all scheduled to be on hand.
Of that number, the most prominent pair are Kathleen Elizabeth and Lime Away.  The former, trained by Gerald Coker, was third in the Rachel's Turn and then a rallying second in the Triple Crown Nutrition.  She'll have Christian Hiraldo in the irons.  The latter, trained by James Locklear, was second in the Rachel's Turn but only an even fourth in the Triple Crown Nutrition; Andre Ramgeet will ride.
The race's other prime contender looks to be Ronney Brown trainee Lady Bearoness.  The daughter of Bullsbay, who will be stretching out to two turns for the first time, has taken her first two starts impressively, most recently winning an allowance over House of Love and Kathleen Elizabeth, both also scheduled to face the starter here.  Jan Batista will ride this runner, whose breeding suggests the added ground should not be a problem.
Post time for the Eleanor Casey Memorial Stakes is 9:49.
[su_box title="
ELEANOR CASEY MEMORIAL STAKES ENTRIES
" style="glass"]
Unaquoi (5-2) — Kevin Gomez/Ollie Figgins, III
Lady Bearoness (3-1) — Jan Batista/Ronney Brown
Honeymoon Cruise (10-1) — Arnaldo Bocachica/Jeff Runco
Lime Away (15-1) — Andre Ramgeet/James Locklear
Annies Alliance (20-1) — Wilfredo Santiago/Mark Sell
Kathleen Elizabeth (10-1) — Christian Hiraldo/Gerald Coker
House of Love (20-1) — Gerald Almodovar/John Dillow
Fancy and Fast (12-1) — Grant Whitacre/John A. Casey
Scottish Denis (7-2) — Antonio Lopez/James W. Casey
Lies and Scandals (8-1) — Yamil Rosario/John McKee
(ae) Insidious Cat (30-1) — Jan Batista/Lyn Venham
[/su_box]