Irace seeking "a shot" for Monmouth Park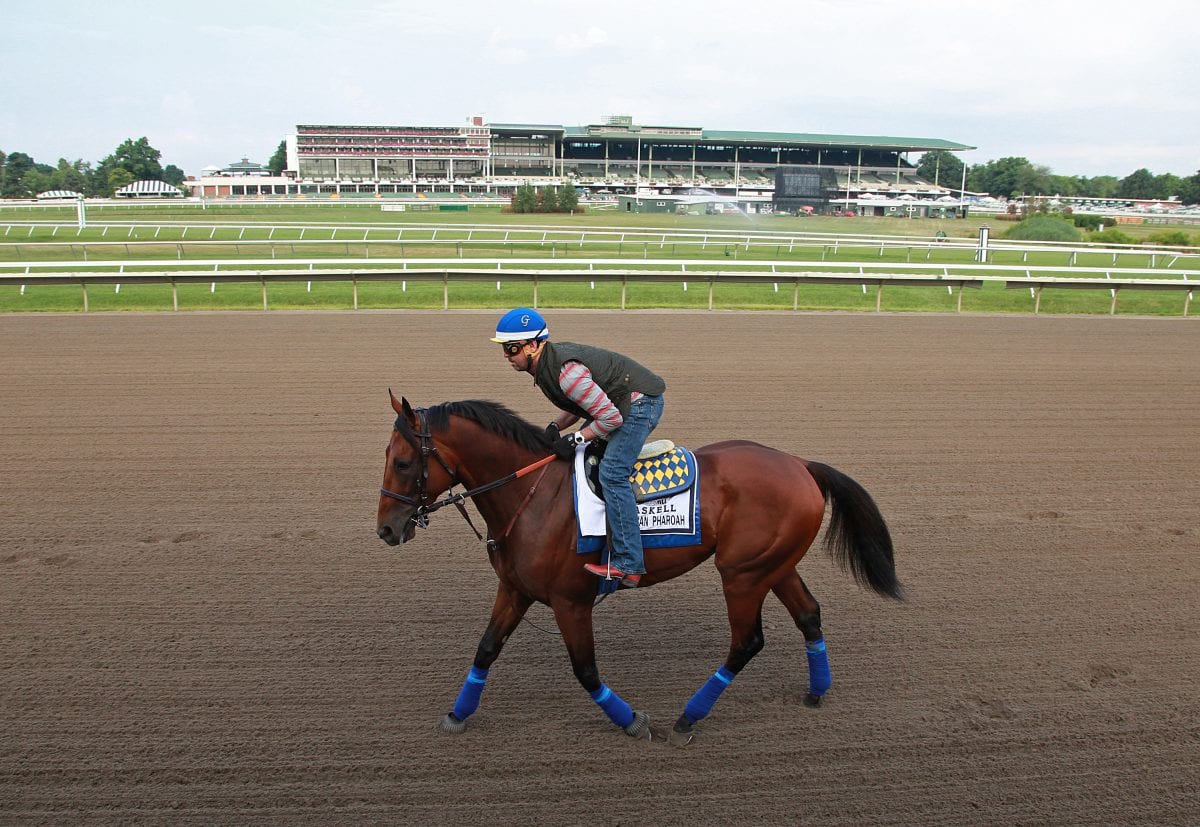 American Pharoah at Monmouth Park. Photo by Bill Denver/EQUI-PHOTO.

by Linda Dougherty
In this day and age, it is hard to find a legislator who not only understands the sport of thoroughbred racing, but is also an enthusiastic fan.
Enter Joseph Irace, the Borough Council President of Oceanport, N. J., who was recently re-elected to his council seat.  He's keenly aware of the dilemma that Monmouth Park and other New Jersey racetracks face because of a lack of alternative revenue from casino gaming, perhaps more so than most Garden State legislators because he has been a fan since he was young.
"I love horse racing and the animals," said Irace, who lives with his wife and two daughters within walking distance of Monmouth Park. "My godfather was a horse racing guy. He took me to Belmont Park all the time, and I used to go to Meadowlands during its heyday. We'd go to Monmouth Park once a year for a big get-together and picnic. I used to love to go there – it was such a cool place to hang out and barbecue. And now that I live so close, I go all the time during the season. I've gotten to know the trainers, owners and grooms. The first time I met Joe Bravo and Bob Baffert I was starstruck. I love going to the Monmouth track kitchen – and my relaxation is to go on the backstretch in the early morning and watch the workouts."
Perhaps the biggest thrill Irace has experienced as a thoroughbred racing aficionado is having a horse named after him.
In 2012, New Jersey-based Pot O Gold Stable named a homebred son of Lite the Fuse "Irace," to honor Joseph Irace's involvement with Garden State racing.
"It's an incredible thrill to have a horse named after you," said Irace. "I took my father to see him right after he was foaled. When Greg Sacco trained him (in the early part of his career), he let us visit him any time. I used to get shout-outs on TVG when he ran. He finally broke his maiden at Penn National in early August."
Irace, a Republican, is well aware that without a level playing field with tracks in neighboring states, Monmouth Park and New Jersey's racing and breeding industries won't survive. To that end, he's worked with state officials as well as with those at Monmouth Park to try and find solutions and ensure the track's future.
"Monmouth Park is above and beyond the largest taxpayer in Oceanport, but it's so much more," he said. "It would be devastating without Monmouth – not only from a tax perspective, but because of the jobs it creates and the open space it helps maintain in the state."
Irace and Oceanport Mayor Jay Coffey, a Democrat, had been outspoken in their opposition to the recently-defeated state referendum, which proposed the building of two casinos, one at the Meadowlands and one in Jersey City. Both feel the best chance to get something approved by voters, the casino industry, and South Jersey lawmakers would be to seek video lottery terminals at racetracks.
"The referendum was doomed to fail," said Irace. "The language and specifics were unclear. If it had been written the right way, just asking for VLTs at the racetracks, it could have passed. The tracks are already set up for them. But it called for building $4 billion destination sites, which the Atlantic City people saw as direct competition.
"Gaming has expanded in the mid-Atlantic region, whether Atlantic City likes it or not," he said. "You don't have to travel far to find casino gambling in Pennsylvania, New York, and Delaware."
Two politicians who have been mentioned as potential successors for Gov. Chris Christie, whose term ends in a year, are already sympathetic to the plight of horse racing – Republican Kim Guadagno, currently Lt. Governor, and Democrat Philip Murphy, a former Goldman Sachs executive and U.S. Ambassador to Germany.
Guadagno lives in Monmouth Beach, about four miles north of Monmouth Park, and is well aware of its importance to the local economy. Murphy hails from Middletown in Monmouth County, also just north of the track, and he also is expected to be favorable for horse racing.
Christie has not been a supporter, once stating he'd like to shut the sport down. When he appeared in the Monmouth winner's circle to present the Haskell trophy to American Pharoah's connections in 2015, he was booed long and loudly by many of the more than 60,000 in attendance.
While Monmouth Park is coming off a disappointing season, with double-digit decreases in on-track and total handle, Irace feels there is hope. And with such an enthusiastic cheerleader in its corner, who could argue?
"Monmouth Park is an important part of our town, and I would love for it to have a shot," said Irace.