Claimbox: Midlantic claiming up in October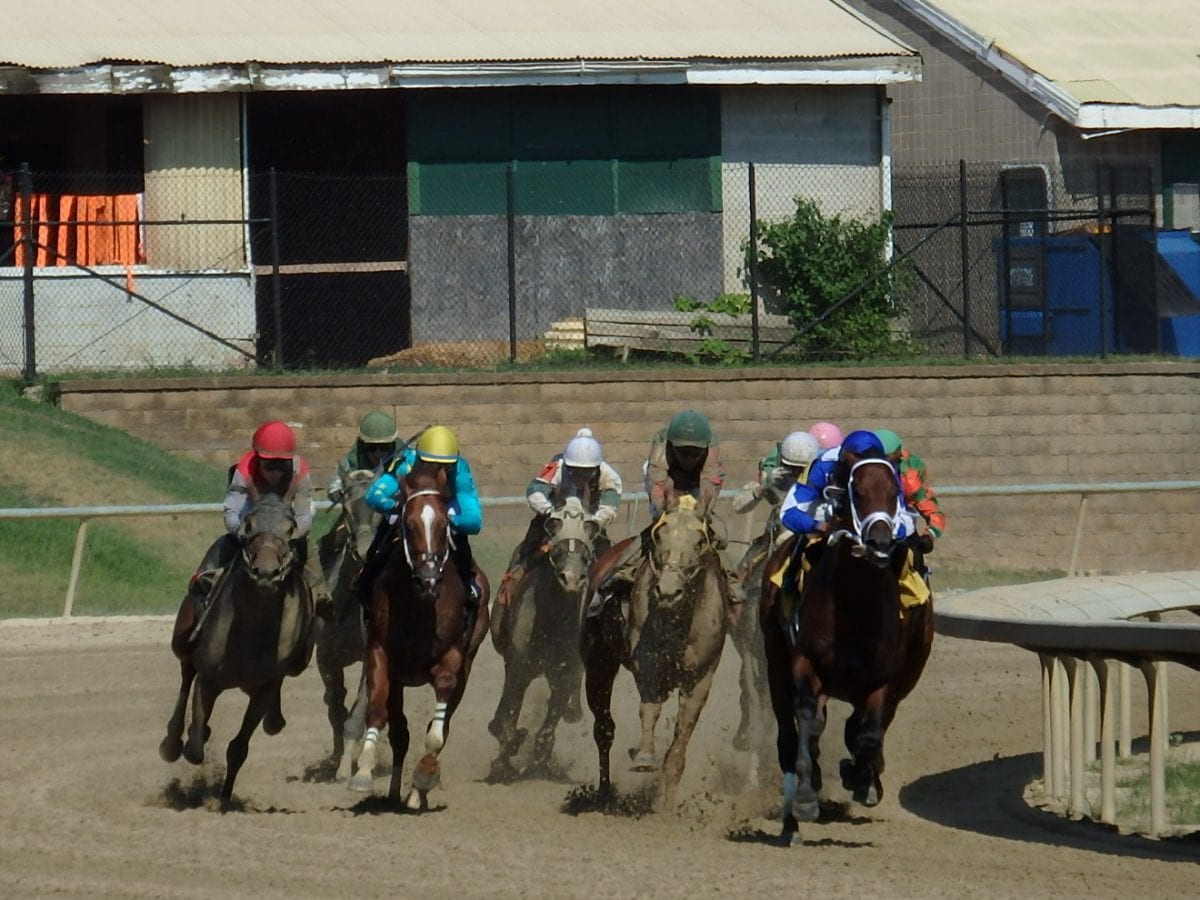 Photo by The Racing Biz.
by Frank Vespe
Claiming activity rose in October versus 2015 in the mid-Atlantic region, according to a review of Equibase statistics.  But for the year to date, it continues to lag well behind the 2015 pace.
For the year through October 31, 2016, 1,836 horses had change hands via the claimbox regionwide.  That was more than 16.3 percent below the 2,194 horses claimed to the same point in 2015.  With the average also off slightly, to $10,388, that left the total value of claims for the year down 18.2 percent so far this year.  In all, the value of horses claimed in 2016 is just below $19.1 million.
The Maryland tracks — Laurel, Pimlico, and Timonium — taken together have seen claiming activity rise slightly.  The 448 horses claimed through month's end at those tracks was 1.8 percent above last year's total to date.  With the average value of a claim in Maryland up by nearly $2,000, the total value of claimed horses has risen by 18 percent, to more than $5.6 million.
Elsewhere, however, the picture is far less rosy.  Claiming activity at New Jersey's Monmouth Park and the Meadowlands was off by 38 percent in 2016 versus 2015.  At Charles Town, it down nearly 32 percent this year.  Parx Racing's claiming activity is off by 19 percent, while Delaware saw a 13 percent drop in 2016 and Penn National's had declined by nearly nine percent.
Fueled almost entirely by a jump in claiming activity at Parx Racing last month, the region did see a boost in October claiming activity versus a year ago.  The track — which labored under an equine herpesvirus quarantine during most of October 2015 — saw the number of horses claimed rise from 77 in '15 to 136 this October.  That helped overall claiming activity in the region rise by 14 percent, to 237 horses, and the gross value of those claims climb by 31 percent, to more than $2.7 million.
Parx led the region in horses claimed and also the value of those claims ($1,582,500).  Laurel Park, with 40 claims, led the way in average value, its $577,000 in claims working out to an average value of $14,425.  Penn National saw 26 horses claimed in the month, while Delaware Park had 20.  The Meadowlands and Charles Town, with nine and six claims, respectively, lagged the region.
The Claimbox report covers Laurel Park, Pimlico, Timonium, Charles Town, Delaware Park, Parx Racing, Penn National, Monmouth Park, and the Meadowlands.
CLAIMING TRAINERS FOR THE MONTH
Who's claiming horses
Michael Pino — 11 claims for $174,500.00
Mario Serey, Jr. — 9 for $182,500.00
Jamie Ness — 8 for $70,000.00
Patricia Farro — 8 for $95,000.00
Scott Lake — 7 for $58,500.00
Tim Kreiser — 7 for $90,000.00
Kimberly Graci — 6 for $30,000.00
Ray Tracy, Jr. — 5 for $50,000.00
Kieron Magee — 5 for $76,500.00
Six tied with 4 each
Overall, 121 trainers claimed at least one horse.
Who's losing horses
Marcos Zulueta —  9 lost for $72,500.00
Jamie Ness — 8 lost for $81,250.00
Mario Serey, Jr. — 8 lost for $60,000.00
Kieron Magee — 6 lost for $50,000.00
Michael Pino — 6 lost for $70,000.00
Keith Nations — 6 lost for $76,000.00
McLean Robertson — 5 lost for $60,000.00
Patricia Farro — 5 lost for $37,500.00
4 tied with four horses lost
13 tied with three horses lost
Overall, 135 trainers had at least one horse claimed away from them.
CLAIMING TRAINERS YEAR-TO-DATE
| RANK | TRAINER | HORSES CLAIMED | VALUE OF CLAIMS | AVG. CLAIM PRICE |
| --- | --- | --- | --- | --- |
| 1 | Magee, Kieron | 67 | $826,750.00 | $12,339.55 |
| 2 | Ness, Jamie | 58 | $700,250.00 | $12,073.28 |
| 3 | Lake, Scott A. | 50 | $558,500.00 | $11,170.00 |
| 4 | Farro, Patricia | 49 | $516,750.00 | $10,545.92 |
| 5 | Serey, Jr., Mario | 42 | $570,500.00 | $13,583.33 |
| 6 | Pino, Michael V. | 39 | $443,500.00 | $11,371.79 |
| 7 | Potts, Wayne | 38 | $276,500.00 | $7,276.32 |
| 8 | McMahon, Hugh I. | 37 | $478,000.00 | $12,918.92 |
| 9 | Zulueta, Marcos | 36 | $497,000.00 | $13,805.56 |
| 10 | Kreiser, Timothy C. | 33 | $380,000.00 | $11,515.15 |
| 11 | Graci, Kimberly A | 25 | $145,250.00 | $5,810.00 |
| 12 | Kulp, Brandon L. | 25 | $251,000.00 | $10,040.00 |
| 13 | Stickler, Jr., Lester J. | 20 | $167,000.00 | $8,350.00 |
| 14 | Velazquez, Daniel | 18 | $202,500.00 | $11,250.00 |
| 15 | Vazquez, Juan C. | 17 | $162,000.00 | $9,529.41 |
| 16 | Gonzalez, Claudio A. | 17 | $226,000.00 | $13,294.12 |
| 17 | Brown, Ronney W. | 17 | $121,750.00 | $7,161.76 |
| 18 | Penaloza, Miguel | 17 | $194,500.00 | $11,441.18 |
| 19 | McClellan, Erin C. | 16 | $110,500.00 | $6,906.25 |
| 20 | Stites, Flint W. | 16 | $140,250.00 | $8,765.63 |
| 21 | Perri, Gina | 16 | $88,500.00 | $5,531.25 |
| 22 | Demasi, Kathleen A. | 16 | $169,000.00 | $10,562.50 |
| 23 | Guerrero, J. Guadalupe | 15 | $145,500.00 | $9,700.00 |
| 24 | Wilhelm-Saldana, Jennie | 15 | $131,000.00 | $8,733.33 |
| 25 | Brooks, Gerald E. | 15 | $187,500.00 | $12,500.00 |
| 26 | Navarro, Jorge | 14 | $189,500.00 | $13,535.71 |
| 27 | Kantarmaci, Mertkan | 14 | $90,000.00 | $6,428.57 |
| 28 | Brown, Jr., Howard R. | 14 | $141,000.00 | $10,071.43 |
| 29 | Sillaman, Richard P. | 13 | $121,500.00 | $9,346.15 |
| 30 | Sacco, Gregory D. | 12 | $132,250.00 | $11,020.83 |
| 31 | Trombetta, Michael J. | 11 | $126,500.00 | $11,500.00 |
| 32 | Salvaggio, Mark V. | 11 | $121,000.00 | $11,000.00 |
| 33 | Mosco, Robert | 11 | $90,250.00 | $8,204.55 |
| 34 | Iannotti, IV, Thomas | 11 | $65,500.00 | $5,954.55 |
| 35 | Joy, Kevin J. | 11 | $82,000.00 | $7,454.55 |
| 36 | Eppler, Mary E. | 11 | $179,500.00 | $16,318.18 |
| 37 | Mick, Stephen R. | 10 | $74,250.00 | $7,425.00 |
| 38 | Gorham, Michael E. | 10 | $115,500.00 | $11,550.00 |
| 39 | Capuano, Dale | 10 | $186,250.00 | $18,625.00 |
| 40 | Nations, Keith | 10 | $183,750.00 | $18,375.00 |
| 41 | Rojas, Eduardo E. | 10 | $70,000.00 | $7,000.00 |
| 42 | Sinnefia, Paulina | 10 | $84,500.00 | $8,450.00 |
| 43 | Figgins, III, Ollie L. | 10 | $100,000.00 | $10,000.00 |
| 44 | Moore, Michael M. | 10 | $146,000.00 | $14,600.00 |
| 45 | Albright, Amy | 10 | $59,500.00 | $5,950.00 |
| 46 | Allen, III, A. Ferris | 10 | $154,500.00 | $15,450.00 |
| 47 | Aristone, Philip T. | 10 | $80,000.00 | $8,000.00 |
| 48 | Vera, Miguel | 10 | $101,000.00 | $10,100.00 |
| 49 | Hassig, Alison | 10 | $66,500.00 | $6,650.00 |
| 50 | Patterson, Kevin S. | 9 | $93,250.00 | $10,361.11 |
| 51 | Vega, Richard | 9 | $127,000.00 | $14,111.11 |
| 52 | Cartagena, Keisy | 9 | $64,250.00 | $7,138.89 |
| 53 | Gonzalez, Aldana | 9 | $64,500.00 | $7,166.67 |
| 54 | Wyner, Harold | 9 | $57,500.00 | $6,388.89 |
| 55 | Estrada, Eberd | 9 | $89,500.00 | $9,944.44 |
| 56 | Whylie, Herold O. | 9 | $62,500.00 | $6,944.44 |
| 57 | Preciado, Ramon | 8 | $107,500.00 | $13,437.50 |
| 58 | Bernardini, Jay P. | 8 | $128,000.00 | $16,000.00 |
| 59 | Cibelli, Jane | 8 | $162,500.00 | $20,312.50 |
| 60 | Maldonado, Jonathan | 8 | $78,750.00 | $9,843.75 |
| 61 | Hartsell, Jr., John J. | 8 | $100,500.00 | $12,562.50 |
| 62 | Pearce, Penny | 7 | $59,000.00 | $8,428.57 |
| 63 | Guerrero, Juan Carlos | 7 | $90,000.00 | $12,857.14 |
| 64 | Montoya, Marya K. | 7 | $71,000.00 | $10,142.86 |
| 65 | Rozell, Ron | 6 | $44,250.00 | $7,375.00 |
| 66 | Walters, Henry | 6 | $40,000.00 | $6,666.67 |
| 67 | Russo, Victor | 6 | $37,500.00 | $6,250.00 |
| 68 | Dandy, Ronald J. | 6 | $40,000.00 | $6,666.67 |
| 69 | Follett, Norman C. | 6 | $62,500.00 | $10,416.67 |
| 70 | Abrams, Ronald B. | 6 | $74,500.00 | $12,416.67 |
| 71 | Nunn, David | 6 | $39,500.00 | $6,583.33 |
| 72 | Nunn, Douglas | 6 | $46,250.00 | $7,708.33 |
| 73 | Pattershall, Mary A. | 6 | $40,000.00 | $6,666.67 |
| 74 | Houghton, Dove P. | 6 | $88,000.00 | $14,666.67 |
| 75 | Reid, Jr., Robert E. | 6 | $137,500.00 | $22,916.67 |
| 76 | Englehart, Jeffrey S. | 6 | $56,500.00 | $9,416.67 |
| 77 | Rigattieri, John | 6 | $38,750.00 | $6,458.33 |
| 78 | Tracy, Jr., Ray E. | 6 | $66,000.00 | $11,000.00 |
| 79 | Maragh, Collin | 6 | $47,500.00 | $7,916.67 |
| 80 | Thompson, J. Willard | 6 | $117,500.00 | $19,583.33 |
| 81 | Carlisle, John C. | 6 | $33,000.00 | $5,500.00 |
| 82 | Castillo, Michelle | 6 | $36,750.00 | $6,125.00 |
| 83 | Lynch, Cathal A. | 6 | $61,500.00 | $10,250.00 |
| 84 | Gargan, Danny | 6 | $67,000.00 | $11,166.67 |
| 85 | Orseno, Joseph F. | 5 | $49,000.00 | $9,800.00 |
| 86 | Kendall, Jr., Dennis S. | 5 | $36,250.00 | $7,250.00 |
| 87 | Harvatt, Charles R. | 5 | $87,500.00 | $17,500.00 |
| 88 | Albert, Linda L. | 5 | $76,000.00 | $15,200.00 |
| 89 | Pradenas, Sergio H. | 5 | $34,000.00 | $6,800.00 |
| 90 | Tammaro, III, John J. | 5 | $62,500.00 | $12,500.00 |
| 91 | Brown, Steven R. | 5 | $45,500.00 | $9,100.00 |
| 92 | Leaf, Jr., Robert | 5 | $98,500.00 | $19,700.00 |
| 93 | Hammond, Robert L. | 5 | $24,000.00 | $4,800.00 |
| 94 | Dilodovico, Damon R. | 5 | $67,000.00 | $13,400.00 |
| 95 | Campbell, William A. | 5 | $80,000.00 | $16,000.00 |
| 96 | Pointer, Norman R. | 5 | $29,500.00 | $5,900.00 |
| 97 | Milian, Carlos J. | 5 | $32,500.00 | $6,500.00 |
| 98 | Rodriguez, John M. | 5 | $53,500.00 | $10,700.00 |
| 99 | Rogers, Ronald W. | 5 | $57,500.00 | $11,500.00 |
| 100 | Frock, Charles L. | 5 | $75,000.00 | $15,000.00 |
| 101 | Dunham, Bernard G. | 5 | $30,000.00 | $6,000.00 |
| 102 | Serey, Juan | 5 | $37,500.00 | $7,500.00 |
| 103 | Tuomisto, Clifford | 5 | $33,750.00 | $6,750.00 |
| 104 | Magill, Patrick J. | 5 | $62,500.00 | $12,500.00 |
| 105 | Velazquez, Alfredo | 5 | $37,500.00 | $7,500.00 |
| 106 | Ward, Dennis | 5 | $55,000.00 | $11,000.00 |
| 107 | Leatherbury, King T. | 4 | $80,000.00 | $20,000.00 |
| 108 | Houghton, Roy D. | 4 | $65,000.00 | $16,250.00 |
| 109 | McClelland, Paul G. | 4 | $17,500.00 | $4,375.00 |
| 110 | Oliva, Robert | 4 | $21,500.00 | $5,375.00 |
| 111 | McBurney, Patrick B. | 4 | $44,000.00 | $11,000.00 |
| 112 | Mongeon, Kathy P. | 4 | $51,000.00 | $12,750.00 |
| 113 | Hollahan, Heather | 4 | $25,000.00 | $6,250.00 |
| 114 | Gaudet, Lacey | 4 | $62,000.00 | $15,500.00 |
| 115 | Lingenfelter, Thomas H. | 4 | $24,250.00 | $6,062.50 |
| 116 | Harigeorgiou, Konstantinos | 4 | $30,000.00 | $7,500.00 |
| 117 | Vitali, Marcus J. | 4 | $96,000.00 | $24,000.00 |
| 118 | Shea, Timothy H. | 4 | $30,250.00 | $7,562.50 |
| 119 | Breen, Kelly J. | 4 | $57,500.00 | $14,375.00 |
| 120 | Salazar, Marco P. | 4 | $24,750.00 | $6,187.50 |
| 121 | Bouchard, Leslye G. | 4 | $30,000.00 | $7,500.00 |
| 122 | Boggs, M. Joanna | 4 | $27,000.00 | $6,750.00 |
| 123 | Daniels, Patrick B. | 4 | $24,500.00 | $6,125.00 |
| 124 | Schoenthal, Phil | 4 | $42,000.00 | $10,500.00 |
| 125 | Aro, Michael Charles | 4 | $57,500.00 | $14,375.00 |
| 126 | Burton, Tim | 4 | $25,000.00 | $6,250.00 |
| 127 | Robb, John J. | 4 | $54,500.00 | $13,625.00 |
| 128 | Wolfendale, Howard E. | 4 | $71,000.00 | $17,750.00 |
| 129 | Reynolds, Joan A. | 4 | $31,000.00 | $7,750.00 |
| 130 | Linder, Jr., Louis C. | 4 | $52,500.00 | $13,125.00 |
| 131 | DiMauro, Stephen L. | 4 | $82,500.00 | $20,625.00 |
| 132 | Adams, Douglas S. | 4 | $41,000.00 | $10,250.00 |
| 133 | Zimmerman, Matthew John | 4 | $46,500.00 | $11,625.00 |
| 134 | Hogan, William J | 3 | $25,000.00 | $8,333.33 |
| 135 | Keefe, Timothy L. | 3 | $39,500.00 | $13,166.67 |
| 136 | Caraballo, Wilfredo V. | 3 | $25,000.00 | $8,333.33 |
| 137 | Hadry, Charles J. | 3 | $33,500.00 | $11,166.67 |
| 138 | Hadry, Charles P. | 3 | $26,000.00 | $8,666.67 |
| 139 | Smith, Thomas R. | 3 | $22,750.00 | $7,583.33 |
| 140 | Martinez, Alexander | 3 | $20,000.00 | $6,666.67 |
| 141 | Judy, Marcus | 3 | $15,000.00 | $5,000.00 |
| 142 | Martin, Sandee D. | 3 | $20,000.00 | $6,666.67 |
| 143 | Juarez, Calixto | 3 | $29,500.00 | $9,833.33 |
| 144 | Allen, Randy | 3 | $19,500.00 | $6,500.00 |
| 145 | Mancilla, Carlos A. | 3 | $15,000.00 | $5,000.00 |
| 146 | Aguirre, Anthony | 3 | $39,000.00 | $13,000.00 |
| 147 | Beattie, Cody | 3 | $28,000.00 | $9,333.33 |
| 148 | Ice, Tim A. | 3 | $31,000.00 | $10,333.33 |
| 149 | Barr, Donald H. | 3 | $42,000.00 | $14,000.00 |
| 150 | Kotenko, Robert | 3 | $27,500.00 | $9,166.67 |
| 151 | White, Donald R. | 3 | $20,000.00 | $6,666.67 |
| 152 | Wilson, Tony | 3 | $53,500.00 | $17,833.33 |
| 153 | Hushelpeck, Henry | 3 | $12,000.00 | $4,000.00 |
| 154 | Kravets, Bruce M. | 3 | $13,000.00 | $4,333.33 |
| 155 | Bedard, Alan | 3 | $22,500.00 | $7,500.00 |
| 156 | Salvaggio, Jr., Michael W. | 3 | $15,500.00 | $5,166.67 |
| 157 | Rodriguez, Jorge W. | 3 | $17,500.00 | $5,833.33 |
| 158 | Delozier, III, Joseph W. | 3 | $53,500.00 | $17,833.33 |
| 159 | DeSanctis, Jaclyn | 3 | $17,500.00 | $5,833.33 |
| 160 | McMahon, W. Thomas | 3 | $16,500.00 | $5,500.00 |
| 161 | Romeka, Steven | 3 | $15,000.00 | $5,000.00 |
| 162 | Curry, Dee | 3 | $27,500.00 | $9,166.67 |
| 163 | O'Connell, Kathleen | 3 | $28,500.00 | $9,500.00 |
| 164 | Diaz, Jorge | 3 | $20,000.00 | $6,666.67 |
| 165 | Rideoutt II, Anthony M. | 3 | $25,500.00 | $8,500.00 |
| 166 | Noble, James F. | 3 | $20,000.00 | $6,666.67 |
| 167 | Ryan, Derek S. | 3 | $56,000.00 | $18,666.67 |
| 168 | Neilson, Katherine | 3 | $15,250.00 | $5,083.33 |
| 169 | Ferreira, Fernando | 3 | $14,000.00 | $4,666.67 |
| 170 | Coletti, Jr., Edward J. | 3 | $40,000.00 | $13,333.33 |
| 171 | Preciado, Guadalupe | 3 | $67,500.00 | $22,500.00 |
| 172 | Farrior, Anthony | 3 | $17,500.00 | $5,833.33 |
| 173 | Merryman, Ann W. | 3 | $45,000.00 | $15,000.00 |
| 174 | Dunn, John J. | 3 | $22,500.00 | $7,500.00 |
| 175 | Geist, David W. | 3 | $15,250.00 | $5,083.33 |
| 176 | Comi, Jr., Ralph W. | 3 | $21,000.00 | $7,000.00 |
| 177 | Conner, John D. | 3 | $16,500.00 | $5,500.00 |
| 178 | Miller, Craig S. | 3 | $22,000.00 | $7,333.33 |
| 179 | Albright, George R. | 2 | $10,000.00 | $5,000.00 |
| 180 | Jones, Carl C. | 2 | $12,500.00 | $6,250.00 |
| 181 | Dibona, Bobby S. | 2 | $40,000.00 | $20,000.00 |
| 182 | Dunn, Felissa | 2 | $10,000.00 | $5,000.00 |
| 183 | Houle Webb, Lucy A. | 2 | $9,000.00 | $4,500.00 |
| 184 | Iwinski, Allen | 2 | $37,500.00 | $18,750.00 |
| 185 | Dymond, Amanda | 2 | $12,500.00 | $6,250.00 |
| 186 | Eff, Joseph A. | 2 | $15,000.00 | $7,500.00 |
| 187 | Allen, Jeffrey S. | 2 | $9,500.00 | $4,750.00 |
| 188 | Alcala, Cesar | 2 | $10,000.00 | $5,000.00 |
| 189 | Crowell, Susan L. | 2 | $15,000.00 | $7,500.00 |
| 190 | Chinn, Fred J. | 2 | $14,500.00 | $7,250.00 |
| 191 | Chatterpaul, Naipaul | 2 | $20,000.00 | $10,000.00 |
| 192 | Caruso, Nick Joseph | 2 | $20,000.00 | $10,000.00 |
| 193 | Griffin, Jacqueline | 2 | $22,500.00 | $11,250.00 |
| 194 | Egan, Jason | 2 | $25,000.00 | $12,500.00 |
| 195 | Dimitriou, Harry E. | 2 | $16,500.00 | $8,250.00 |
| 196 | Hammond, Heath | 2 | $9,000.00 | $4,500.00 |
| 197 | Contreras, Javier | 2 | $18,000.00 | $9,000.00 |
| 198 | Barth, Calvin | 2 | $17,000.00 | $8,500.00 |
| 199 | Betancourt, Eli | 2 | $15,000.00 | $7,500.00 |
| 200 | Houghton, T. Bernard | 2 | $11,250.00 | $5,625.00 |
| 201 | Beattie, Todd M. | 2 | $41,000.00 | $20,500.00 |
| 202 | Haynes, Ernest M. | 2 | $37,500.00 | $18,750.00 |
| 203 | Gaffney, Hubert | 2 | $17,500.00 | $8,750.00 |
| 204 | Beattie, Stephanie S. | 2 | $8,000.00 | $4,000.00 |
| 205 | Battula, Aparna | 2 | $17,500.00 | $8,750.00 |
| 206 | Calderon, Luis | 2 | $15,000.00 | $7,500.00 |
| 207 | Day, Diane M. | 2 | $15,500.00 | $7,750.00 |
| 208 | Amthor, K. Gordon | 2 | $17,500.00 | $8,750.00 |
| 209 | Coram, Robert E. | 2 | $16,000.00 | $8,000.00 |
| 210 | Plaza, Alberto | 2 | $12,500.00 | $6,250.00 |
| 211 | Soto, Carlos | 2 | $12,500.00 | $6,250.00 |
| 212 | Vargas, Jorge A. | 2 | $11,000.00 | $5,500.00 |
| 213 | Sienkewicz, William M. | 2 | $26,000.00 | $13,000.00 |
| 214 | Marrotta, Patrick | 2 | $28,500.00 | $14,250.00 |
| 215 | Popovich, James A. | 2 | $12,500.00 | $6,250.00 |
| 216 | Servis, Blane | 2 | $50,000.00 | $25,000.00 |
| 217 | Plummer, Bobby Lee | 2 | $35,000.00 | $17,500.00 |
| 218 | Thurston, Jerry A. | 2 | $10,750.00 | $5,375.00 |
| 219 | Tapscott, Carlyne | 2 | $23,500.00 | $11,750.00 |
| 220 | Scott, Joan | 2 | $13,500.00 | $6,750.00 |
| 221 | Synnefias, Dimitrios K. | 2 | $15,000.00 | $7,500.00 |
| 222 | Mangual, Manolo | 2 | $10,000.00 | $5,000.00 |
| 223 | McGuire, James D. | 2 | $16,000.00 | $8,000.00 |
| 224 | Stuart, Shea | 2 | $22,500.00 | $11,250.00 |
| 225 | Servis, John C. | 2 | $45,000.00 | $22,500.00 |
| 226 | Pinkney, Dave | 2 | $11,250.00 | $5,625.00 |
| 227 | Rodriguez, Mario Rafael | 2 | $8,000.00 | $4,000.00 |
| 228 | Pierce, Jr., Joseph H. | 2 | $25,000.00 | $12,500.00 |
| 229 | Smylie, Timothy J. | 2 | $17,500.00 | $8,750.00 |
| 230 | Pessanha, Ney | 2 | $8,000.00 | $4,000.00 |
| 231 | Shuman, Mark | 2 | $16,000.00 | $8,000.00 |
| 232 | Talley, Jeff | 2 | $47,000.00 | $23,500.00 |
| 233 | Robinson, Catherine H. | 2 | $65,000.00 | $32,500.00 |
| 234 | Rodriguez, Miguel A. | 2 | $15,000.00 | $7,500.00 |
| 235 | Woodhouse, Martin | 2 | $15,000.00 | $7,500.00 |
| 236 | Katz, Gary R. | 2 | $13,750.00 | $6,875.00 |
| 237 | Landicini, Jr., Chris | 2 | $17,500.00 | $8,750.00 |
| 238 | Santangelo, Brett T. | 2 | $21,000.00 | $10,500.00 |
| 239 | Reese, Cynthia G. | 2 | $27,500.00 | $13,750.00 |
| 240 | Lima, Rolando J. | 2 | $31,000.00 | $15,500.00 |
| 241 | Madrigal, Sr., Rodrigo | 2 | $20,000.00 | $10,000.00 |
| 242 | Vick, Timothy M. | 2 | $9,000.00 | $4,500.00 |
| 243 | Cascallares, Nestor | 1 | $7,500.00 | $7,500.00 |
| 244 | Crane, Dean F. | 1 | $5,000.00 | $5,000.00 |
| 245 | Shelansky, Richard | 1 | $7,500.00 | $7,500.00 |
| 246 | Shaw, Timothy J. | 1 | $7,500.00 | $7,500.00 |
| 247 | Ciresa, Martin E. | 1 | $10,000.00 | $10,000.00 |
| 248 | Cox, Kenneth M. | 1 | $15,000.00 | $15,000.00 |
| 249 | Shanley, Timothy | 1 | $5,000.00 | $5,000.00 |
| 250 | Correnti, Armand W. | 1 | $10,000.00 | $10,000.00 |
| 251 | Correnti, Anthony | 1 | $15,000.00 | $15,000.00 |
| 252 | Salzman, Jr., John E. | 1 | $16,000.00 | $16,000.00 |
| 253 | Clark, Thomas A. | 1 | $30,000.00 | $30,000.00 |
| 254 | Collins, Timothy M. | 1 | $4,500.00 | $4,500.00 |
| 255 | Ryerson, James T. | 1 | $5,000.00 | $5,000.00 |
| 256 | Chircop, Steven | 1 | $5,000.00 | $5,000.00 |
| 257 | Cipriano, Robert V. | 1 | $5,000.00 | $5,000.00 |
| 258 | Servis, Jason | 1 | $12,500.00 | $12,500.00 |
| 259 | Salzman, Timothy E. | 1 | $5,000.00 | $5,000.00 |
| 260 | Saville, Niall | 1 | $32,000.00 | $32,000.00 |
| 261 | Servideo, Robert | 1 | $5,000.00 | $5,000.00 |
| 262 | Cornwell, Jr., James L. | 1 | $4,500.00 | $4,500.00 |
| 263 | Aleksic, Sonja | 1 | $14,000.00 | $14,000.00 |
| 264 | Sterling, Michael E. | 1 | $4,500.00 | $4,500.00 |
| 265 | Arroyo, Enrique | 1 | $12,500.00 | $12,500.00 |
| 266 | Arnold, Pamela A. | 1 | $7,500.00 | $7,500.00 |
| 267 | Voss, Katharine M. | 1 | $5,000.00 | $5,000.00 |
| 268 | Walters, David | 1 | $10,000.00 | $10,000.00 |
| 269 | Webb, Samuel E. | 1 | $5,000.00 | $5,000.00 |
| 270 | Weeks, Michael Lee | 1 | $5,000.00 | $5,000.00 |
| 271 | Ayres, Jr., Joseph W. | 1 | $10,000.00 | $10,000.00 |
| 272 | Alexander, Bruce F. | 1 | $16,000.00 | $16,000.00 |
| 273 | Bailes, W. Robert | 1 | $25,000.00 | $25,000.00 |
| 274 | Wolfendale III, William H. | 1 | $9,000.00 | $9,000.00 |
| 275 | Worton, Dorothy Elisabeth | 1 | $5,000.00 | $5,000.00 |
| 276 | Albertrani, Louis | 1 | $4,000.00 | $4,000.00 |
| 277 | Zalalas, Michael | 1 | $12,500.00 | $12,500.00 |
| 278 | Zavitsanos, James | 1 | $10,000.00 | $10,000.00 |
| 279 | Agnew, Naoise | 1 | $25,000.00 | $25,000.00 |
| 280 | Zubenko III, Gerald | 1 | $5,000.00 | $5,000.00 |
| 281 | West, Benjamin F. | 1 | $7,500.00 | $7,500.00 |
| 282 | Boucher, Lilith E. | 1 | $10,000.00 | $10,000.00 |
| 283 | Caison, Jody L | 1 | $5,000.00 | $5,000.00 |
| 284 | Cabrera, Luis | 1 | $5,000.00 | $5,000.00 |
| 285 | Buskey, III, Bob E. | 1 | $5,000.00 | $5,000.00 |
| 286 | Smith, Guy | 1 | $12,500.00 | $12,500.00 |
| 287 | Smith, Hamilton A. | 1 | $11,000.00 | $11,000.00 |
| 288 | Russo, Anthony J. | 1 | $25,000.00 | $25,000.00 |
| 289 | Brennan, Regina | 1 | $10,000.00 | $10,000.00 |
| 290 | Ashton, Patrick | 1 | $5,000.00 | $5,000.00 |
| 291 | Boykins, Kevin | 1 | $5,000.00 | $5,000.00 |
| 292 | Simoff, Andrew L. | 1 | $5,000.00 | $5,000.00 |
| 293 | Swick, Don | 1 | $7,500.00 | $7,500.00 |
| 294 | Bentley, Fenneka T. | 1 | $5,000.00 | $5,000.00 |
| 295 | Tracey, Ray | 1 | $7,500.00 | $7,500.00 |
| 296 | Tsirigotis, Jr., James | 1 | $5,000.00 | $5,000.00 |
| 297 | Tzortzakis, Emmanuel | 1 | $10,000.00 | $10,000.00 |
| 298 | Bartoni, Wayne P. | 1 | $4,000.00 | $4,000.00 |
| 299 | Uhacz, Wendy | 1 | $16,000.00 | $16,000.00 |
| 300 | Stopherd, Edwin C. | 1 | $7,500.00 | $7,500.00 |
| 301 | McCarthy, Brenda | 1 | $5,000.00 | $5,000.00 |
| 302 | Miller, F. Bruce | 1 | $5,000.00 | $5,000.00 |
| 303 | Hedus, William C. | 1 | $7,500.00 | $7,500.00 |
| 304 | Mann, Farrel | 1 | $7,500.00 | $7,500.00 |
| 305 | Margotta, Jr., Anthony R. | 1 | $7,500.00 | $7,500.00 |
| 306 | Martin, August R. | 1 | $7,500.00 | $7,500.00 |
| 307 | Martin, Silvio L. | 1 | $10,000.00 | $10,000.00 |
| 308 | Matier, Sandra | 1 | $5,000.00 | $5,000.00 |
| 309 | Hendriks, Richard J. | 1 | $10,000.00 | $10,000.00 |
| 310 | McCall, Brian E. | 1 | $4,000.00 | $4,000.00 |
| 311 | Hess, Jacob G. | 1 | $11,000.00 | $11,000.00 |
| 312 | Gulyas, Peter | 1 | $16,000.00 | $16,000.00 |
| 313 | McCarthy, William E. | 1 | $7,500.00 | $7,500.00 |
| 314 | McCutchen, Jason | 1 | $5,000.00 | $5,000.00 |
| 315 | McGee, Paul J. | 1 | $5,000.00 | $5,000.00 |
| 316 | McKenna, Todd | 1 | $6,250.00 | $6,250.00 |
| 317 | Meehan, Elizabeth E. | 1 | $5,000.00 | $5,000.00 |
| 318 | Rodriguez, Franklin | 1 | $4,000.00 | $4,000.00 |
| 319 | Hall, Aimee D. | 1 | $6,250.00 | $6,250.00 |
| 320 | Iverson, Gerald | 1 | $8,000.00 | $8,000.00 |
| 321 | Kee, Willie J. | 1 | $7,500.00 | $7,500.00 |
| 322 | Keller, Christopher M. | 1 | $5,000.00 | $5,000.00 |
| 323 | Kirby, Timothy | 1 | $12,500.00 | $12,500.00 |
| 324 | Kolibos, Ioannis E. | 1 | $4,000.00 | $4,000.00 |
| 325 | Jones, Jr., Michael E. | 1 | $16,000.00 | $16,000.00 |
| 326 | Jones, J. Larry | 1 | $5,000.00 | $5,000.00 |
| 327 | Komlo, William R. | 1 | $25,000.00 | $25,000.00 |
| 328 | Helmetag, Robert P. | 1 | $7,500.00 | $7,500.00 |
| 329 | Kopaj, Paul | 1 | $5,000.00 | $5,000.00 |
| 330 | Gaudet, Linda S. | 1 | $10,000.00 | $10,000.00 |
| 331 | Kopp, Glenn | 1 | $4,000.00 | $4,000.00 |
| 332 | Huston, Rory K. | 1 | $7,500.00 | $7,500.00 |
| 333 | Lane, Scott J. | 1 | $5,000.00 | $5,000.00 |
| 334 | Lawrence, II, James L. | 1 | $4,000.00 | $4,000.00 |
| 335 | Lockhart, Alan J. | 1 | $20,000.00 | $20,000.00 |
| 336 | Lotruglio, Edward | 1 | $7,500.00 | $7,500.00 |
| 337 | Maher, Edward | 1 | $5,000.00 | $5,000.00 |
| 338 | Jenkins, Rodney | 1 | $10,000.00 | $10,000.00 |
| 339 | Rivera, Gilberto | 1 | $7,500.00 | $7,500.00 |
| 340 | Merryman, Elizabeth M. | 1 | $16,000.00 | $16,000.00 |
| 341 | Racanelli, Mark Joseph | 1 | $5,000.00 | $5,000.00 |
| 342 | Rappaport, Mitchell | 1 | $5,000.00 | $5,000.00 |
| 343 | Duchnowski, Paula | 1 | $5,000.00 | $5,000.00 |
| 344 | Dotolo, David | 1 | $7,500.00 | $7,500.00 |
| 345 | Rathman, Elisha | 1 | $4,000.00 | $4,000.00 |
| 346 | Raymond, Robert A. | 1 | $5,000.00 | $5,000.00 |
| 347 | Potts, Ron G. | 1 | $16,000.00 | $16,000.00 |
| 348 | Dibben, H. Kathleen | 1 | $7,500.00 | $7,500.00 |
| 349 | Polachek, Janet | 1 | $7,500.00 | $7,500.00 |
| 350 | Rodriguez, Ceasar | 1 | $6,250.00 | $6,250.00 |
| 351 | Lezell, David G. | 1 | $7,500.00 | $7,500.00 |
| 352 | Davis, Samuel G. | 1 | $4,500.00 | $4,500.00 |
| 353 | Davies, Joseph G. | 1 | $5,000.00 | $5,000.00 |
| 354 | Davidovich, Jamen | 1 | $7,000.00 | $7,000.00 |
| 355 | Rogers, J. Michael | 1 | $4,000.00 | $4,000.00 |
| 356 | Cuttino, Marion L. | 1 | $12,500.00 | $12,500.00 |
| 357 | Riddle, Luanne | 1 | $4,000.00 | $4,000.00 |
| 358 | Nietert, Roger W. | 1 | $5,000.00 | $5,000.00 |
| 359 | Miller, Marlin A. | 1 | $5,000.00 | $5,000.00 |
| 360 | Garibay, Lucia | 1 | $6,250.00 | $6,250.00 |
| 361 | Minieri, Joseph | 1 | $25,000.00 | $25,000.00 |
| 362 | Gamber, Robert E. | 1 | $10,000.00 | $10,000.00 |
| 363 | Murillo, Ricardo A. | 1 | $5,000.00 | $5,000.00 |
| 364 | Furlong, Kenyon G. | 1 | $12,500.00 | $12,500.00 |
| 365 | Nechamkin, II, Leo S. | 1 | $5,000.00 | $5,000.00 |
| 366 | Principe, Alison | 1 | $40,000.00 | $40,000.00 |
| 367 | Fortay, Peter A. | 1 | $5,000.00 | $5,000.00 |
| 368 | Runco, Jeff C. | 1 | $12,500.00 | $12,500.00 |
| 369 | Foglia, Anthony | 1 | $7,500.00 | $7,500.00 |
| 370 | Nunley, Randy | 1 | $6,250.00 | $6,250.00 |
| 371 | Fields, Kevin J. | 1 | $12,500.00 | $12,500.00 |
| 372 | Fernandez, Miguel A. | 1 | $18,000.00 | $18,000.00 |
| 373 | Fairlie, Scott H. | 1 | $16,000.00 | $16,000.00 |
| 374 | Eubanks, Annette M. | 1 | $4,500.00 | $4,500.00 |
| 375 | Plesa, Jr., Edward | 1 | $40,000.00 | $40,000.00 |
| 376 | Frangella, Jr., James A. | 1 | $20,000.00 | $20,000.00 |