Thousands attend Thoroughbred Makeover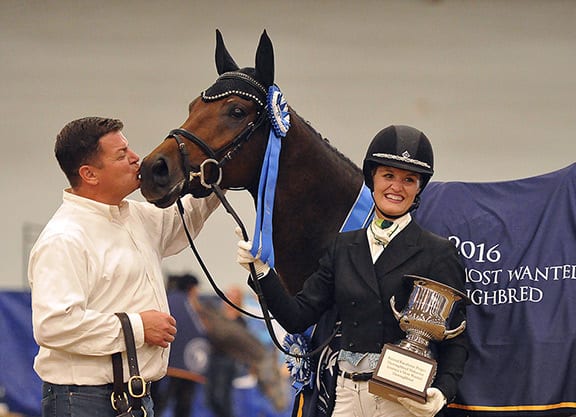 Lauren Turner with Fairway King and TCA President Mike McMahon. Photo by: Sarah Andrew
From a Retired Racehorse Project release
Fans of the Thoroughbred horse flocked to the Kentucky Horse Park by the thousands over the weekend for the Thoroughbred Makeover and National Symposium, a $100,000 competition in which trainers take less than a year to transform a racehorse into master of up to two equestrian disciplines. The event is organized by Retired Racehorse Project and is presented by Thoroughbred Charities of America.
Three hundred horses recently retired from 64 different racetracks competed in the arenas and outside courses throughout the park on Thursday and Friday in barrel racing, competitive trails, dressage, eventing, field hunters, freestyle, polo, show hunters, show jumpers, and working ranch. Seminars, training demos, and a bustling trade fair combined to make the event a true celebration of the talent and trainability of the Thoroughbred horse.
Twenty-five hundred people were on hand to watch the performances, and organizers expect that most will be back next year. "The feedback we are getting from competitors, vendors, judges and spectators has been fantastic." said RRP founder and president Steuart Pittman. "Who knew that horses could learn so much so fast, and have so much fun doing it? Every ten minutes I saw something inspiring."
The top three scorers in each discipline performed Saturday afternoon in the covered arena before a full house and a livestream audience of three thousand more. Every thirty minutes the arena was reset for a new sport, with every manner of jumps, a polo goal, barrels, trail obstacles, freestyle props, and cattle. Over one hundred very dedicated volunteers performed this logistical feat.
All ten division winners returned to the arena at the end for the crowd to select America's Most Wanted Thoroughbred through thunderous applause measured by an electronic meter. The winner was dressage victor Fairway King, trained and ridden by Lauren Turner a 26-year-old event rider who works full time in marketing while also managing a training business.
"I am in total shock," said Lauren. "When I bought this guy out of a field he was probably 100 pounds underweight and his neck came out of the bottom of his shoulder. If he didn't remind me so much of my long-time partner who is retiring I wouldn't have bought him. It wasn't until a few weeks ago that he found his balance and started to really connect. It was like a switch went off. This whole experience has been surreal." When asked how she would spend her $15,000 in winnings she said it would pay off debt and allow her to do with more horses what she has done with King.
At the end of the weekend not all horses left with the trainers who brought them. Just over 100 were available for sale and some sold at the event, including two of the division winners. Grand Prix dressage trainer Yvonne Barteau bought aptly named Trick Roper, the winner of the working ranch division, and Bernie Traurig purchased Carajillo, the show jumping champion. Statistics on Makeover horse sales will be forthcoming.
The 2017 Thoroughbred Makeover will take place on the first weekend of October. Application information will be published in December.
Here are the top three in each division.
Barrel Racing
1. Deborah Keiser with Morning Rainbow (Judge Vonsteubon)
2. Mindy Stoops with Bad Girl Phase (Justenuffhumor)
3. Lance Graves with Rodeo Buckle (by B L's Appeal)
Competitive Trail
1. Lindsey Partridge and Trivia Time (by Like the Prospects)
2. Amara Underwood and Barticus (by Banachek)
3. Lindsey Partridge and Pentland (by Borrego)
Dressage
1. Lauren Turner with Fairway King (by Leroidesanimaux)
2. Laura Borghesani with Cinmars Dance (by Cindago)
3. Emily Brollier Curtis with Dancing Commander (by Mr. Triest)
Eventing
1. Cathy Wieschhoff and Speed Rail (by Purge)
2. Elisa Wallace with Heron's Waltz (by Garnered)
3. Cathy Wieschhoff with Title Contender (by Pulpit)
Field Hunter
1. Sarah Davis with J.J.'s Local Law (by Deputy Rokeby)
2. Sarah McMerty with Beau Fox (by Don Rigo)
3. Lindsey Partridge with Pentland (by Borrego)
Freestyle
1. Lindsey Partridge and Trivia Time (by Borrego)
2. Cedar Potts and Majestic Lad (by Majestic Warrior)
3. Clovis Crane with Empire Road (by Corinthian)
Polo
1. Buck Schott and Strong Angel (by Thunder Gulch)
2. Marisa Bianchi with Thunderonthebeach (by Thunder Gulch)
3. Juan Carlos Gonzalez with Illbegettinggold (by Gottcha Gold)
Show Hunter
• Tyler Weith and Greeley's Magic (by Greeley's Conquest)
• Sarah Berkowitz with My Prize Now (by Teuflesberg)
• Alex Shokat with Half the Battle (by Showing Up)
Show Jumper
1. Isabela de Sousa and Carajillo (by Medaglia d'Oro)
2. Amara Underwood and Gold Medallion (by Medaglia d'Oro)
3. Dyanna Capuano and Idle Spur (by Read the Footnotes)
Working Ranch
1. Russell Littlefield and Trick Roper (by Datrick)
2. Stan Smith and Flo's Strawberry (by Cashel Castle)
3. Dale Simanton and Quaint (by Street Sense)