Midlantic Breeders' Cup notes: October 31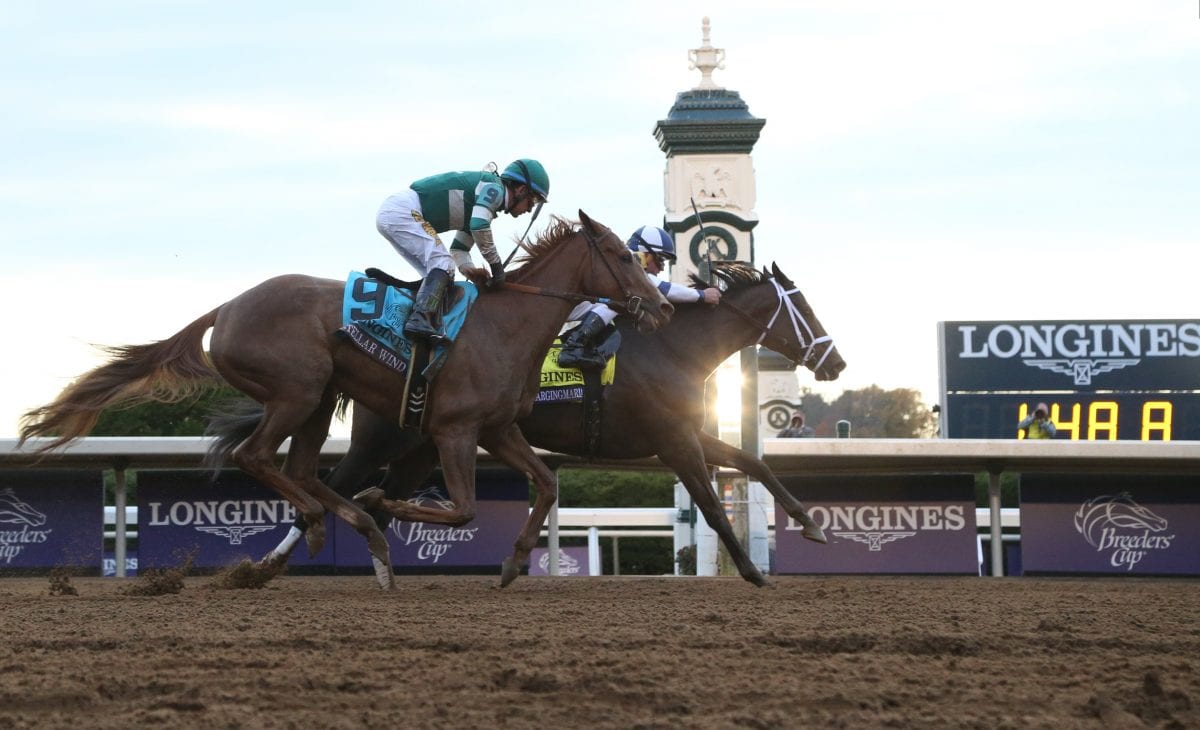 No daylight between 2015 Distaff winner Stopchargingmaria and late-closing Stellar Wind.  Photo by © Breeders' Cup/Matt Herp 2015l
During the coming week, we'll keep a weather eye on Breeders' Cup contenders with connections to the mid-Atlantic region. Our source for this article is Breeders' Cup.
Loooch Racing Stables et al.'s Mario Serey, Jr.-trained War Story will be entered in Saturday's Breeders' Cup Classic in lieu of Friday's Breeders' Cup Dirt Mile after being pre-entered in both last week.  He is currently based at Parx Racing.
"The Classic has been our target all along," Paolucci said of the late closer. "If you believe in your horse and you think you can get third in the Classic, that's as good as a win in the Dirt Mile. We are hoping for a lot of speed in the race, but if not we may lay a little closer because of how the track usually plays. I'd like to be near where Frosted is and move when he does."
A winner of three of 14 and $399,395, the son of Northern Afleet has raced only three times in 2016, including a good second by a head last out in the Pennsylvania Derby Championship Stakes at Parx Sept. 24. Last year, the half-brother to Kentucky Oaks runner-up and Breeders' Cup Distaff pre-entrant Land Over Sea was eighth of 11 in the Dirt Mile, capping a sophomore season in which he placed in four graded stakes.
War Story has raced at three different tracks — and for three different trainers — thus far in 2016.  He began his season in July by winning an allowance at Thistledown with Anthony Rini the trainer of record.  He made his next start, at 136-1 odds, in the Grade 1 Pacific Classic at Del Mar for trainer Dean Greenman; he finished seventh of nine, beaten 22 lengths by California Chrome.  He then shipped to Parx Racing to run second in the $150,000 Pennsylvania Derby Champion Stakes for trainer Miguel Penaloza, and he'll line up Saturday for Serey.
"He's doing really good right now and it's worth it to take a shot," Paolucci continued. "I also think that we have a better chance of finishing third in the Classic than beating Dortmund going a mile. The thing about (War Story) is that he's never been totally 100 percent until now. He may be 150-1 to win, but I believe he's 7-2 to finish second or third."
OTHER NEWS AND NOTES
Virginia-bred Stellar Wind went to the track at 5 a.m. and galloped 1 1/2 miles under exercise rider Ricardo Peniche then proceeded to school in the paddock.
She will be one of the favorites in a rugged renewal of the Distaff, which will also feature the undefeated Songbird and hard-hitting Beholder.
It is a regimen that trainer John Sadler said will be followed for the next three days at least.  "She looks great, she's into her routine and we're excited," Sadler said…
Pre-entered horses now withdrawn from Breeders' Cup consideration include Kentucky Derby winner Nyquist (Classic), who had some filling in an ankle over the weekend; Joking (Sprint), who developed a fever after arriving at Santa Anita from owner-trainer Charlton Baker's New York base; and Miss Southern Miss (Juvenile Fillies Turf), who "came up with a shin" problem, according to trainer Keith Desormeaux…