Maryland Million Dashboard Live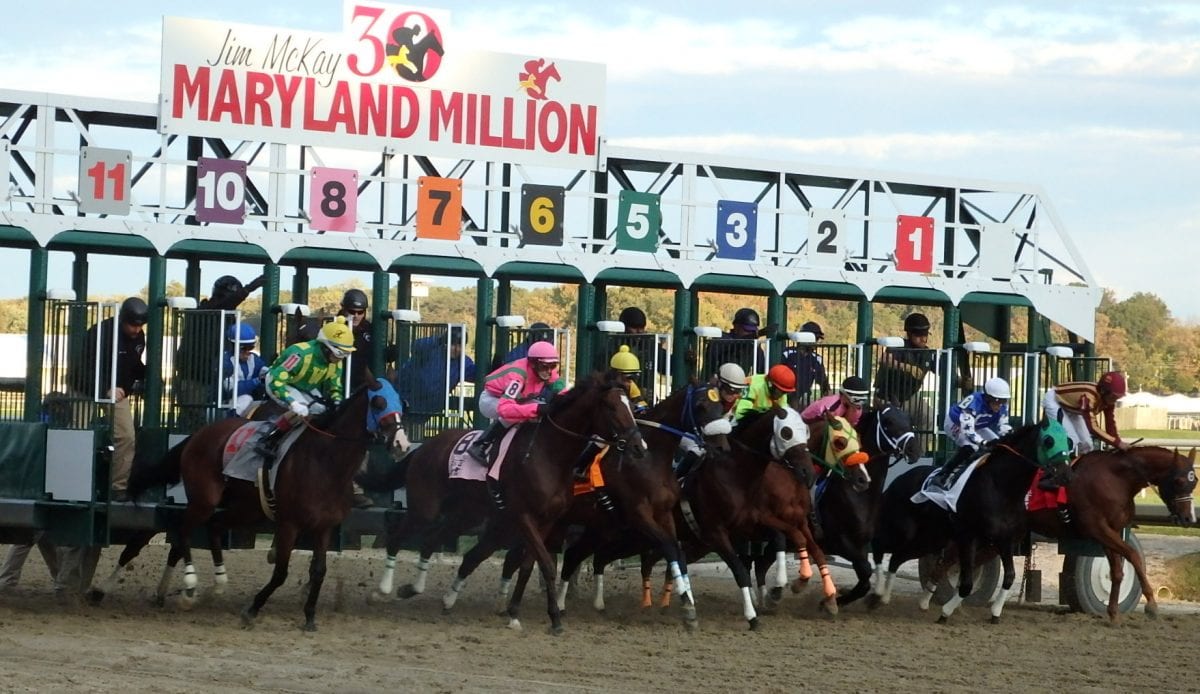 Welcome to our Maryland Million Dashboard Live!

Here we've gathered all of our Maryland Million coverage in one convenient spot: plenty of news, features, and handicapping about the big day.
In addition, we'll be updating throughout the day with periodic news and observations. Enjoy!
MARYLAND MILLION HANDICAPPING
Top Selections
Nursery: Greatbullsoffire
Lassie: Natural Notion
Ladies: Rocky Policy
Turf: Phlash Phelps
Sprint: Morning Fire
Distaff: Lovable Lady
Classic: Admirals War Chest
SOME MARYLAND MILLION FIRSTS TODAY
Jockey Tyler Conner steered Item to a win in the $100,000 Maryland Million Lassie.  Item made the lead early, was confronted at the head of the lane and fell to second but then was resurgent between horses to win by a head.  It was the first stakes win for the 22-year-old jockey…
It was also the first win in a $100,000 race for owner Tom Coulter, whose Arrowwood Farm also bred the daughter of Orientate…
When Chapel of Chimes cruised to a devestatingly easy win in the $50,000 Distaff Starter Handicap — winning by a dozen lengths under jockey Andrew Wolfsont — it marked the first Maryland Million victory for the horse's sire, Bonita Farms's Etched, whose oldest runners are three-year-olds….
CONTEST SCOREBOARD
All races complete

| RANK | First Name | Last Name | TOTAL |
| --- | --- | --- | --- |
| 1 | mike | morgan | $242.60 |
| 2 | michael | harris | $118.00 |
| 3 | Chuck | DiVenti | $113.20 |
| 4 | joseph | saia | $112.40 |
| 5 | anne | morgan | $111.80 |
| 6 | hank | meyer | $106.00 |
| 7 | David hunter | Robison | $104.60 |
| 8 | J | Gast | $101.60 |
| 9 | Thomas | Randall | $101.00 |
| 10 | Kenny | O'Hanna | $98.60 |
| 11 | Andrew | Rdesinski | $95.00 |
| 12 | Phillip | Johnson | $84.60 |
| 13 | Scott | Voss | $84.60 |
| 14 | Mike | Phillips | $58.80 |
| 15 | Tony | Mohutsky | $58.20 |
| 16 | Bob | McGrath | $53.80 |
| 17 | Laura | Woodside | $46.60 |
| 18 | Alex | Bertram | $45.60 |
| 19 | Julie | Sommer | $45.40 |
| 20 | Matt | Warthen | $45.40 |
| 21 | Tom | Pendergast | $44.40 |
| 22 | Kaleka | Rogers | $44.20 |
| 23 | Jesse | Livermore | $43.00 |
| 24 | Ryne | Olsen | $42.00 |
| 25 | Kevin | Crawford | $42.00 |
| 26 | John | Piassek | $41.20 |
| 27 | Rusty | Whittingham | $38.60 |
| 28 | Thomas | Perrot | $38.20 |
| 29 | Paul | Hundley | $37.80 |
| 30 | anthony t | tolino | $37.20 |
| 31 | Susan | Butler | $36.00 |
| 32 | Michael | Ryan | $35.80 |
| 33 | Ron | Yonker | $35.00 |
| 34 | Mark | Meszaros | $34.60 |
| 35 | Ron | Frizzell #2 | $34.20 |
| 36 | Travis | Banks | $33.20 |
| 37 | nick | churlin | $31.40 |
| 38 | Scott | Brennan | $31.20 |
| 39 | Dewey | Churlin | $31.20 |
| 40 | richard | warnick | $30.80 |
| 41 | Drake | Rogers | $30.60 |
| 42 | John | Lanahan Jr | $30.40 |
| 43 | patrick | christianson | $30.20 |
| 44 | nicolle | neulist | $30.00 |
| 45 | Todd | Liddell | $29.40 |
| 46 | Patrick | Carroll | $29.20 |
| 47 | sherwin | siddons | $29.20 |
| 48 | KEVIN | SHANKLIN | $28.80 |
| 49 | Matthew | Warthen | $28.80 |
| 50 | Paul | Kisner | $28.80 |
| 51 | Michael | Demoney | $28.60 |
| 52 | Joe | DeVivo | $27.80 |
| 53 | Paula | Young | $27.00 |
| 54 | Steve | Bice | $26.60 |
| 55 | tony | colangelo | $26.20 |
| 56 | tony | colangelo | $26.20 |
| 57 | John | Smith | $26.00 |
| 58 | Michelle | McSweeney | $26.00 |
| 59 | Ryan | McElroy | $26.00 |
| 60 | FRANK | PETRINO | $26.00 |
| 61 | JOSE | PARDO | $25.40 |
| 62 | gene2 | todaro | $25.40 |
| 63 | Curtis | Hine | $25.20 |
| 64 | Lisa | Voss | $25.00 |
| 65 | Harry | Young | $24.80 |
| 66 | Kirk | Mayer | $24.60 |
| 67 | Joe | Monsour | $24.40 |
| 68 | Mel | Daniels | $24.00 |
| 69 | Terri | Bagley | $24.00 |
| 70 | marike | emery | $24.00 |
| 71 | Gary | Quill | $23.40 |
| 72 | Howard | Blumberg | $23.00 |
| 73 | bill | hahn | $22.40 |
| 74 | TED | GROFF | $21.80 |
| 75 | Joseph | Boemmel | $21.00 |
| 76 | Kevin | Jordan | $21.00 |
| 77 | Debbie | Gibson | $20.60 |
| 78 | hank | meyer | $20.00 |
| 79 | Jason | Smith | $19.00 |
| 80 | john | churlin | $18.80 |
| 81 | Jolyan | Butler | $18.60 |
| 82 | tony | calabrese | $18.60 |
| 83 | gene1 | todaro | $18.60 |
| 84 | Lynn | Horvath | $18.20 |
| 85 | miss g | artis | $18.00 |
| 86 | nick | churlin | $18.00 |
| 87 | John | Gradzki | $18.00 |
| 88 | Dennis | Phillips | $17.80 |
| 89 | Joe | Puleo | $17.20 |
| 90 | Miguel | Robinson | $16.00 |
| 91 | Dan | Higdon | $15.80 |
| 92 | Tim | Vocke | $15.40 |
| 93 | Dewey | Churlin | $14.60 |
| 94 | George | Pepis | $14.20 |
| 95 | Dell | Yount | $13.40 |
| 96 | benedetto | patrizio | $13.20 |
| 97 | Cory | Reinert | $13.20 |
| 98 | Joe | Gibson | $13.00 |
| 99 | PAt | GAVin | $12.60 |
| 100 | janet | mason | $12.60 |
| 101 | janet | mason | $12.60 |
| 102 | WM | PIETSCHMAN | $12.40 |
| 103 | john | churlin | $12.00 |
| 104 | Dan | Higdon | $12.00 |
| 105 | Buzz | Phillips | $11.80 |
| 106 | Lou | Monaco | $11.40 |
| 107 | Ron | Frizzell | $10.80 |
| 108 | David | Molenda | $10.00 |
| 109 | Karin | Brewer | $9.60 |
| 110 | Michele | Mathews | $8.20 |
| 111 | dawn | lenert | $8.20 |
| 112 | john | bykowski | $8.20 |
| 113 | ROBERT | FLLEMING | $8.00 |
| 114 | John | Robison | $7.40 |
| 115 | Michael | Horvath | $7.20 |
| 116 | Anthony | Vemdetti | $6.80 |
| 117 | Joseph | Nunan | $6.40 |
| 118 | Heather | Yount | $5.40 |
| 119 | Katie | Brown | $4.20 |
| 120 | Rich | Glazier | $2.60 |
| 121 | richard | allen | $0.00 |
| 122 | Dennis | Phillips | $0.00 |
| 123 | David | Vocke | $0.00 |
| 124 | David | Beighle | $0.00 |