Admirals War Chest sails to Classic victory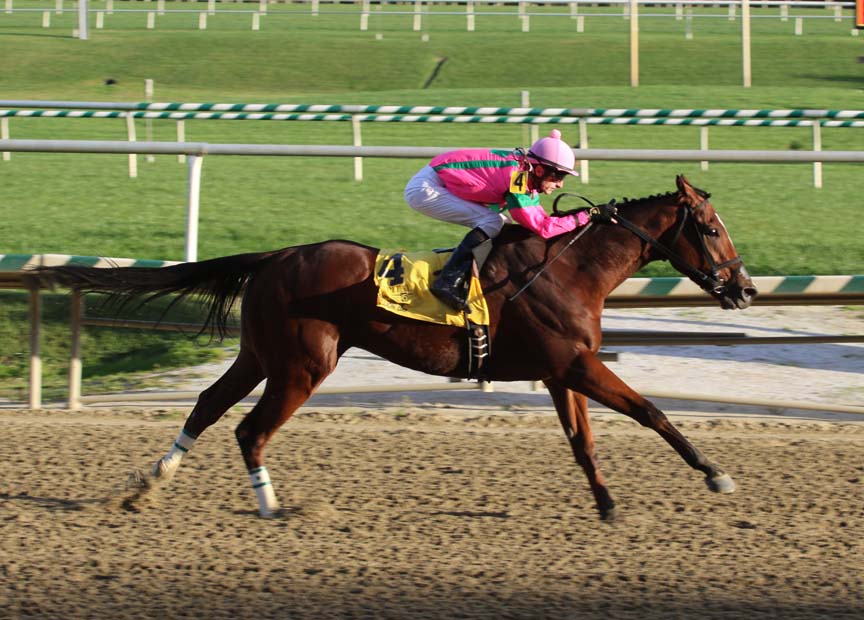 by Frank Vespe

History may not repeat itself, but, as Mark Twain observed, it sure does rhyme.
Such was the case in the $150,000 Maryland Million Classic today at Laurel Park, as Admirals War Chest defended his title with an emphatic 3 1/2 length score to earn the second stakes win of his career.
On a picture-perfect day, the five-year-old Elusive Charlie gelding lodged the second stakes win of his career, improved his overall record to five wins from 19 starts, and increased his earnings to $302,121.
"He is a little older and a little wiser, and he really controlled everything without much from me," said jockey Taylor Hole, who also rode him to last year's Classic triumph.  "You do have to rate him a little bit, but he's a big horse, and could not have asked for a better effort from him."
Admirals War Chest zipped to the early lead but was able to marshal his speed effectively.  The opening quarter mile went by in a leisurely 24.94 seconds, at which point Admirals War Chest held a two-length advantage over longshot Big Branch.  He increased his lead to four lengths after a half in 47.99.
"The horse likes the lead and there were no challengers out there," said Dr. Stephen Sinatra, who bred Admirals War Chest and who owned the now-deceased sire. "I was a little concerned when I saw the 47-and-change half. I got a little concerned, but around the 7/8ths-pole I relaxed a little because I saw him pull away. That's when I said, 'Oh, my, gosh, he can do it,' and he did."
Admirals War Chest continued to maintain a three-length lead through three quarters in 1:12.68, and after just a moment's doubt, spurted clear near the quarter pole and never was challenged again.
For the second straight year, Bullheaded Boy's rally was to no avail though it did gain him the place.  Favored Just Jack finished a distant third.
"The '4' [Admirals War Chest] got out by himself and nobody ran with him," said Bullheaded Boy's rider, Jevian Toledo.  "I just sat and waited and waited to make my move and when we tried to catch the '4', my horse kicked in, but the '4' was just too far ahead."
The similarities between Admirals War Chest's victory today, and his 2015 triumph, were striking.  For one thing, there was the manner of the win: loose on the lead throughout.
There also was the manner in which he entered the race.  Admirals War Chest lost five consecutive races following his 2015 Classic win but snapped that skein last out when he won a Delaware Park allowance test.
Admirals War Chest also entered last year's Classic off an allowance win, this one at Penn National; that win, too, snapped a five-race losing streak.
One difference: Admirals War Chest entered this event off a longer-than-expected layoff.
"We haven't raced for seven weeks, so I was a little concerned, especially with those two 3-year-olds [Just Jack and Flash McCaul] in there," Sinatra said.  "There were some solid horses, but you saw what he did."
Final time for the nine furlongs was 1:51.28 — .21 seconds faster than his time last year — over a fast main track. Admirals War Chest, at 2.60-1 the second wagering choice, paid $7.20 to win and topped a $28.60 exacta.
Laurel Park announced attendance of 21,722, an increase from last year's 20,200, and handle rose strongly to $4,476,816 — up about 18.5 percent from last year.