Absent Candy One stars on WVBC night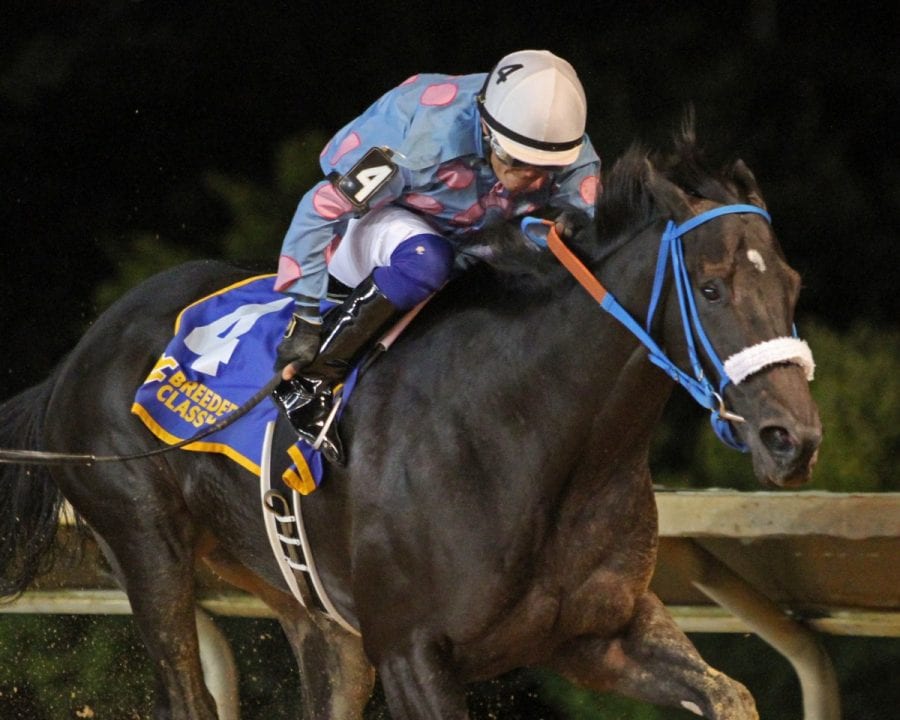 Candy Man's Girl wins the Cavada. Photo by Coady Photography.
by Ted Black

Trainer James W. Casey and his Taylor Mountain Farm have been a fixture in the West Virginia Breeders Classics virtually since its inception in 1987, and Saturday night the aging, albeit ageless conditioner and breeder made three trips to the winner's circle. A trio of sires, Windsor Castle, Charitable Man and Denis of Cork accounted for Casey's three winners on Saturday night, but one mare perhaps upstaged them when two of her offspring reached the winner's circle.
Candy One, a 13-year-old daughter of Yankee Victor out of the For Really mare Really A Fibber, is the dam of Greenway Court, who won the $60,000 West Virginia Dash For Cash that kicked off the card, and Candy Man's Girl, who captured the $150,000 WVBC Cavada for fillies and mares. Another daughter of Candy One, Lucky Candy, was scratched out of the Cavada by trainer Michael E. Jones, Jr.

"She's been really good to me," Casey said of Candy One. "We've had a lot of success with her. She raced a few times, and then we got her for a broodmare about 10 years ago and she's a number of good foals for us. Greenway Court has probably been her best one so far, but Candy Man's Girl keeps getting better and she's already won the Cavada, which puts her right up near the top."
Like many successful broodmares, Candy One hardly distinguished herself on the track by winning just three times in 21 outings. She won the first two starts of her career at Charles Town for trainer Lewis Craig, Jr., in the fall of 2005 and won an allowance in January the following year. But Candy One could only manage a pair of third-place finishes over the last 16 starts of her career before being retired and eventually purchased by Casey as a broodmare. Her second career has turned out much better than her first one.
Greenway Court, a seven-year-old Windsor Castle gelding that Casey owns, trains and bred, notched his first win in four starts this year when he overhauled the speedy three-year-old filly R C's Daisyduke to capture the Dash For Cash by a neck in 51.75 for the 4 1/2-furlongs. It marked the second straight victory for Greenway Court in the Dash and his third triumph in that one-turn affair in the last four years. He had also won the prep, the It's Only Money Stakes for state-bred sprinters, three times before finishing third in the event this year.
"The last time he ran [in the It's Only Money on Sep. 17], he had the five post and the nine horse delayed the start by 10 minutes," Casey said. "All of the horses stood in there until he loaded, and then they loaded the 10 horse [Eutaw Street] and then started the race and the 10 horse was three-lengths on top. Today it was a much fairer start for everyone, and my horse was able to settle down and then run down that filly. She was tough, but Greenway Court is always tough in these events."
Greenway Court, who won all five of his starts last year, including the Dash For Cash and the It's Only Money, now owns a 16-8-3 slate and nearly $425,000 bankroll from 31 lifetime tries. Another former Casey trainee with a similar name, Green Way Court, won the Jefferson County Financial Community BC for three-year-olds in 1989, when there were only six restricted stakes on the card.
Three hours after the Dash for Cash, in the $150,000 Cavada Stakes, named for the only mare to topple the boys in the Classic, Candy Man's Girl gave her dam a second, even more prominent winner on the night when she splashed home 1 ¼ lengths clear of defending champion Cuppa Mocha Mojo in 1:26.21 for seven furlongs. A four-year-old daughter of Charitable Man also owned, bred and trained by Casey, Candy Man's Girl posted her third win in six starts this year and now owns a 9-3-4 slate and over $264,000 bankroll from 17 career tries.
"She's always had the ability but she's also had some minor problems over the years," Casey said of Candy Man's Girl. "We thought she might miss the last prep race [Sadie Hawkins] but she seemed okay and we decided to run her and she finished second. She came out of that race pretty good and we decided to go back in the Cavada. She really ran well. That's two wins for Candy One tonight. She's been really good to me and she's got a few more foals that look pretty good."
One of those younger offspring, Candy Man One, a two-year-old Windsor Castle colt and full-brother to Greenway Court, prevailed in his career debut in a one-turn maiden special weight event the previous week by overtaking 3-5 choice Limehouser late to score in 53.38. Perhaps at some point in the near future, Greenway Court can pass the baton off to his younger brother, Candy Man One, in the one-turn events for sprinters here and continue to make their owner, trainer, breeder and broodmare proud of the family line.