Richard Butts: Livestock, people — and promises kept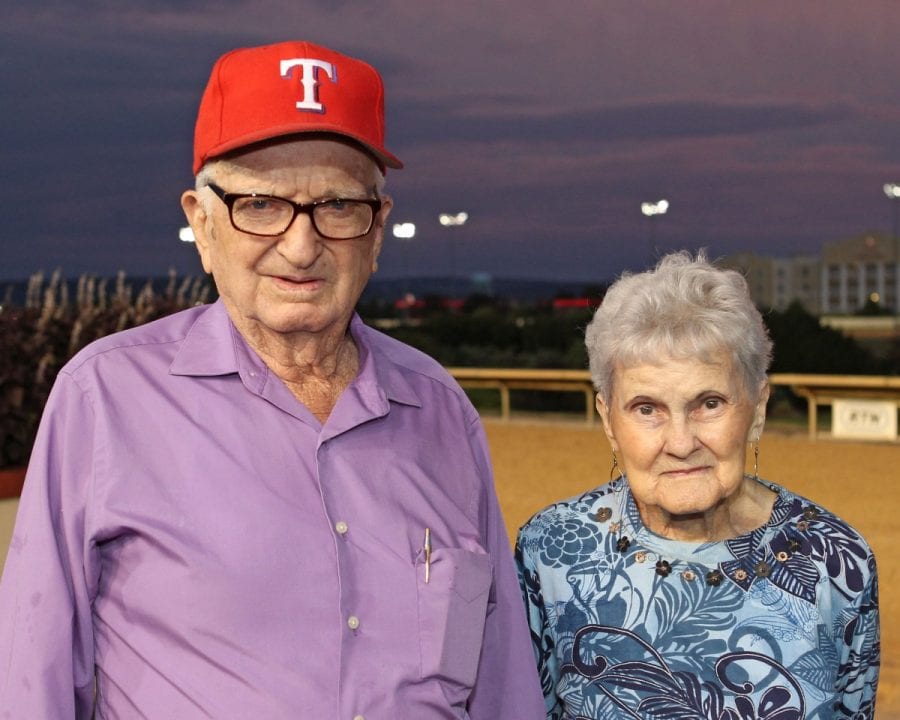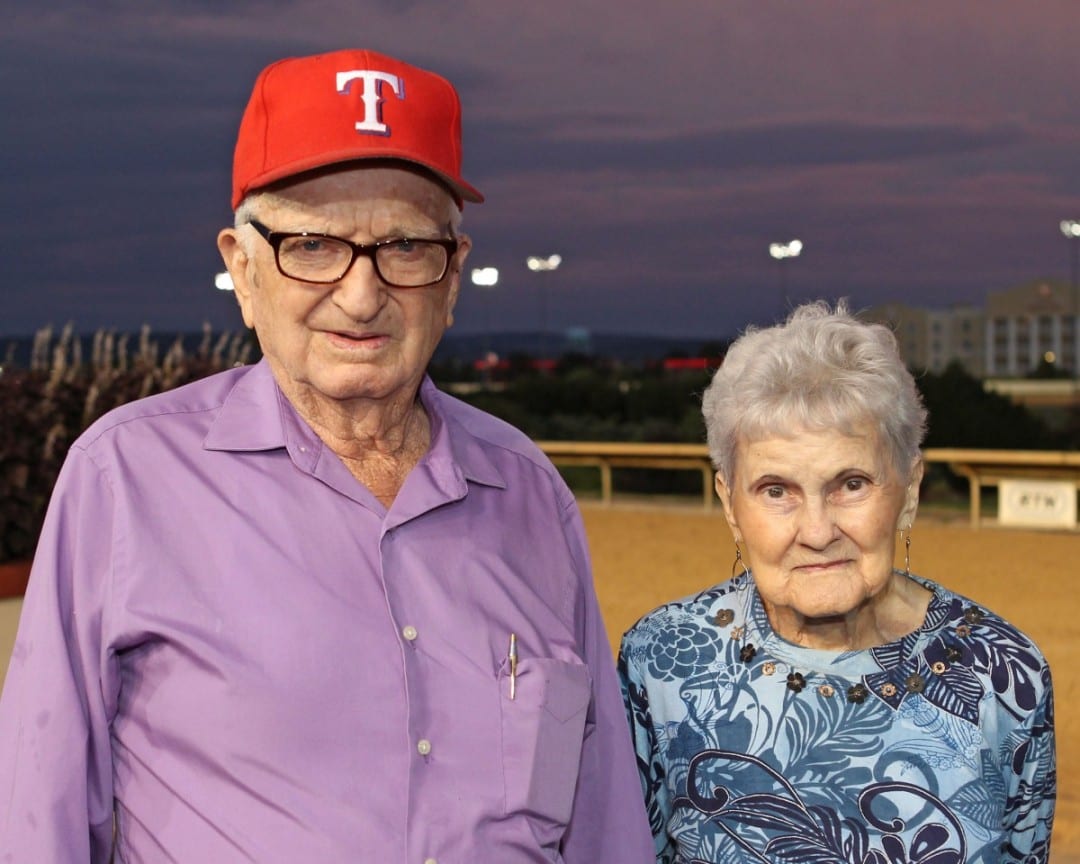 Richard and Peggy Butts. Photo by Coady Photography.
by Vinnie Perrone
Livestock and people the springs to his kinetic life, Richard Butts Jr. slipped into the driver's seat of a silver Ford Fusion one brilliant September day, 2015, and steered the backstretch toward Charles Town's oval to watch his runners train and to hobnob with other horsemen.
Mr. Butts parked the car, and in orange-laced gray sneakers strode an uphill slope in the statistical prime of his training life. A year earlier, he'd set a personal best with $283,788 in racehorse earnings – at age 91 – and remained among the oldest active Thoroughbred trainers in the land.
"Horses just do somethin' to a person," Mr. Butts said, barely winded by the climb.
On September 22nd, Mr. Butts was killed in a car accident on I-70 in Frederick, MD. Peggy Edwards Butts, his passenger and wife of 62 years, died Oct. 4 as a result of the crash.
Family, friends and racing denizens gathered October 3 at Zion Episcopal Church in Charles Town both to honor Mr. Butts's extraordinary life and to mourn his early death at 93.
A child of depression-era Oklahoma, Mr. Butts had described in vivid terms last fall the choking dust storms of the day, and how his resourceful mother somehow maintained a garden that kept the family fed. How a neighborhood kid's rock-filled snowball struck his little brother in the temple and killed him. How he became a cattle rustler in his late teens for a kindly rancher in the Texas panhandle, and a rodeo rider even though a bronc had disabled another brother. How he enlisted in the Navy in World War II, became a gunner's mate on the bow of the USS Braxton and observed Japan's formal surrender in Tokyo Bay. How he and his father-in-law eventually bought 1,850 acres on the Texas-Oklahoma line and raised Herefords, until pinkeye outbreaks, fickle markets and nature's ill temper prompted a trade. How, toward 1960, he swapped the cattle for Quarterhorses and Thoroughbreds and later started racing them at Sunland Park in New Mexico. How he experienced a horse-training epiphany in the early 1970s with his introduction to Jack Van Berg and Jack's Hall of Fame father, Marion, at Ak-Sar-Ben in Omaha.
"His daddy was a fine man, Mr. Van Berg, and I was scared of him," Mr. Butts said. "And Jack was scared of him too. He couldn't smoke in front of his dad. He'd slip around and smoke somewhere else."
Jack Van Berg laughed at the rib, and thus confirmed it. "His honesty is beyond reproach," he said of Mr. Butts. "If he tells you somethin', it'll be just that way. You don't have to worry. You cannot say enough good things about him, I can tell you that. He's a dear friend of mine."
From Nebraska, Mr. Butts headed east to Finger Lakes in the late 1970s, then to Penn National. Tired of the road, he and Peggy embraced Charles Town's year-round circuit in 1980 and bought a house in town.
Virginia dentist and horse breeder Sam English II called Mr. Butts "the old cowboy from Texas who happened to have wound up in West Virginia," and praised his ethos.
"He's the type of guy, he'll tell you when the horse is ready to go and shouldn't be at the track," English said. "He'll have an empty stall and be honest and up front with you rather than just let you continue to pay training bills.
"I respect him. I don't call him Richard; no, that's Mr. Butts."
On that bright September morning last year, Mr. Butts eyed the 10 Thoroughbreds overlooking his shedrow and said nothing livens the gait like a horse-blessed barn.
"In the morning that's the first thing I do – look at their eyes," he said. "You can tell pretty well how a horse is feelin'. I just want 'em to be bright eyed, lookin' around, alert. I don't want 'em to be standin' over back in that corner."
All his life, Mr. Butts had read the eyes and ways of livestock, marked the lessons, shared them with three watchful sons. Mike, the youngest following Tim and Herb, does much of the hands-on work at the Charles Town stable; Richard would get to the barn by 7 most mornings to feed and plan and oversee workouts. He also handled payroll.
"Everything I know," Mike said of his dad, "he's taught me."
Herb too embraced the business, training horses with Pat Magill at Laurel Park. He said his father honed his mind as a cardsharp and his body through a workaday zeal.
Livestock and people the springs to his kinetic life, Richard Butts Jr. slipped into the driver's seat of a silver Ford Fusion one final brilliant September day, 2016, and steered toward Frederick, MD. Hemp's Meats Inc., a family-owned, Jefferson, MD, supplier since 1849, had established a stand at The Great Frederick Fair, and Mr. Butts had arranged for him and Peggy to meet friend and associate Gary Hemp there.
Then as ever, Mr. Butts had aimed to keep his word.