Jock Steve Hamilton wins first in 10 years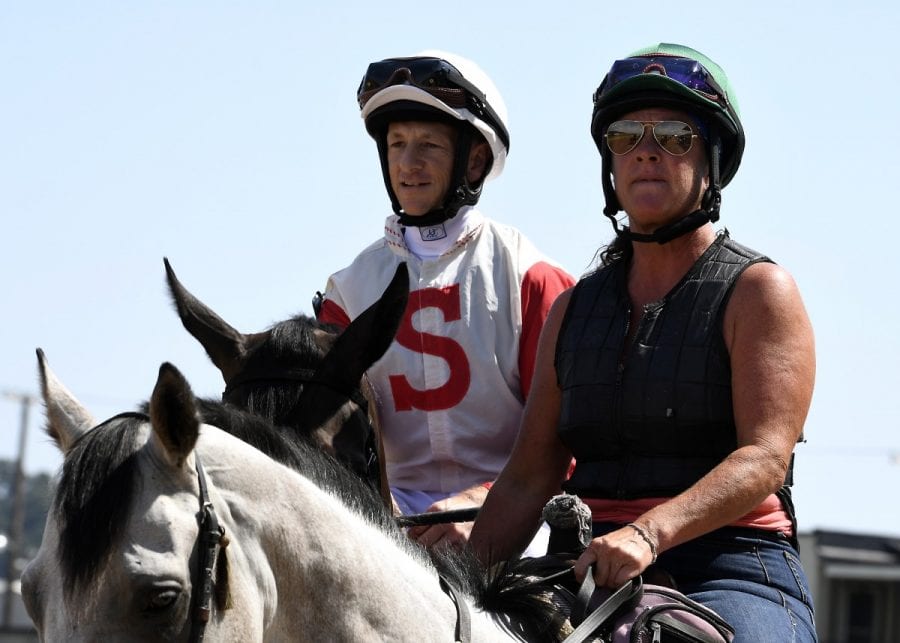 Steve Hamilton. Photo Maryland Jockey Club.
From a Maryland Jockey Club release
Jockey Steve 'Cowboy' Hamilton earned the first victory of his riding comeback Sunday, piloting owner-trainer Robert Vukelic's Bo Vuk to a 4 ¾-length victory in the third race at Laurel Park.
It was Hamilton's first win in 10 years.
Sent off at 9-1 in the $22,000 maiden claiming event for 3-year-olds and up, Bo Vuk ($21.60) ran 5 ½ furlongs in 1:05.46 over a muddy and sealed main track in just his second career start and first since Jan. 3.
"I've been waiting for that one," Hamilton, 42, said. "It's awesome. Words don't describe being back on that end of it."
Bo Vuk, a 3-year-old chestnut Notional gelding, was forced to steady leaving the starting gate and raced near the back of the eight-horse field before launching his bid from the two path nearing the three-eighths pole. Hamilton steered him three wide for the stretch where they caught pacesetter Tizdejaslew in the final eighth and pulled away.
"Jimbo's got something to do with this horse and that means a lot to me. He's a good friend of mine," Hamilton said of Jim Bracciale, who works with Vukelic. "The horse settled great, settled in, and when I asked him he was right there like push-button and finished up running. It feels great, man."
Hamilton had more than 1,200 victories and was one of the top five riders in Maryland at the time of his retirement in December 2006. He rode from 1990 to 2000 before leaving for his native Oklahoma, returning in January 2004 and winning spring meet titles at historic Pimlico Race Course in 2004 and 2005.
Before his win Sunday, Hamilton had gone 0-for-56 with nine seconds and three thirds starting commencing his comeback with 12 races at the Maryland State Fair meet at Timonium Aug. 26 – Sept. 5. Laurel Park's fall meet opened Sept. 9.
[su_youtube_advanced url="https://www.youtube.com/watch?v=QPnpNA5STWk" rel="no"]