Some hips to watch at Fasig-Tipton yearling sale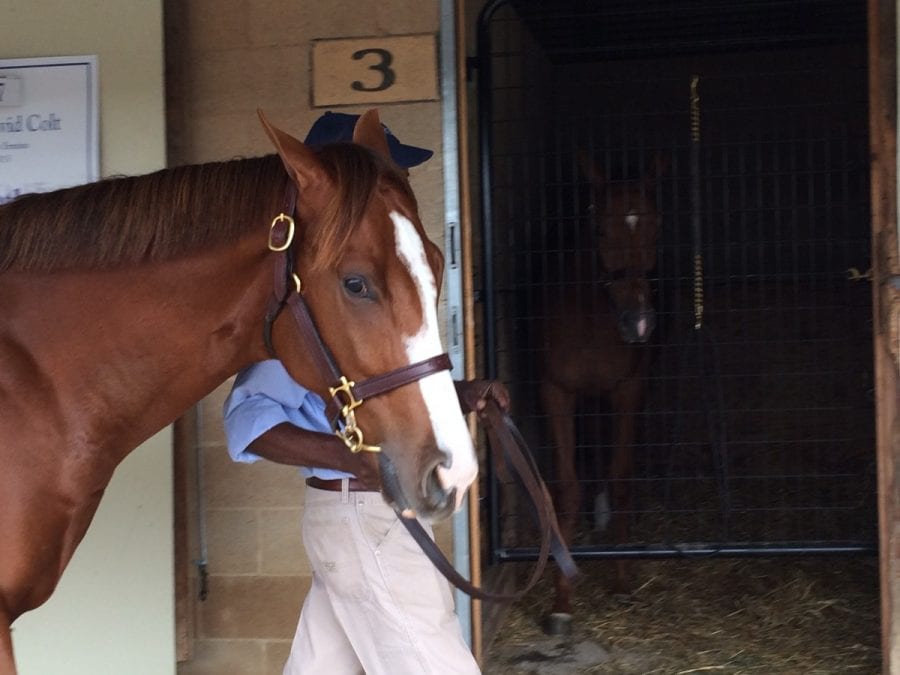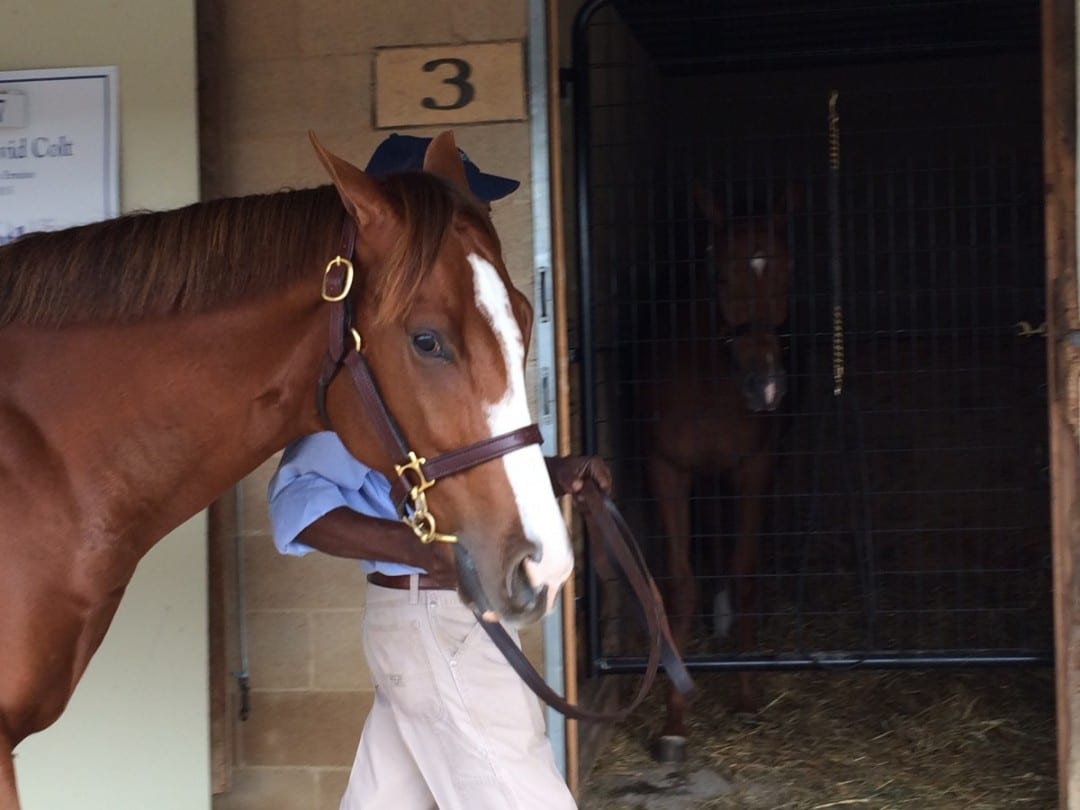 City Zip filly (Hip 76) at Fasig-Tipton 2016 Midlantic Fall Yearlings. Photo by The Racing Biz.
by Frank Vespe
As a gray and rainy morning gave way to tepid early afternoon sunshine Sunday, the Timonium backside sputtered to life with would-be buyers checking out bloodstock scheduled to sell in Tuesday's Fasig-Tipton Midlantic Fall Yearlings Sale.
The cautious optimism that characterized consignors earlier in the week remained in place Sunday, though opinions varied as to the traffic.  One consignor said he'd already shown his horses more by early afternoon than he had during the entire pre-sale period last  year.  But another characterized his afternoon as "quiet."
And a buyer walking the grounds suggested it would be "a tough market" — for buyers — because top bloodstock agents were in evidence.
Either way, what they'll find on the grounds, said consignor Bill Reightler, with a 53-horse consignment, are "enough good sires to draw the out-of-town buyers" as well as "a strong local contingent" of Maryland-breds – more than twice as many as bred in any other state.
Both are in evidence in the first 10 hips of the sale.  Both Hip 7 — by Kentucky Derby and Dubai World Cup winner Animal Kingdom — and Hip 8 — by top sire Awesome Again — are Maryland-breds out of exciting young mares.
The former, consigned by Chanceland Farm, is the second foal out of the multiple graded stakes winner Island Bound, by Speightstown.  And the latter, offered by Anchor and Hope Farm, is the first foal out of multiple stakes winner Jazzy Idea, who set a Laurel Park track record while defeating Ben's Cat in the 2012 Laurel Dash.
Reightler himself has several by national sires for which he has high hopes.  Those include Hip 199, a Bodemeister filly out of a War Front mare with "a nice frame on her," and Hip 368.  The latter is a West Virginia-bred Blame filly out of Julie B, who won nearly $900,000 on the track that Reightler predicted would be "one of my top horses."
Another Maryland-based consignor with national-type pedigrees is Becky Davis.  She is offering Hip 323, a Curlin colt who is a half-brother to Awesome Flower, who earned over $550,000.  She also has Hip 58, a Maryland-bred Quality Road colt from the female family of Street Magician that breeder Larry Johnson describes as "the real thing: big, strong, and rangy with lots of substance."
Andrew Motion's Virginia-based Old Chapel Farm also expects to  participate in the upper end of the market.  He is particularly excited by Hip 271, a "big, gorgeous filly" by Discreetly Mine who is a  full sister to the talented Classy Class, twice placed in Grade 3 events.  He also has the sale's only Super Saver yearling in Hip 206, a filly who is a half-sister to multiple stakes winner Ancient Rome.
Another popular national sire with a single horse in the sale is Pioneerof the Nile, sire of Triple Crown winner American Pharoah. Hip 301, consigned by Charlton Bloodstock, is a Virginia-bred out of the winning El Prado mare Exceptionally and is a half-sister to Virginia-bred stakes winner Hooligan. "She's quite nice," said Charlton's Rick Abbott.
At the same time, the Midlantic sale primarily serves a regional market. For a long time, the region's go-to sire was the recently deceased Not for Love, whose final class is represented by four horses here. Among that group is Hip 136, consigned by Dark Hollow Farm. The colt, out of the winning Red Bullet mare Silver Ashlee, won the state-sired colt class at the summer's Maryland Horse Breeders Association Yearling Show this past summer.
With Not for Love's passing, the region is betting heavily on new sires. The top sires by number of hips in Tuesday's event include three whose oldest are yearlings this year – El Padrino, with 16 hips, Despite the Odds, with nine, and Freedom Child, with eight – as well as Friesan Fire, whose oldest are three, and Street Magician, whose oldest are four.
Charlton is selling one of the El Padrinos, Hip 169, and Abbott says he likes what he's seen of El Padrino's first classes. "I love the horse, love the pedigree," he said, adding that he's the rare Pennsylvania sire who retired directly to the Keystone State after a productive, multiple graded-stakes-winning career.
Mike Pons, whose family's Country Life Farm stands both Friesan Fire and Freedom Child, said that the regional sires "will have to do it the old-fashioned way," by moving modest mares up. "We're betting on that big time" with Freedom Child, Pons said.
Friesan Fire, who has sired one stakes winner to date, turned heads nationally earlier this year when a two-year-old he sired fetched a top bid of $825,000 at the Fasig-Tipton Midlantic Two-Year-Olds in Training sale.
Larry Johnson, owner of Despite the Odds, said he's excited about his new stallion's prospects. "He's a handsome, big, strong horse who was very fast," he said of the son of Speightstown, a Grade 3 winner on the track.
It all sounds good two days before the sale. How the market responds to those new sires – and to the horses with flashier pedigrees – will determine how good it sounds the day after.
[su_box title="
DELAWARE CERTIFIED YEARLINGS
" style="glass"]
In hip number order (dam-sire, color, sex)
Hip 3 Impadoodle – Cape Blanco,b, f.
Hip 4 Indy Gold – Warrior's Reward, b, f.
Hip 12 Just Desserts – Louis Quatorze, b, f.
Hip 31 Li'lbito'sunshine – Orientate, b, c.
Hip 62 Mrs. Vanderbilt – Afleet Alex, ch, c.
Hip 78 Patel – Dublin, ch, c.
Hip 80 Peacetime Missy – Overdriven, ch, f.
Hip 94 Princess Cecilia – Take Charge Indy, drkb/br, f.
Hip 141 Single Women – Cherokee's Boy, drkb/b, c.
Hip 149 Spawning Brook – Kantharos, drkb/br, f.
Hip 158 Stillistillmovin – The Factor, b, f.
Hip 183 Toasty – Graydar, ch, c.
Hip 208 Woeful – Bodemeister, b, f.
Hip 216 All Decked Out – Cowtown Cat, drkb/br, f.
Hip 217 All Night Labor – Harlington, drkb/br, f.
Hip 229 Apple Pie Baby – Trappe Shot, ch, f.
Hip 241 Bell Keeper – Get Stormy, b. f.
Hip 245 Bird Chatter – Graydar, ch, f.
Hip 246 Bombshell Babe – E Dubai, ch, f.
Hip 262 Cat Splendor – Graydar, b, f.
Hip 282 D D Renegade – Freedom Child, b, c.
Hip 290 Dressed for Success – Paynter, drkb/br, f.
Hip 311 Figlia d'Oro – Point of Entry, drkb/br, c.
Hip 314 Five Star Dream – Into Mischief, b, c.
Hip 357 Holy Princess – Malibu Moon, gr/rn, f.
Source: Delaware Certified Thoroughbred Program
[/su_box]
[su_box title="
HIPS BY STATE
" style="glass"]
Maryland – 156
Kentucky – 71
Pennsylvania – 57
New York – 42
West Virginia – 15
Virginia – 12
New Jersey – 6
Florida – 5
Alabama – 1
[/su_box]
[su_box title="
TOP SIRES
" style="glass"]
By number of hips entered
El Padrino – 16
Friesan Fire – 12
Despite the Odds – 9
Hunters Bay – 8
Freedom Child – 8
Weigelia – 7
Great Notion – 7
Cal Nation – 6
Outflanker – 6
Warrior's Reward – 6
Paddy O'Prado – 6
[/su_box]