Pennsylvania Derby day easy to like – but should we?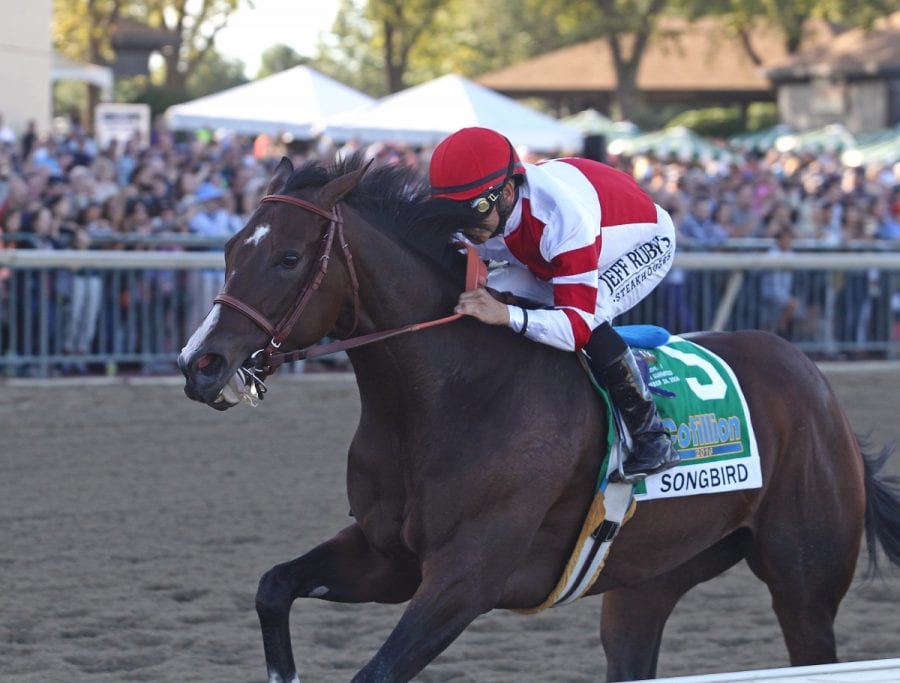 Songbird cruised in front of a big crowd in the Cotillion. Photo by Bill Denver/EQUI-PHOTO.
by Teresa Genaro
The first time that I went to Parx was in January of 2007. It was a day trip from New York with a couple of friends, and I met there another friend, someone who knew the place much better than I did.
Admittedly, a maiden voyage to any northern track ideally shouldn't happen in the middle of winter. But off I went, eager to experience a new track, and as days at the track go, it was fine. The restaurant was comfortable, the day was gray, the physical plant in transition.  I think that maybe the paddock wasn't fully functional, and neither was the sound system, and there might not have been any tote boards. I probably lost money. But it was a day at the races, and you know what they say about that.
I checked it off my list, headed north, and didn't make any immediate plans to return.
Then came 2010, when the track then known as Philadelphia Park shifted the Pennsylvania Derby from Labor Day to late September, enabling me to attend for the first time. First Dude, who'd finished second in the Preakness and third in the Belmont, Haskell, and Travers, was entered, and so was Morning Line, who was making his stakes debut. They were joined by A Little Warm, who'd won the Jim Dandy two months before.
It was worth another trip down the Jersey Turnpike, that Pennsylvania Derby day and several others since. In 2011, Parx began offering bonuses to the connections of horses that won the Kentucky Derby, Preakness, Belmont, Haskell, and Travers, and the A-level horses came, Travers winner Will Take Charge in 2013, California Chrome and Bayern in 2014, Nyquist and Exaggerator this year.
The track was packed on Saturday, with a track-estimated 16,000 people that paid no admission and no parking fees to attend, thanks to the casino across that free parking lot, the casino that provides a lot more revenue (and purse money) than betting handle does. But on Saturday, handle surged, to $9.6 million, second only to the record $10.4 million bet in 2014, and 60 percent more than what was wagered last year, which is a whole lot more than is wagered on an average Saturday in Bensalem.
Parx hosted an autograph session at which jockeys, among them Kent Desormeaux, Javier Castellano, and Mike Smith, signed t-shirts and posters to benefit the Permanently Disabled Jockeys Fund and Turning for Home, Parx's on-site Thoroughbred retirement organization. Concessions prices were reasonable (an outright bargain to these New York City eyes), and Cash Is King, the owners of Cathryn Sophia, the Kentucky Oaks winner who was the second choice in the Cotillion, offered hats for sale to benefit Alex's Lemonade Stand, the pediatric cancer research foundation that the stable had helped bring to national attention when their Afleet Alex was on the Triple Crown trail in 2005. The grills in the picnic area were fired up, with families and groups of friends, many of them sporting racetrack garb, in abundance.
After a gloomy and chilly beginning, the weather cooperated, a perfect early fall day the setting for yet another brilliant performance by Songbird, and a Pennsylvania Derby that provided more questions than answers about the current state of three-year-old colts.
It was easy, on a day like Saturday, to put aside the reasons that many racing fans and customers shy away from the track in Bensalem, and to simply enjoy a terrific day of racing and hospitality.
But should we?
Should we put aside the high take-out that caused bettors to scoff online over the weekend? Should we put aside the integrity concerns that dog the track? The concern that Parx is the only track in the region to take entries from trainer Juan Vazquez? That some locally-based trainers win at percentages that would make Chad Brown envious?
Should we care that for most of the rest of the year, Parx—which also runs that casino—seems to care little about horse racing?
Over the last few years, winners of the Pennsylvania Derby have gone on to be voted three-year-old champion and to win the Met Mile and the Whitney. The race has attracted some of the best runners in the division, and there have been calls for its status to be elevated from a Grade II to a Grade I, calls that, based on the criteria of the American Graded Stakes Committee, may well be heeded when the Committee meets later this fall.
On Sunday, an observer opined on Twitter that it would be "foolish to reward an oval in a state with a history of disenfranchising and disengaging racing consumers." It seems unlikely that the AGSC would consider the troubling elements of Parx's existence in its discussion about the race's status, but the fans and those racing consumers are under no such restrictions, and they have embraced the day, endorsing it with their presence and their wagering dollars, celebrating the one day a year when the Thoroughbred racing world—domestic and international—turns its attention from New York, Florida, Kentucky, and California, to Bensalem, Pennsylvania. It's tough, as they say, to argue with success.