Virginia stakes gazette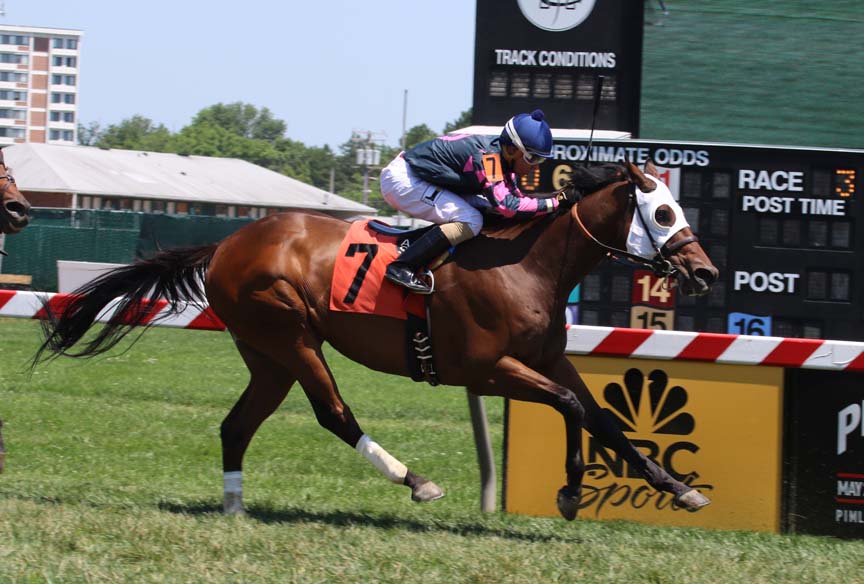 VIRGINIA DAY AN ALLEN FAMILY AFFAIR
Maryland Jockey Club
Even if he didn't have a starter on the card, trainer Ferris Allen wouldn't dream of being anywhere else but Laurel Park on Saturday for its 11-race Commonwealth Day program.
The annual celebration of Virgina-bred/sired horses moved to the Maryland countryside in 2014 following the closing of Colonial Downs where the 64-year-old Allen, a native of Varina, Va., dominated the standings on the way to becoming the state's all-time leading trainer.
"I train for some Virginia people and I have two unraced Virginia-breds in my barn that won't be ready, but I don't have a single Virginia-bred that fits the day," Allen said. "I have about 30 horses, which is about half the size of where we were when we were really cracking. We're concentrating a little more on young horses than we were before."
A licensed trainer for 42 years with more than 2,000 career wins, Allen has established himself as one of the most successful horsemen and popular people on a Maryland backstretch he has called home since 1979. Of the eight stakes worth $850,000 in purses that help comprise the Commonwealth Day program, one holds a special place in his heart.
The $60,000 Bert Allen for 3-year-olds and up at 1 1/16 miles on the grass is named for Allen's late father, a longtime owner and breeder in Virginia who died Jan. 9, 2011 on his family's 13-acre Warwick Stables farm at the age of 87.
Previously run as the John D. Marsh Stakes, the Bert Allen was renamed for the 2011 summer meet at Colonial Downs. As fate would have it, Ferris Allen was the first winner of his father's race with a 3-year-old gelding named Deputy Fling.
[show_more more="READ MORE" less="LESS"]
"For the people of Virginia to have the understanding of what my dad meant to the spirit of Virginia racing, to name a race after him was really special," Allen said. "I would have to say winning the inaugural running of the race would have to be certainly the emotional highlight of my career. What happened on that day was nothing short of incredible. It's one of those stories about racing that almost never happens anymore."
The winner's circle photo, jammed with friends and family members on hand for the occasion, is prominently displayed on a wall in Allen's Clarksville, Md. home. Overlooking the scene was the third floor dining room where Bert Allen sat at his reserved table nearly every racing day.
"There's got to be 75 people in that picture and I can name everybody in it. They're all close personal and family friends. It's just full of people," Allen said. "As we were standing in the winner's circle, I looked up to the stands. Colonial is a compact little grandstand which seats about 5,000 people altogether. Everybody was on their feet and applauding. Between my dad and myself, we basically knew everybody that was there. I don't know where else something like that happens. I don't think it does, really.
"It was a pretty nice thing," he added. "I'm not a particularly sentimental person, but something like that gets to you."
Ferris Allen grew up with horses. His father ran an automotive business and tended to horses on their farm, and every spring on Preakness Day would host six races over a three-furlong track on the property for donkeys, ponies, quarter horses and thoroughbreds.
"My dad was a working-class guy that loved horses, and because he loved horses he came to love horse racing," he said. "He was not a guy that had a lot of money or had the wherewithal to throw a lot at it, but he was so passionate about it that basically anybody that had anything to do with horses, unless they were a crummy person, became my dad's best friend."
Allen was galloping horses by age 11 and racing at 13, graduating from Varnia High School, where he would return to teach government and coach baseball after earning a degree from William & Mary, where he was a standout in the classroom and on the diamond. He took out his trainer's license in 1974 and by 1977 he had gone from teaching students to horses on a full-time basis.
"Right after I got out of college I got my trainer's license because we had some horses on the farm. It was your typical hobbyist farm operation where we had a few horses and when we could, we would take them to Charles Town to race them," Allen said. "My last year of teaching school I had over 100 starters, so that gives you an idea of where my life was going. I decided I could go back to teaching if I wanted to, but it was a really good time in my life to try training horses. The rest is kind of history."
Long based at Laurel's Barn 26, Allen would go on to lead all Maryland trainers in victories in 1999 and ranked in the state's top 10 for 16 consecutive years from 1995 to 2010 while topping the $1 million mark in purse earnings 15 straight years from 1997 to 2011. He picked up career victory No. 2,000 with From Jump Street on Dec. 18, 2011 at Gulfstream Park.
Allen's lone graded stakes victory came with Passeggiata in the 1999 Barbara Fritchie (G2), but he is best known as the trainer of Miracle Wood, who was bred, owned and campaigned by his father. At the ages of 2 and 3, Miracle Wood would win or place in 13 stakes, including a fifth-place finish at odds of 20-1 in the 1986 Preakness Stakes (G1). He retired in 1992 with 15 wins and $498,090 in purse earnings from 117 starts, living out the rest of his days on the family's farm, where he passed away in 2014 at the age of 31.
Like Allen's father, Miracle Wood has his own stakes named for him, a one-mile test for 3-year-olds first run in 1995 and held during Laurel's winter meet.
"He was very cantankerous. He was probably all in all the most difficult horse that I ever trained as far as his behavior and demeanor went," Allen said. "He was the year of Broad Brush, and you can go through his form and see that Broad Brush was about a length and a half better than he was. We had a great rivalry with the Dickie Small barn and all going up with that. We went down for the Jim Beam and we ran 1-2 in that race. If they had gone some other direction we would have probably won that race. Broad Brush was a real national caliber horse and I would say we were a little more regional, and we had a chance of beating the best horses with him."
Allen is a charter member of the Maryland Thoroughbred Horsemen's Association, serving on the board of directors from 1986 to 2002 including a 12-year stint as vice president. In 1990, he was honored with the Outstanding Service to Maryland Horsemen Award.
He offers his career as a tribute to his father, and continues to mentor young horsemen who seek out his advice and the wisdom of his experience. Allen's lone starter on Saturday comes with Chief Tarhe in the second race, a $27,000 maiden claiming event at 5 ½ furlongs on the main track.
Chief Tarhe was bred in Maryland at Hickory Ridge Farm, where Allen's daughter, Jane Allen Blayman, leases from owner John McDaniel to run Warwick Equine Services, a full-service operation specializing in thoroughbreds and show horses that expanded to include the breeding aspect in 2011.
"The way my dad was, he just was a sponge for everything that had to do with horses," Allen said. "When I was at his side growing up, whatever he learned he taught me or I learned it along with him. That was a really neat deal." [/show_more]
ROSE BRIER LOOKS TO DEFEND BERT ALLEN TITLE
Though he has raced and won at multiple tracks up and down the East Coast, Panic Stable's Rose Brier is never more at home than in Maryland. The 7-year-old gelding has made four of his 34 career starts at both Laurel Park and historic Pimlico Race Course, all of them wins, each of them in stakes.
On Saturday, Rose Brier will look to keep his perfect Maryland record intact with a third straight victory in the $60,000 Bert Allen Stakes at Laurel. The Bert Allen for 3-year-olds and up is one of five supporting turf stakes restricted to Virginia-bred/sired horses on the 11-Commonwealth Day program and two contested at 1 1/16 miles, along with the Brookmeade for females 3 and up.
Joining them on the card are the Jamestown for 2-year-olds and the Punch Line for 3-year-olds and up and Oakley for females 3 and up, all at 5 ½ furlongs. Rounding out the stakes program are the $200,000 Commonwealth Turf Cup (G2), $200,000 Commonwealth Derby (G2) and $150,000 Commonwealth Oaks (G3).
Trained by Jane Cibelli, whose summer base is at Monmouth Park, Rose Brier was favored in each of his Bert Allen victories, which came by 3 ¼ lengths in 2014 and two lengths last year. He also won the one-mile Henry S. Clark in April to make him three-for-three over Laurel's world-class turf course, and captured the Edward P. Evans for Virginia-breds June 25 at Pimlico.
"He seems to really enjoy Maryland. It's funny, because he likes every turf course except the one that he's stabled at for some reason," Cibelli said. "When you watch him, visually he just doesn't really finish as well at Monmouth as he does other places. Maybe he just likes to ship. There are horses, you know, that just like to get on a van. Maybe he's one of them."
[show_more more="READ MORE" less="LESS"]
Rose Brier was third by a length in the Red Bank (G3) at Monmouth prior to the Evans, which he followed by finishing third by less than a length to subsequent stakes winner Watchyourownbobber in a stakes at Mountaineer Park Aug. 6, his most recent effort.
"We'll have a target on our back there. They're going to be out to get him," Cibelli quipped. "He seems like he's doing well so we'll see how it goes. He came out of the last race excellent, no problems at all. It's a horse race and we've all had favorites that got beat. It happens all the time. They're all beatable."
Cibelli has been careful in managing the campaign for Rose Brier, a son of multiple graded stakes winner Mizzen Mast who has yet to win himself in graded company. In addition to this year, he was fourth in the Red Bank in 2014 and 2015 and fourth in the 2015 Tampa Bay Stakes (G3).
"Rosie is the kind of horse that if you space his races out and give him enough time in between he does well. He's not the kind of horse where you can bang him back in two weeks," Cibelli said. "He's had plenty of time for this race, and he needs this time. He's an old man now, he's 7 years old. He's no spring chicken. I actually gave him time off last winter because he's been in training forever and he was running well. It's kind of hard to give a horse time off when they're running well but you've got to at some point.
"You could see he wasn't training quite the same so we gave him three months off and turned him out up here in Jersey. Actually the lady at the farm called us and said, 'You've got to pick him up. He's driving me nuts. He's ready to go back,'" she added. "We got him back and he was wild. He wanted to go back to work. He's a cool kind of horse. I don't know if he'll ever win a graded stake or anything. He's certainly run well against graded horses, that's for sure. He always shows up. As long as you do right by him, he'll do right by you."
Trevor McCarthy, aboard for all three of Rose Brier's Laurel stakes wins, gets the return call at topweight of 122 pounds from Post 7 in the nine-horse field.
Chester Prince's Dannhauser, third to Rose Brier the past two years, will take another shot in the Bert Allen. Trained by Kathleen O'Connell, the 8-year-old Johannesburg gelding won the Bert Allen in 2013, the last year it was run at Colonial Downs, and also won the 2012 Laurel Turf Cup. Sheldon Russell rides from outside post 9 at 118 pounds.
Thunderinwillie, fourth to Rose Brier in the Edward Evans; Power Driven, second and third, respectively, in the Harry Jeffrey Stakes and Manitoba Derby this summer at Assiniboia Downs; Runninginthevale, a neck away from having three straight victories for Laurel-based trainer Gary Capuano; Envious Bid, Irsaal, Jump Ship and Silver Tie Affair complete the field.[/show_more]
COMPLETE ST. LOOKS TO DEFEND BROOKMEADE TITLE
Harlan Crossman's Complete St., winless in five starts this year, returns to the scene of her last victory in an attempt to defend her title in the $60,000 Brookmeade.
The 6-year-old mare has finished third or better once this year, also dead-heating for fifth with fellow Brookmeade contender Gem in the 1 1/16-mile Nellie Mae Cox for Virginia-bred/sired horses June 25 at Pimlico.
Charles Wilson's Secret Or Not, second by a length to Queen Caroline in the Nellie Mae Cox, and Wesley Ward-owned and trained Hooligan, another 1 ¼ lengths back in third, are also among the returning players in the Brookmeade.
Secret Or Not, breaking from post 1 in a field of 10, and Hooligan, who drew post 8, have each made one start since the Nellie Mae Cox, exiting the same 1 1/16-mile optional claimer July 23 at Laurel where Silver Or Not was second by a neck with Hooligan finishing eighth. A 4-year-old Exchange Rate filly, Hooligan is also entered in the $60,000 Oakley, contested at 5 ½ furlongs later on the card.
Rounding out the field are Andrasta, winner of a 1 1/16-mile claiming event Aug. 5 at Laurel for trainer Hamilton Smith; Magician's Vanity, second by a neck in a 1 1/16-mile allowance Aug. 20 at Laurel; Drop Dead Red, second in back-to-back allowances since being claimed July 2; Atlanta Babe, My Dinah Lee and Skipalute.
TWO NOTCH ROAD LOOKS FOR PUNCH LINE TRIPLE
Three weeks after coming within a half-length of his first graded stakes victory, 9-year-old gelding Two Notch Road has his sights set on a third straight win in the $60,000 Punch Line Stakes Saturday at Laurel Park.
The Punch Line for 3-year-olds and up is one of five supporting turf stakes restricted to Virginia-bred/sired horses on the 11-race Commonwealth Day program, and one of three contested at 5 ½ furlongs along with the $60,000 Oakley for females 3 and up and the $60,000 Jamestown for 2-year-olds.
Joining them on the card are the $60,000 Bert Allen and $60,000 Brookmeade, both at 1 1/16 miles. Rounding out the stakes program are the $200,000 Commonwealth Turf Cup (G2), $200,000 Commonwealth Derby (G2) and $150,000 Commonwealth Oaks (G3).
Two Notch Road owns six wins and $465,503 in purse earnings from 34 lifetime starts as half of trainer and co-owner Glenn Thompson's two-horse stable. Three of his victories have come in Maryland stakes: the 2014 and 2015 Punch Line and the five-furlong White Oak Farm, also for Virginia-bred/sired horses, June 25 at historic Pimlico Race Course.
"It's been a good spot for him. He definitely likes Virginia-breds, that's for sure," Thompson said. "He's also come into the race at the right time, feeling good. I think the same is the case for Saturday."
In his most recent effort, Two Notch Road broke slowly and raced at the back of a 10-horse field for a half-mile before closing with a flourish on the far outside to finish second in the five-furlong Turf Monster (G3) Sept. 5 at Parx.
"He ran a really good race. He was training really well going into it and I felt really confident about how he was going to do. Watching the race, down the backside he was kind of climbing a little bit and I didn't like the way he was looking there for a while," Thompson said. "I didn't like the way he was traveling and I don't think he liked the turf course very much. He ended up going wide but I actually think it helped him because he got out to probably on the best part of the course and really ran hard. I was really proud of him."
Daniel Centeno, aboard in the Turf Monster, gets the return call from outside post 7 at topweight of 120 pounds in the Punch Line, a race won the previous two years under Julian Pimentel. Thompson credited both for their success on Two Notch Road.
"I only have two horses and when you have a small stable you're always scrambling for riders," he said. "I think a lot of it is having a good rider that fits him really well. I think Danny and Julian are both a good fit for Two Notch."
[show_more more="READ MORE" less="LESS"]
Following the White Oak Farm, Two Notch Road finished second by 1 ¾ lengths in a 5 ½-furlong optional claiming allowance at Laurel July 23 and was entered but unable to get into another race until the Turf Monster.
"He's a very challenging horse. He's just a very good-feeling, happy horse. He's very animated. He does not act like he's 9. He acts like a 2-year-old or a 3-year-old," Thompson said. "He and I have a love-hate relationship. He drives me crazy because I'm always afraid he's going to hurt himself. He's always doing goofy stuff. As a trainer, you're kind of holding your breath with a horse like him but I wouldn't trade him for anybody. He's been a really, really good horse for me."
Susan S. Cooney homebred Made Bail, second by a length to Two Notch Road last year, takes another shot at the favorite in the Punch Line. The 4-year-old Closing Argument gelding last won April 10 in a 5 ½-furlong turf sprint at Laurel and was fourth, beaten 1 ½ lengths, in the White Oak Farm. Sheldon Russell has the call from the rail.
Moon River and Available, second and third respectively, in the White Oak Farm; Tiz Unbeatable, Cliffs of Malibu and Early Grey round out the field.[/show_more]
JUVENILES SET TO TACKLE JAMESTOWN
C B Bodemester, Galaxy Express and Lime House Louie will attempt to parlay maiden victories into stakes success in the $60,000 Jamestown for 2-year-olds.
After two failed attempts earlier this summer at Laurel, Charles Biggs' C B Bodemester graduated with a 2 ½-length score in a one-mile maiden special weight Sept. 2 at Timonium. Trained by Cal Lynch, the Bodemeister colt will be making his first start on turf from post 1 with Xavier Perez, who was up for the maiden victory.
Lady Olivia Northcliff's Galaxy Express made his first two starts at Delaware Park, including a front-running eight-length triumph July 27 at the Jamestown distance. The effort earned him a chance in the Laurel Futurity Sept. 10, where he was never in contention after bobbling at the start and wound up fifth.
The only other horse in the field of 11 with a previous victory is Wildcat Stable's Lime House Louie, a 1 ¼-length winner of his debut July 23 going 4 ½ furlongs on dirt at Charles Town. He also exits the Laurel Futurity, where he ran into traffic trouble at the half-mile pole land finished fourth.
Also entered are Hold Me Black, Brainchild, Skipalong, Zenbennie, Virginia Envy and first-time starters Speed Gracer, Lil Marshmallow and In Bella's Honor.
AWAY WE GO TOPS OAKLEY STAKES
Nicewonder Stable's Away We Go, a neck winner of the Jamestown Stakes for 2-year-olds last fall, returns to Laurel to seek his first victory since in the $60,000 Oakley.
Trained by Rodney Jenkins, the 3-year-old Tizway filly has finished no better than fourth in four subsequent starts, all against older horses. She cuts back to a turf sprint for the first time since her season opener April 10 at Laurel where she was sixth, beaten just 3 ¼ lengths.
Victor Carrasco has the call for the first time from outside post 11 at co-low weight of 114 pounds.
Sam E. English II's homebred Awake the Day returns after being disqualified from third to last for interference early in the 2015 Oakley. Hooligan, also entered in the $60,000 Brookmeade for females 3 and up at 1 1/16 miles earlier in the card, has run four times this year since being placed fifth in last year's Oakley.
Completing the field are Rapid Rhythm, Callipepla, For Finery, Tiz Our Time, Trish's Wish, Ring Knocker, Grace Is Ready and Found.