Shore Bets: Monmouth Park September 10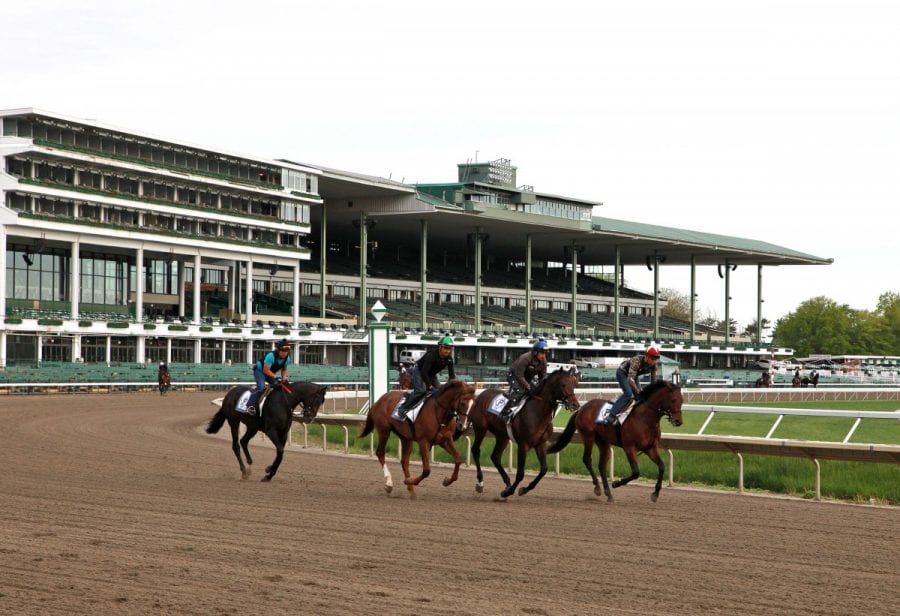 Photo by Bill Denver/Equiphoto.
We are pleased to welcome Shore Bets back for another season of Monmouth Park racing.
by John Piassek
Ten races are a part of the Saturday Monmouth card, including the grade 3 Violet Stakes, which drew a competitive field of seven. With six days left in the meet, the Jersey Shore 6 carryover continues to build. Today, there'll be $48,345 in the pool to start things off.
Race 1: Maiden Claiming $10,000, 3yo and up, Fillies and Mares, 1 Mile 70 Yards
5- Eye of the Chub- Has been struggling against straight Jersey-bred maidens, figures while sprinting tower over these, stretches out while taking big class drop, which should help.
3- Platinum Sensation- Finished third in three straight tries against horses like these, was only nine lengths behind last out, which represents some improvement.
4- Eye Contact- Burned up a lot of money earlier in the meet, while losing five times at low odds, figures are still competitive so there is hope today will be the day.
Race 2: Claiming $7,500 (n/w3L), 3yo and up, 1 Mile 70 Yards
5- Ghostcatcher- Won two out of his last three dirt races, while earning brisnet figures of at least 80, late pace figures give him a big edge over the rest.
6- Alex the Dude- Battled for the lead throughout last out before losing by ¾ of a length at 4/5, consistently runs in the mid-70s, may be worth a flyer if not overbet.
3- Hard Fast Catch- Ran by far his best race last out when almost wiring a field at this level going six furlongs, hopes to continue hot streak while stretching out.
Race 3- Claiming $12,500, 3yo and up, 1 1/16 Miles (Grass)
10- Aripeka- Benefited from the big class drop last out when he won his first try at this level, while earning an excellent figure of 91, has run up to a 102 earlier in the year, Paco Lopez-David Jacobson trainer-jockey combo is fearsome.
4- Make it Gold- Was outclassed against tougher horses last out while running season-best number, defeated $12,500 foes earlier in the meet, albeit with a relatively low figure of 81.
11- Seeya When I Seeya- Rallied from far back last out and just missed, Jesus Castanon, in to ride in the Violet Stakes, picks up the mount.
Dirt:
11- Seeya When I Seeya
4- Make it Gold
2- China Prince
Race 4- Maiden Claiming $40,000, 3yo and up, Fillies and Mares, NJ-bred, 5 ½ Furlongs
3- Kodiak Katie- Improved her figure by 23 points when finishing a surprising fourth at 98/1 last out, struggled at this level in her debut, but with a race under her belt, I expect better.
7- Surfer Chub- Ran the second-best last-out brisnet figure, which is seventeen points better than third-best, drops down to Jersey-bred maiden claimers for the first time.
5- Little Miss Remedy- Showed early speed in both of her two dirt races before fading, will have to show more stamina for a better chance.
Race 5- Maiden Special Weight, 2yo, Fillies, 1 Mile (Grass)
9- Furiosa- Broke slowly in debut and was stuck in traffic, wound up finishing a respectable 3 ¼ lengths behind, a clean start will be the key for victory.
10- Souper Salary- Was fairly well-bet in grass debut, pressed the pace before faltering, Paco-Plesa combination always a dangerous one.
6- Fahan Mura- Went off at a well-meant 4/1 in debut, was kept far behind, showed good late pace but it wasn't enough, Brice Blanc picks up the mount and hopefully will keep his mount closer to the lead.
Dirt:
2- Party Boat
12- Sneaky Betty
5- Meal Ticket
Race 6- Claiming $5,000, 3yo and up, 1 Mile 70 Yards
9- Whiskey Sour- Has been running well all summer long in Maryland and Delaware, ran a season-best 84 when defeating similar at Delaware last out, figures to rate off the pace and hopefully won't lose too much ground.
8- Kodiak Syd- Was very close in his last two after defeating $5,000 foes four races ago, before laying an egg against starter allowance horses last out, will have to rebound from that non-effort.
5- Big Blue Nation- Had been running in the 80s earlier in the year at Gulfstream, ran a solid 79 when finishing second last out, perhaps he's turning a corner.
Race 7- Allowance Optional Claiming (n/w1x), 3yo and up, Fillies and Mares, 5 ½ Furlongs (Grass)
9- Sweet Butterfly- Overmatched at Saratoga two races ago and broke slowly last out, ran an 89 three races ago when winning at this level, should match that figure with a cleaner trip.
5- Nimble Foot- Finally broke her maiden in her twelfth try last out, when earning an 85 at Parx at 1/5 odds, has worked well on the grass since that score, "lightbulb" angle may be in play here.
10- Loya- Is a perfect 3-for-3 on the Monmouth grass this meet, but has not run a figure above 81, will probably have to do better to win this one.
Dirt:
13- Flaring
10- Loya
8- Cee Bee Gee Bee
Race 8- Allowance Optional Claiming (n/w1x), 2yo, 5 ½ Furlongs
3- Phone My Posse- Jersey-bred stunned open company when winning at 30/1 in his debut, earning a sparkling 84, makes return to the dirt and has been working well since sixth-place finish in Tyro Stakes on grass.
4- My Carrots- Closed from far behind last out to defeat Jersey-breds in his maidens, will benefit should pacesetters melt down.
2- Lucky Six- Blew away maiden claimers in debut back in June, Ferrer jumps off in favor of Phone My Posse, Bocachica picks up the mount on this speedster.
Race 9- Violet Stakes, 3yo and up, Fillies and Mares, 1 1/8 Miles (Grass)
5- Sweet Acclaim- Was a head away from coming in here with four consecutive victories, won the Ellis Park Turf Stakes last out with a strong figure of 96, her figure has improved in each of her last four races, Jesus Castanon comes in for the ride.
6- Desiree Clary- Won her American debut two races ago at Belmont Park, was a non-threatening fifth at low odds in the Waya Stakes at Saratoga, but earned a very strong 104, hopes to continue her good stateside form.
3- Isabella Sings- Won the Miss Liberty Stakes and the Eatontown Stakes here at Monmouth before disappointing in the Diana Stakes at Saratoga, gets some class relief here and will almost certainly be on the pace.
Dirt:
1- All in Fun
4- Sycee
7- Tammy the Torpedo
Race 10- Maiden Claiming $10,000, 3yo and up, 5 ½ Furlongs
3- James Alex- Ran a solid 69 when sprinting two races ago, has been second or third ten times from nineteen races.
6- Super Duker- Has been pressing the pace and tiring in his last few, ran a season-best 63 in his last race and has earned up to an 80 in the past.
5- Chubby Who Who- Lost his first four races while never going off at odds greater than 5/1, gets a jockey upgrade to Jonathan Gonzales, which may help.