Janine Melnitz looks to bust Rosenberger rivals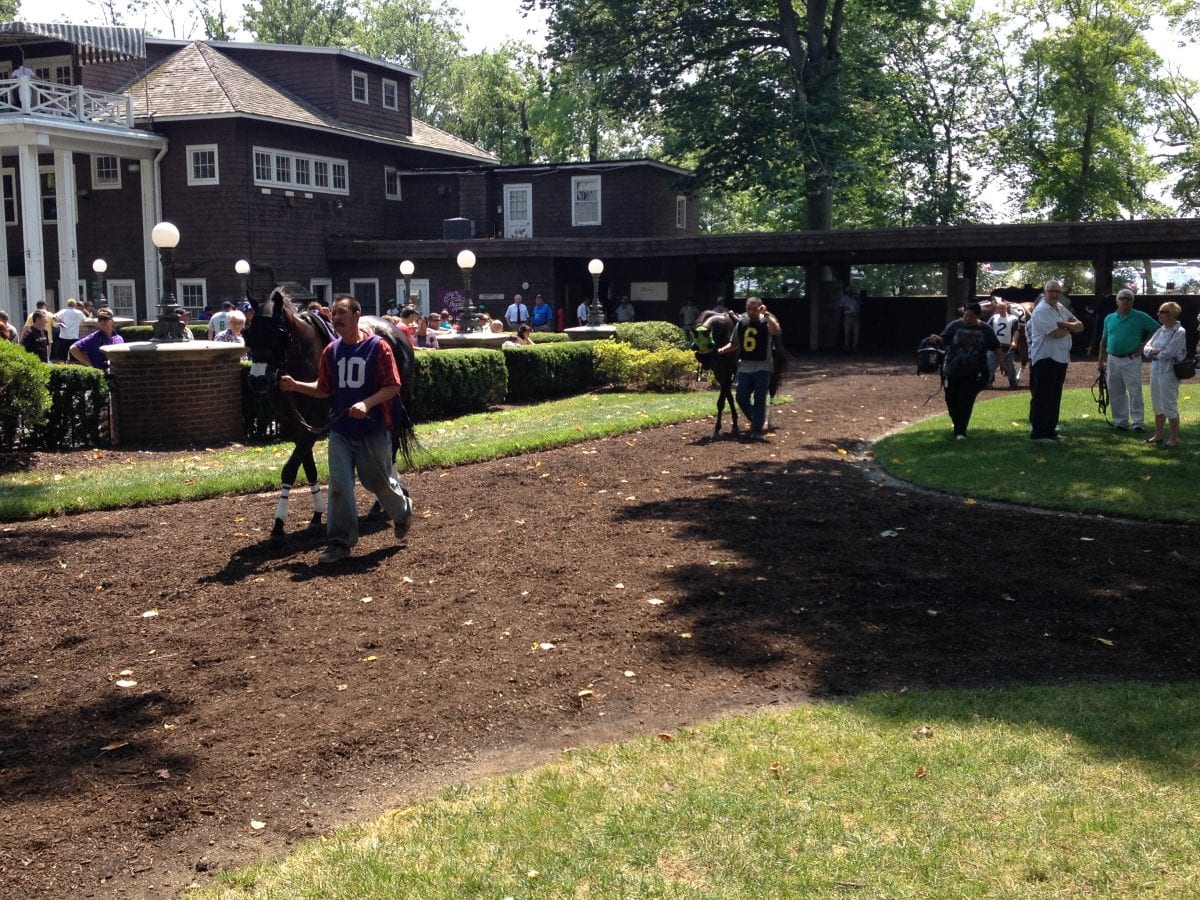 by Doug McCoy
Saturday's $75,000 George Rosenberger Memorial Stakes is a wide open affair featuring a number of entrants who are looking to take that all-important step from being just a nice allowance/optional claiming level runner to a stakes winner.
One of those looking to break through and earn some black type is Janine Melnitz, a horse with a strange name trained by an up-and-coming horseman with an interesting resume.
[su_box title="
GEORGE ROSENBERGER MEMORIAL STAKES ENTRIES
" style="glass"]
Complete St. (20-1) — Jose Caraballo/Lilith Boucher — Stakes winner's recent form isn't bad, but isn't quite enough here; cross-entered at KD
Debbie's Tude (12-1) — Luis Garcia/Bill Komlo — Speedster will try to take the field all the way; owns two wins over the strip and has a chance if she can clear, control — but other speed types argue against
Elusive Joni (15-1) — Scott Spieth/Gary Capuano — Improving sort never worse than second on the lawn with a pedigree that says the stretch-out should fit
Tela (15-1) — Erick Rodriguez/Michael Matz — Finished behind two of today's rivals last out
Old Harbor (6-1) — Ricardo Chiappe/Russell Cash, Jr. — Consistent five-year-old will stalk and pounce and is nearing $500k mark — but note that Centeno jumps ship
Janine Melnitz (15-1) — Carol Cedeno/Tres Abbott — Nicely bred filly has suddenly improved, won two straight, and will be running late
Divine Dawn (12-1) — Gabriel Saez/Larry Jones — Speedy sort is stakes-placed on turf and dirt; never a wise idea to ignore trainer Jones at DelPark
Regal Roma (10-1) — Ricardo Santana, Jr./Anthony Pecoraro — Continued improvement a must in this spot
Northern Smile (8-1) — Daniel Centeno/Kelly Rubley — Five straight in the money include a rallying third, beaten a length by Debbie's Tude, in Md-bred All Brandy Stakes
Catcha Rising Star (8-1) — Erick Rodriguez/Graham Motion — Red Giant filly registered first stake win last out in front-running score at MNR; capable of repeat, but other early types will ratchet up the pressure
Blame It On Me (9-2) — Brian Pedroza/Christophe Clement — Two wins from four starts and a patient trainer noted for putting horses where they fit make sophomore a contender
Nickyrocksofrpops (20-1) — Travis Wales/Lynn Ashby — Pass.
Inside Out (7-2) — Katie Davis/Arnaud Delacour — Just missed as fave against #5 in here last out; still plenty of upside available for lightly raced runner
[/su_box]
Sycamore Racing III, the owners of Janine Melnitz, are quite imaginative when it comes to naming their young horses and Janine Melnitz is no exception. The filly, who was purchased for $45,000 as a yearling, is by the sire Ghostzapper. Movie trivia buffs will be quick to tell you that Janine Melnitz was the brash secretary for the paranormal investigation and extermination company known as Ghostbusters.
Janine Melnitz the horse began her career in the spring of 2015 and made six starts as a 3-year-old, mostly sprinting on the turf. While she was still a maiden when Abbott stopped on her and took her to Palm Beach Downs for the winter.  She was a filly her trainer felt had a bright future.
"She didn't run badly last year, [but] it was just a combination of her learning how to put things all together," Abbott recalled.  "And while she had some good races sprinting, we felt all along she would be more comfortable when we started running her longer."
Janine Melnitz stretched out for the first time at Gulfstream in mid-February and came off a three-month vacation with her best effort to date. Racing in mid pack early in the 7 ½ furlong race, Janine Melnitz looped rivals though the second turn then closed powerfully outside to just miss by a neck at 23-to-1. The filly followed that up with a solid fifth in a mile maiden tilt run in a fast 1:34.2.  Abbott then decided to wait for Delaware Park to run his charge back.
"She's a Delaware Certified horse and the connections are local, so we brought her back in June and she's run her best two races to date here," Abbott said.
Janine Melnitz rallied from just off the pace to post an impressive maiden win on June 9th going a mile and a sixteenth and then did what most horses are unable to do by coming right back in her first start against other winners to win again. After waiting for racing room in that mile and seventy yard race, Janine Melnitz challenged for the lead in the stretch and showed her gameness to outfinish Royal Source, an Arnaud Delacour filly from the Lael Stable and the favorite in the race.
"This is a step up for her," Abbott admitted, "but she's really come into her own since she started racing around two turns, she's training great, [and] so the time is right to test her at the next level."
And Abbott should have learned a good deal about assessing talent from his early education in training and horsemanship. Before starting his own stable Abbott spent considerable time in Europe as a stable lad and assistant.
For whom did he work?  None other than the Sir Michael Stoute and Aiden O'Brien, two legendary figures in European racing.
And, oh yes, on this side of the pond he also worked someone you might have heard of: a fella named Pletcher.