DTHA Governors Day Stakes odds and preview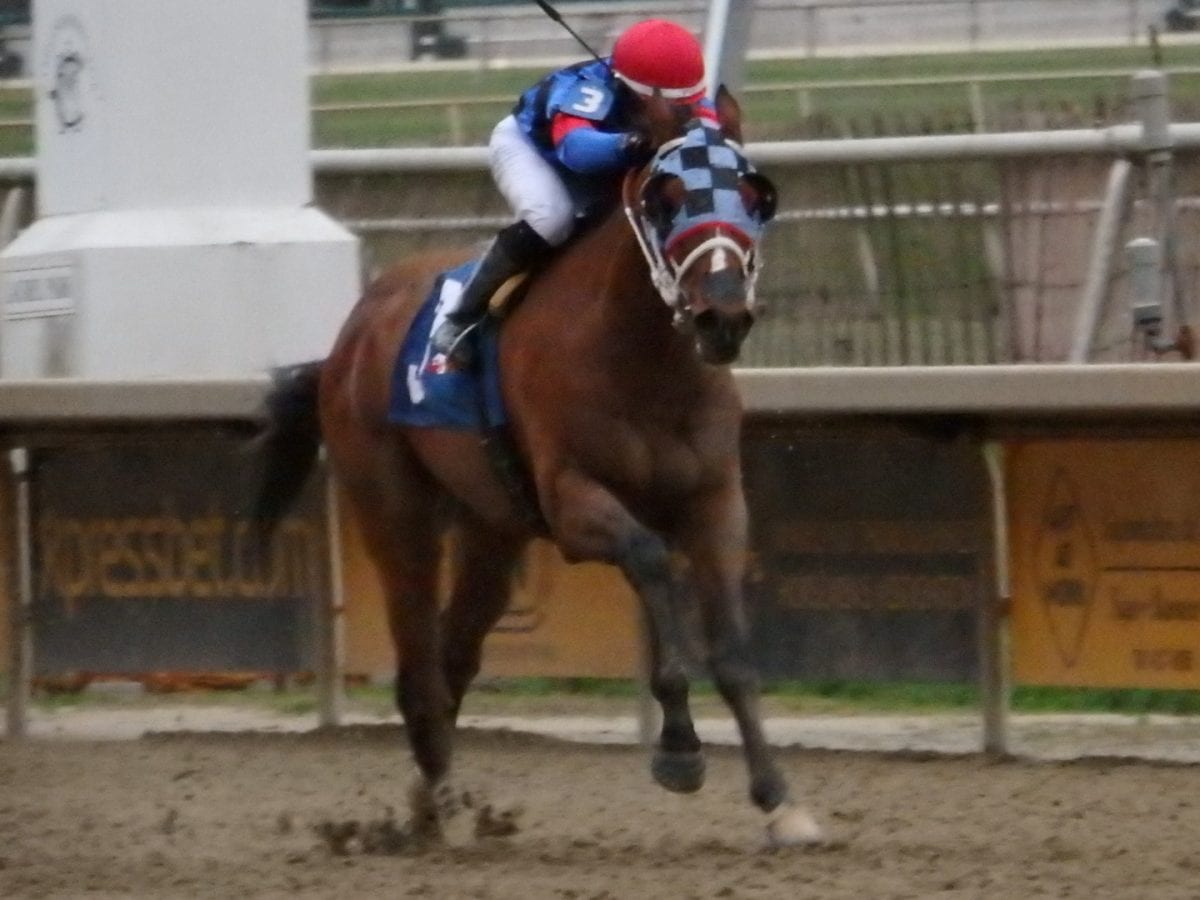 Noteworthy Peach is 8-1 on the morning line in the Governors Day Handicap. Photo by The Racing Biz.
From a Delaware Park release
The 24th Owners' Day at Delaware Park kicks off this Saturday, September 10th, showcasing the best of Delaware racing. The 12-race card includes seven stakes, four for Delaware-bred or certified Thoroughbreds, two restricted to horses that have started at Delaware Park this year, and a stake for Arabians. The total purses for the day will be $637,250.
Trainer J. Larry Jones has three starters on the Owners' Day card. He will have the Brereton Jone's entry of Albano and Etruscan in the $75,000 DTHA Governors' Day Handicap and Tommy Ligon and Michael Pressley's Divine Dawn in the $75,000 George Rosenberger Memorial Stakes.
[su_box title="
DTHA GOVERNORS DAY STAKES ENTRIES
" style="glass"]
In post position order:
Noteworthy Peach (8-1) — Gary Capuano/Carol Cedeno
Ain't Got Time (2-1) — Tim Ritchey/Scott Spieth
Albano (part of entry, 3-1) — Larry Jones/Gabriel  Saez
Warrioroftheroses (4-1) — Damon Dilodovico/Daniel Centeno
Unbridled Lion (10-1) — Hamilton Smith/Brian Pedroza
Fabulous Kid (6-1) — David Jacobson/Alex Cintron
Etruscan (part of entry, 3-1) — Larry Jones/Ricardo Santana, Jr.
Percussion (12-1) — Keith Nations/TBA
Comic Bird (10-1) — K.K. Jayaraman/Diego Gomez
[/su_box]
Albano will be attempting to recapture some of his back class. The last victory for the 5-year-old son of Istan came on February 28, 2015 in the mile and an eighth $100,000 Maxim Gold Cup at Sam Houston. But in a career spanning 18 races with four wins, four seconds and four thirds with earnings of $712,125, the Kentucky-bred has run second in the Grade II New Orleans Handicap at Fair Grounds (2015), third in the Grade III Smarty Jones at Parx (2014), second in the Grade I Haskell Invitational at Monmouth (2014), won the Grade III Pegasus at Monmouth (2014), and finished second in Grade II Risen Star at Fair Grounds on February 22nd.
Etruscan will be seeking his first career stake victory. The 4-year-old son of Bernadini out of the 2008 Delaware Oaks winner Proud Spell has a career record of four wins, two seconds and a third from 15 starts with earnings of $127,707. The Kentucky-bred has a record of two wins and two seconds from five starts at Delaware Park. In his most recent, he finished fifth in $50,000 Carl Hanford Memorial at Delaware Park on July 16th.
"They are both doing really good," said trainer J. Larry Jones, who has won a total of four Owners' Day races since 2007 including the 2008 Endine Stakes with Sweet Hope. "Etruscan has an advantage because he has won here, in fact he broke his maiden here, but he just has not won any big races yet. He is Proud Spell's baby so we know darn well it is only a matter of time before he starts showing some of his good stuff. He is kind of hit and miss. He is kind of Bernadini on me. You never know when the Bernadini will show up, but when he does, he runs pretty good.
"It looks like Albano is trying to come back a little bit. After the New Orleans Handicap, as a 4-year-old, he just kind of went off form and has not really started perking back up to his old self. But this morning's work (Monday) was a whole lot like his old self, so we are hoping for good things.
"We know Albano is there. If he decides to show back up, we know he is there. With Etruscan, he seems like he is getting better and we have waited a long time to get him to where he is now."
Jones has also entered Divine Dawn in the $75,000 George Rosenberger Memorial. The 4-year-old daughter of Divine Park has a career record of three wins, three seconds and two thirds from 12 starts with earnings $171,625. In her most recent, the Kentucky-bred finished sixth beaten a 1 ½-lengths in a mile and seventy yard turf allowance at Delaware on August 8th.
"We are going to come back with Divine Dawn in the Rosenberger," said Jones. "She got beat a length and half in her first race after a long layoff going long. We did give her a short dirt race and then came back long. She set all of the pace and she just get caught. She does not need to be tightened up much more to be effective in the Rosenberger. She is coming into this race very good. She had a great work this morning (Monday)."