Equestricon: For the love of racing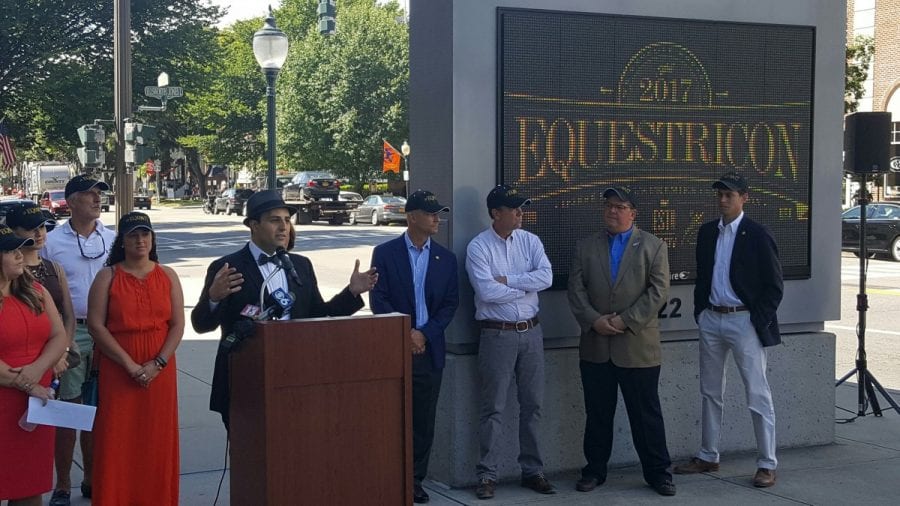 Co-founder Dan Tordjman speaks at the announcement of Equestricon. Photo by Steve Crayne.
Horse owners and breeders Kathryn Sharp and Justin Nicholson, along with writer and racing promoter Dan Tordjman, announced last week the launch of Equestricon: An international horse racing convention, fan festival and trade show. The announcement was greeted by overwhelmingly positive reaction from racing fans and members of the industry.  The effort is supported by an advisory board that includes Mid-Atlantic-based trainer Graham Motion, owner/breeder Anne Poulson, Maryland Jockey Club TV analyst Gabby Gaudet, Eclipse Award winning writer Joe Clancy, and retired jockey Ramon Dominguez.
We asked the team behind the event what motivated them and what those attending the event might expect to see.
by Kathryn Sharp
We love horse racing. Fortunately, we're not the only ones. What is easy to forget sometimes, when arguing over Rachel versus Zenyatta, dirt versus synthetic, is that anyone having that conversation truly loves racing. Differences of opinion make up the very foundation on which racing is built: from the pari-mutuel wagering structure to the competition between the owners and trainers of the horses entered in a given race to find out whose is truly best.
These same differences of opinion stretch to the health of racing and how it is marketed. Is racing dying? Is racing simply struggling to redefine itself in a world that has embraced new avenues for gamblers to spend their recreational dollars? Is there just too much racing?
With all of these debates and questions surrounding the sport we love, there are two facts that must be kept in view.
Racing needs to keep its fan-base and try to cultivate new fans, as well.
Racing needs to find a way to help these current and new fans engage in the sport in ways that encourage them to become bigger fans, more confident horseplayers, or new owners.
Enter Equestricon, the world's first international horse racing convention, fan festival, and trade show. For current fans, Equestricon will provide opportunities to access the sport's biggest stars, who remain role models, heroes, and icons to the racing fan. For new fans, Equestricon offers an opportunity to learn how to bet and also, through several different activity stations, feel, even on the smallest scale, some of the thrills that hook fans, horseplayers, and horsemen, on racing. For all, Equestricon will enhance the racing experience as a whole.
At Equestricon, scheduled for August 13-15, 2017, at the Saratoga Springs City Center, there will be a heavy emphasis on technology and social media. We're going to create hubs, within which innovators can showcase products and services to a captive audience. We hope to have representatives from racing jurisdictions all over the country – and the world – presenting some of the ways they've used social media and new marketing to reach fans and bettors.
Close to all of our hearts is the issue of aftercare. As such, we were thrilled to announce last week that the Thoroughbred Aftercare Alliance is our official charity partner. In the coming months, we look forward to working with other charities who not only care for the welfare of our horses, but also for the safety of our jockeys and the wellbeing of our backstretch workers.
We're proud to be doing all of this as representatives of the Mid-Atlantic. I was born in Philadelphia and grew up on the Eastern Shore of Maryland in Snow Hill. Justin and I launched our racing syndicate in 2011 in Bethesda and considered it home for several years. We also own and operate a barn at Fair Hill, support the local industry and are heavily involved in the regional aftercare scene. Dan, himself, lived in Silver Spring for a while and is still a familiar face on the racing circuit, both as a handicapper and an ambassador for racing in Maryland. He's also become intimately familiar with many of your stories over the years, as a writer for Mid-Atlantic Thoroughbred Magazine and for The Racing Biz.
If you've read this far, it's because you, like us, love horse racing. So, let's get together and celebrate racing. We're excited to do just that at Equestricon 2017.