Gonzalez, Potts take Timonium trainer bonuses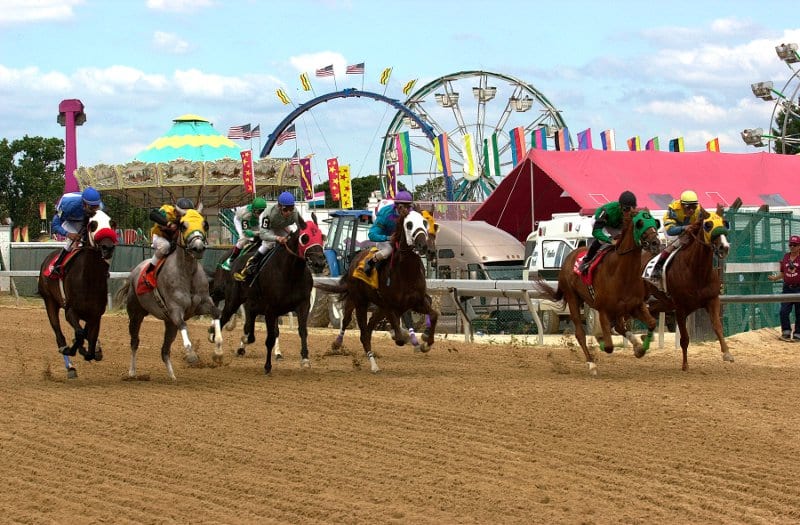 Heading for home at the Big T. Photo by Jim McCue.
by Frank Vespe
Trainers Claudio Gonzalez and Wayne Potts were the biggest beneficiaries of the $20,000 trainer bonus program put in place for the just-concluded Timonium state fair meeting.  Each took home a bonus of $5,000.
The $20,000 in bonuses were funded by the state fair and by the Maryland Thoroughbred Horsemen's Association.
According to Georganne Hale, who serves as the Fair's racing secretary, wagering handle grew 12 percent on the seven-day stand.
Gonzalez earned his $5,000 bonus by leading all trainers in earnings during the seven-day stand.  He ran nine horses at Timonium, and all nine finished in the money, with five winning and three running second.  All told, those runners earned $93,335, leaving him well clear of Phil Schoenthal, whose $71,168 were good for second place.
The rest of the top five in earnings included Donald Barr, Tres Abbott, and Kieron Magee.
Potts's bonus came from winning a points-based competition in which trainers received 10 points when a horse of theirs finished first, five for a second-place finish, and three for third.  They also received one point for a trainee running but finishing out of the money.
Though just two of Pott's 24 starters won, an additional 12 finished second or third (four seconds and eight thirds), and that, coupled with his volume advantage — he ran eight more horses than any other trainer — gave him the lead at the wire, with, by an unofficial tally by The Racing Biz, 74 points.
Gonzalez was second but, because he'd already earned the money bonus, he was ineligible for the points bonus.  The rest of the leaderboard was filled out by Schoenthal (62 points unofficially), who earned a $4,000 bonus; Magee (51 points, $2,000); Gerry Brooks (45, $2,000); and Barr (41, $2,000).
The jockey race at Timonium turned out to be a nail-biter.  In the end, a pair of riders who cut their teeth at the Charles Town bullring found Timonium's similar track to their liking, as J. D. Acosta and Jose Montano dead-heated with eight wins apiece.  Jevian Toledo finished with seven wins, while Angel Cruz, Kevin Gomez, and Gerald Almodovar had six  wins apiece.
Twelve Stone led all horses by earnings, with $27,300 after finishing first and second in two tries at The Big T.  A pair of horses — No More Excuses and It's a Plane — won twice each to lead all runners.