$20,000 in trainer bonuses offered at Timonium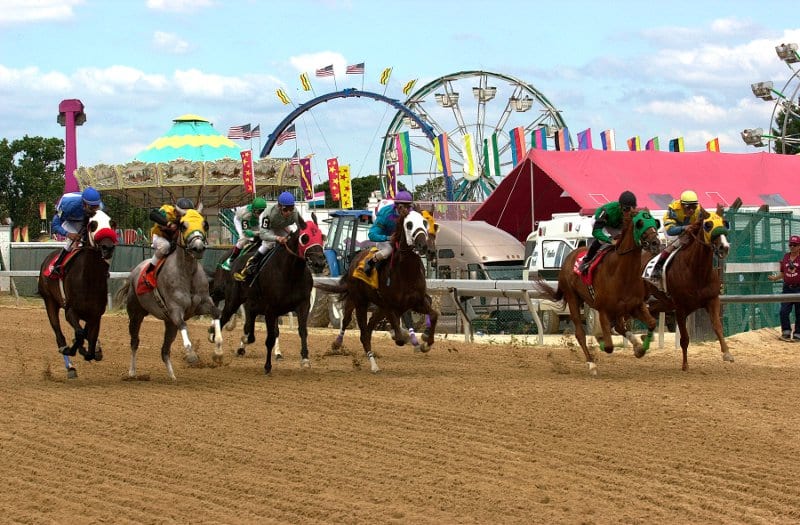 Heading for home at the Big T. Photo by Jim McCue.
by Frank Vespe

In an effort to bolster entries at the upcoming State Fair meet at Timonium, the Maryland State Fair and Maryland Thoroughbred Horsemen's Association will offer a combined total of $20,000 in bonuses to trainers.
Last year, the bullring track averaged 6.9 horses per race.  Lacking a turf course and with purses below those at Maryland's so-called mile tracks, Laurel Park and Pimlico, entries are often at a premium.
This year's meet includes seven live racing days from August 26 to September 5.  Maiden special weight races will carry a purse of $32,000, versus the $40,000 purse at the mile tracks.  That purse is, however, higher than those offered by nearby Charles Town Races and Penn National.
The new bonus structure calls for two different awards.
The first, funded by the State Fair, offers a total of $15,000 in bonuses to five trainers based on the number of starters run at the meet and the performance of those starters.  A first place finish earns a trainer 10 points, with place and show efforts worth five and three points, respectively.  A starter finishing out of the money is good for one point.
The top five point-earners will receive bonuses, with $5,000 to the winner, $4,000 to second place, and $2,000 to each of the next three.
In addition, the trainer with the highest earnings during the meet will earn a $5,000 bonus (except that no trainer can earn bonuses from each of the two pools).