Undulated, Holiday Bonus impress in maiden scores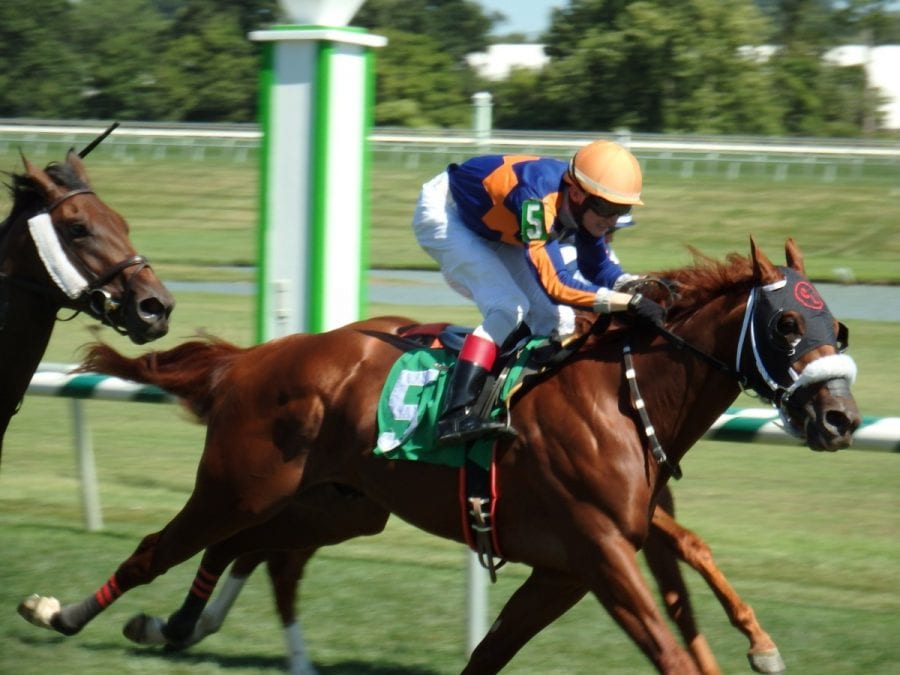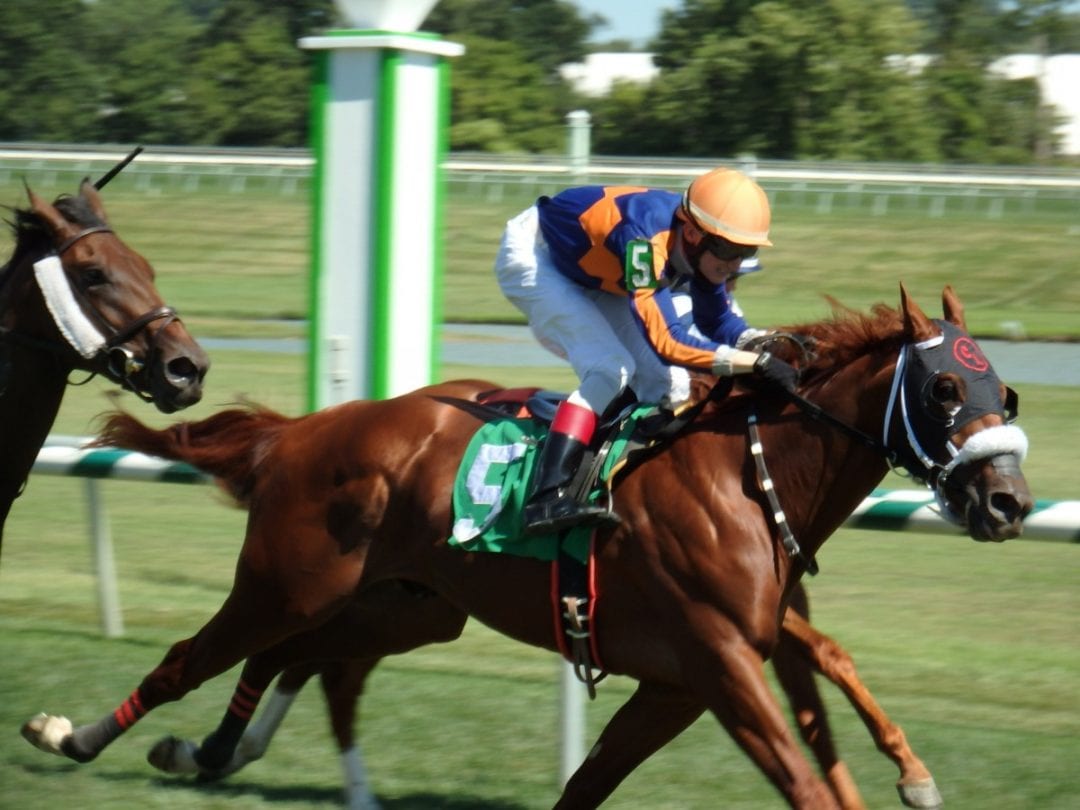 Undulated took a maiden race at Laurel Park on August 7. Photo by The Racing Biz.
by Frank Vespe

Pretty good day for Trevor McCarthy.
The 22-year-old jockey won three times Sunday at Laurel Park, and more to the point, piloted a pair of pricey, well-bred maidens to debut victories.
In fact, those two juveniles — Graham Motion trainee Holiday Bonus and Undulated from the Cal Lynch barn — cost a combined total of more than $800,000 at auction.  Undulated, by Curlin, went for $625,000 at the Ocala Breeders Sale this past March, while Holiday Bonus fetched $190,000 at the Fasig-Tipton two-year-old sale in Timonium this past May.
In the first of the two $40,000 maiden events, going 5 1/2 furlongs on the main track, McCarthy and Holiday Bonus, trained by Graham Motion, swept up outside runners and surged past favored Union Blues to win by 2 1/4 lengths in 1:05.58.
"He broke real well for me today. He didn't want to be rushed too early, so I just had to kind of sit on him. He made me nervous around the turn, he started to back up a bit," McCarthy explained.  "He's kind of a late runner.  Once I got him rolling, he was there for me and was striding out nicely."
The son of Harlan's Holiday had been training forwardly at Fair Hill for Motion, and McCarthy said he had ridden him several times in the morning.
"Graham and I, we both think he's a decent colt," the rider said.  "We were very high on him today."
Another horse connections were high on was Undulated, who took the second of two maiden specials on the day.
The Curlin colt overcame a rugged trip and surged late to win by a half-length in 1:03.13 for 5 1/2 furlongs on firm turf.
"He got squeezed at the start [and] he clipped heels," trainer Cal Lynch said, recounting the difficult trip.  "He was all over the place, the horses were lugging in on top of him. He was forced inside when he wanted to go wide."
But once McCarthy finally found a seam, the horse fired nicely, closing four lengths in the final eighth of a mile to win.  Michael Dickinson trainee Sleepless, who rallied from last, was second, with favored Bronx Sandman a nose back in third.
"Good horses find ways to win, and thank God, he did," Lynch said.
With Curlin as his sire, it is likely that Undulated will want to go farther than today's short sprint distance.  Delaware Park had a 7 1/2 furlong grass maiden race Saturday that figured a logical spot for this runner.  But Lynch said the colt's owners, M M G Stables, had another horse, Monsoon K S A, that they preferred to run in that spot; he, too, won.
Looked at from one perspective, these runners both now find themselves with relatively few options.  Two-year-old  winners most often have to choose between tackling stakes races — of which there are only a few — or sitting on the bench and waiting for tracks to write allowance races for them.
But from a broader perspective, each of them has options aplenty.  You might say the sky's the limit.