Spa Diary: Andrew Motion "thrilled" to bring first one to Saratoga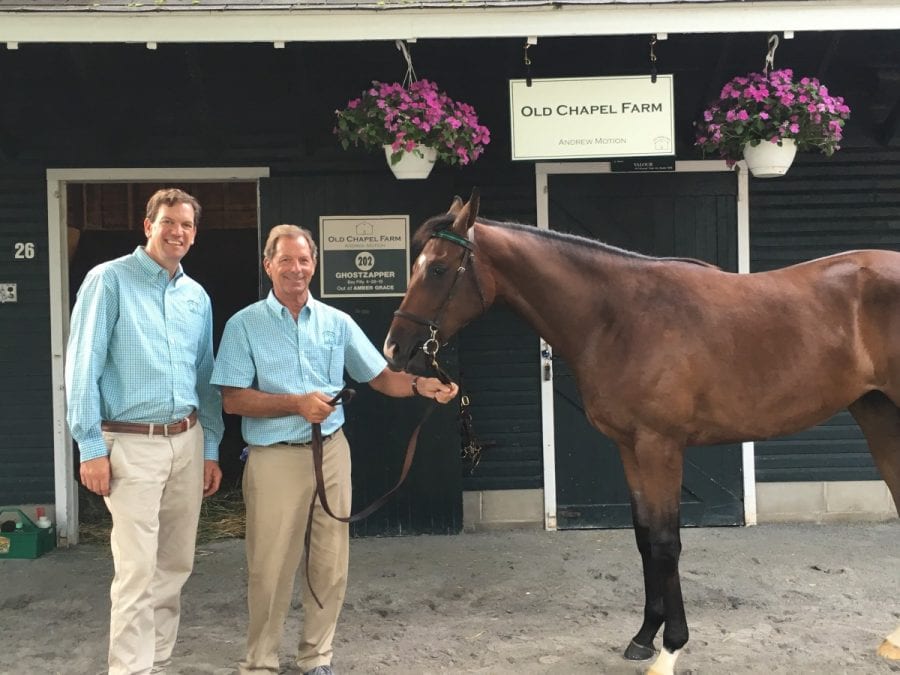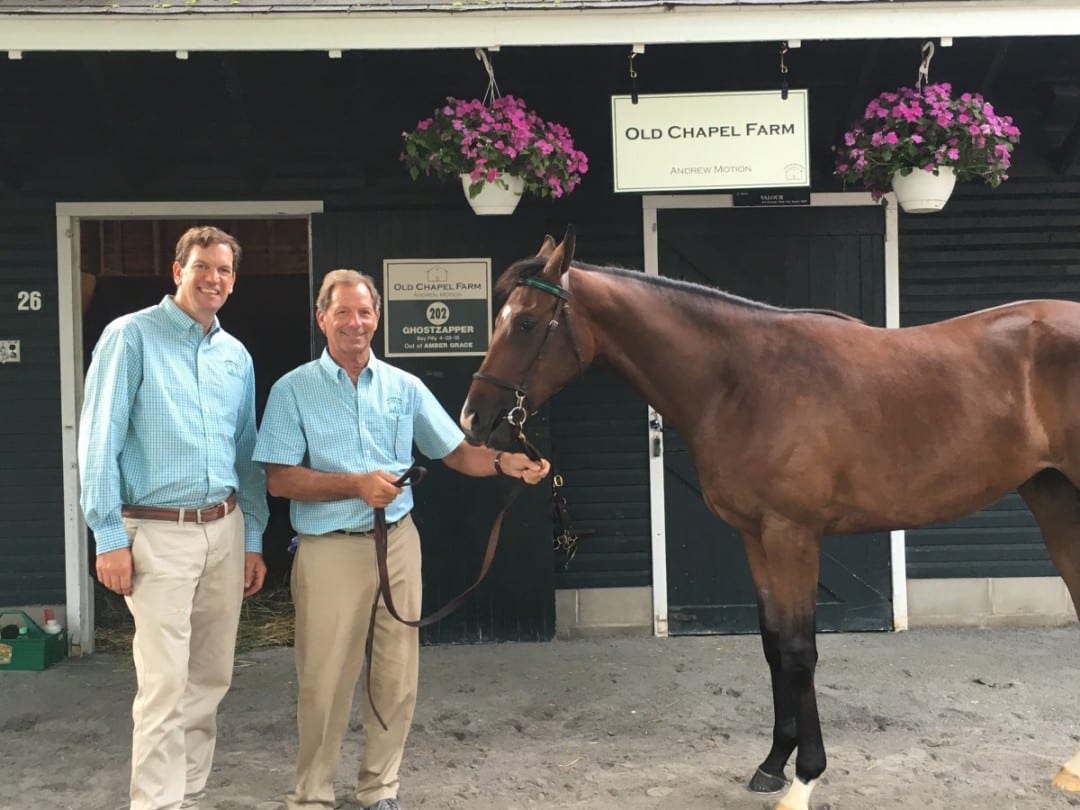 Andrew Motion, Billy Howland, and the star of the show. Photo by Teresa Genaro.
Once again this year, Teresa Genaro will share with us stories of some of the mid-Atlantic people and horses who make their way up to Saratoga in her Spa Diary.

by Teresa Genaro
On Saturday morning, Andrew Motion didn't look like a man who hadn't had much sleep over the last couple days. Two days earlier, he'd loaded a yearling filly onto a van and driven overnight to Saratoga from his Upperville, VA farm; three days before he'll send his first horse through the auction ring here, he was chatting with prospective buyers and lauding his filly's selling points.
The Fasig-Tipton sales grounds are a familiar place to him. In the '80s he worked on the grounds crew, mucking stalls, and he was working for Heronwood Farm when Virginia-bred Rubiano sold as a yearling to Virginia-based Centennial Farm for $650,000 in 1988.
"This is the first time I've gotten to bring my own, though," he said. "I'm thrilled."
Growing up in Virginia and England, Motion was steeped in horse racing from childhood. Both of his parents were involved with racehorses, and he did stints with the Irish National Stud and in Newmarket. His older brother Graham, a trainer based at Fair Hill, MD, has conditioned numerous top quality horses, including champions Animal Kingdom and Main Sequence.
In the States, Andrew worked at Lazy Lane Farm in Upperville for 10 years, five of them as Thoroughbred manager.
He left Lazy Lane in 2000 intending to start his own pinhooking business, and in 2003, he and his wife, Patty, purchased Old Chapel Farm. They closed on the farm in November, and two months later, she was diagnosed with cancer, which claimed her life nine months later.
"Obviously," he said, "my ambitions got put on hold. I had two little girls to raise, so I took out my real estate license. I did what it took to take care of the kids."
He remarried in 2010 (his wife Janie registered his LLC and gave it to him as a wedding present), and one January night, sitting around their kitchen table, Janie and his daughters Mary and Lillibet looked at him said, "Why aren't you in Kentucky?"
He had talked for years about going to the Keeneland January yearling sale, and the time had come, after a decade, to leave real estate behind and start that pinhooking business.
"So they kicked me out," he said, "and I went to the January sale, which I was obviously dying to do."
He and Janie set a $10,000 budget for their first year, and in 2013 he purchased two horses at Keeneland for a total of $7,000. Eight months later, he sold them at the Fasig-Tipton Maryland sale for $48,000.
"We've invested everything we've made back into the business," he said, standing outside Barn 4 on the Fasig-Tipton Saratoga sales grounds, pausing frequently to say hello to an old friend or check in with someone stopping at his filly's stall.
Struck by the way she moved, he bought the weanling Pennsylvania-bred filly by Ghostzapper out of Amber Grace last November at Keeneland for $65,000.
"She's a late April foal and she was very immature, but I was crazy about the way she walked," he said. "She grew up beautifully and she's just a classy, classy individual."
At around 9 am, he had a steady stream of interested parties, and he was quick to point out that the filly's family includes European champions Russian Rhythm and Park Appeal, and Cape Cross, dam of 2009 Cartier Horse of the Year Sea the Stars. He offered that the bay filly, hip 202, has already been under saddle, albeit without a rider, and that living on his farm means that she's regularly around their sheep, goats, and other animals.
"I like to treat sales yearlings like I'm starting them as racehorses," he said. "Get them used to the bit, get them half broken. I've been ponying her off a half-brother to Better Talk Now, and we'll go through the neighbors' fields and through the woods. I think the mind is as important as the body when they get to the sales."
This filly is the culmination of the successful first few years of his and Janie's business, as they've been able to shop more widely and invest more heavily in young horses.
"The first couple of years, I just bought at January," he said. "But I really wanted to step up, and you don't give yourself a chance to make money until you step up a little bit in quality."
Last year, he sold four yearlings for a total of $182,000, $79,000 more than he'd paid for them, two years removed from his initial $10,000 investment.
"I really want to have just a small group of good quality babies," he said. "This is the best group I've had, and I fell in love with this filly in November."
Though he allows that the sale of a good horse could burnish his reputation, he has no interest in building a client base, preferring to buy and sell for himself. Rather, he hopes that after three years, he's developed a reputation for selling a certain type of horse, the type of horse that he's brought to Saratoga and for which people have sought him out, looking for a big, walking, classy filly.
He wouldn't offer any specifics on what he hopes that she'll bring on Tuesday night, saying that he was here "to be sensible" and observing that she's one of only two Ghostzapper fillies in the sale. The other is a half-sister to champion Songbird.
"I'm in a spot," he said, "where I can comfortably sell her, make a bit of money, and be happy."
[su_box title="
SARATOGA SELECTED YEARLINGS
" style="glass"]
WHAT: Fasig-Tipton Saratoga Selected Yearlings Sale
WHERE: Saratoga Springs, NY
WHEN: Monday, August 8-Tuesday, August 9
NUMBERED HIPS: 252
[/su_box]