Stellar Wind blows to top of Top Midlantic-bred Poll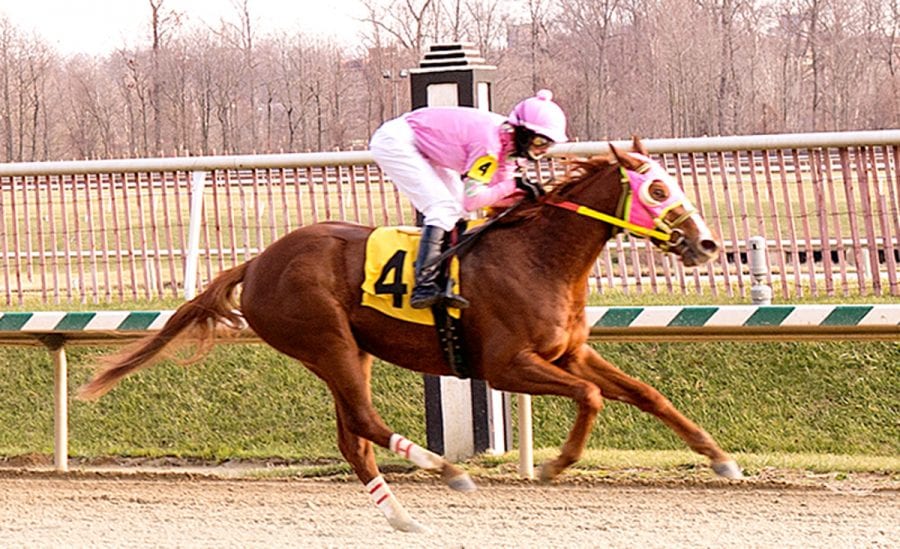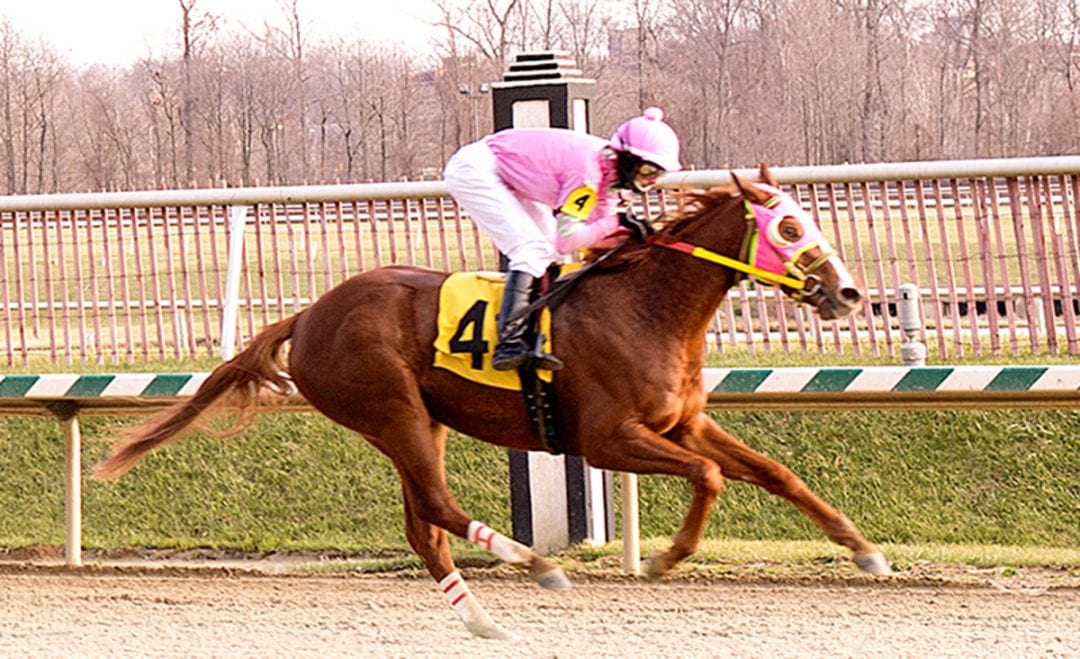 Stellar Wind broke her maiden at Laurel Park. Photo by Jim McCue, Maryland Jockey Club.
Staff report
It's not exactly a worst-to-first situation.  But Virginia-bred Stellar Wind did manage to go from the "also receiving votes" list to number one among older horses in the Mid-Atlantic Thoroughbred/The Racing Biz Top Midlantic-bred Poll for races through the end of July.
That's what a victory over uber-mare Beholder will do for you.
Stellar Wind, a daughter of Curlin bred by Keswick Stables and Stonestreet Thoroughbred Holdings, upset Beholder in the Grade 1 Clement L. Hirsch Stakes at Del Mar July 30.  She now has six wins from 10 career starts, an Eclipse Award (for champion three-year-old filly), and more than $1.1 million in career earnings.  She is trained by John Sadler for Hronis Racing LLC.
And all that allowed her to take a short lead over another Grade 1 winner, Pennsylvania-bred Illuminant, who has been idle since winning the Grade 1 Gamely May 30.
The rest of the older horse list includes Pennsylvania-bred Page McKenney, Virginia-bred Valid, and Pennsylvania-bred Finest City.  Finest City was the only other runner in the top group to run during July, finishing fourth in the Grade 2 Yellow Ribbon at Del Mar.
Among three-year-olds, Cathryn Sophia, the Maryland-bred daughter of Street Boss, remained atop the list.  Though idle since a third-place finish in June's Grade 1 Acorn Stakes, she was the unanimous choice of voters in the poll.
There were two newcomers to the poll.  New Jersey-bred Sunny Ridge, third in the Grade 1 Haskell Invitational at Monmouth Park in his first start since March, jumped from nowhere to fourth on the list.  And Dark Nile, who ran her win streak to four in the Grade 3 Delaware Oaks, checked in in fifth place in the poll.
Six of the top 10 horses were bred in Pennsylvania.  Two each were bred in Virginia, with one each in Maryland and New Jersey.  The list includes five males and five females.
The monthly Mid-Atlantic Thoroughbred is the only publication devoted to Thoroughbred breeding and racing in the Mid-Atlantic region. The Racing Biz, an online publication, is the independent voice for mid-Atlantic racing and breeding.
The poll is restricted to horses that have run in 2016 and were bred in Pennsylvania, Maryland, Virginia, West Virginia, New Jersey, Delaware, and the Carolinas.
THREE YEAR-OLDS
Cathryn Sophia (MD) — 50 points

Tom's Ready (PA) — 36
Mor Spirit (PA) — 26
Sunny Ridge (NJ) — 18
Dark Nile (PA)  — 11
Others receiving votes: Giant Run, Concord Fast, Sweet Victory, Bullets Fever

OLDER HORSES
Stellar Wind (VA) — 44
Illuminant (PA) — 36
Page McKenney (PA) — 29
Valid (VA) — 20
Finest City (PA) — 12
Others receiving votes: Disco Chick, Long On Value, Spelling Again, Roxbury N Overton

Participating Voters: Ted Black (freelance writer), Michael Campbell (Thoroughbred Breeders' Association of New Jersey), Joe Clancy (Mid-Atlantic Thoroughbred), Cindy Deubler (Mid-Atlantic Thoroughbred), Linda Dougherty (freelance), Debbie Easter (Virginia Thoroughbred Association), Anne Frederick (Maryland Horse Breeders Association), Rich Glazier (Delaware Park), Cricket Goodall (Maryland Horse Breeders Association), Jim Hague (freelance), Nick Hahn (freelance), Carol Holden (West Virginia Breeders Classics), Tom LaMarra (The Blood-Horse), Jeff Nations (freelance), Kate Painter (West Virginia Thoroughbred Breeders Association), Vinnie Perrone (freelance), Frank Petramalo (Virginia Horsemen's Benevolent and Protective Association), Gary Quill (The Racing Biz), David Richardson (Maryland Thoroughbred Horsemen's Association), Brian Sanfratello (Pennsylvania Horse Breeders Association), John Scheinman (freelance), Sal Sinatra (Maryland Jockey Club), Dan Tordjman (freelance), Frank Vespe (The Racing Biz), Bill Watson (freelance), Lydia Williams (freelance), Bobby Zen (freelance).
Note — Not all participating voters will vote in every poll.