Shore Bets: Monmouth Park July 23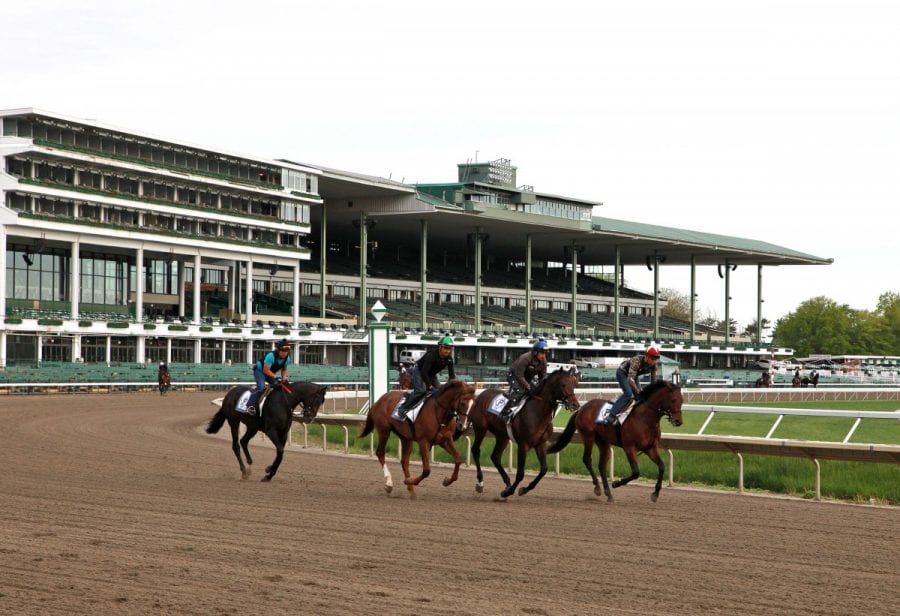 Photo by Bill Denver/Equiphoto.
We are pleased to welcome Shore Bets back for another season of Monmouth Park racing.
by John Piassek
Ten races are part of the Saturday Monmouth program, including two stakes races: the grade 3 Jersey Shore Stakes, and the Lamplighter Stakes, both for three-year-olds. Of course, Monmouth's signature three-year-old race, the Haskell Invitational, will be run in just eight days.
Race 1: Maiden Special Weight, 3yo and up, Fillies and Mares, 6 Furlongs
I'll give the nod to the 1, My Country, in here. She made her debut two races ago, where she finished a decent second behind Bodacious Babe. That filly wound up winning at the n/w1x allowance level next time out, and third in the Miss Woodford Stakes in the race after that. She finished a non-threatening third at odds-on last out at Parx, but she has some excuses there. That race was at a mile, which may be beyond her scope. She broke slowly, had to be rushed up to gain position, and eventually couldn't hold on. Since that race, she's been working strongly, and goes back to her preferred six furlong distance. It should be "third times' the charm" here.
The 4, Fifth and Madison, finished second last out behind a Eddie Plesa-Paco Lopez horse, which are usually close to unbeatable at Monmouth. She finished nine lengths clear of the third-place finisher in that race, and now comes into an easier maiden race for her second start. With a race under her belt, she'll be dangerous, and with My Country a heavy morning-line favorite, Fifth and Madison may provide some great value. The 5, Chamade, has turned in a string of six-furlong workouts getting ready for her debut. This may indicate that she wants to go more than six furlongs, but she still looks the best of the three first-timers in this race.
1- My Country
4- Fifth and Madison
5- Chamade
Race 2: Allowance Optional Claiming (n/w1x), 3yo, Fillies, 5 ½ Furlongs
The Plesa-Paco horse that I mentioned in the earlier writeup is the 3, Sheikh and Sleek. Sent off at 5/2 in her last race, she won by 7 ¼ easy lengths, running an astoundingly good brisnet figure of 96. It's her best figure by sixteen points, so there is the possibility of her "bouncing" off that big win. Not to mention, she hasn't worked since that big win, and gets a jockey change to Joe Bravo. While to call it a "downgrade" isn't fair to Bravo, considering he's been having a great season, he's still well behind Paco in the standings (it's worth noting that Paco isn't at Monmouth today; he's riding at Saratoga). However, facts are facts: there's no one in here who has come remotely close to that figure earned by Sheikh and Sleek. As long as she comes close to repeating that figure, she'll win.
The 4, Valueable Charmer, is the most likely horse to upset. She's taking a big drop in class, most recently finishing fifth in the Dashing Beauty Stakes at Delaware Park. Her figures in her last two races against stakes company were career-highs, running an 88 and an 87 in her last two starts. If Sheikh and Sleek can't return to that form from her last race, Valueable Charmer may wind up surprising some people. The 5, Little Cherie, has been second in each of her last three races, most recently finishing behind the classy Jersey-bred sprinter Bustin Out at the n/w2x allowance level.
3- Sheikh and Sleek
4- Valueable Charmer
5- Little Cherie
Race 3: Claiming $25,000 (n/w3L), 3yo and up, 1 1/16 Miles (Grass)
In contrast to the first two races, featuring heavy favorites, this third race is a wide-open affair. I'll take a shot with the 3, Celebrity Warrior. Despite his ugly eight-race losing streak, he steadily runs figures that would defeat these. In three races at the Monmouth meet, he's run figures of 80, 81, and 80. Only one other horse in the field has run at least an 80 twice within his last three races. He was hung wide in his last race, after breaking from post position five. Now, he's drawn a little further inside, so he should be able to save ground, and possibly run even better than he's been.
The 6, Ginger Goose, has the best last-out figure in the race, running an 81 while being stuck in traffic in his last race. Rather concerningly, he has a bad case of second-itis, finishing as the runner-up thirteen times in thirty-seven races. If he goes off at too low of a price, take a pass for win betting, but he's too good to not use in multi-race bets. The 2, Spanish Armada, has won two straight races at Monmouth, earning a 77 in each of those races.  He'll have to either improve by a few points or hope some of the other contenders decline in order for him to get a victory, but he must be used in the underneath spots.
3- Celebrity Warrior
6- Ginger Goose
2- Spanish Armada
Race 4: Claiming $12,500 (n/w2L), 3yo and up, 6 Furlongs
Another tough field of claimers greets us here. In a race like this, where many of the horses are not exactly overflowing with ability, it helps to find a horse who is on a bit of a hot streak. The 2, Congrats Kid, fits that bill. He's coming off a win against $7,500 n/w2L horses, overcoming an awkward start from post 12 to win by almost seven lengths, running an 81. Three races ago, he broke his maiden at the $20,000 level by almost three lengths, earning a 79. Since he's a three-year-old, he's still eligible for this condition, and having a win against horses like these helps a lot. At a 6/1 morning line, he figures to provide some excellent value.
The 1, Congrats to MK, won going away last out at Suffolk Downs. He ran a career-best 83 there, and ran an 81 and an 82 earlier in the year at Oaklawn Park. The 7, PJ's Bad Boy, almost upset heavily favored Mr. Spaceman last out, battling with him throughout before losing by a neck. That was his first start at the $12,500 level of the meet, and it resulted in his highest career figure, an 84.
2- Congrats Kid
1- Congrats to MK
7- PJ's Bad Boy
Race 5: Claiming $16,000, 3yo and up, Fillies and Mares, NJ-bred, 5 ½ Furlongs (Grass)
I picked the 9, Poochy, in her most recent race, which was supposed to be against open company at this distance. Unfortunately, it was washed off the grass, so she was scratched and re-entered in this spot. Nonetheless, her form is just as strong as ever. In her last grass race, she almost wired a field of n/w1x allowance horses, and may very well have won if her apprentice jockey had not dropped the whip in the stretch. Her figure in that race, 89, is eight points better than the second-best last-out figure in the bunch. She's plunging in class here, and anything even resembling her last race would bury these.
The 1, Too Hollywood, led almost all the way around at this same level last out, before getting caught and losing by half a length, earning an 81. Her form has improved since cutting back to sprints, and should run another good one here. The 5, Wildly Good Lookin, takes a big drop in class from the n/w1x level. She wasn't quite as successful as Poochy, running ninth in the same race that Poochy exits, but her mid-70s figures nevertheless make her a strong contender.
9- Poochy
1- Too Hollywood
5- Wildly Good Lookin
Race 6: Allowance Optional Claiming (n/w2x), 3yo and up, Fillies and Mares, 1 Mile
If you toss out the last race of the 3, Red River Heidi, she's a standout. It's true that her last race was a disaster, losing by thirty lengths at this same level. However, she was facing a much better field than she'll see today, and she was hung four-wide early on. As such, it was little wonder that she wound up tiring out. When she got a clean trip two races ago, she defeated a n/w1x allowance field by twelve lengths, running an astoundingly good figure of 94. With a post closer to the inside, I figure that she'll be able to save more ground, and as such win easily.
The 2, Indian Chaser, ran well while routing at Tampa Bay Downs over the winter, consistently running in the 80s, and winning at the n/w1x level by nine lengths two races ago. She returned at 5 ½ furlongs last out at Delaware Park, and was killed. Stretching out to a route once again should do the trick for her. The 1, Maybe Tonight, has won twice at this distance at Monmouth, and ran up to a 91 over the winter against Pennsylvania-breds at Parx.
3- Red River Heidi
2- Indian Chaser
1- Maybe Tonight
Race 7: Maiden Claiming $40,000, 3yo and up, 5 ½ Furlongs (Grass)
The late pick 4 begins here, and the 8, Lost Sonnet, is a great horse to start it with. She was second against similar horses last out, running second at the $35,000 level. She earned a 69 in that race, the best last-out figure in the field, and she's run figures as high as 79 in her career. This will be her third start off the layoff, so she's got the potential to improve even further here. She's in the best current form over a sprint distance, and at a 7/2 morning line, she promises to offer excellent value.
If it comes out at the end of the year that the net worth of the average New Jersey resident has declined, the primary factor will undoubtedly be people betting the 7, My Bucky's Boy. He's lost at 1/1 and 6/5 in his last two races, and will almost certainly be another low price here. He's cutting back to a grass sprint for the first time, and gets a jockey downgrade to Orlando Bocachica. While his figures (as high as an 83 two races ago) definitely put him in the mix, I would have to be insane to bet him at anywhere near his 3/2 morning line. The 6, Last Stand…well, he hasn't hit the board in twenty races. This is very true. However, he ran a strong 78 two races ago, and ran fourth and fifth while sprinting on the dirt last year. Perhaps the cutback in distance will do him some good.
8- Lost Sonnet
7- My Bucky's Boy
6- Last Stand
Race 8: Jersey Shore Stakes, 3yo, 6 Furlongs
Today's feature race is named after the series of beaches at Monmouth Park is only a few blocks away from. As I noted on twitter, it drew a contentious field of six, who are shipping in from five different tracks. My pick among them will be a horse coming from Parx, by way of Prairie Meadows: the 4, Cashel Rock. Three races ago, he won the Golden Circle Stakes at the Iowa track, running a terrific 96. He finished second last out at the n/w3x level in Pennsylvania, earning a 99 and running behind the excellent older sprinter Trouble Kid. Now, he drops back in against his fellow three-year-olds, none of whom have run better than a 94 in their last two races. He's 4/1 on the morning line, and may wind up being overlooked because of his connections (he's also an Illinois-bred). As such, he could wind up being a fantastic bet.
The 2, Colonel Sharp, was overmatched while racing wide and rank against older n/w2x horses last out at Belmont Park. He had been showing promising form before that, winning two in row at Penn National and Pimlico and running figures in the 90s. He's working well since that debacle last out, and can run a big one if he sits the right trip. The 1, Front Pocket Money, broke his maiden by a neck at Oaklawn in his last dirt race, running an excellent 94. Interestingly, he has shipped down from Saratoga to run here, suggesting that he's in razor-sharp form right now and ready to run a big one—otherwise, he could've waited for the Amsterdam Stakes in a few weeks.
4- Cashel Rock
2- Colonel Sharp
1- Front Pocket Money
Race 9: Lamplighter Stakes, 3yo, 1 1/16 Miles (Grass)
Six three-year-olds have signed up for this race, named after a 19th century racing star who was co-owned by one of the founders of the original Monmouth Park. This race is even murkier than the Jersey Shore, with almost all of the entrants having run a race that could win this. I settled on the 1, Vulcan's Forge. He broke his maiden at this 1 1/16 mile distance three races ago at Aqueduct, running an 87. He made up ground two races ago after running wide against n/w1x horses at Belmont two races ago, running an 88. He didn't run great going 1 3/8 miles last out, and now cuts back to his preferred distance here. As long as he runs back to those New York races, he's got an excellent chance of winning this one.
The 7, Brass Compass, won at this track and distance two races ago, and has earned figures of up to 94 in the past. He disappointed while third in the Stanton Stakes at Delaware Park last out, and will seek redemption here. The 3, Noble Quality, was third in the English Channel Stakes two races ago at Gulfstream Park, and made up a lot of ground when losing the Pennine Ridge Stakes by four lengths last out.
1- Vulcan's Forge
7- Brass Compass
3- Noble Quality
Race 10: Claiming $5,000, 3yo and up, Fillies and Mares, 6 Furlongs
It is hard to feel enthusiastic about anyone in the finale, mainly because all of them are, to be kind, inconsistent. I settled on the 7, Runaway Train, because she improved sharply last out, running a meet-best figure of 65. That's also the second-best last-out number in the field. She's run as high as a 78 over the track before, and continues to search for that form from last year that has eluded her so far in 2016.
7- Runaway Train
4- Flashy Zee
1- Mo Mon's Copycat