Connections of DQed Freudie Anne to appeal to Md. Commission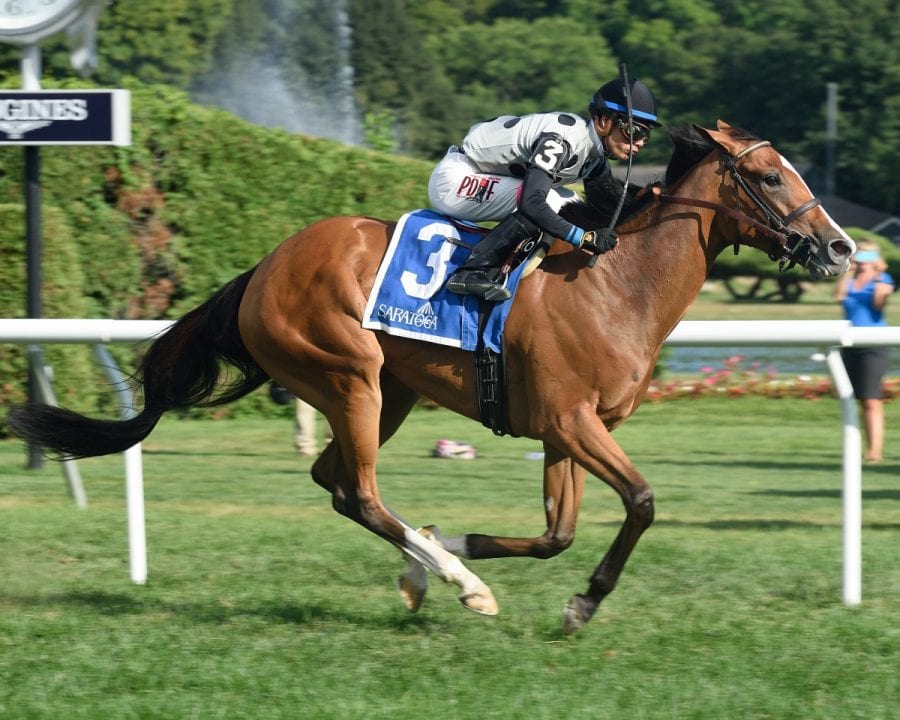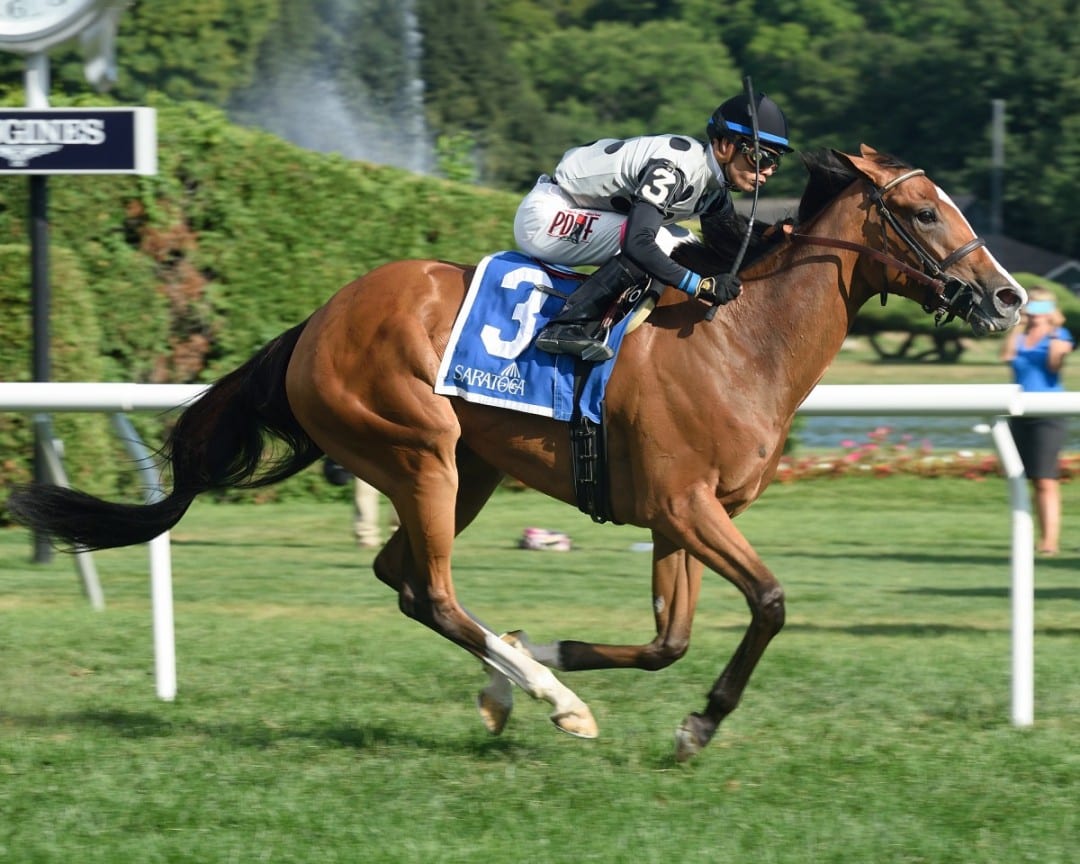 Freudie Anne won the New York Stallion Series Stakes last August at Saratoga. Photo by NYRA.
by Frank Vespe
The connections of Freudie Anne, disqualified from first in a $42,000 allowance race Sunday at Laurel Park after the stewards upheld an objection by the third place finisher's rider, have appealed that disqualification to the Maryland Racing Commission, Freudie Anne's trainer Tom Morley said today.
"The stewards have a very difficult job," Morley said by phone from his New York base.  "But they are fallible."  He added that he believed that in this case, they had erred.
The incident occurred during the eighth race on Laurel's Sunday card, an allowance test for fillies and mares going 1 1/16 miles on the turf.
Freudie Anne, ridden by Feargal Lynch, grabbed the early lead, as she often does, and led the field into the stretch with Broken Bridle in hot pursuit just to her outside.  Entering the stretch, Broken Bridle bid up to virtually even terms, but under right-handed urging, Freudie Anne spurted clear once again.  At that point, it appeared that Broken Bridle was done, and she finished third — passed late by Northern Smile — and 2 1/4 lengths behind Freudie Anne.
Leaving the three-sixteenths, Freudie Anne — apparently reacting to a track worker standing in the infield — drifted inward a path or two, crossing the path of Broken Bridle.  Jevian Toledo, aboard that runner, slightly steadied but was able to ride his tired runner all the way to the wire.
Though the stewards did not post the inquiry sign, Toledo lodged an objection, claiming that Freudie Anne had interfered with his filly.  After a bit of a delay — Morley said that he wasn't even aware there had been an objection until after the win photo had been taken — the stewards agreed and placed Freudie Anne third, behind Broken Bridle. That elevated Northern Smile to the win slot.
Observers at the track and on social media were quick to condemn the disqualification.
One racing follower on Twitter called it an "incredible decision."  Another said it was "maybe the worst DQ I've ever seen."  Yet a third said it was "easily the worst DQ I've seen this year, if not ever."
Morley maintained that though his horse did come over, she was sufficiently clear that she did not impede Broken Bridle.  What's more, he said, it was clear that Broken Bridle was tiring and had no legitimate shot of catching his filly or holding off the late run of Northern Smile.
"Nowhere else in America does my filly come down," he said.
Freudie Anne, a New York-bred by Freud, is owned by a quartet of owners: Marc Detampel, Fergus Galvin, Jayne Doi Johnson, and Adrian Mansergh Wallace.  The financial difference to them is significant; the winner's share of the $42,000 purse is $23,940, versus the $4,620 they would receive for third.
If the Commission waits until its next regularly scheduled meeting to hear the appeal, that will take place at Laurel Park on September 20.
The likelihood of Freudie Anne's connections winning their appeal is uncertain.  Racing commissions typically are inclined to uphold stewards' rulings, particularly in matters that occur on the racetrack.
But Morley said he believes this is a case where an impartial observer would agree that his filly didn't interfere, and even if she had, she didn't cost that rival a placing.
"I think we have a huge shot," he said.