Laurel Park to host Claiming Crown Preview Day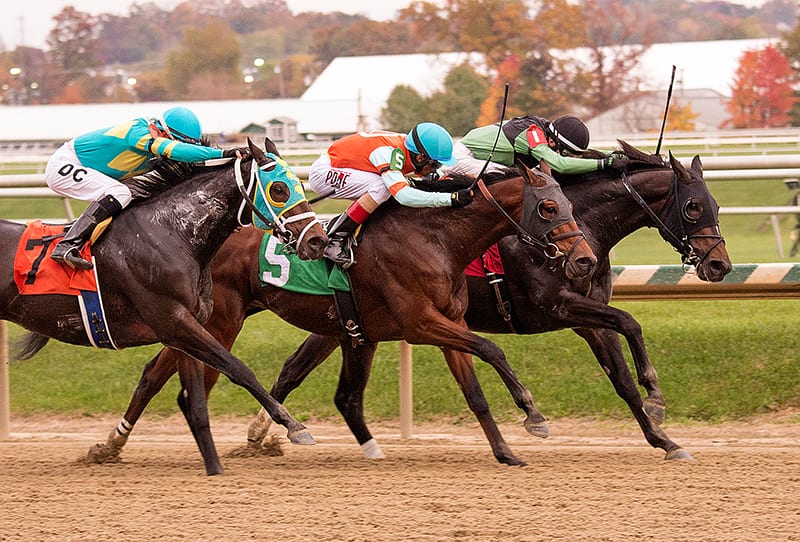 Indycott won on Claiming Crown Preview Day of 2015. Photo by Jim McCue, Maryland Jockey Club.
From a Thoroughbred Owners and Breeders Association release
Claiming Crown Limited announced today that Kentucky Downs and Laurel Park will host automatic qualifying races for the 2016 Claiming Crown at Gulfstream Park on December 3, 2016. The host tracks will pay nomination fees and provide a travel stipend for the winners to compete in the 2016 event.
The Claiming Crown, a joint venture between TOBA and the National HBPA, is racing's $1.1 million showcase for the country's best claiming horses. Kentucky Downs will conduct automatic qualifying races on September 11 for the Emerald (starter $25,000 at 8.5 furlongs on the turf) and Tiara (starter $25,000 for fillies and mares at 8.5 furlongs on the turf). Laurel Park will host its Claiming Crown Preview Day and offer automatic qualifying races for all nine Crown races on November 6.
"Kentucky Downs is proud to host two Claiming Crown automatic qualifying races at our fall meet," said Kentucky Downs senior vice president and general manager Ted Nicholson. "Run over our unique, European-style turf course with $75,000 purses, these races are sure to have full, competitive fields and provide two quality contenders for the respective Claiming Crown races at Gulfstream Park in December. We are thrilled to offer these races for our horsemen and fans as we continue to improve the racing product during our race meeting."
"We're extremely pleased that Laurel will once again hold qualifying races for the 2016 Claiming Crown at Gulfstream Park. Not only is this a great way to showcase the Claiming Crown in the mid-Atlantic to our fans at Laurel and throughout our off-track betting locations, but it's a wonderful opportunity for some of our horsemen to earn a trip to South Florida and the Claiming Crown without having to worry about shipping costs," said Sal Sinatra, vice president and general manager of the Maryland Jockey Club. "Judging from past experiences at Laurel and Philadelphia Park, this will create an exciting day of racing for horsemen and fans with large, competitive fields."
"We're honored and excited that both Kentucky Downs and Laurel Park are part of the road leading to the 2016 Claiming Crown," said Dan Metzger, president of the Thoroughbred Owners and Breeders Association and chairman of Claiming Crown Ltd. "The Claiming Crown has evolved into an important event on the racing calendar with owners and trainers and these qualifying races will add both quality and depth to what promises to be another competitive day of racing at Gulfstream Park in December."