Shore Bets: Monmouth Park July 16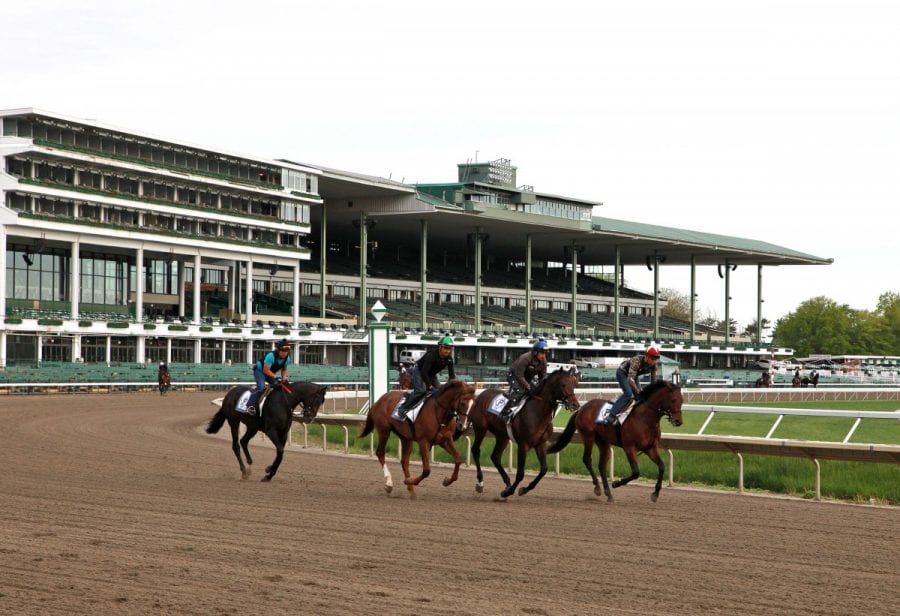 Photo by Bill Denver/Equiphoto.
We are pleased to welcome Shore Bets back for another season of Monmouth Park racing.
by John Piassek
It's a pretty good card at Monmouth Park on Saturday. 98 horses passed the entry box for ten races, the most entries any card's had since opening day. On-track, it's day one of the Surf and Turf seafood festival, which should attract a nice crowd. And, of course, we're only fifteen days away from the meet's centerpiece, the Haskell Invitational.
Race 1: Maiden Claiming $25,000, 3yo and up, Fillies and Mares, 6 Furlongs
We'll start the card with a standout. The 5, Saint Bernardine, had been struggling on the grass before making her dirt debut last time out, and it was a strong race. She rated off an honest pace before moving on the turn and battling down the stretch. Ultimately, she lost by ¾ of a length, but was 15 ¼ lengths clear of third place, while running a scarily impressive brisnet figure of 82. No one else in the race has run better than a 67 in their careers. If Saint Bernardine can run anywhere near her last-out race, she'll win this one going away.
The 6, Karen's Chianti, takes a drop down in class after being badly beaten in her maiden special weight debut last time out. She ran a relatively impressive 55 in that spot, and should improve in her second career race. The 3, Deference, has been working strongly at Saratoga, most recently going four furlongs in a sharp 48.2 seconds. Considering the Saratoga meet is about to begin, it's interesting that trainer Roy Lerman would ship her all the way down to Jersey for a spot, when he could probably find a race like this up there soon. Nonetheless, her worktab is strong enough that she deserves a look.
5- Saint Bernardine
6- Karen's Chianti
3- Deference
Race 2: Maiden Special Weight, 3yo and up, Fillies and Mares, NJ-bred, 1 Mile 70 Yards
In her debut, the 6, Judy's Chance, was very well-bet, going off as the 3/1 second favorite. She didn't win, obviously, but ran a respectable third, earning a strong 78. Given the strong support that she received in her first race, she appears to be a horse with a lot of promise, relatively speaking. Trainer Derek Ryan is also very good with horses routing for the first time, hitting at 20% with a positive ROI. She looks like a pretty safe bet.
The 2, Single Broad, beat Judy's Chance by a head at 31/1 last out. She has the look of a so-called "sucker horse", however; she's finished either second or third eight times out of twelve career races. The 4, Fakery, ran a dull one last out, finishing fourth, beaten more than five lengths, with her figure declining by twelve points to a 71. She's run races that would be good enough to win this one, and ran a decent 74 in her lone dirt route effort. Worth a look for the exotic positons, and a must-use in the early pick 5 if one is inclined to spread out.
6- Judy's Chance
2- Single Broad
4- Fakery
Race 3: Maiden Claiming $35,000, 3yo and up, 1 Mile (Grass)
A large field of eleven signed up for this one. While the field is big, the winner looks obvious. The 9, Paddy O'Wagon, was last seen in March, finishing sixth in a Florida-bred maiden race at Gulfstream Park. While the race itself was not terribly impressive, he ran a very strong 85. Two races ago, he was again sixth at the same level, but he ran an 84. In a race where only one of his rivals has run even an 80 once, to see a horse run two races at that high of a level is very promising. Trainer Jane Cibelli is winning at a 28% rate this meet, and jockey Antonio Gallardo has been on a hot streak over the last few weeks. It won't be easy coming off a few months' layoff, but if can duplicate his form from early, he'll be tough
The 6, My Bucky's Boy, is the main threat to Paddy O'Wagon. He's been second in his last two races at this level, losing by a neck last out. He's improved his figure in each of his last three starts, most recently earning an 83 after breaking slowly. His trainer-jockey combo of Eddie Plesa and Paco Lopez are, of course, almost unbeatable. The 8, Lookin Up, has not been in the same stratosphere as the top two contenders yet, but has run a 72 in each of his last two, suggesting some improvement. He's a strong candidate to round out the trifecta, possibly at a good price.
9- Paddy O'Wagon
6- My Bucky's Boy
8- Lookin Up
Race 4: Claiming $5,000, 3yo and up, 6 Furlongs
As many of you have probably realized by now, any time I see a horse with a big figure advantage, I tend to jump on him, unless I find a reason to be suspicious. I am mildly suspicious of the 7, Little Hitman, but not enough to the point where I can pick against him. He's coming off a victory in a Jersey-bred n/w1x allowance, where he ran a strong 84. Two races back, he won a n/w2L claiming and earned an 86. Almost no one else in the field has been close to those races, and those that have run that well have rather lackluster riders assigned for today. I know that it's a big drop from Jersey-bred allowances to a $5,000 claiming race, but it's more than possible that the connections couldn't find a n/w2x Jersey-bred race, or weren't confident enough to put him in an open n/w1x allowance. That's not a knock on him; he has a big edge over this field that he wouldn't have at higher class levels. That edge should put him in the winner's circle.
The 4, Red Rocket Express, had been running well all meet long before finishing a disappointing sixth at this level last out. He was claimed out of that race by Jorge Navarro, who of course needs no introduction. He ran as high as an 84 over the winter at Tampa Bay Downs, and can certainly return to that form under Navarro. The 3, Trouble With Girls, won at this level while going 5 ½ furlongs four races ago, and was fourth after running wide at five furlongs last out. He's improved his figure in each of his recent dirt races, most recently running a 78.
7- Little Hitman
4- Red Rocket Express
3- Trouble With Girls
Race 5: Claiming $20,000 (n/w2L), 3yo and up, 1 Mile (Grass)
The 1, One Eyed Ray, ran a big race in his meet debut last time out. It was his first race in 4 ½ months, but he set the pace throughout and almost held on, ultimately losing by ¾ of a length. He ran a strong 76, which puts him in the mix with the contenders in this race. He's run up to an 86 when fresh, and his inside post position suits his front-running style well. With a race under his belt, he looks to once again go to the lead, and should be able to finish the job this time.
Should he draw in off the also-eligible list, the 14, Magnanimous Mine, will be very interesting. He hasn't been seen in a grass race in almost a year, but ran a 75 and an 83 in his last two grass efforts. This will be his third start off the layoff for the tough Navarro barn and the sneaky good Jose Ferrer. The 5, El Charchas, ran well over the winter at Tampa Bay, and worked a blazing three-furlong bullet in 35.4 second a few weeks ago.
1- One Eyed Ray
14- Magnanimous Mine
5- El Charchas
Race 6: Claiming $7,500 (n/w2L), 3yo and up, 6 Furlongs
Today's late pick 5 begins with a wide-open field of eleven. The 9, Big Talkin, ultimately gets the nod here. He dominated a maiden claiming field two races ago, winning by 6 ½ lengths. He finished third last out against slightly better, running at this level for a $12,500 tag. He has a few other edges over this field; he's won recently, he's a three-year-old, and he's only started seven times. Unlike some of the others here, he's not a proven loser, nor is he in bad form right now. He should find things a bit easier here, and that should propel him into the winner's circle.
The 4, Cajun Colonel, ran two decent races in sprints two and three starts back, before being annihilated at 1 1/16 miles last out. The cutback in distance should help him out. The 8, Campion Lane, made a mild rally to finish third at this level at 84/1 last time out. This will be his fourth start of 2016, and his figures have improved every time out. He's worth a look at a bit of a price.
9- Big Talkin
4- Cajun Colonel
8- Campion Lane
Race 7: Claiming $20,000 (n/w2L), 3yo and up, Fillies and Mares, 5 ½ Furlongs (Grass)
The 5, Shea D Girl, looks the best. She's taking a big drop in class; she was most recently seen finishing seventh in the Crank it Up Stakes. Prior to that, she easily won a maiden claiming race at Gulfstream, stalking the pace and rolling by to win easily and earn an 80. She dropped down to a 73 in the Crank it Up, but she was in over her head in that spot. She's been working well for this race, possesses a figure edge over the rest, and trainer Jason Servis is an impressive 43% at the meet so far.
The 9, Cynthia's Fury, is coming off two disappointing dirt starts, but ran a 76 and an 81 in her last two grass races. It's also her third start off the layoff, always a potent angle. She may be an excellent value play if she goes off near her 12/1 morning line. The 7, Just My Game, was second at this level after being hung wide throughout in her grass debut last out. She broke from post ten in that race, and now she moves over inside a few spots to post 7. If she can save more ground, and improve off that last figure of 74, she will be a threat.
5- Shea D Girl
9- Cynthia's Fury
7- Just My Game
Race 8: Maiden Claiming $25,000, 3yo and up, Fillies and Mares, NJ-bred, 6 Furlongs
For obvious reasons, I usually do not support horses who lost their last race by 22 lengths. However, something about the 1, Fortunate Night, appeals to me. She finished third in her debut two races ago, behind the promising Jersey-bred Upset City and runner-up extraordinaire Fakery. Her figure there was a 72, which would probably be good enough to win here. Unfortunately, she disappointed last out, finishing seventh and losing by 22 lengths, dropping her figure by 24 points. Still, there's some positives about her. She's had a workout since that race, and it was a strong one, going four furlongs in 49.2 seconds. She gets a jockey upgrade from Jose Ferrer to Nik Juarez. She's one of three in here to have run at least a 70 at any point in her career. Most importantly, trainer Willard Thompson is insanely good with horses dropping from maiden special weight to maiden claiming. In recent times, he's 4-for-8, with a $5.83 ROI. That's good enough for me.
The 6, Sues Stones, ran a strong 75 while finishing second at this level last time out, and has run up to a 76 in the past. However, she's finished second twice and third two more times through eight career races. I've been chasing her all meet, and it's time that I jumped off her bandwagon. If she beats me, so be it. The 8, Market Tales, lost by a head last out at this level, running a 65 in her first race off a long layoff. Trainer John Mazza is a respectable 16% with horses making their second start off the layoff.
1- Fortunate Night
6- Sues Stones
8- Market Tales
Race 9: Allowance Optional Claiming (n/w1x), 3yo, 1 Mile
According to the morning line, this is a two-horse race between the 6, Lazarus Project, and the 7, Vees Boy. I will lean towards Vees Boy. He broke his maiden over this track last out, winning by almost four lengths and running a 91. That's the second-best last-out figure in the field. He doesn't have great early pace figures, but his late pace numbers have been terrific. In his three dirt races, he's run a 105, a 98, and a 92 for his late pace figures. As long as he stays close to the pace, he has the power to make his move on the turn and just blow them away.
The 6, Lazarus Project, finished third against older horses at this level last out, running a career-best 93. He's been in the top three in six of his seven career races, picks up the hot Joe Bravo, and has been working well for this race. The 5, Social Stranger, has won his last two races gate-to-wire against much worse than these. He is a Navarro horse, however, and has a lot of early speed. He'll be dangerous if he can get a big enough jump over the rest.
7- Vees Boy
6- Lazarus Project
5- Social Stranger
Race 10: Claiming $12,500 (n/w3L), 3yo and up, Fillies and Mares, 1 Mile (Grass)
Monmouth certainly did not make it easy to get out here in this finale. It's a wide-open field of grass claimers where almost every one of them has recently run a race that would win it. I'll take a shot with the 9, Hopefaithjoy. She didn't finish her last race, after clipping heels and falling down. She's had two months to recover from that episode, and has had two good workouts since then. If she can recover her form from prior to the spill, she'll be one of the contenders. She earned a 70 two races ago, in a n/w2L claiming race at Gulfstream. That's tied for the second-best last-out figure in the race, and is only two points shy of the best last-out number in the bunch. Three races ago, she ran a 79, which would be good enough to win this one.
The 8, Moonlit Sonnet, drops down from New York-bred allowance races at Belmont Park, where she was most recently sixth and fifth, respectively. She won at the n/w2L level three races ago at Gulfstream, so she should enjoy the class drop here. The 6, Kent's Baby Girl, struggled while going 5 ½ furlongs last time out, but ran a 78 while third against open $16,000 claimers two races ago. She ran in the mid-70s consistently last summer here at Monmouth, and gets a jockey upgrade to Jose Ferrer here.
9- Hopefaithjoy
8- Moonlit Sonnet
6- Kent's Baby Girl