Vet in Suffused case fined, removed from Lasix duty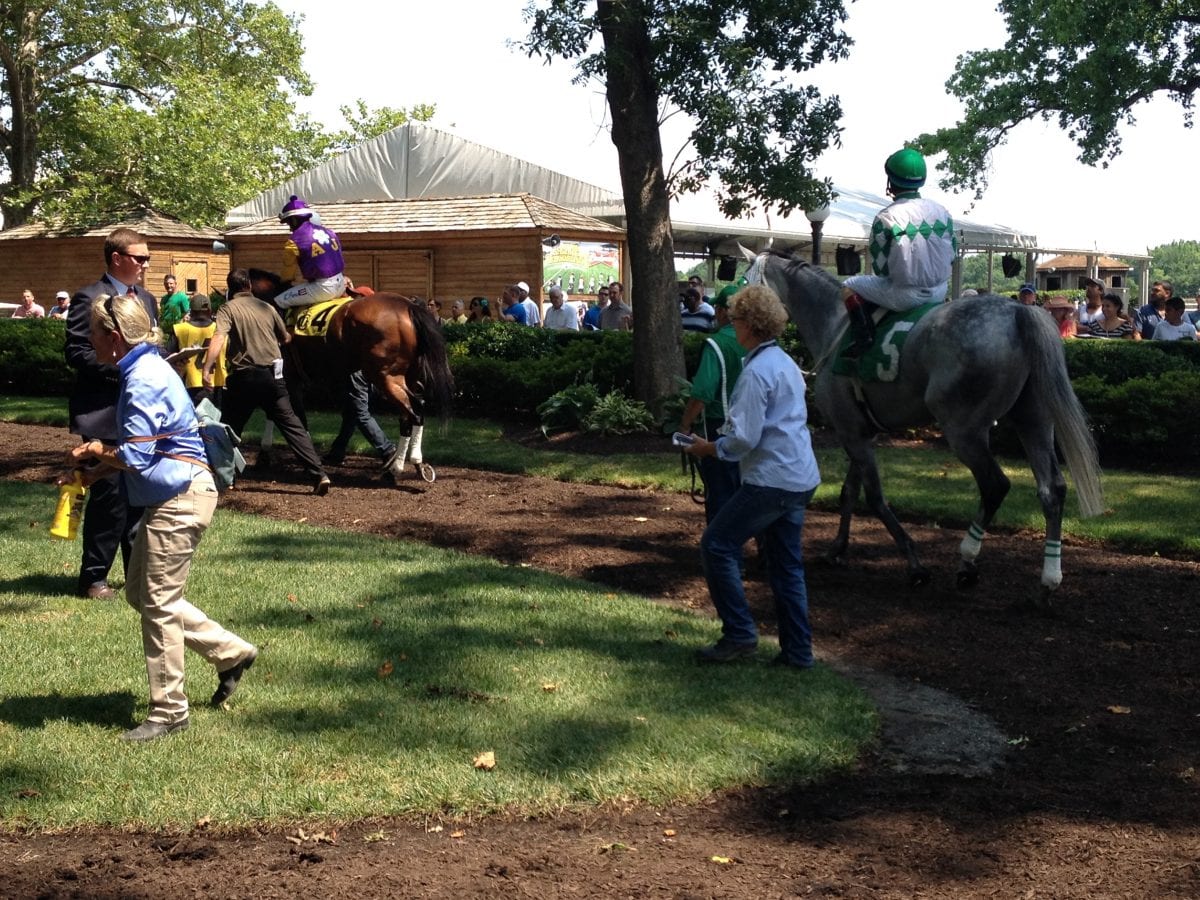 Delaware Park paddock. Photo by The Racing Biz.
by Frank Vespe
Dr. Robert Campbell, the veterinarian who failed to administer the diuretic furosemide (Lasix) to Bill Mott trainee Suffused in a timely manner Saturday, necessitating that the horse be scratched from the Grade 3 Robert Dick Memorial Stakes, has been fined $1,000, the Delaware Thoroughbred Racing Commission stewards announced today.
The stewards made their decision following a July 11 hearing.
Campbell has also been removed from the rotation of vets providing Lasix at Delaware Park.
The incident, first brought to light by The Racing Biz Saturday afternoon, prevented Suffused, the 5-2 second choice on the morning line for the Dick Memorial, from potentially gaining valuable graded black type.
One of the tenets of the national uniform medication program promoted by the Association of Racing Commissioners International and the Racing Medication and Testing Consortium is a requirement that Lasix not be administered by private practice veterinarians, as formerly was the custom in most jurisdictions.  Instead, the rules require that it be administered "by the official veterinarian, the racing veterinarian or his/her designee."
That rule, adopted by Delaware as well as other states in the region, puts the state in the somewhat odd position of being both the regulator of a specific medication and the provider of it.  In at least one known case in Maryland, a horse administered Lasix by the state's third-party vet came back with an overage of the medication.  And in this case, Suffused, who rated a solid shot in the $200,000 event was prevented from running in it.
"It's just too bad because it was a graded race," said Mott, the trainer.  "And even if she didn't win but hit the board, that black type in a graded race would have made her more valuable as a broodmare once she was done racing."
According to the stewards' report, Campbell, working for the Commission's third-party Lasix provider, First Equine, assumed that Suffused had been scratched and thus did not need his attention.  In fact, however, Mott, who had entered two horses on the card, had scratched his other runner, Belisarius, from a different race, the Cape Henlopen Stakes.
Mott said that he might have considered running Suffused without Lasix — the British-bred runner ran overseas through the end of last year and did not use Lasix to race until his first U.S. race, in April — but Delaware rules prohibit a horse declared to be on the anti-bleeder medication from running without it.
According to the Paulick Report, Suffused's connections, Juddmonte Farms, were reimbursed for travel expenses from the horse's Belmont Park base.