Patiently handled Paid Up Subscriber ready to jump up in Del 'Cap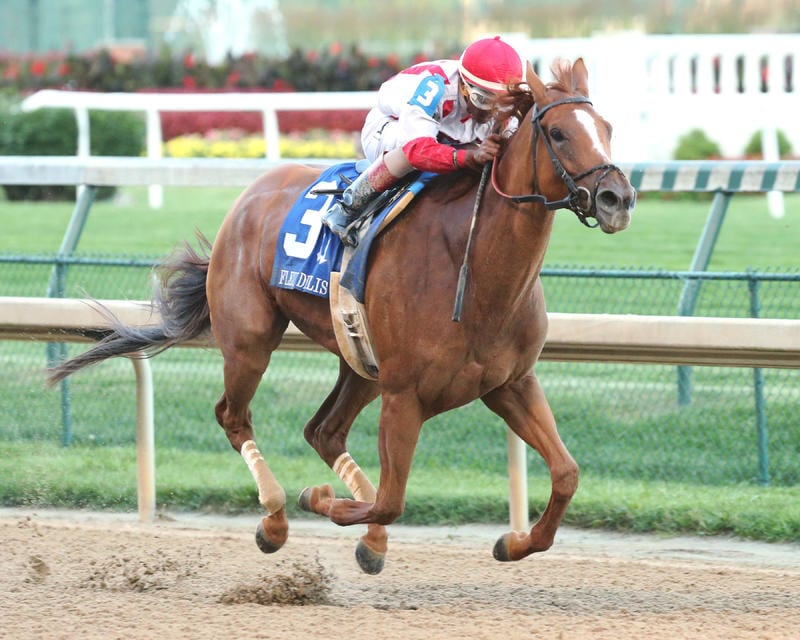 Paid Up Subscriber wins the Grade 2 Fleur de Lis Handicap at Churchill Downs. Photo by Coady Photography/Churchill Downs.
by Doug McCoy
If there were a plaque hanging outside the end of Al Stall Jr.'s shed row describing his training philosophy, it would read, "The horse comes first!"
Stall will saddle Paid Up Subscriber in Saturday's Grade I $750,000 Delaware Handicap and the 2-1 second choice of the field of six is yet another example of that belief and of the horseman's commitment to being patient and giving a horse the needed time and care to come into its own.
Stall, who has been training on his own for more than 25 years, is best known as the trainer of Blame, winner of nine of 13 lifetime starts, including the 2010 Breeders' Cup Classic in which he upset previously unbeaten Zenyatta, and $4.3 million in earnings.
But long before Blame was making headlines and dazzling the racing world, he was a precocious 2-year-old with talent who also had foot problems. Though Blame was the subject of Triple Crown chatter after breaking his maiden in his second start, Stall determined the wisest course of action was to give Blame's feet all the time they needed to get past the problems that plagued him.
Blame didn't race for almost eight months, making his next start in June of 2009. With healthy feet, Blame went on to win six graded stakes, including Grade 1 scores in the Stephen Foster and the Whitney, as well as the Classic, over a field considered among the best and deepest in the race's history.
Which brings us to Paid Up Subscriber, another example of Stall's training philosophy, one that shuns short term gratification and concentrates instead on what is best for the horse on a long term basis. Paid Up Subscriber made her first start as a three-year-old last season at Keeneland and was disqualified from a fourth place finish after coming out to bump a rival in the stretch, an action that caused her rider to lose his irons. She came back at Churchill to leave the winless ranks on May 1. It was six weeks until the filly made her next start at Saratoga, and even though she came from next to last to win that allowance sprint, Stall said Paid Up Subscriber had gotten a fever and was sick for a short time before going to Saratoga.
"She got sick around the first of June and we thought she'd gotten over it pretty quick, but looking back I don't think she did," the trainer reflected. "She trained good, but her coat just wasn't dappled out like it should have been and she just wasn't fully back to herself."
After two dull efforts against graded stakes company at Saratoga and Keeneland, Stall talked it over with her owners, Klaravich Stables and William H. Lawrence, and decided to give the filly a long break.
"I knew she was a special kinda horse, but I think I made a mistake by bringing her back when I did," he observed.  "This time I wanted to give her all the time she needed to come back to her old self. We gave her almost six months and when she came back she came back like a new horse, she had blossomed, she had filled out and her coat just shined.  And she was ready and eager to train and race."
Paid Up Subscriber won her second race back at Churchill against optional claiming allowance foes in a one-turn mile before jumping up to take on graded company in her first start around two turns in the Grade 2 Fleur de Lis Handicap at Churchill. Racing just off the leaders in a field that included multiple graded stakes winner Untapable, Paid Up Subscriber split rivals into the stretch and pulled away from the field late to win by three widening lengths.
"That confirmed what we thought, that she'd like two turns, and she went the final eighth in 11.99, which is some kinda final eighth in a nine-furlong race," the trainer pointed out.
Since the Churchill race Paid Up Subscriber had a maintenance half mile work of 50 3/5 seconds on July 2 at Churchill before shipping to Saratoga. She signaled her readiness for the Del 'Cap Monday when she zipped through a half mile in 47 4/5 seconds over Saratoga's Oklahoma training track, the fastest clocking of 35 horses at that distance.
"She went off nice and smooth then came home in :23 and change and galloped out very strong," the horseman reported. "She's looking great now, training great, and with Candy Ride as her sire and being out of a Street Cry mare, I'm confident she'll get the distance.  I think the mile-and-an-eighth to a mile-and-a-quarter is a good progression, and I expect she'll be watching the leaders from not too far off the pace.  She's stepped it up a notch since she's come back, and I think she's got the class and talent to run with top company. This race should tell us a lot."
Stall, the son and grandson of Thoroughbred owners and breeders, comes by his occupation honestly.  His father, Al Stall, Sr., one of the nicest men in racing, served as chairman of the Louisiana Racing Commission for 18 years and is enshrined in the Fair Grounds Hall of Fame, the track at which the turf course, the Stall-Wilson turf course, is named for Al Stall, Sr.'s father.
When he was younger Al Jr. spent his summers and breaks from high school and Louisiana State University, from which he earned a bachelor's in geology, walking hots for trainer Frankie Brothers.
Now he spends his days doing the right thing for top flight thoroughbreds and making headlines in his own right.