In face of WV floods, horsemen pitch in to help "any way we could"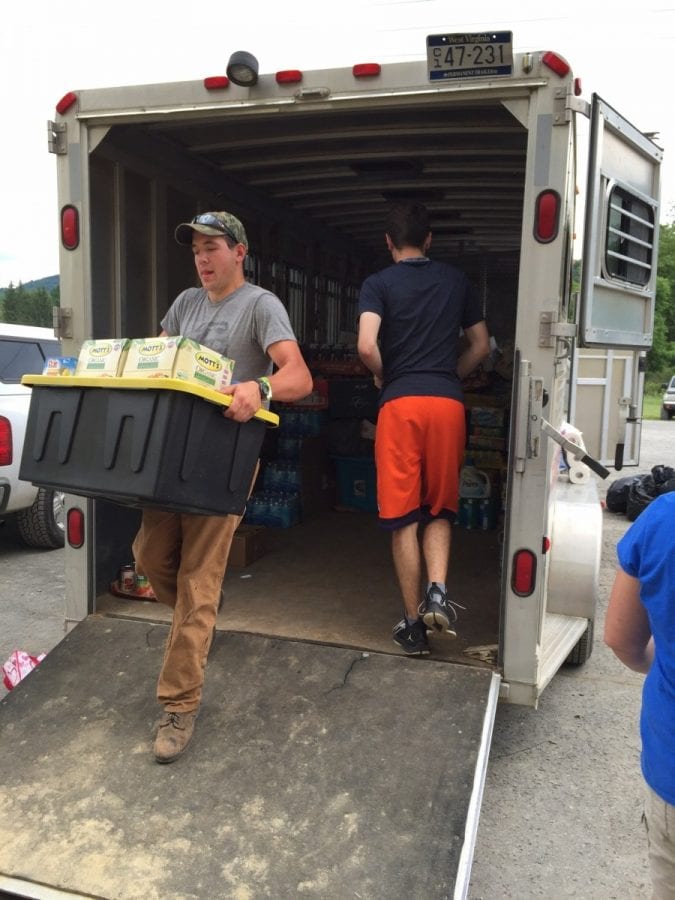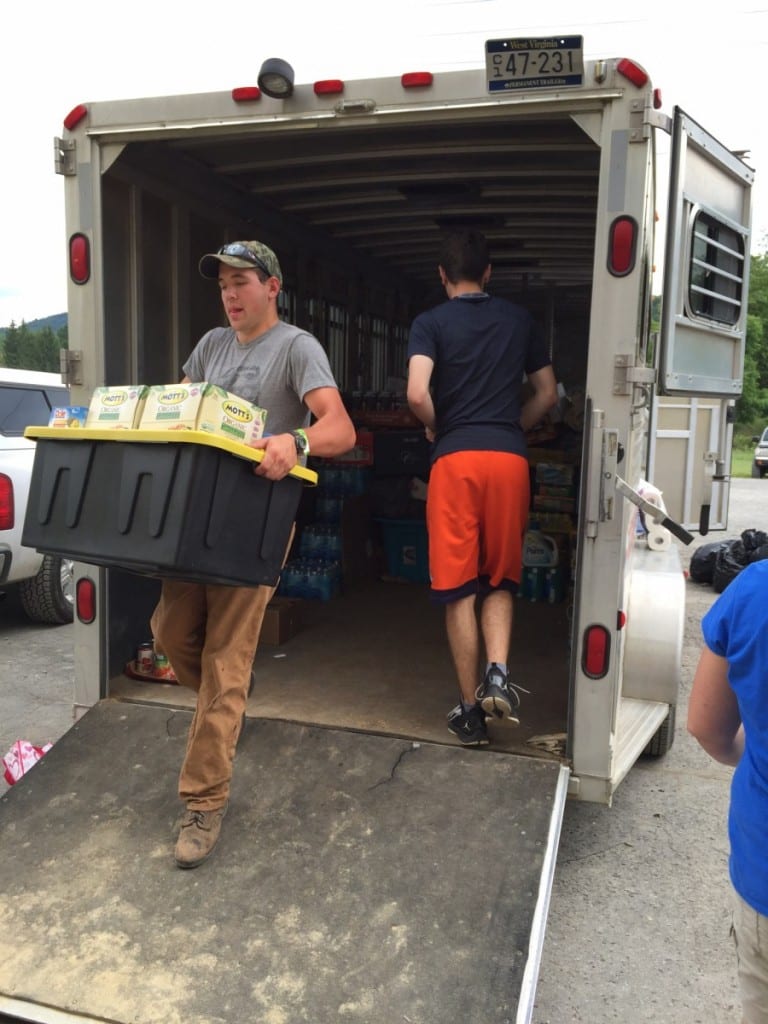 Charles Town HBPA volunteers put a horse van to good use. Photo Leslie Condon.
by Teresa Genaro
On Monday, June 27, I was driving through the mountains of West Virginia on I-79, en route from Brooklyn to Lexington, KY. The sky was dark and rain had begun, radio weather reports issuing travel advice with more urgency than usual. When alerts blared simultaneously from the radio and my phone, warning of flash floods as torrents of rain hit my windshield, I gripped the wheel, wondering what, exactly, I was supposed to do and where I was supposed to go, and how much danger I might really be in.
Those feelings were nothing compared to those of the residents of the area, whose homes and lives had, days before, been inundated with flash floods that killed two dozen people and washed away entire communities.
"It was terrifying," said a volunteer at a relief distribution center just off exit 19, the exit for Clendenin, one of the hardest hit areas. The wife of a soldier in the 130th Airlift Wing of the West Virginia Air National Guard, which had been deployed to clear debris and assist with disaster relief, Jessie preferred not to give her last name, but on Thursday morning June 30, a week after the initial storms, she described what she had seen.
"I went out this morning," she said. "There are houses that are buckled, and a town called Belva that's still under water. The hollers up through here are completely submerged, and people can't get out. The roads are washed away."
On the other side of the state, which has been untouched by the floods, trainer Leslie Condon was rallying troops of another sort at Charles Town, leading the track Horsemen's Benevolent and Protective Association's (HBPA) efforts to support the relief efforts.
"We saw what happened and we knew people needed help," said the CTHBPA board member. "We wanted to try to help any way we could."
The HBPA put out a call for donations, and they poured in. Working with local organizations in the affected areas to determine what supplies were needed and where to send them, Condon and her crew collected water, cleaning supplies, bleach, diapers, baby wipes, baby food, boxed drinks, hoses, bedding, toilet paper, and paper towels.
"They have nothing left," she said of the flood victims. "They need the bare essentials. We collected seven hundred tubes of toothpaste and toothbrushes, and we made personal care packages with deodorants and razors."
She estimated that the HBPA had collected about $6,000 worth of donations, which came from the horsemen, two local vet clinics (Tri State Vet Associates and Valley Equine Associates), owners, and backstretch workers including grooms and exercise riders.
The first trailer left on Saturday morning July 2, headed for Rainelle in Greenbrier County, one of the towns hit hardest. A National Public Radio report said that the entire downtown next to the Meadow River had been washed away.
The CTHBPA has already collected another $2,000 of goods, and Condon will continue to work with relief organizations to decide where those donations will go.
***
Back on I-79 southbound, in the western part of the state, a roadside sign alerts passing motorists: "Disaster area! No sightseers!" Within view of the highway, tents have been set up by relief organizations near FEMA trailers, and residents of affected areas pass through, collecting what they need. Among the most active of the local organizations has been the Kanawha-Charleston Humane Association, and volunteer Amber Eakin stands near piles of dry pet food and cases of canned food. The organization's Facebook page posts regular updates, and the KCHA is offering free wellness exams for pets of affected residents, setting up a mobile clinic as well.
The organization's current needs are liquid washing detergent, Dawn, scrub brushes, sponges, and 18-inch sponge squeegees. Its website also requests a nebulizer to give kittens breathing treatments, and Eakin mentioned that they could use donations of cat litter. (Donation information is at the bottom of this article.)
Waiting to meet West Virginia's Senator Joe Manchin, who along with singer Brad Paisley visited the relief center last week, Eakin told the story of her middle school history teacher, Joni Adams, who had helped people in her neighborhood to evacuate and then stopped to help a friend try to save precious family items.
"The flood swept in, and they couldn't get out of the basement," said Eakin. "She was lost."
"It all happened in a matter of hours," said Jessie. "Normally you can prepare when you've got days of rising water, but the water rose in just a matter of hours."
West Virginian Caine Cortellino has traveled around the world in his role as senior logistician in the department of humanitarian response for Save the Children. Now, he's helping the people in his home state.
"The intense devastation is limited in scope in that it's pretty localized," he said, "but it amazed me to see trees with debris 15 and 20 feet up, left there after the water receded. My God, if the debris is that high, how high must the water have been? A wall of water just came through."
He was focused on collecting donations for children under five years of age, items like new car seats, pack-and-plays, baby bathtubs, crib sheets.
Jessie emphasized that people need food that can be eaten without preparation: peanut butter and jelly, canned goods that can be opened and immediately eaten, snacks. Can openers are also welcome donations, along with shovels, brooms, mops and various types of detergent.
On the evening of Independence Day, the National Weather Service had posted a flash flood alert for Rainelle. "Excessive rainfall into Tuesday morning…rapid rises along creeks and streams along with poor drainage could lead to flash flooding."
It's a forecast that will strike terror into the hearts of the people whose lives and homes have been so recently devastated. People whose plights have gained nationwide attention.  People whose troubles have helped to underline the kindness of their fellow Mountaineers.
"West Virginia is not just a beautiful place," said Jessie. "We're beautiful people. We're a family. We help each other."
[su_box title="
FOR MORE INFO, OR TO HELP…
" style="glass"]
Aimee Mullinex Ramsey has posted hundreds of photos of the devastation.
People wishing to help but who are not able to contribute goods in person can contact the Charles Town HBPA at 304-725-1535.
The American Red Cross is on-site and accepting financial donations (though that organization has recently come under fire for the way it uses donations), as is Save the Children.
You can donate to the Kanawha-Charleston Humane Society here or purchase items to be sent directly to them through their Amazon wish list; a list of other organizations supporting affected animals is here.
[/su_box]