Rick Wilson's competitive fire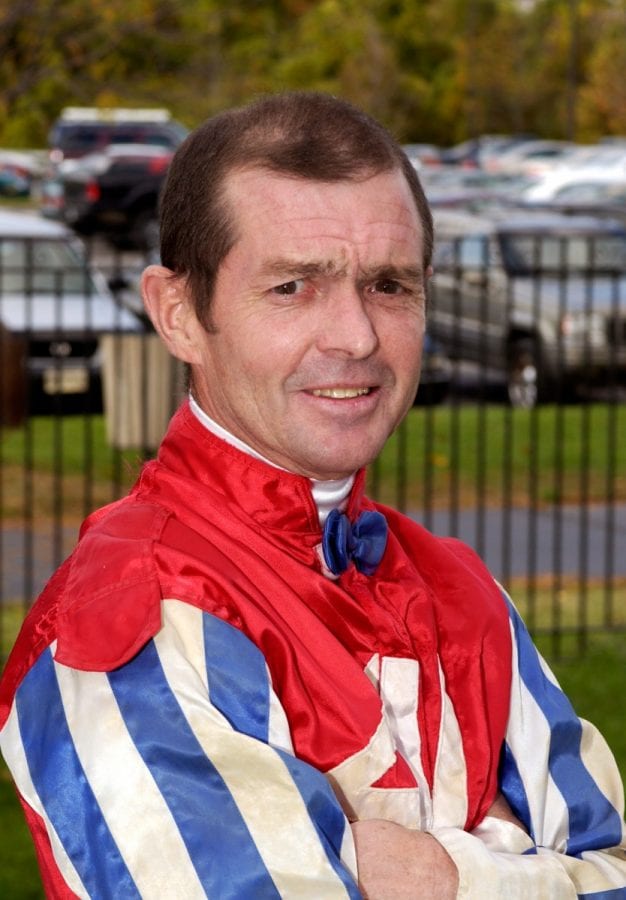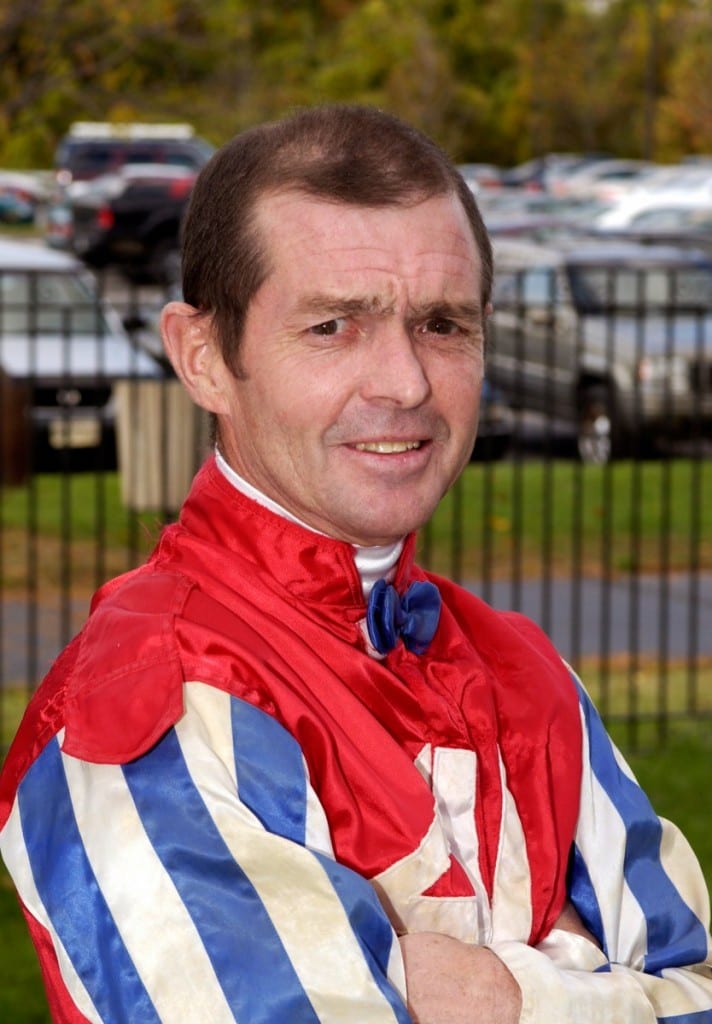 Rick Wilson. Photo by Jim McCue, Maryland Jockey Club.
by Doug McCoy
In the early 1970s a hard-driven rider came out of the bush tracks of Oklahoma to begin riding thoroughbreds.  Over the next 30-plus years, Rick Wilson showed the racing world that when push came to shove, fierce determination, savvy race riding and the refusal to get beat won races — lots of race.
Wilson was one of the most popular and successful riders in the Mid-Atlantic for more than three decades. He won nine riding titles and 75 stakes at Philadelphia Park alone and also won six races on a single program at that track.  He was also among the leaders at Monmouth Park, Laurel, Pimlico and Delaware Park at one time or another.
Wilson was a classic overachiever on a horse, a jock whose raw talent level may not have been as high as some of his fellow competitors but whose fierce and unwavering determination to succeed made up for it.
One veteran trainer once put it aptly.  "If you want to win beauty contests you can use some of these other boys," he said.  "If you want to win races, you put Rick Wilson on your horse."
Wilson survived a serious fall in 2001 that resulted in a badly fractured femur and several broken ribs and sidelined him for just over a year.  By the spring of 2004, he was still riding in good form at age 50.
Then on May 8, shortly after the start of the second race at Pimlico, Rick Wilson's life changed forever. Wilson was aboard a three-year-old gelding named Advance to Go, and after the field broke from the gate, Wilson's life went awry.
"The horse inside me came out at the start, and I was trying to get my horse away from her, but she kept coming out and my filly clipped her heels and I went over her head," the retired rider recalled. "I remember trying to get to the inside to get under the rail and that's the last thing I remember."
What Wilson didn't remember was that Advance to Go had stumbled but hadn't gone down completely and was trying desperately to regain her feet to jump over the fallen rider. But when her right hoof reached forward, it struck the right side of Wilson's head with tremendous force.
"I didn't know it, of course, but it almost tore my right ear off and the impact caused multiple skull fractures in addition to some serious damage to my right eye," Wilson said.
Wilson was airlifted by the Maryland State Police medi-vac helicopter to the Maryland Shock Trauma Unit where he had to be put in a medically induced coma for a period of time and underwent several surgical procedures in his 17 days at the Unit. He was later transferred to Kernan Rehabilitation Center near Baltimore where his recovery continued. In addition to the fractures to his skull Wilson's right eye and cornea were severely damaged, and he lost the hearing on his right side.
"I was lucky they were able to save my right eye," Wilson said.  "I have to wear glasses for that eye but at least I can see on that side."
His injuries left too much residual damage for Wilson to return to the saddle and now, more than 12 years since his last mount, Wilson still badly misses the thrill of competing and winning.
"I tried going out and watching races but I'd watch a race and see the riders battling down the lane and it just killed me that I couldn't be out there with them," he said ruefully. "You know the money was good of course, and the chance to ride a truly great horse like Xtra Heat or Barbizon Streak was very special, but it was the chance to compete on a daily basis, that was what made riding so great for me."
Wilson was the regular rider for Xtra Heat, 2015 National Racing Hall of Fame inductee and champion 3-year-old filly of 2001.  Wilson won 13 races aboard Xtra Heat, including five graded stakes. Barbizon Streak, perhaps the greatest Arkansas-bred ever, once beat the great Mr. Prospector at old Liberty Bell Race Track in Philadelphia.
These days Wilson spends a lot of time with his dogs on his Sykesville, MD farm and also enjoys playing golf, though not very well.  "When I go out I take my clubs and a chain-saw because where my ball goes most of the time, I need a chain saw to find it," he said with a chuckle.
Wilson and wife Jean have four children and one of them, Ken Wilson, was named track superintendent at Delaware Park at age 28.
In recent years there have been a number of measures taken to attempt to make things safer for riders, including the introduction of collapsible inner rails and flak vests. While Wilson doesn't discourage such changes he is brutally honest when talking about the inherent dangers that face a rider when he or she leaves the jock's room for a race.
"People have to understand that these horses have some much power and force in their bodies that when their hooves hit the ground or when they fall and their body hits the ground that's a lot of force hitting whatever it hits," the veteran rider pointed out, "I've watched the video of my accident and I can clearly see the filly was trying to get her feet going so she could jump over the top of me and my head just happened to be in the way when she tried to get her footing. There are parts of a rider's body that can't be protected, and sometimes the things that are supposed to help protect us just can't. When I broke my femur I also had two ribs broke, and you can see the marks on the flak vest I was wearing where the hooves struck it so it couldn't prevent those ribs being broken. It's a sport where we go fast, we go hard, and when we go down we go down hard. It's the nature of the game.
"But you know something," he concluded. "I'm 62 years old and I would give anything to be able to suit up again, head out to that paddock and get a leg up and be in that gate the split second the doors open. There's nothing like it."
[su_box title="
RICK WILSON FILE
" style="glass"]
Born 1953 in Oklahoma
Lives in Sykesville, MD
Recorded 4,939 victories from 24,681 starts
Purse earnings of $77,303,270
Retired 2004
Family includes wife Jean and four children
[/su_box]