Shore Bets: Monmouth Park July 2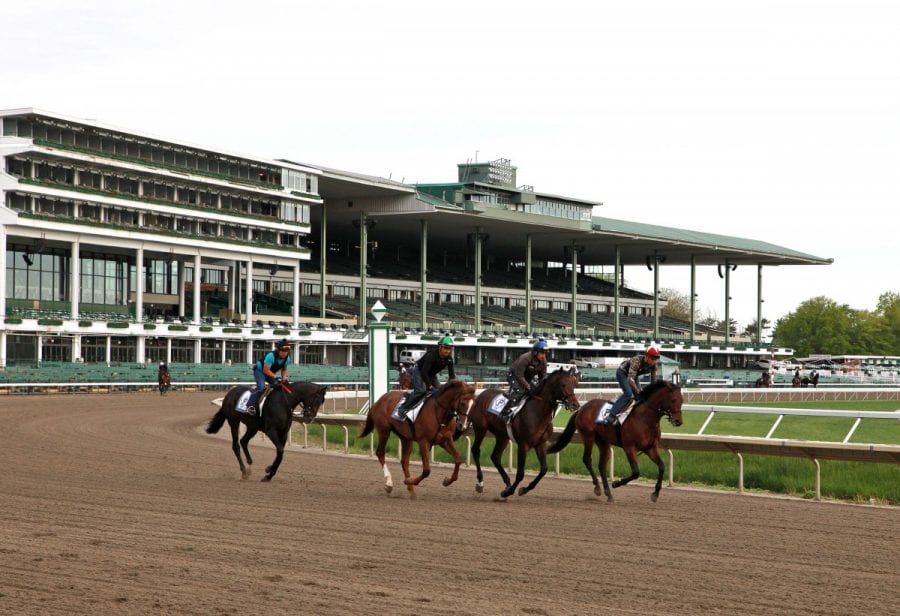 Photo by Bill Denver/Equiphoto.
We are pleased to welcome Shore Bets back for another season of Monmouth Park racing.
by John Piassek
Independence Day weekend begins with a 12-race card today at Monmouth, headlined by race 11, the Grade 3 Salvator Mile. Tomorrow, of course, is one of the biggest races of the season: the Grade 1, $300,000 United Nations Stakes.
Race 1: Maiden Special Weight, 3yo and up, Fillies and Mares, 1 Mile (Grass)
The opener on today's card is borderline incomprehensible. None of the seven in the main body of the field have ever run on the grass. As such, handicapping this race is almost a total guessing game.
My guess in here will be the 2, Preppy. She was entered to run on the grass last out, only to see the race washed away to the main track. Nevertheless, she showed good form in that race, finishing second in that off-the-grass affair. That was her first race in almost eight months, and now will be coming in here off a more reasonable five-week layoff. Her grass breeding looks pretty strong, and the trainer-jockey team of Todd Pletcher and Joe Bravo will be dangerous. Bravo, it should be noted, is having a renaissance meet of sorts: he's winning at a 26% rate. It's vintage Bravo here. Among all the confusion of this race, Preppy looks the likeliest to fire a big one.
The 3, Purrmorehissless, is a first-time-starter who has been working out on grass, turning in a string of bullets over the course at Colts Neck Stable. Due to her smaller-time connections, she may be overlooked, but cannot be underestimated here. The 7, La Peregrina, finished two lengths behind Preppy last time out, and is Pletcher's other representative in here. While she's been working well, and also has good grass breeding, she will be ridden by Paco Lopez, who rode her last time out. This automatically means that she will be a huge underlay. No mas.
2- Preppy
3- Purrmorehissless
7- La Peregrina
Dirt:
1- Monique's Candy/1A- Pleasant Mine
2- Preppy
7- La Peregrina
Race 2: Maiden Claiming $10,000, 3yo and up, Fillies and Mares, 1 1/16 Miles
I assume that the racing secretary let this race go only for the sake of having a twelve-race card. I will attempt to make a decent selection here and go with the 2, Channel Surfing. She's run three times at the current meet, and has slowly improved in each race. Most recently, she missed by only two lengths against similar horses while going six furlongs, running a brisnet figure of 60. That's the best last-out figure in the race. She also gets a big jockey upgrade, going from the ten-pound apprentice Winston Kay to the established Jose Ferrer. It's not the "shore"st thing in the world, especially since she's never gone 1 1/16 miles before. But considering the rest of these, she's got a pretty good shot.
The 6, Mulligan's Singer, is coming off a seven-day layoff, most recently finishing a well-beaten third while running a 57 at six furlongs. She'll be making her second start off the long layoff here, and has shown respectable form while going a distance on grass. The 4, Eye Contact, was beaten eight lengths going one mile and seventy yards last out at this level. She's shown the ability to run decently in a dirt route, but may be in trouble if some of the others can carry their sprinting form over a route of ground.
2- Channel Surfing
6- Mulligan's Singer
4- Eye Contact
Race 3: Maiden Claiming $40,000, 3yo and up, Fillies and Mares, NJ-bred, 5 ½ Furlongs
Jersey-breds take center stage here. My pick will be the 4, Sues Stones. She's run figures of at least 65 in each of her last three races, earning a fairly impressive 67 last time out. While she was a well-beaten fourth in that race, that was also an especially strong Jersey-bred maiden race. The winner, Irish Defence, ran a huge race while winning her debut, while the second-place finisher, Julia Chubouli, came back to win next time out. Now, Sues Stones takes a drop down to the maiden-claiming level, where the pickings are easier, and she should find this race the opportune spot to shine.
The 5, Mama Pajama, was third at this level in her debut last out after getting entangled in a speed duel. If she manages to get a clear lead here, watch out, because she may be tough to catch. The 2, Boomerang Miss, makes her third start of the layoff here. She went off as the favorite last out at this level, only to receive an impossibly bad ride from Orlando Bocachica and finish fifth. This time, she gets a change in jockey to Roberto Alvarado. Hopefully, he will not restrain her as much as Bocachica did, and she'll be allowed to run her race. If she can duplicate the 66 that she earned in her first race off the layoff two starts back, she's going to be tough to catch.
4- Sues Stones
5- Mama Pajama
2- Boomerang Miss
Race 4: Claiming $20,000, 3yo and up, 1 1/16 Miles (Grass)
We're back to the lawn for this one. I'll take a shot with the 2, Mini Cosmo. Two races ago, he ran dismally over this track and at this level. It was his first race off the layoff, however, so he did have an excuse of sorts. He didn't run very well on the dirt last out, but that was an odd race at 5 ½ furlongs. It was hardly a distance and surface in his wheelhouse. Last fall, he ran two races with figures of 83, which would likely win this race. He's coming in here with some experience under his belt, and picks up the near-unstoppable riding of Paco Lopez.
The 6, Talent Show, took a n/w2L field gate-to-wire last time out, running a figure of 78. Two races ago, he was on the lead, and hung in there in the end, ultimately running second and earning a 74. He's a certainty to once again be on the lead, the only question will be how far his speed can take him. The 7, Air Ranger, has been fourth in his first two races off the long layoff, running figures in the high-70s and low-80s. His only issue is that he continues to be ridden by Shannon Uske, who is only winning at a 5% rate this meet, and rides like it. Look for him to improve if he gets a rider upgrade down the road.
2- Mini Cosmo
6- Talent Show
7- Air Ranger
Dirt:
10- Theyallcomehome
3- Che La Luna
5- Moonlight Raid
Race 5: Maiden Special Weight, 2yo, Fillies, 5 Furlongs
Last time out, the 2, Day by Day, crossed the wire first against a very good maiden field. Unfortunately, she crowded some of her rivals in the stretch, and was (justifiably) disqualified. So not only does she have the experience edge over the rest of these, she's finished first more than anyone in here, too! That was a strong race second-time out, too: she ran a 79, up from a 74 she earned while finishing second on debut at Gulfstream. She worked well in between last-out and now, and retains the aggressive riding of Nik Juarez. She should finish on top today: and this time, stay there!
The 3, Souper Salary, is an Eddie Plesa-trained, Paco Lopez-ridden first-timer at Monmouth. In layman's terms, this is a horse who is going to take a ton of money, and will probably win. However, I have no interest in picking a chalky horse in a race like this when there's a horse with much more value and probably an equal chance of winning. The 9, Nonna Mela, finished third behind Day by Day in her debut, and has been working strongly for the ever-dangerous Pletcher barn.
2- Day by Day
3- Souper Salary
9- Nonna Mela
Race 6: Claiming $5,000, 3yo and up, Fillies and Mares, 6 Furlongs
Despite her less-than-great last race, I'll take the 2, My Little Darlings, in here. She had a tough trip at Parx last time out, getting hung wide on the pace before flattening out to finish last. She still ran the best last-out figure in the race, with a 65. In her most recent dirt start before that, she finished second at Gulfstream Park after leading almost the entire way around, running a sparkling 77. If she can get that trip again, there's a great chance of her winning again. Well, she's got a post position close to the rail, and the best early pace ratings in the bunch. I expect a gate-to-wire win out of her.
The 7, Tina's Note, had a similar trip as My Little Darlings did last out—wide and off the pace—and flattened to finish fifth. In the two races prior to that, with better trips, she ran figures of 70, both of which would be good enough for an exotics spot here. The 8, Heir to Glory, consistently runs in the high 60s, and will make her third start off the layoff.
2- My Little Darlings
7- Tina's Note
8- Heir to Glory
Race 7: Allowance Optional Claiming (n/w1x), 3yo and up, 5 ½ Furlongs (Grass)
The Jersey Shore 6 begins with an allowance grass sprint. The 3, Wise Mac, looks to be the best in here. He ran figures of up to 92 while running in grass sprints last spring, but had since declined, running an 82 in his first two races of 2016. However, he improved somewhat in his third race off the layoff, finishing sixth against n/w2x competition at Parx, while earning an 87. He comes in here off a start on the synthetic at Presque Isle Downs, and picks up the dangerous riding of Antonio Gallardo. Trainer Eduardo Rojas is also a strong 23% on the grass, with a +$2.20 ROI.
The 6, Dark Roast, finished fourth last out after being caught in an early tussle. He usually runs in the mid-80s, too, but will have to be kept off the pace to have the maximum opportunity. The 1A, Sterling's Maximus, has been second and third in his two races since coming off a brief freshening in June, and ran an 84 while finishing second at Parx last out. He seeks to improve further third off the layoff, and will pick up Paco Lopez.
3- Wise Mac
6- Dark Roast
1- Fly Bye Pomeroy/1A- Sterling's Maximus
Dirt:
1- Fly Bye Pomeroy/1A- Sterling's Maximus
5- Papadopalous
4- All About Diva
Race 8: Claiming $12,500 (n/w2L), 3yo and up, NJ-bred, 6 Furlongs
Some of Jersey's finest show up here. My pick among them is the 6, P J's Bad Boy. He's coming off two fourth-place finishes at the Jersey-bred n/w1x level, where he was soundly defeated last out while going a mile. As shown by his running line, a route is hardly his strong suit. He briefly contended near the pace, then tired out. In the race before that, at 5 ½ furlongs, he was a much closer fourth, while running a 74. That's the best race anyone in this field has run all year, and even the 70 he ran while going a route may still win this one. He'll get some class relief stepping down from allowance company, and should thrive against easier competition.
The 3, Mr. Spaceman, finished second behind the vastly superior Little Hitman in his 2016 debut, running a 70. He makes his second start at this level for the Jason Servis barn, which has the best winning percentage at the meet (10-for-26, or 38%). The 2, Taperrific, is my wacky longshot play. He turned in a strong three-furlong workout last week, going the distance in 35.4 seconds, and gets a big jockey upgrade, from Orlando Bocachica to Jose Ferrer. Not that he'll win, but he may surprise a few people and come in the top three at big odds.
6- P J's Bad Boy
3- Mr. Spaceman
2- Taperrific
Race 9: Allowance (n/w1x), 3yo and up, Fillies and Mares, 1 1/8 Miles (Grass)
A competitive allowance field lines up here. I'll look toward the inside and take the 1, Sky Painter. She's making her second start off a fifteen-month layoff. In her return, she finished fifth at this level at Belmont Park, running an 81 after being hung wide on the turn. Before the long layoff, she was a promising grass filly, finishing second in the 2013 Miss Grillo Stakes and running figures of up to 94. She's working strongly coming in here, is facing easier allowance foes, and picks up the hot Antonio Gallardo for her Monmouth debut.
The 6, Bai Bai Baby, was fifth as the favorite at this level and track last out, but still ran a fairly strong 84, the second-best last-out figure in the race. She has the best early pace figures in the race, and if Paco Lopez is aggressive, he'll send her out to the early lead. How far she can go is yet to be determined. The 9, Blame it on Me, broke her maiden in her debut two starts back at Tampa Bay Downs, and improved her figure to 82 when finishing fourth at 1 3/8 miles last out. A cutback in distance should help her out, as she was on the pace last out before weakening in the last ¼ mile.
1- Sky Painter
6- Bai Bai Baby
9- Blame it on Me
Dirt:
5- Liana Star
3- Special Treat
2- Always On My Mind
Race 10: Allowance Optional Claiming (n/w1x), 3yo, 6 Furlongs
In most cases, when you see a horse who has lost his last two races by a combined 43 lengths, you would designate him a complete toss-out. However, the 6, Imperial Hint, is a very notable exception to that rule. He was very well-beaten in his last two races, but he was facing much better in those spots. After all, they were the Woody Stephens Stakes and the Pat Day Mile Stakes (in the latter of those races, he went off at a more-than-respectable 7/1). Earlier in the season, he dazzled at Tampa Bay, winning his first two races by a combined eleven lengths, running figures of 96 and 93. Dropping back down to allowance company here, he's got great early speed, is working very well, and is reunited with Antonio Gallardo, who piloted him to his first two races. I fully expect a return to his brilliant earlier form.
The 2, Yellow Chips, cut back to six furlongs last out, and ran a career high figure of 88 while winning by two lengths. The only cause for concern is that he has not worked since that big win on June 14. The 3, Formal Summation, ran a great third after being wide throughout in the Chick Lang Stakes at Pimlico in his last dirt race. However, his trainer, Kathleen O'Connell, is a disappointing 0-for-25 so far at the meet.
6- Imperial Hint
2- Yellow Chips
3- Formal Summation
Race 11: Salvator Mile, 3yo and up, 1 Mile
It's the first of Monmouth's three graded stakes races for older dirt males: the Salvator Mile. Last year, this race, named after the 1890s racing superstar who scored many great wins at Monmouth, drew an excellent field that included Valid, Bradester, and Red Vine. This year…well, it's not as great. But it's still a competitive field of six, including last year's Pegasus winner, Mr. Jordan, and Jersey-bred sprinting legend Green Gratto.
However, I'll take a chance with someone else, with the 5, Comfort. He's run on the dirt four times in his career, and has won three of those races, with his only loss coming in the Lexington Stakes as a three-year-old. His figures have improved each time out there, peaking at a 98 with a nearly three-length victory against n/w2x horses at Belmont. Considering that was his first race since November, it was very impressive. This horse has the look of one who is on the upswing in a big way, and will merit my selection as such.
The 3, Mr. Jordan, is 2-for-3 over the Monmouth track, including the aforementioned win in the Pegasus last year. He hasn't raced since February, when he was third in an overnight handicap at Tampa Bay. He is a Plesa-Paco horse, has shown form this year (he ran up to a 101 over the winter), and likes the Monmouth track. As such, he must command some respect. The 4, Allied Air Raid, has hit the board in nine out of ten lifetime, and is coming off a strong n/w2x win at Churchill Downs. He should be on or near the early pace.
5- Comfort
3- Mr. Jordan
4- Allied Air Raid
Race 12: Maiden Special Weight, 3yo and up, 1 1/16 Miles (Grass)
We'll close the show with some maidens on the grass. The 6, Otto, looks the best. He's only raced once, but it was a good race. He closed from the back of the pack to finish second, beaten about three lengths, while running a very strong 81. He's been working at Saratoga to get ready for this one, and ships down for Christophe Clement, who's always dangerous with his Monmouth shippers. Expect some more improvement from this young colt.
The 5, Tyr, led almost all the way around last out at the maiden claiming level before losing by a neck, running a career-best 81. He figures to once again be the controlling speed. The 9, Desperado, has surprised in his two races this season, finishing fifth at 65/1, then running third at 41/1. He ran a career-best figure of 80 last out, and while you won't get the odds that he's been, he nonetheless is an improving colt with the potential to upset.
6- Otto
5- Tyr
9- Desperado
Dirt:
7- British Bulldog
10- Giant Two Step
9- Desperado