Shore Bets: Monmouth Park June 25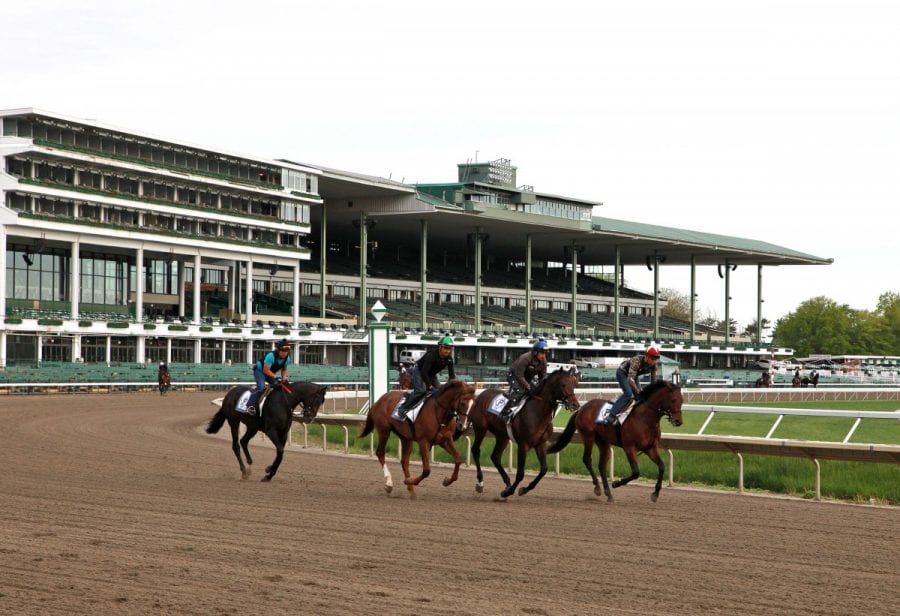 Photo by Bill Denver/Equiphoto.
We are pleased to welcome Shore Bets back for another season of Monmouth Park racing.
by John Piassek
Between here and danonymousracing.com, I've been hitting at 39.4% with my Monmouth Park picks so far this meet, with a total profit of $52.80 if you'd wagered two bucks on all my top picks. I'll hope to keep the momentum going on a very good Saturday card, which serves as day 1 of Monmouth's Wine and Chocolate Festival, which will feature lots of wine and chocolate.
Race 1: Maiden Claiming $10,000, 3yo and up, Fillies and Mares, NJ-bred, 5 ½ Furlongs
Seven of Jersey's finest begin the Saturday festivities, and if there is anything resembling logic and reason left in this world, the 6, Jacksie, will blow this group away. She's coming off two races at Pimlico, where she was beaten by seven and five lengths, respectively, against open company. Her brisnet figures there were dazzling, relatively speaking: she earned a 61 and a 67 in those two efforts. The best that anyone else has done in their last three races is a 54. For Jacksie to lose this race, she'd either have to run her worst race in months, or one of the others would have to run one of their best in months. Neither of those scenarios is especially likely. Jacksie also picks up the quietly hot Antonio Gallardo, who has been striking at 24% so far this meet.
The 2, Stevens in Trouble, has not been seen since August of 2014, when she was beaten by eleven lengths in a Jersey-bred two-year-old race. She's been working steadily for this race, Monmouth demigod Paco Lopez picks up the mount, and trainer John Mazza is very good with horses off a very long layoff (27% with a positive ROI). The 7, Lizzie Quinn, has been showing speed and tiring in each of her three races this year. She was fourth in each of her last two; no reason why she can't be third or fourth here.
6- Jacksie
2- Stevens in Trouble
7- Lizzie Quinn
Race 2: Claiming $5,000, 3yo and up, 6 Furlongs
In spite of his 0-for-8 record thus far in 2016, the 2, Rasta Friend, appears to be the likeliest winner in here. He's been second and third in his two most recent races at the level. In that last race, he earned a fairly impressive 85, which is the best anyone here has run in a sprint recently. He also has a good amount of early speed (he has the highest early pace figures in the field), and the horse to his inside is a complete non-entity. If he opts to flash that speed, he'll be a very tough horse to beat.
The 3, Billypaysthebills, is the other primary speed in the field. He's coming off two straight victories: one at the n/w2L level at Monmouth, and one at the n/w3L condition at Penn National. He's been running steadily improving figures; with an 82 last out, and a 76 two races ago. In an ideal world, Jose Ferrer would send him directly to the front and try to outrun Rasta Friend early. We'll see how that plays out. Should those two front-runners knock each other out, the 4, Untamed, is the most likely to pick up the pieces. He cuts back to six furlongs from 1 1/16 miles, where he finished second two times in a row. The last time he was seen at a sprint distance was back in September, where he ran third and earned a figure of 80 while coming from far off the pace. He's been closer to the pace more recently, and would ideally rate just off the two speed horses.
2- Rasta Friend
3- Billypaysthebills
4- Untamed
Race 3: Claiming $20,000 (n/w3L), 3yo and up, Fillies and Mares, 1 1/16 Miles (Grass)
I will not kid the audience and pretend that the 2, Tybalt's Queen, will offer any value in here. After all, she's ridden by Paco, and trained by Todd Pletcher. That alone guarantees that she will go off as the favorite. However, she's coming in here in great form. She defeated a n/w2L field last out at 3/5 odds, running very well in her second race off the layoff. All her figures are excellent, with a 79 last time out and a 77 and a 78 in the races before that. There is little early speed in this race, so hopefully Paco will keep her near the early tempo. If he does, she can kiss them good-bye.
If you are a value seeker, and do not want to eat chalk with me, the 6, Scottish Sweetie, is an excellent alternative. She's making her third start off the layoff, an angle that trainer James Frangella is 18% with. She was a good second last out behind heavily favored Red Parasol, earning a figure of 78 in the process. If she can keep that up, and Tybalt's Queen slides a bit, there's an excellent chance of her pulling off the upset. The 4, Starship Hostility, was third in that same race, and had won two in a row prior to that race. She figures to be the controlling speed this time around.
2- Tybalt's Queen
6- Scottish Sweetie
4- Starship Hostility
Race 4: Maiden Special Weight, 3yo and up, 5 ½ Furlongs
In his first ever race, the 1, Racehorse Haynes, was almost totally ignored in the wagering, going off at 19/1. Despite the lack of optimism from the bettors, he ran a great race. He sat off the leaders, took control in the stretch, and would've held on if not for being run down by a more experienced runner. As it was, it was a pretty impressive debut from him, and with a race under his belt, he should improve further. If can do that, he's going to be tough to beat.
The 3, Moneyman, was claimed out of his last race, a second at the $16,000 level, by Jorge Navarro. That's the good news. The bad news is that his jockey, Navin Mangalee, has been in a meet-long slump, with only one winner so far. If Moneyman got a jockey change, he'd be a serious contender. Otherwise, I'd use him underneath. The 2, Cornedbeefncabbage, improved his figure by eight points while finishing third second-out in his last race. He turned in a strong four-furlong work in 47.3 seconds in between that race and now, so you know that he's coming in here in continued good form.
1- Racehorse Haynes
3- Moneyman
2- Cornedbeefncabbage
Race 5: Allowance Optional Claiming (n/w2x), 3yo and up, 5 ½ Furlongs (Grass)
There's no better feeling than seeing a Jersey-bred with a great shot at defeating open company. That's the case here with the venerable veteran Partyallnightlong. He's coming off two straight second-place finishes in grass sprints, most recently at this level here at Monmouth. He improved sharply in that race, running an 89 after turning in an 83 and an 82 in the two efforts before that. The field today isn't as strong as the one last time out, so he should have an easier time of it, and a better chance of replicating that figure.
The 6, Snowday, has a bad case of second-itis. He has no wins in recent memory, but he's come in either second or third six consecutive times. He ran third last out, finishing behind Partyallnightlong and running an 88. Now, that was his first race off the layoff, so he may not have been running at maximum ability, and he's run races in the past that should win this one. However, I can't take low odds on a horse who just can't seem to win. If you have deep pockets, throw him in on the early pick 4 and pick 5 tickets, but I would take a pass on him in the win betting department. The 4, Sleeping Giant, makes his first start since September, as well as his debut for the Tony Dutrow barn. He was eighth at this level last out after being on a very fast pace, but if the tempo slows down for him here, he could wind up being the controlling speed. When he was able to get the lead last year, he won two races in a row, running figures up to a 93.
1- Partyallnightlong
6- Snowday
4- Sleeping Giant
Race 6: Allowance Optional Claiming (n/w2x), 3yo and up, NJ-bred, 1 Mile 70 Yards
The 1A, Jersey Blues, is head, shoulders, and then some over the rest of this field. He made his first start off the long layoff last out, running in an open-company n/w1x race. He finished third behind the very good allowance horses I'm Steppin' It Up (who will run later on the card) and Percussion, running a figure of 87. He defeated Jersey-breds twice last year, running figures of up to 89. To put it in perspective, his worst race among his last three is the 87 that he earned last time out. Only one other horse has run a race that good in any of his last three. It would take a miracle for Jersey Blues to not lose. His entrymate, No More Music, looks pretty sharp in here, too. He's won two races over the Monmouth track, defeating Jersey-breds twice and running figures of up to 88 in his career.
The 6, Ride Ride Ride, was second on the grass in his first start of the Monmouth season last out. Over the winter at Tampa Bay Downs, he consistently ran in the mid-80s, which will be good for a spot in the top three should he replicate those. The 3, Wise Child, is well-known for having absolutely no early speed whatsoever, running pace figures so low that they could be easily mistaken for a snail's. He was well-beaten last out after falling far behind a loose leader. He did win two races ago at Tampa Bay, and he ran as high as a 79 earlier in the year.
1- No More Music/1A- Jersey Blues
6- Ride Ride Ride
3- Wise Child
Race 7: Claiming $7,500 (n/w2L), 3yo and up, 6 Furlongs
This is a tough race to get a grip on. The horses with the highest average figures in the race have both landed on the also-eligible list in this oversized field, and most of the horses in the main body have less-than-great form. I'll take a shot with the 5, Who is the Giant. He made his Monmouth debut last time out, finishing third and running a fairly respectable 72, which is tied for the second-best last-out figure among all horses in the main body of the field. He's turned in figures in the 70s in the past, which would be good enough to win this one. And compared to the n/w2L horses he's been facing in New York, this is almost like class relief of sorts.
The 13, Interior Secretary, was fourth at this level last out at Belmont Park, and has run three races in a row with at least a 76 figure. He figures to show a lot of early speed from his far outside post should he draw in. The 14, Congrats Kid, broke his maiden two races ago after dueling for the lead and getting clear. He's shown the mettle needed to survive a pace duel; he'll likely have to do the same here.
5- Who is the Giant
13- Interior Secretary
14- Congrats Kid
Race 8: Maiden Claiming $40,000, 3yo and up, 1 1/16 Miles (Grass)
We'll return to the lawn to begin today's late pick 4. I'll take a shot with the 6, My Bucky's Boy. He ran well in his season debut, finishing second against similar while running a figure of 76. His jockey is Paco Lopez and he's trained by Eddie Plesa, a nearly-unbeatable combination. All of his grass races have had figures above 70, so he's a consistently good sort who should run a good one here.
The 8, Sanad, is another one with second-itis. He's 0-for-16 lifetime, with two seconds and five thirds. His figures have all been very strong, so he's a good exotics candidate. With a record like that, however, you bet him to win at your own risk. The 2, Go Trumpy Go, was last seen being vanned off at Santa Anita in the spring of 2015. He ran a 79 in his grass debut sixteen months ago, so there's some grass ability there. Most importantly, he's making his first start for the Navarro barn. However, I'm naturally skeptical off a horse who hasn't raced in so long.
6- My Bucky's Boy
8- Sanad
2- Go Trumpy Go
Race 9: Allowance Optional Claiming (n/w1x), 3yo and up, 1 Mile 70 Yards
The last time he ran, I picked the 9, I'm Steppin' It Up, to win at this exact level. He got the job done at 8/1 odds, running a figure of 92. In the race before that, under the same conditions, he came in second at 11/1, earning a 93. Those are figures that not many horses in the field has been able to touch in their recent races. Even better, he was claimed out of that race by Jamie Ness. While Ness has not had as much of a presence here as he has had in past meets, he's still won two races from seven starters thus far, and is a strong 32% first off the claim. If I'm Steppin' It Up can improve further off the claim, it'll just be icing on the cake, because he'll win as long as he can run back to his old races.
The 3, Ostrolenka, ran a 100 two races ago, running against New York-breds over the Aqueduct inner track. He turned in a bullet work getting ready for this one, and picks up the red-hot Joe Bravo for his Monmouth debut. The 6, Port Aggregate, won by eight lengths in his last dirt race at Oaklawn Park, running an 87. He's worked out three times since shipping to Monmouth, and figures to be on or near the early lead.
9- I'm Steppin' It Up
3- Ostrolenka
6- Port Aggregate
Race 10: Eatontown Stakes, 3yo and up, Fillies and Mares, 1 1/16 Miles (Grass)
Today's feature race is named after a town bordering Oceanport, home of Monmouth Park. This race serves as a prep for the Matchmaker Stakes, which will be run on Haskell day, and there's a filly out there with the potential to sweep all the major grass stakes for female horses that Monmouth offers. That would be the 2, Isabella Sings, coming off a victory in the Miss Liberty Stakes. In her previous races, she had been known for taking off early and going out to a long lead, all the while hoping that no one would catch her. In the Miss Liberty, however, she was rated off the pace, then attacked on the turn and won going away. Her figure in that race, 96, will likely be good enough to win this one, too. She also really likes the Monmouth grass, having won two stakes over the track, and having missed another win by a nose. While she won't be much value, it's likely that she'll add another Monmouth stakes win to her resume.
The 7, My Cara Mia, is coming off a n/w2x allowance win at Belmont, in which she won going away at a mile and earned a 94. She flattened out to finish third in her last try at 1 1/16 miles, so we'll see if she can get the distance here. The 8, Invading Humor, flattened out to finish second in the Mount Vernon Stakes last out after being caught wide in the stretch. That was her first start since November, so if she can save more ground, improvement second off the layoff is definitely possible.
2- Isabella Sings
7- My Cara Mia
8- Invading Humor
Race 11: Maiden Claiming $16,000, 3yo and up, Fillies and Mares, 6 Furlongs
The Saturday card ends with a maiden claiming field that, I'm convinced, was scientifically designed to be as inscrutable as possible. I'll try out the 2, Mulligan's Singer, as a longshot flyer. She's run on the dirt twice, running sixth and fourth in those outings, running above a 60 in those two spots. Her first dirt race was fairly respectable; it was here at Monmouth, she ran fourth at the $25,000 level, and she ran a 68, which may very well win this thing. She's coming in here off a long layoff, but in a field like this one, anyone with a glimmer of ability, which she has shown, would make for a decent bet.
The 3, R Known Fact, has by far the best figures in the field by far, running up to a 78 earlier in the year. However, she's come in second in all three of her dirt races, which is not a positive sign. The 5, Saint Bernadine, has shown promising form on grass, running in the 70s at one point, and Antonio Gallardo picks up the mount on her.
2- Mulligan's Singer
3- R Known Fact
5- Saint Bernadine