Shore Bets: Monmouth Park June 18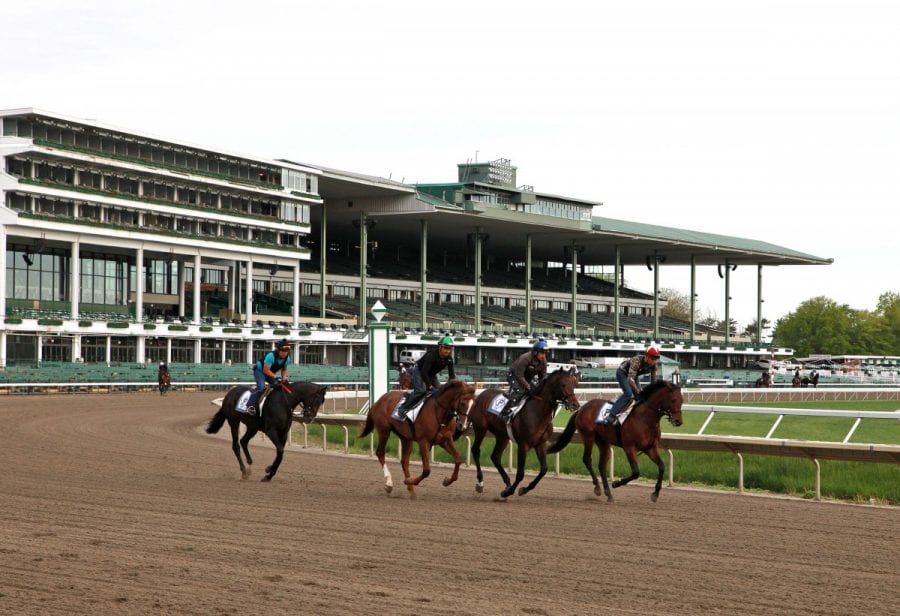 Photo by Bill Denver/Equiphoto.
We are pleased to welcome Shore Bets back for another season of Monmouth Park racing.
by John Piassek
If you like two-year-old racing, today's card at Monmouth Park is for you. Three out of the eleven races on the card are for the youngsters. Today's feature race is the Dan Horn Handicap, named after the Jersey-bred star of the late 1970s and scheduled for one mile on the grass. Eleven horses, representing a fine contingent of Jersey-breds, will contest this one.
Race 1: Maiden Claiming $40,000, 2yo, Fillies, 4 ½ Furlongs
It's unusual for a two-year-old race at this time of the year to have more than one horse who has already run. Yet, this race contains FIVE horses who have raced before, with all of them coming out of the same June 3 maiden race that was run here at Monmouth. The horse who ran the best in there was the 1, Misschief Maas, who finished fourth after breaking from the far outside post position. With such a short run into the turn in those 4 ½ furlong races, it would've been a miracle if she was closer than seven lengths to the finish at the end. Today, she draws the inside post position, picks up the dynamite Paco Lopez, and continues to be trained by Eddie Plesa, the best trainer of two-year-olds at Monmouth.
The 6, Royal Chapeau, is the lone first-time-starter in here, and the other Plesa entrant. She turned in a fantastic bullet workout last Saturday, and has been working well at three furlongs. In a 4 ½ furlong race, that kind of well-honed speed is almost perfect. The 2, Arch Legacy, was also hung wide last time out, and got the most betting support of anyone coming out of that race (at 15/1). She's another one who may benefit from being closer to the inside.
1- Misschief Maas
6- Royal Chapeau
2- Arch Legacy
Race 2: Maiden Special Weight, 2yo, 5 Furlongs
In stark contrast to the opener, this bunch is very inexperienced. The only one who's run before is the 2, Redeemable, who lost his 4 ½ furlong debut by 37 lengths. In a normal race, that is the equivalent of losing by eight billion lengths, so he's a non-factor in here. As such, the question becomes: who among the first-timers do you want?
Because the race is so wide-open on paper, I will take a total shot in the dark and take the 6, My Carrots. He's working very well coming into this race, throwing down a bullet four-furlong workout in 47.1 seconds. That was the fastest of 89 workouts at that distance. Jockey Antonio Gallardo has quietly been having a good meet, hitting at 25% from twenty-four mounts, and trainer John Mazza, while not a huge name in Jersey, is 21% with horses in maiden races, and has popped one big-priced winner with a first-time-starter. You'll probably get a good price on him, and in a race like this, that's something that you want.
The 3, Bronson, will almost undoubtedly go off as the favorite. He was a $350,000 yearling, is trained by Todd Pletcher, and gets Paco Lopez for his first career mount. All of these factors will combine to make him the chalk, and I can't eat chalk of that magnitude in a two-year-old race with so many first-timers. While he should be used on any early pick 5 tickets, it would be a bad bet to play him to win, unless he somehow goes off at less than 1/1. The 4, Nonno, was a $125,000 purchase earlier this year, trained by the always-dangerous Kelly Breen and picking up the excellent finisher Nik Juarez to ride.
6- My Carrots
3- Bronson
4- Nonno
Race 3: Maiden Claiming $50,000, 3yo and up, 5 ½ Furlongs (Grass)
This is the first race of the day in which the majority of the entrants have experience, which makes for much easier handicapping. I'll select the 2, Mojo Rising, who is shipping down from Belmont Park to run here. On the surface, he's shown next to nothing in terms of form, with a ninth and a tenth-place finish in his only two races. Still, compared to these, his brisnet figures were pretty strong: he ran a 59 in his debut, and a 64 last out. Furthermore, he showed a ton of early speed last time out, only to fold badly while going seven furlongs. At this 5 ½ furlong distance, he should be able to shoot to the lead from his inside post position, and hold on all the way around this time.
The 1, Spanish Villa, looks the better of the two halves of the coupled entry; he ran a respectable 63 upon his debut on grass two races ago, and improved that figure slightly when sprinting on dirt last out. Perhaps he'll enjoy the shorter instance on the lawn. The 8, Abundant Faith, disappointed in his first race off the long layoff last out, but ran strongly when fresh last fall. He ran in the 70s twice last summer and fall both here and at the Meadowlands.
2- Mojo Rising
1- Spanish Villa
8- Abundant Faith
Race 4: Claiming $10,000, 3yo and up, Fillies and Mares, 1 Mile 70 Yards
Open claimers will contest this one. My pick can be found on the far outside, in the form of the 7, Rosie's Faith. She was second last out against starter allowance competition last out at Delaware Park, running a strong figure of 81, the second-best last-out figure in the race. She's also got back form, running figures as high as 85 over the winter at Gulfstream Park. In a race without a ton of early speed, if Roberto Alvarado wants to, he can hustle her out the front, cross over to the lead, and go all the way. Of course, her general style also allows her to rate off the leaders—whoever they may be—and go on by. Any way you slice it, she has a great chance.
The 3, Harlington Romance, is also shipping up from Delaware, where she was second against $8,000 horses last out while running a season-best of 83. She's improved dramatically in all of her races this year, and while 83 may very well be her ceiling as far as speed figures go, that still makes her a serious contender. The 4, First Acquital, makes her second start off the layoff, and will seek to improve after finishing fifth against Jersey-breds last out. Even though she was well behind the winner, she was only two lengths behind the third-place finisher.
7- Rosie's Faith
3- Harlington Romance
4- First Acquital
Race 5: Allowance (n/w1x), 3yo and up, 1 Mile (Grass)
There are standouts, and then there is a horse like the 6, Boss Man. He stands out like a sore thumb in a room full of people who had their thumbs cut off. He was last seen running against similar allowance foes at Gulfstream, where he won at the starter level three races ago. In his last three races, he's earned an 88, an 89, and a 91. No one else in the race has run that well in any of their last three outings, making Boss Man the rare "triple fig" horse. When you couple this with him being trained by the hot Jason Servis, and throw in Paco Lopez picking up the mount, it's going to be hard to go against him.
The 5, Iamahandsome Man, is the most likely horse to upset Boss Man, should Boss Man not fire for whatever reason. He won over this course easily last out, running a figure of 87. More notably, he was entered for $12,500 last week, but was scratched to run here. The fact that he was put in a more difficult spot, rather than one where he would've been the clear-cut best horse in the race, suggests that his connections have optimism about his ability. The 7, Foxhall Drive, was fourth at this level last out, and has run at least an 81 in each of his last three races. He'll try to have a more ground-saving trip here.
6- Boss Man
5- Iamahandsome Man
7- Foxhall Drive
Race 6: Maiden Special Weight, 2yo, Fillies, 5 Furlongs
We've come full circle on the two-year-old spectrum, going from a race where almost everyone has run, to a race where at least one horse has experience, to one full of first-time-starters. None of the seven in here have ever raced before, nor do most of them have particularly adept trainers or jockeys.
The one glorious exception is the 5, Sweet Loretta. I know that I said a few races up that I was wary of taking short odds on a first-time-starter trained by Pletcher and ridden by Paco. Well, Sweet Loretta fits that bill here, but this field is not as competitive. To give you one idea, Pletcher is 22% with first-time-starters recently, and no other trainer is as good as 10%. Sweet Loretta will be a low price, to be "shore," but I fully expect a victory out of her.
There's a few other interesting alternatives here should Sweet Loretta disappoint first out. The 2, Discreetly Rockin, had a bullet four-furlong workout in 47.1 seconds last week, and in general has a strong worktab. She's a similar horse to her stablemate, My Carrots, who I picked on top in the second race. I almost picked Discreetly Rockin on top here, and she must be respected here, too. The 3, Mission Good Karma, worked three furlongs in 36.3 two workouts ago, and trainer Chuck Spina has quietly been hitting at 25% this meet.
5- Sweet Loretta
2- Discreetly Rockin
3- Mission Good Karma
Race 7: Claiming $12,500 (n/w2L), 3yo and up, Fillies and Mares, 6 Furlongs
It can be a tall task to ask a low-level horse to win their first two races. However, at least on paper, the 5, So Far Gone, appears to be good enough. She broke her maiden last out for a $10,000 tag, winning by seven lengths and earning a debut figure of 80. It was a pretty impressive race, too, at least as far as $10,000 maiden claiming races go. She dueled on the outside through a pretty fast opening quarter of 22.1 seconds, but dismissed her rival and drew away easily. Her pace figures are better than anyone else's, so another gate-to-wire victory could be on tap here. Not to mention, she's got the Navarro-Gonzales trainer-jockey combination.
The 6, Awesome Challenge, battled bravely throughout the stretch last out, winning by a nose going a mile and earning an 82. That was at a route, though, and that style may not work well with a blazing speedball like So Far Gone in here. She still must command respect. The 1, Outzap, broke her maiden for $35,000 two races ago, and now runs for a career-low tag. She finished third against better after a bad break last out, so getting a drop in class and a better start could do the trick.
5- So Far Gone
6- Awesome Challenge
1- Outzap
Race 8: Claiming $16,000 (n/w3L), 3yo and up, 5 ½ Furlongs (Grass)
Any time a horse gets claimed out of the Navarro barn, it brings up an interesting conundrum: can they duplicate the form that they showed under his care? That's the dilemma that confronts us with the 6, Starship Thor. Over the winter, he ran very well at Gulfstream, winning at the n/w2L level by seven lengths and running a sky-high figure of 90. However, he was claimed by Jane Cibelli. The question on everyone's mind is: what does that mean?
It means that Starship Thor is still the most likely winner. For one, Cibelli is one of the best trainers at the track: she's hitting at 26% so far this meet. Nik Juarez, one of the best jockeys here, retains the mount. Most importantly, perhaps, Starship Thor still showed great form pre-Navarro. He won at the $25,000 level while breaking his maiden last fall, running a figure of 80. He dueled on the outside in that race, staying on the fast pace to win by a length. Navarro claimed him out of that race. It's not a big stretch to think that he can improve a lot from three to four, and even that 80 may be good enough to win this one. Don't discount Starship Thor.
The 9, Stand and Salute, is taking a big drop down from the n/w1x allowance level, where he was hung impossibly wide. Back out in California, he ran grass figures as high as 84, so he'll try to save ground here. The 3, Breezy My Way, flattened out when going 1 1/16 miles last out, and has shown to run faster figures when going less than a mile.
6- Starship Thor
9- Stand and Salute
3- Breezy My Way
Race 9: Claiming $25,000 (n/w3L), 3yo and up, 5 ½ Furlongs
I'll go with the 5, Tizcano. He made his east coast debut last out, after being based in California. He led the way early on, only to get run down late. Still, he ran a respectable figure of 78, certainly not bad a horse making his first start in more than three months. Making his second start at Monmouth here, he should be more acclimated to the type of racing here, and once again possesses some of the most early speed in the field. In fact, the only one with a higher pace rating than him is the 4, Island Cat, who has backed up badly in his last two races. Tizcano can sit off the pace, then roll by the tired leader win easily.
The 1, Bettarun Realfast, makes his first start off the claim for Howard Brown, who is 24% with such horses. He ran in the mid-80s consistently at Gulfstream before regressing last out at Monmouth after an awkward break. The 2, Distinctivelygreat, finished just ahead of Bettarun Realfast last out, and has hit the board in four straight races. Jockey Navin Mangalee, however, has yet to win a race this meet.
5- Tizcano
1- Bettarun Realfast
2- Distinctivelygreat
Race 10: Dan Horn Handicap, 3yo and up, NJ-bred, 1 Mile (Grass)
It's the only stakes on the grass for Jersey-breds this year, which makes sense considering, outside of this race and Jersey-bred day near the end of the season, there are no races written for Jersey-breds. Among this field, I'll go with the 3, Chunnel. His grass record is not that great, or, for that matter, good at all. He's 1-for-16 over the surface. Yet, he's run some relatively decent races. In fact, he's earned at least an 80 in two out of his last three grass races, and ran a 79 in the other race. He's coming in here in good form, having won a dirt allowance last out, and it's not exactly a top-notch bunch. I think it's the perfect spot for him to get his second grass win.
The 6, Desperado, is my crazy longshot flyer in here. He's never won a race before, but ran well in his last grass race, finishing third against open maidens while running a figure of 80. He's a 15/1 morning line shot, but will likely be much bigger odds than that. Crazier things have happened. The 9, Oak Bluffs, won the My Frenchman Stakes over this course versus open company last year, and made a strong rally from the back to finish fourth in his 2016 debut last out. He's more adept at sprinting, so we'll see how well he can route here.
3- Chunnel
6- Desperado
9- Oak Bluffs
Race 11: Claiming $7,500 (n/w2L), 3yo and up, 1 1/16 Miles
Even though he let me down last time, I'll give another shot to the 5, Lefty Got it Right. He disappointed in his last race, finishing fourth at this level at 4/5 odds. While it doesn't appear as if he had much of an excuse that day, his form before that race is still better than that of many of his rivals here. Even better, because of that last race, he's "shore" to be a better price than him. In a race like this, that's worth a flyer.
The 7, Freedom for DLT, is certain to be overbet because of his last race. There, he had the least almost the whole way around against similar at Parx, lost the lead in the stretch, but re-rallied to win it. He ran an 83 in that race, but that was his best race by far. He's a heavy morning line favorite, and I can't take low odds based on an outlier race like that. The 3, Rockaway Creek, makes his third start off the layoff, after two decent races at this Monmouth meet. Last out, he rallied from last to get second at this level.
5- Lefty Got it Right
7- Freedom for DLT
3- Rockaway Creek