For jockey Brian Pedroza, a change for the better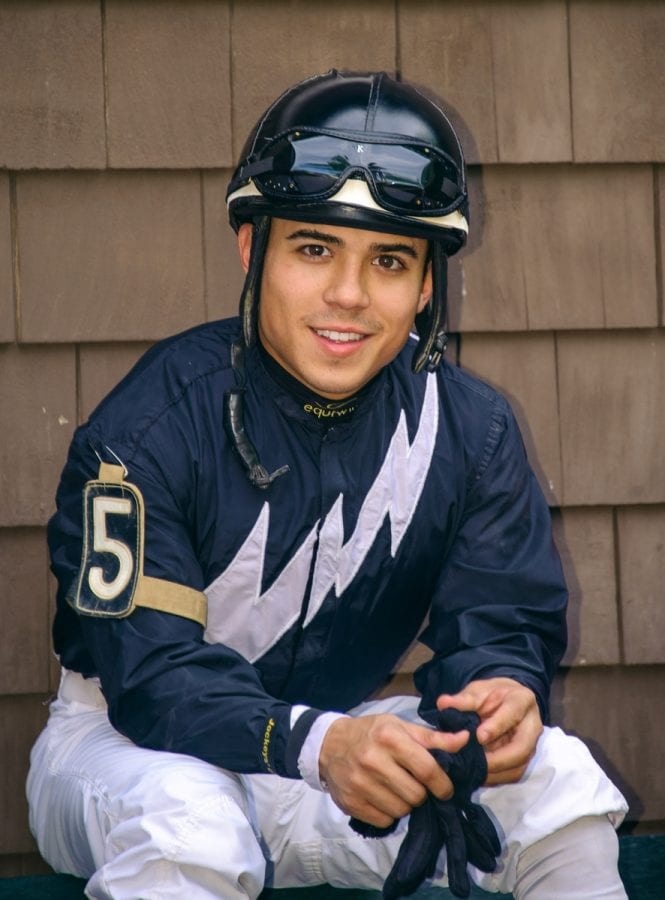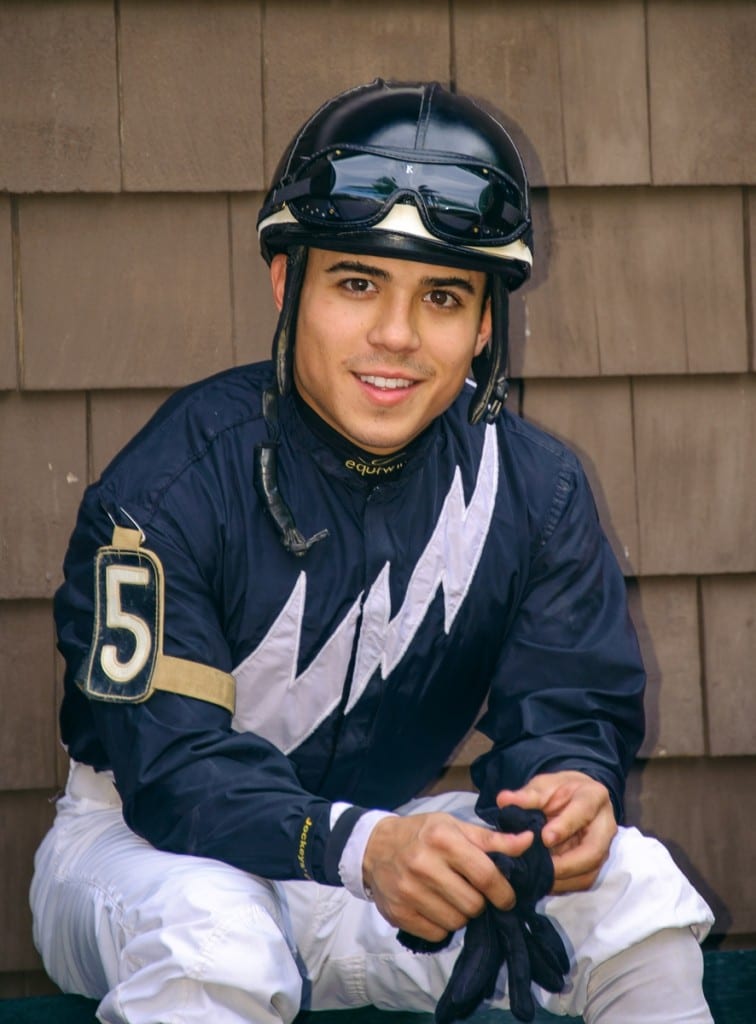 Brian Pedroza. Photo by Hoofprintsinc.com.
by Doug McCoy
Sometimes the decisions a horseman makes — a trainer switching jockeys, an owner firing his trainer, a jockey getting a new agent — can be life-changers.
Take the case of 24-year-old jockey Brian Pedroza. Earlier this year, he was treading water as a middling rider at Tampa Bay Downs, winning with just nine of his 84 mounts.
Today, a few months — and one agent change — later, he is the leading rider at the Delaware Park meeting with 16 winners while winning at a 30 percent clip.
Yet more evidence that having the right agent in the right region at the right time can make a huge difference in a rider's chances to do well.
"Since he's been here, he's been totally focused and committed and you can see the results," said Mark Mace, Pedroza's agent since late March.
Pedroza is the son of Martin Pedroza, veteran West Coast rider best known for his unorthodox perch on his mounts and his mastery of speed horses. Recently, the elder Pedroza has been the regular rider of Private Zone, second place finisher in last fall's Breeders' Cup Sprint and one of the top sprinters in training.
The younger Pedroza debuted in late 2009, and he soon was persuaded to head to New York with Steve Rushing as his agent. At that time Rushing also handled the engagements of NYRA's leading rider, Ramon Dominguez, and on the surface, the decision seemed like a sound one.
Yet while the rider had some success during his stay in New York, his career didn't take off as he had hoped. He's never won more than 66 races in a single season or had purse earnings above $1.6 million.
In more recent years Pedroza has been splitting his time between Tampa Bay Downs in the winter and Delaware Park and the tracks of the Mid-Atlantic in the summer and fall. While he has had a modicum of success at both venues, lately his career had begun to stall. This winter, during that subpar meeting at Tampa, Pedroza decided it was time for a change.
"I'm a very aggressive, hungry rider by nature and in the past year or so it just seemed like I haven't been able to get on as many live horses as I would like," Pedroza reflected. "Every rider wants to ride live stock every race and that's not going to happen, but it just seemed I was riding a lot of flat horses with nothing to give. When that happens, it starts working on your head and you start getting sour. You also start pressing, trying to make things happen, and that can be dangerous."
That's when he called Mace.
Mace is a veteran agent with an impressive resume. His former clients include the aforementioned Dominguez, Rosie Napravnik and Jeremy Rose, and in more recent years he's been the agent for Alex Cintron who has ranked among the leaders at Delaware Park and the Mid-Atlantic since Mace took over his book five years ago. Despite injuries, he ranked among the top 100 nationally by wins each year from 2012 to 2014.
"I talked to Mark and told him I wanted to leave Tampa at the end of March and head north," the rider recalled. "I told him I wanted my face to be the first one these trainers saw when they shipped in. He told me he had Alex [CIntron], and if I was willing to accept that situation and work hard, he thought he could put me in some barns and some spots where I could be on horses with a chance. That's all a rider can ask for."
Mace said his relationship with Pedroza actually started late last season when the rider asked for his help finding mounts. At that time, Mace was able to connect the rider with some of his clients.
"He (Pedroza) did well with the mounts I was able to put him on last fall, and then he called in March and said he wanted to come north early and try and get the jump on the competition," the agent explained. "I told him if he worked hard, the horses would be there, and then it would be up to him."
Pedroza, winning at a 30 percent clip, has been in the money 68 percent of the time at Delaware Park and leads all jocks by wins and purse earnings.
Pedroza credits trainers Jamie Ness and Tom Proctor for helping him get off to such a quick start and says that being on quality stock for such outfits is a big boost to any rider's confidence.
"When you're riding good horses that it just makes you sharper and more confident, even when you're on mounts for other trainers," he said. "Horses can sense when you're frustrated and not in the groove just like they can feel it when you're calm, poised and in sync with them. When you're in that kind of zone, a lot of good things can happen."