Trainers on edge over glaucine positives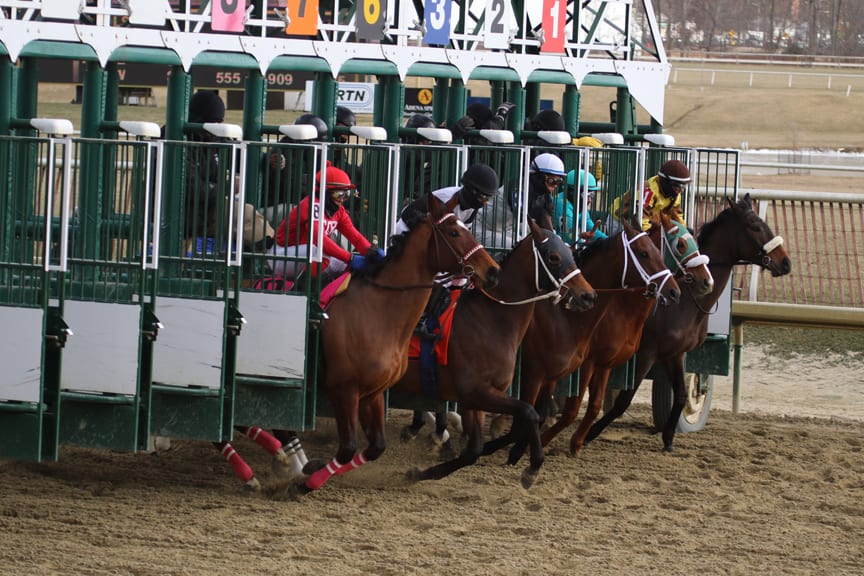 And away they go. Photo by Laurie Asseo.
by Frank Vespe
The Delaware Thoroughbred Racing Commission Wednesday morning took a step towards resolution on two pending glaucine positives in that state.
Meanwhile, in Maryland, the fate of what sources have estimated as between eight and as many as 16 glaucine positives remained unresolved as of noontime Wednesday.
Horsemen in both states — and in New Jersey, which also has reportedly seen several positives — continue to await their fates anxiously.
Glaucine is an alkaloid found in the tulip poplar tree that reportedly has bronchodilator and anti-inflammatory — and thus potentially performance-enhancing — effects.  Though not generally in use in the United States, it is sold as cough medicine in Iceland and several eastern European countries.
Glaucine has been so rarely used in American Thoroughbred racing that it has not even been classified in the Association of Racing Commissioners International's drug classification scheme, which divides medications into five categories, ranging from Class 1 (not permitted, high potential for enhancing equine performance, no generally accepted medical use for horses) to Class 5 (therapeutic medications permitted up to established concentration levels).
In Delaware, Commission executive director John Wayne said that his understanding, based on communication with Dr. Anthony Fontana of Truesdail Laboratories, which conducts the state's equine drug testing, was that when a tested sample contains glaucine and one or more of three alkaloids from the bark of the tulip poplar tree — protopine, asimilobine, and liriodenine — the presence of glaucine may likely be the result of environmental contamination and that that is likely the current situation.
In such cases, the Commission decided Wednesday morning, the proper course of action would be to register a "finding" but not a positive.  A horse adjudged to have glaucine because of environmental contamination would not be taken down, nor would the purse be redistributed.  The trainer would receive no penalty.
Wayne would not go so far as to say that that would be the final result in the two matters in question, however.  He said that the stewards would first hold hearings, which may take place as early as this week, before rendering their decisions.
"It's a pending matter right now," he said.
But, he added, the Commission was "pretty specific" that environmental contamination cases would be findings, rather than positives.
That news is likely to cheer the two trainers who, according to the stewards' daily reports, have the positives in question, Scott Lake and Laurel Park-based Gina Rosenthal.
The first 2016 glaucine cases arose among standardbred trainers in New York.  In those cases, published reports indicated that, while no fines or other penalties were meted out, the horses with positive tests were disqualified from purse money.
Several Maryland-based trainers contacted by The Racing Biz, speaking on condition of anonymity, did acknowledge that they had received notification from Maryland regulators that horses they train had tested positive for the substance.  All said that their cases had not yet been resolved but that they believed the cause to be environmental contamination.
Maryland Racing Commission executive director Mike Hopkins would not comment further when discussing the positives a week earlier.  "We've got some reports of it," he said in a phone interview.  "But we're still investigating it.  Do I have a timetable?  No."
Sources have indicated that the glaucine appears to have come from the sawdust some trainers use as bedding for their horses. Several trainers said that Pine View Enterprises supplied their sawdust and had for many years previously without incident.
"The only thing that changed is the new testing procedure," one trainer said.
The Maryland Racing Commission in March upgraded its testing to graded stakes protocols; Delaware and New Jersey already were testing at that level.
Earlier this month, the Racing Medication and Testing Consortium formed a task force to "review information on glaucine and address the issue of recent positives for the substance," according to a release.  But that task force is likely to take some time before reaching its conclusions.
The time lag locally is already taxing the patience of some trainers and owners, with one trainer suggesting that regulators were "afraid" to make a decision and another saying that the Commission was "dragging its feet."  The purses have been held up pending the ongoing review, with some of the Maryland cases, trainers said, nearly three months old.
Moreover, that lag poses additional problems at the entry box.  Although the purses have been held up, the horses that finished first are still considered to have won and must run against tougher company.  Those that lost are still able to run against easier rivals.  But if those results are overturned months later, both groups of horses may have raced numerous times in the wrong conditions.  And no one is certain what might happen if, for example, a runner-up in a maiden race is, months later, elevated to first in that race — after subsequently breaking his maiden.  Do his connections get to keep both purses — and is that fair to other horses in those races?
Thus, already there are two different models for handling glaucine positives in cases of environmental contamination.  The trainers, of course, believe their horses should not be disqualified.
Dr. Clara Fenger, a founding member of the North American Association of Racetrack Veterinarians, supports the trainers on that count.
"Nailing something that is potentially environmental contamination is a bad idea," she said.  "You're going to run the honest people out of the game."