Feargal Lynch, atop Pimlico jock standings, looks to put past behind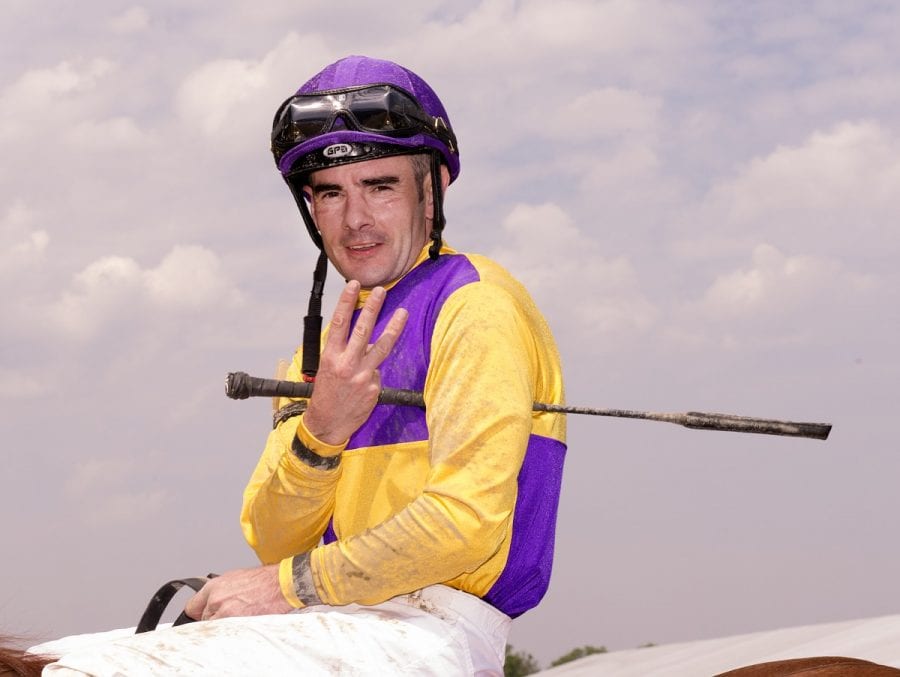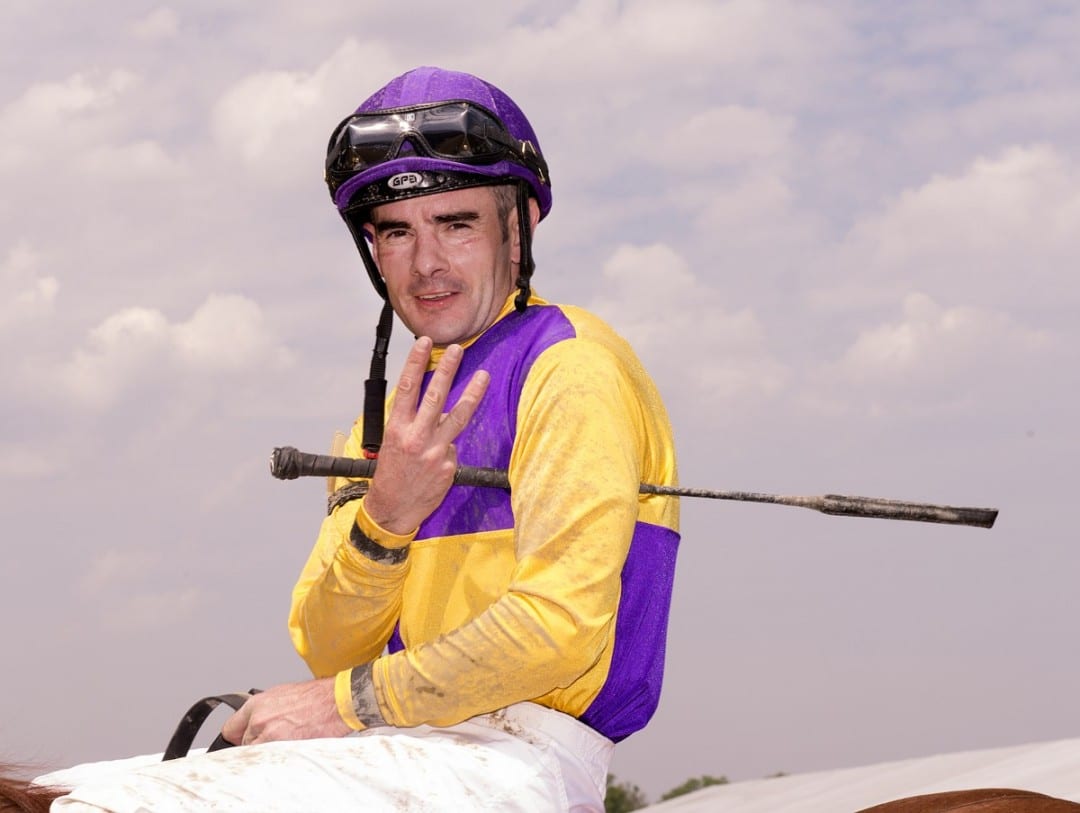 From a Maryland Jockey Club release
Following a cold winter and a moderate spring, jockey Feargal Lynch has been heating up as summer approaches, heading into the final two weeks of the Preakness Meet at Pimlico tied atop the rider standings.
The Irish-born Lynch, 37, a former champion apprentice in England, has 21 wins with eight days remaining in a 28-day stand that continues with an eight-race card Thursday and wraps up June 26. Victor Carrasco also sits at 21 wins, with Laurel Park winter-spring meet champion Trevor McCarthy third with 17.
Lynch also has 10 seconds and 21 thirds and is fifth with $443,678 in purse earnings at his first full meet in Maryland. He ranked 10th with 15 wins and banked $365,103 in purse earnings after joining the Laurel meet in progress following a winter spent at Gulfstream Park, where he went just four-for-114 during the prestigious Championship Meet.
"Two weeks to go, I'm just happy to be here," Lynch said. "I've been riding for a lot of good trainers and good owners and getting a lot of support. Scotty Silver, my agent, is doing a great job. I'm just looking to ride as many winners as possible."
Lynch has ridden at least one winner in 12 of the first 20 days with five multiple win days, including three victories on May 26 and 30 and June 5. Fourteen of his 21 wins came over six days between May 26 and June 5.
Already, Lynch has won for more than a dozen different trainers including meet leader Kieron Magee, a fellow Irishman, as well as Lynch's brother, Laurel Park-based Cal Lynch.
"We weren't sure how it was going to work out. He had a little bit of a slow meet in the winter at Gulfstream but when he got up here he got lucky right off the bat and won a couple big races for us. Kieron Magee has been a big help to give him a few live rides, and when you're riding for those kinds of guys you're going to do well," Cal Lynch said.
"He's very confident. He does his homework," he added. "He's one of the best-educated jockeys you'll find in the jock's room, not just on the horse he rides but everything else in the race. We live and breathe horses. It's not a job for us, it's a way of life. He's been that way for a long time, so I'm not surprised that he's successful."
Lynch's first winner of the current meet came in a $15,000 claiming event May 13 aboard Mike the Hab, a 5-year-old Curlin gelding owned and trained by his brother.
"It's great having family here. It really makes you feel at home and makes things easier," Feargal Lynch said. "I ride a lot for him and he's always there for advice and help. It's just nice to have family and friends around me."
Lynch first came to the U.S. full-time in 2009 to ride for his brother, then based at what is now Parx Racing. He won 103 races before going back to England to answer charges from the British Horseracing Authority (BHA) in 2004 for stopping a horse from winning and passing along inside information.
Cleared of race-fixing charges in December 2007, Lynch rode in the U.S., Spain, France, Germany, Ireland and Dubai before being granted a full English license again in July 2015. That same month, he recounted his experience in an educational video on integrity for the BHA directed at young riders.
"Looking back, it's cost me everything. I've lost 10 years of my riding career that I'll never get back," Lynch said in the video. "I'll never be able to wipe the slate clean and everybody will forget about it. It's going to stay with me now for the rest of my life."
"It is only now, 11 years since the offenses I committed, that I feel I can finally close the book on that chapter of my life," he said in a press release promoting the video's release. "I am aware of the mistakes of my past and the damage I caused to horseracing, but I am now looking forward to the future."
Cal Lynch remains both proud and supportive of his brother and is excited to see what the future holds for his career.
"You're talking stuff that happened when he was a kid. Thank God my mistakes didn't get blown up as big as his did," Cal Lynch said. "A lot of us have done a lot worse than that and never get mentioned. He just happened to be in the wrong place at the wrong time. They made a bit of a mountain out of a molehill in my opinion, but I'm his brother so I guess I'm going say that. In the big court it was dismissed.
"When he did get his license back in England the guys were very supportive of him because they understood what it actually was," he added. "When you get outside of horse racing it's tough sometimes for people to understand what it was all about. The bottom line is it was no big deal. It wasn't something that they hadn't seen happen."
Cal Lynch praised Feargal – whose name, Fergal, was misspelled on his passport – for making the video and becoming an advocate for young, impressionable riders.
"He stepped up, did the video. It showed a lot of backbone and a lot of character," he said. "Even in the jock's room here and with the stewards in Maryland, they respect him and they understand that he's trying to do the best thing for educating the younger riders. They have him in doing a lot of videos, every Friday I think it is, when they do the movies, and he's been happy to help in educating them.
"I think he's one of the biggest advocates of horse racing for young jockeys coming through. He feels like he has to do his part to educate them and prevent the same thing that happened to him. He's trying to help the younger jockeys avoid that same pitfall. He paid dearly, more dearly than any jock that I know of for what it was."
Feargal Lynch is hoping to continue his momentum through the Preakness Meet and carry it over to Laurel Park's summer stand, which opens July 1.
"[There are] very good riders here and very good up-and-coming riders, as well, that'll be stars of the future, I think, if they keep going the right away and keep their heads down and work hard," he said. "I think there's big opportunities here. Maryland is going the right way. The Stronach Group and everybody, it's got a lot of support behind it and it seems to be a good place to be for the breeders, for owners, for trainers, for jockeys. Everybody seems to be happy."