Nyquist feeling his oats as Pimlico sojourn ends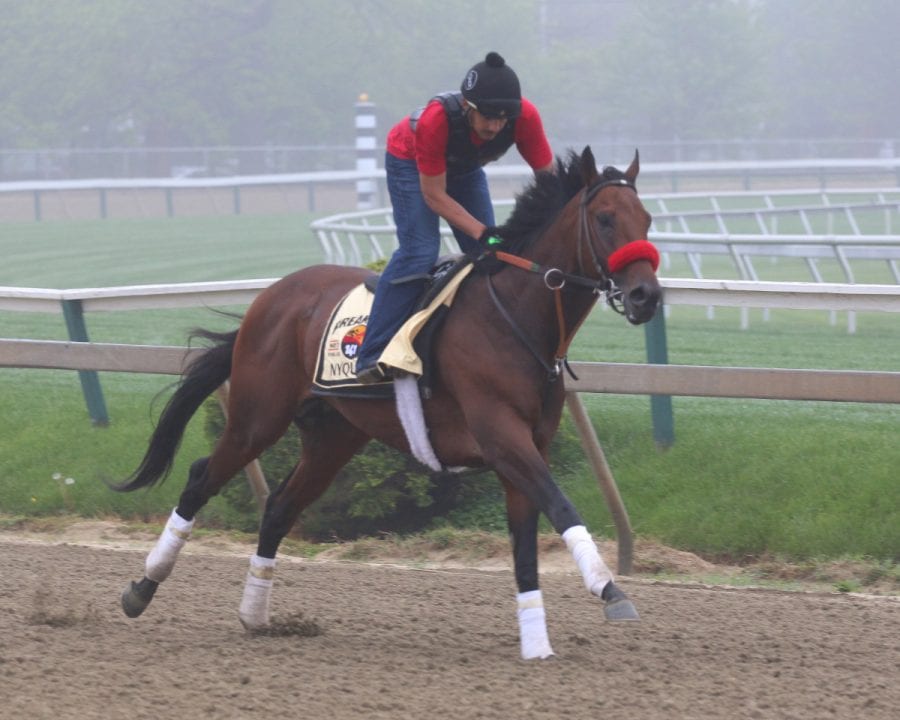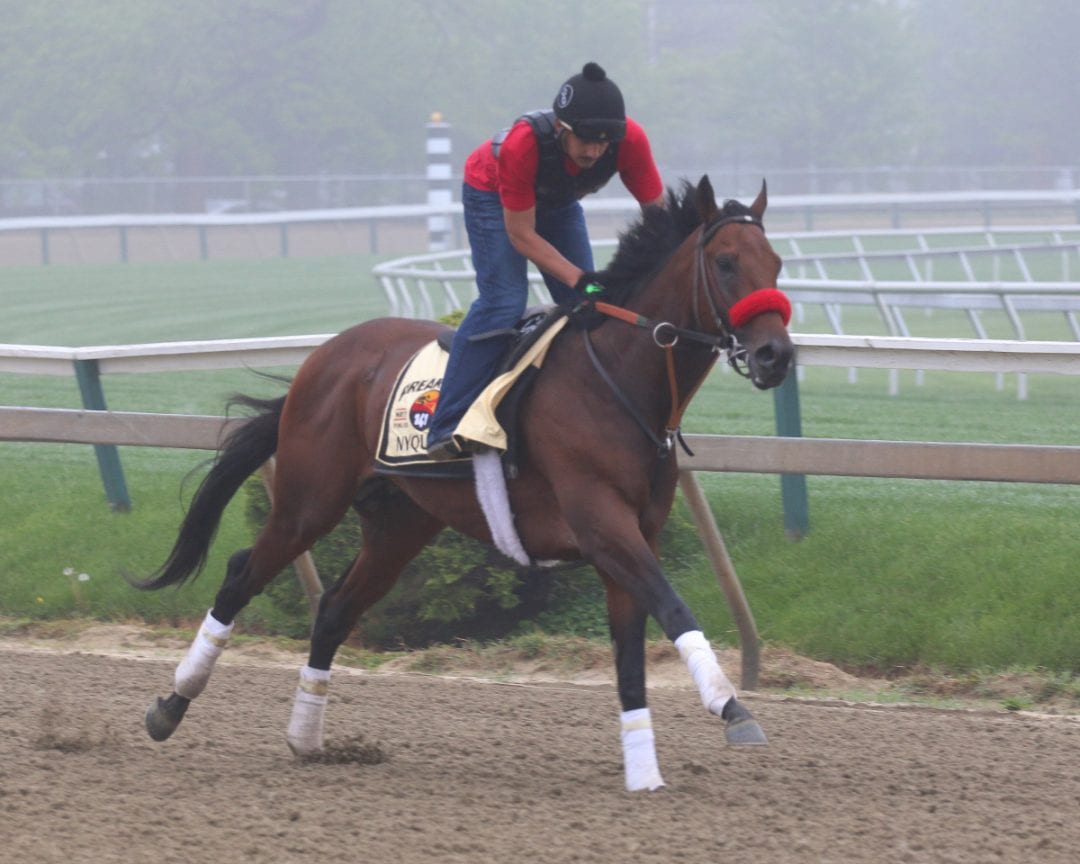 Photo of Nyquist by George Adams.
From a Maryland Jockey Club release
Previously undefeated Kentucky Derby (G1) and Florida Derby (G1) winner Nyquist spent his last morning on the main track at historic Pimlico Race Course with an energetic two-mile jog Saturday morning.
It was the third straight day of training for the 2015 champion 2-year-old male, who is scheduled to return to trainer Doug O'Neill's base at Santa Anita Park Sunday morning.
Nyquist suffered his first career loss finishing third in the 141st Preakness Stakes (G1) May 21, exiting the race with a fever and elevated white blood cell count that caused O'Neill and owners Paul and Zillah Reddam to scrap plans to meet Preakness winner Exaggerator in the June 11 Belmont Stakes (G1).
"He's great this morning. We jogged two this morning and I need a new right arm. He's full of energy and kind of dragged us around there and came back to the barn full of energy," said O'Neill's assistant trainer, Jack Sisterson, who accompanied Nyquist on the pony. "We're happy with the way he went this morning."
Since his illness, Nyquist had been limited to walking the shedrow at Barn D behind the Preakness Stakes Barn at Pimlico before returning with an easy jog on Thursday.
"He's the boss of the barn, so whatever Nyquist wants to do, Nyquist does. We let him be happy and do what he wants," Sisterson said. "He's looking forward to seeing his boss, Doug, and the owners Paul and Zillah. He's happy. He knows he's flying back tomorrow and we're excited to put him back on the plane back there."
It will be the first time Nyquist has been back to California since before his victory over previously undefeated multiple grades stakes-winner Mohaymen in the April 2 Florida Derby at Gulfstream Park. No plans have been made for his next start.
"He's been on the road for a while. Pink's Hot Dogs is throwing a party for him on Wednesday so he's happy about that," Sisterson said. "We're going to kind of load the van around 9 o'clock here and once the van's loaded we'll put Nyquist on and away he goes. He loves to fly and travel and he's looking forward to getting back home."
Sisterson will be headed in the opposite direction Sunday with several O'Neill-trained runners pointed to stakes during Belmont Stakes Racing Festival June 9-11
"We're actually headed to New York so we're looking forward to that with the ones we have," he said.