Exaggerator has final Pimlico gallop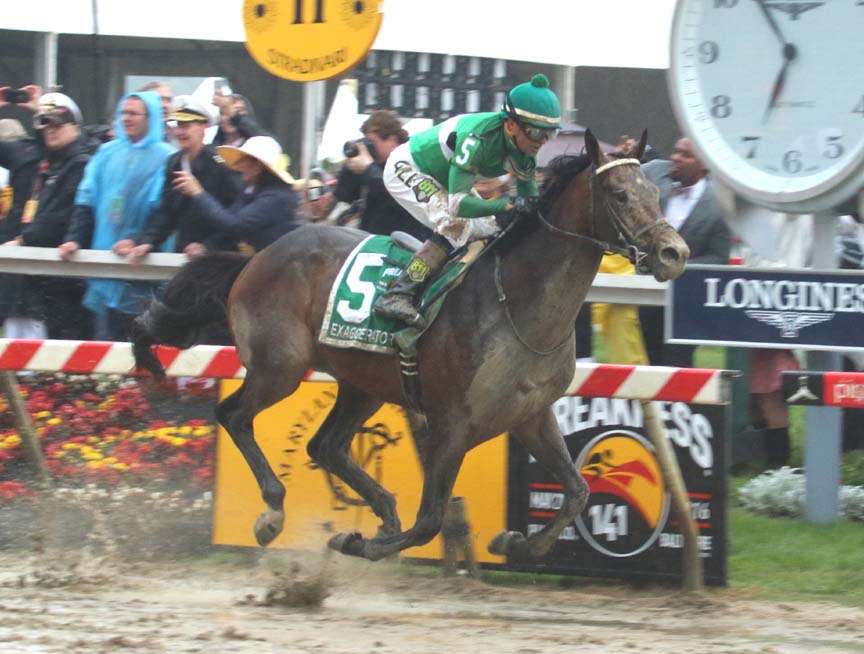 Exaggerator. Photo by Laurie Asseo.
From a Maryland Jockey Club release
After two days of walking, Preakness Stakes (G1) winner Exaggerator returned to the track with an easy gallop Saturday morning at historic Pimlico Race Course.
Julie Clark, assistant to California-based trainer Keith Desormeaux, said the multiple Grade 1 winner went just over a mile over the main track where he upset previously undefeated Kentucky Derby (G1) and Florida Derby (G1) winner Nyquist exactly one week earlier.
"He's fabulous. He's his usual self. He was actually very relaxed on the track," Clark said. "He's gotten a little more comfortable out there and galloped around easy, came back and came out here to graze after he cooled out. He's pretty happy. It's nice and quiet so I think he really enjoys it here. It's a nice break before we hit Belmont and gear back up."
Morning temperatures were in the mid- to upper 70s in Baltimore, where the high was expected to approach 90 degrees Saturday. Clark said Exaggerator has handled the heat well.
"He was maybe blowing a little more than normal but wasn't sweaty. It was just starting to get warm," she said. "The horses before and after him came back a little more sweaty than he was but I think he's a lot more fit than them so it doesn't affect him as much."
Clark said the plan is for Exaggerator to walk Sunday morning before leaving around 7 a.m. for Belmont Park, where he is scheduled to make his next start in the last and longest leg of the Triple Crown, the 1 ½-mile Belmont Stakes (G1) June 11.
While in New York, Exaggerator will be stabled with trainer Mark Casse's horses.
"I went and checked it out while I was over there and it's great. They've redone all those barns and there's a jogging track in there," Clark said. "It's secluded and quiet so I think he'll like it."
Meanwhile, Reddam Racing's Nyquist walked the shedrow at Pimlico's Barn D Saturday morning and will continue to do so until his scheduled return to California on June 5.
Nyquist exited a third-place finish in the Preakness, his first loss in nine career starts, with an elevated white blood cell count that has forced him to miss a planned run in the Belmont.
"It was an incredible feeling going into Baltimore with the Derby winner. There's no better feeling and you get treated like a king," trainer Doug O'Neill said on the Nyquist's Twitter feed, @TheNyquistHorse. "He's going to be fine. … There's a lot of options. Talking to Team Reddam, the plan is to get him right and get a few works back into where we want to be."