Shore Bets: Monmouth Park May 21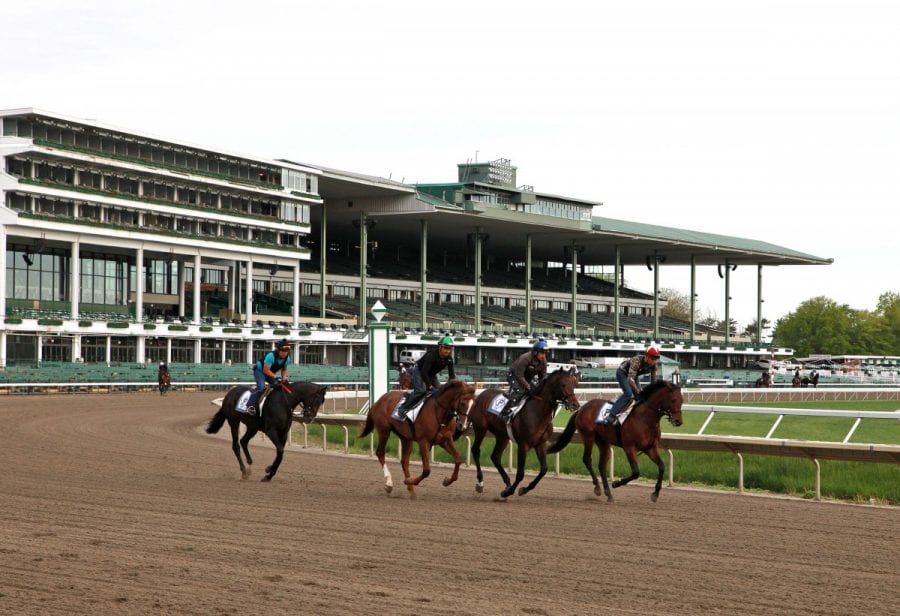 Photo by Bill Denver/Equiphoto.
We are pleased to welcome Shore Bets back for another season of Monmouth Park racing.
by John Piassek
While the eyes of the racing world will be on Pimlico this Saturday, the Shore's Greatest Stretch has a fine card of their own: eleven races. However, there is an excellent chance, as of this writing, that the runners will need golashes when navigating the track. As such, there will be selections for both dirt and grass for the scheduled grass races.
Race 1: Maiden Special Weight, 3yo and up, 1 Mile (Grass)
The 9, Stockyard, merits the nod in the opener. He's run on grass three times in his career, and has run a brisnet figure of 85 in two of those spots. His last race, at Gulfstream Park, was fairly impressive. He led almost the entire way around, fought back against the closers, and only lost by ½ length. His figure in there was an 88, easily the best anyone in the field has ever run. Now, there will be speed toward his inside, but he managed to clear from post position eight to get to the lead in that last race, so if he's aggressively ridden, he can get to the lead again, and go on with it from there.
The 6, Defiantly, made a rally from last in his grass debut to finish second, winning a photo for that spot. He finished five lengths clear of fourth place, and earned a strong figure of 82. He'll hope to be more forwardly positioned here, so that his late rally will have more of a punch. The 8, Super Stan, ran an 84 in his debut three races ago, but has regressed since then. He's making his first start since mid-March, and trainer Eddie Plesa is 20% with horses off a 46-90 day layoff, with a positive ROI.
9- Stockyard
6- Defiantly
8- Super Stan
Dirt:
10- Buon Gusto
7- Flexible Mandate
12- Cavity
Race 2: Claiming $12,500 (n/w3L), 3yo and up, Fillies and Mares, 6 Furlongs
The 1, Scotland Bay, towers over this non-descript claiming field. She won last time out at Gulfstream, rating off the pace and cruising by on the turn to win going away. I think there's a good chance she'll sit a similar trip here. There's a few one-dimensional speed horses in the race, and Scotland Bay has the opportunity to sit off the pace and roll by them at the right moment. She's coming in here with some great workouts, and any horse trainer Jorge Navarro sends out automatically merits respect.
The 2, Rockette Jet, ran three straight figures above 75 at last year's Monmouth meet, including an 87 while finishing second last time out. However, she hasn't raced since last September, and trainer Manny Berrios is an abysmal 0-for-42 with horses off a layoff (one of those horses raced on Sunday; he looked a contender on paper but showed little). Expect her to be on the pace and stop when the going gets tough. Still, the field is mediocre enough that she might hang around for a minor award. As long as she runs decently here, watch her next time out—a race under her belt may be what she needs. The 5, Jersey Life, finished second at Tampa Bay two races ago when battling for the lead, but stopped badly last out while setting an almost identical pace. Which version of her will show up here remains to be seen.
1- Scotland Bay
2- Rockette Jet
5- Jersey Life
Race 3: Maiden Claiming $10,000, 3yo and up, Fillies and Mares, 6 Furlongs
There's no great pick in her, per se, given the inherent mediocrity of the runners. Somebody has to win, however, and that somebody, in my opinion, will be the 1, Channel Surfing. She'll be making her first dirt start since September, when she was beaten four lengths in a Jersey-bred maiden claimer. Her two races before the layoff had relatively good figures; she earned a 58 and a 62 in those two spots. She's turned in a series of steady four-furlong workouts getting ready for this race, and is unique in that she has both the best average early pace and the best average late pace in the field. As long as she can recover last year's form, we may see a gate-to-wire performance here.
The 3, Malala, was scratched out of a Jersey-bred spot to run against open company here. Like Channel Surfing, she is making her first start off the layoff, and earned a strong figure—in this case, 65—in her last race, back in November. She doesn't possess a lot of early speed, however, which will work to her disadvantage. The 7, Beautiful Success, is a first-time-starter for the Gregory Sacco barn. I am usually no fan of playing first-timers in cheap races like this, but Sacco has a respectable 13% hit rate with debuters in maiden claiming races, and Paco Lopez picks up the mount.
1- Channel Surfing
3- Malala
7- Beautiful Success
Race 4: Claiming $20,000 (n/w3L), 3yo and up, 1 1/16 Miles (Grass)
We return to the lawn (hopefully) for this field of claimers. My pick among them will be the 1, Calico Kitten. His style of running is to go directly to the front and hope that he can hang on at the end. The strategy has paid mild dividends for him this year, with a second and a fourth among two grass starts. His figures in those two races are both 82, among the best in the field. There aren't a lot of other speed horses in the field who have his stamina, so if he can get far enough ahead early on, it could be all over.
The 6, Film Making, ran figures as high as 96 last summer, but has regressed this year, running mostly in the high-70s and low-80s. That still makes him a contender in this race, however. The 3, Inside the Pipe, led late last time out at Gulfstream, ultimately missing by half a length while running a very strong 86. That builds on his year-long resume, which sees him hitting the board three of four times while never running less than a 76.
1- Calico Kitten
6- Film Making
3- Inside the Pipe
Dirt:
1A- This Cat Has Bling
4- Killer Crossover
12- Theyallcomehome
Race 5: Maiden Claiming $12,500, 3yo and up, 1 Mile
This race requires a lot of compromises. Namely, just about everyone in the field is lousy, so even the top choice will be deeply flawed.
For example, I'm no fan of how the 1, Social Stranger, has been plunging down the class ladder. He was running for as high as $35,000 earlier in the year, but now has dropped all the way down to the $12,500 level. His figures have also been declining, from an 81 three races ago, to a 75 two races ago, to a 62 last time out. However, he still has some advantages: he's one of the few in the race to have good form over a route distance; that 81 was earned going 1 1/8 miles. He's working well coming in here, and is making his third start for the Navarro stable. He's the best option in here.
The 2, Full Pads, has the best last-out figure in the field, of a 69. That was earned at five furlongs, which is obviously quite different from today's 1 mile distance. He's shown decent form routing in the past, however, and is coming in here showing some ability. Unlike Social Stranger, he's coming in here with four consecutive ascending figures. The 7, First on a Roll, was last seen finishing second against similar at Parx, for his first second-place finish in twenty-five career tries. It's mildly encouraging.
1- Social Stranger
2- Full Pads
7- First on a Roll
Race 6: Allowance Optional Claiming (n/w1x), 3yo, 6 Furlongs
The Jersey Shore 6 begins in this race, with a modest carryover of $3,496. This race features a small, but competitive, field of six. I'll go with the 6, He's Cotton, coming off a big win at the $35,000 claiming level at Gulfstream. He won by ¾ of a length there, earning a strong figure of 91. He disappointed in his most recent effort, but that was on the grass. He's shown much more aptitude over the dirt, where he's won two races and has improved his figure in every dirt race. What's more, his average late pace is the best in the field.
The 4, Awesome Slew, broke his maiden over the Monmouth oval last year, but hasn't raced since finishing fourth in the Sanford Stakes last July. I don't think he'll win it here, but he's one to watch going forward. The 1, Flowers for Lisa, crushed the field going gate-to-wire in the mud last out at Gulfstream last out, earning a figure of 94. While his mud-loving will probably help him out here, his early pace figure in that gate-to-wire score was a mere 84, which will probably not be good enough to get to the lead.
6- He's Cotton
4- Awesome Slew
1- Flowers for Lisa
Race 7: Maiden Special Weight, 3yo and up, Fillies and Mares, NJ-bred, 5 ½ Furlongs
Like in many Jersey-bred races at the start of the Monmouth meet, there's a lot of horses coming off a long layoff. Any horse with recent form automatically has an edge. The 2, Sue's Stones, has super-recent form: she ran just last week! She was third against males in a Jersey-bred maiden claimer, earning a respectable figure of 69. She's earned up to a 76 in the past, and unlike some of the others, has no real rust to shake off. She figures to rate off of the leaders, and if the front-runners tire out, expect victory.
The 7, Hazy Daisy, will almost certainly set the pace. In her last race, back in December at Parx, she almost took the field all the way around, before getting caught late. She's been working steadily coming into here, and will hope to hold off everyone else to get the job done. The 4, Fairbanks E Jet, turned in a bullet workout last week, and has run a peak figure of 71 in her four career dirt races. It looks as if she's in great form coming in here, as she makes her first start since October.
2- Sue's Stones
7- Hazy Daisy
4- Fairbanks E Jet
Race 8: Allowance Optional Claiming (n/w2x), 3yo and up, 6 Furlongs
Jorge Navarro has a stranglehold over this race: he trains two of the top contenders in here. I'll select one of them on top: the 3, Defer Heaven. He was in over his head in the Sir Shackleton Stakes last out at Gulfstream Park, where he was a non-threatening fifth after being near the pace early on. Before that, however, he was dominant, winning five races in a row while never running a figure lower than 98 in 2016, save his mediocre last effort. Since that last race, he had a sharp four-furlong workout, going the distance in :48.0. Coupled with Navarro's general dominance in Monmouth sprint races, Defer Heaven looks ready to blow the doors off this field.
The 4, Brothersofthetime, is the other Navarro entrant. He was third in the Sir Shackleton, beaten eight lengths. Before that race, he lacked the consistent brilliance of Defer Heaven, although he did earn a 106 while winning an allowance at Gulfstream three races ago. He's working even faster than Defer Heaven, going four furlongs in :47.0 the other day. I'm still not "shore" if he can topple his stablemate, but he definitely merits some respect. The 6, Pomeroy's Package, turned in three second-place finishes at this level last year at Monmouth, while consistently running figures in the 90s. He'll be making his 2016 debut here, but his aptitude for Monmouth will definitely be an asset in here.
3- Defer Heaven
4- Brothersofthetime
6- Pomeroy's Package
Race 9: Allowance Optional Claiming (n/w2x), 3yo and up, 1 1/16 Miles (Grass)
If this race stays on the grass it will be, without a doubt, the best betting race on the program. It's a wide-open field of ten horses, with nine betting interests. My pick among them will be the California invader, the 1A, Husband's Folly. He's been tearing it up in California, never running a figure lower than 86. He was claimed out of his last race, a non-threatening fifth at the $32,000 claiming level, and has had five workouts at Belmont Park to get him acclimated to the east coast. Trainer David Jacobson is a solid 24% with horses first off the claim, and as long as Husband's Folly can keep up his figure edge, he's in good shape.
The 3, Hot to Seek Her, has three career wins over the Monmouth grass, and will be making his 2016 bow here. Trainer Chuck Spina hits at 17% with horses off a 90+ day layoff. The 7, Riviere de Loup, was third while racing wide in his lone start of 2016. His figure in that race was an 88, the second-best last-out figure in the race (the highest belongs to the 1, Street Lord, who ran an 89 in his last grass race…in 2013).
1A- Husband's Folly
3- Hot to Seek Her
7- Riviere de Loup
Dirt:
1- Street Lord
5- Burndines
8- Call First
Race 10: Majestic Light Stakes, 3yo and up, 1 Mile
This race is most notable for featuring the return of Bradester, the winner of last year's Salvator Mile and Monmouth Cup. He lost his chance to sweep the Monmouth older horse stakes when Valid defeated him in the Iselin. Now, Bradester will make his first start since a ninth-place finish in the Breeders' Cup Dirt Mile. There's no doubt that he merits respect here; he consistently ran in the high-90s to low-100s range last year. However, he's a low 7/5 on the morning line, and considering the quality of the rest of the field, taking that low of a price on a horse coming off that long of a layoff is not something that I can endorse.
Rather, I'll select the 3, Adirondack King. He pulled off the upset in the Challenger Stakes two races back, earning a figure of 94. Last out, he just missed in an open allowance at Parx, running a last-out best figure of 95. He's run up to a 105 on dirt before, and while I don't think he'll quite do that here, all he has to do is keep running the way he's been going, and he's in good shape. The fact that this is his third race off the layoff doesn't hurt.
The 1, Encryption, won the Bayern Stakes at Parx last year. He hasn't raced since finishing seventh in the Harlan's Holiday Stakes at Gulfstream Park in December, but has turned in two strong workouts at Monmouth. The 5, Stormin Monarcho, ran three figures above 90 in a row, before turning in a disappointing fifth in the Westchester Stakes. He'll hope the class relief gives him a boost.
3- Adirondack King
1- Encryption
5- Stormin Monarcho
Race 11: Claiming $5,000, 3yo and up, 6 Furlongs
Don't expect to win too much money to today's get-out race, as the 9, Bama Bound, figures to go off at a short price. Nevertheless, he's the most likely winner. He's run figures above an 80 in four out of his five most recent outings, including a decent 82 last out at Penn National. Not to mention, he's coming out for the ever-dangerous Jason Servis barn, and will be ridden by Paco. His primary issue is that he has a case of second-it is: he's 0-14 over the last year and a half, with four seconds. He's the most likely winner, but don't take too low of a price on him.
The 1, Liberty St. Outlaw, has not raced since October, but when he raced, he was very impressive. His last-race figure of 85 is the best last-out number in the bunch, and earned an 87 and an 83 before that en route to three straight victories. He's had two workouts in 2016, both of them strong. At a 6/1 morning line, he may be a great value play. Don't sleep on him. The 4, One For Don, was third last out at Tampa Bay, earning an 82. He consistently runs in the low 80s, which should be good enough to get him a piece here.
9- Bama Bound
1- Liberty St. Outlaw
4- One For Don