Ben's Cat, Warrior help locals cash on Black-Eyed Susan day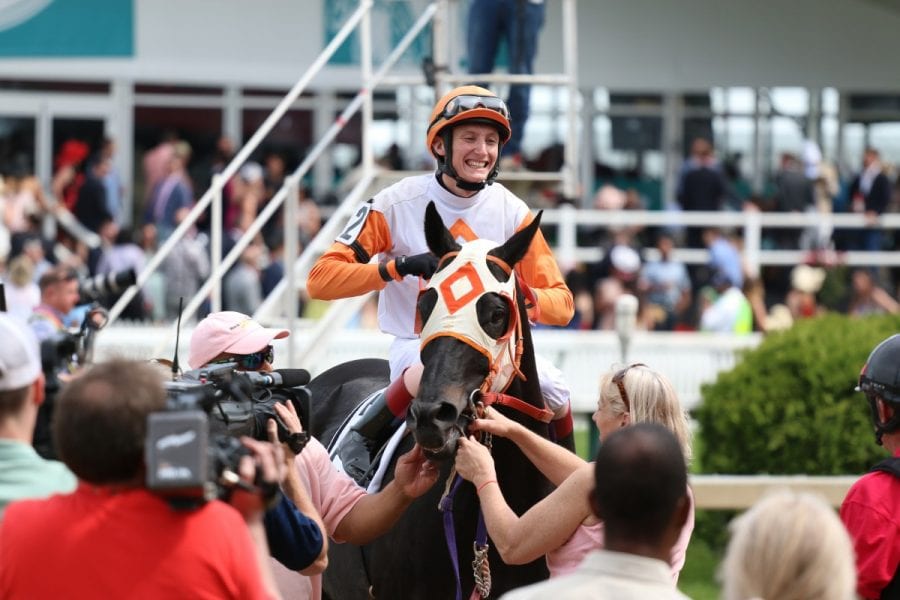 Trevor McCarthy and Ben's Cat. Photo by George Adams.
by Frank Vespe
The trumpeters mysteriously persisted in playing My Old Kentucky Home between races yesterday at Pimlico Race Course, which could have been an omen.
It's a common lament among horsemen at tracks with relatively few graded races — like the Maryland tracks — that on big days like Black-Eyed Susan day and Preakness day, millions of dollars leaves the state, bound for New York, Kentucky, and Southern California along with the big race hardware.
But yesterday, on a sun-splashed Black-Eyed Susan day that stood in stark contrast to the persistent rain of recent weeks, a pair of local runners made their marks in the early stakes races.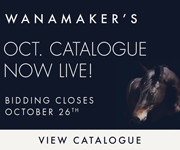 Venerable win machine Ben's Cat scored the day's most popular victory in the $100,000 Jim McKay Turf Sprint, bulling through a seam on the rail to get up by a neck over longshot Spring to the Sky and the 4-5 favorite, front-running Rocket Heat.  The latter entirely lived up to his name, jetting to a lead that grew to four lengths while carving out a half-mile in a blazing 44.04 seconds but melting in the heat of Ben's Cat's late rally.  Ben's Cat stopped the timer in 56.10 for five furlongs.
While King Leatherbury, the octegenarian who bred, owns, and trains Ben's Cat, didn't quite melt, he betrayed plenty of emotion.
"It brings tears to my eyes when he runs a race like that," Leatherbury said.  His charge, 10, now has won this race four consecutive times and in five of the last six years.
Trevor McCarthy, riding, and winning on, Ben's Cat for the second time, was equally awed.  McCarthy, the young jock who is at or near the head of the Maryland riding colony, sat chilly on Ben's Cat for a long, long time, buried down on the rail, until he found a seam to run through.
Then, after facing the battery of reporters, he moseyed back on over to the edge of the winner's circle and stood, still in the orange and white silks of The Jim Stable, watching the replay.
After his first ride on the gelded son of Parker's Storm Cat, McCarthy had called the old-timer "probably one of best horses I've ever been on."
Yesterday, he went quite a bit farther.
"He's an unbelievable horse, by far the best horse I've ever been on," McCarthy said.  "I've just never seen a horse like that. You just have to give him something to run at. He was running up the fence, up the fence, and when I swung him out into the clear, I knew we were gone. I mean, just unbelievable. He knows where the wire is and says, 'Let's go Trevor, let's go.' He gave me his all and I wasn't worried at all."
In the prior race, the Grade 3 Pimlico Special, a race whose prestige and heritage outstrip its current status on the racing calendar, local trainer Damon Dilodovico had sent out Warrioroftheroses, a New York-bred son of A.P. Warrior who, though a runner with over $360,000 in career earnings, went off as the longest shot on the board at 47.40-1; the next longest, Hesinfront, was just 9.20-1.
Though typically a front-runner, Warrioroftheroses and jockey Daniel Centeno found themselves chasing speedy Noble Bird through splits of 47.48 seconds for the half-mile and 1:12.12 for three-quarters in the 1 3/16 mile test.  Noble Bird romped home 11 clear, stopping the clock in 1:55.18, followed by Idolo Porteno, who was six clear of the show horse.
But that show horse was Warrioroftheroses, earning Dilodovico and owner Richard Hackerman a $30,000 check and making for one happy owner.
"He ran a brave race," Hackerman said of the star of his small barn.  "It was a great day."
Hackerman said that his idea had been for Warrior to scoot to the early lead and go as far as he could, the horse's typical running style.  But jockey Daniel Centeno put hiim the chasing role, which worked unexpectedly well in the five-horse field.
"He had different ideas," Hackerman said of Centeno's tactics.  "Obviously his ideas were much better than mine."