Mike Trombetta hopes two is his lucky Black-Eyed Susan number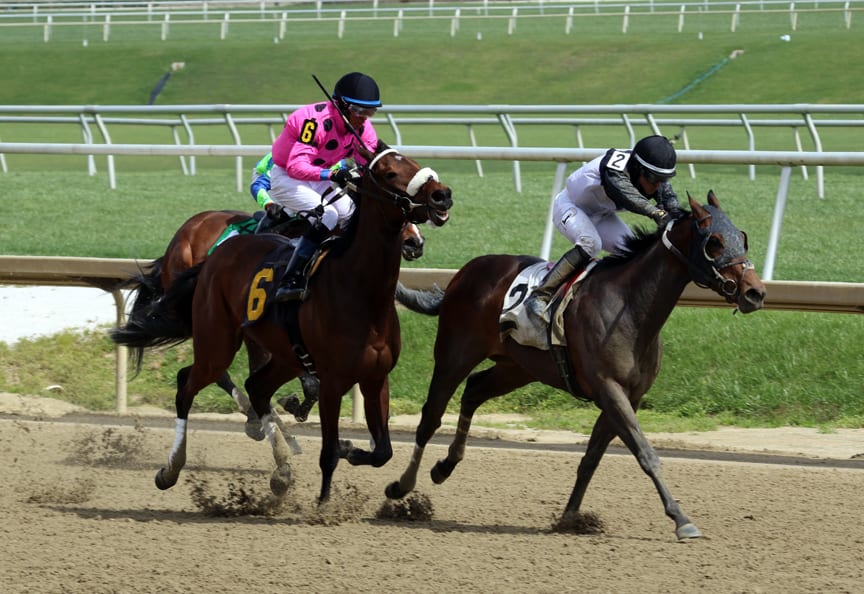 A P Majetstic steadies off of In the Navy Now in the Weber City Miss. Photo by Laurie Asseo.
by Jim Hague
A full field of 14 three-year-old fillies will contest Friday's $250,000 Grade 2 Black-Eyed Susan Stakes at Pimlico Race Course.
But only two trainers will condition more than one member of the field.  One is Dale Romans, who has trained a Preakness winner and three Breeders' Cup winners.
The other: local trainer Mike Trombetta, who has two horses entered in the race in A P Majetstic and In the Navy Now.  Both will enter with 30-1 morning lines.
"It's a tall order any way you look at it," Trombetta said of having two fillies in the same race. "When you have two nice young horses, they sometimes cross paths. You get two shots in it."
On April 9, Trombetta had the same two fillies entered in the Weber City Miss Stakes at Laurel Park, a "Win and You're In" contest for the Black-Eyed Susan.  In the Navy Now ran first, followed closely by A P Majetstic.  But, following an inquiry and an objection, the stewards ruled that In the Navy Now had interfered with her rival when she came off the rail and drifted toward the center of the track. In the Navy Now was taken down, disqualified and placed second. It made a winner out of A P Majetstic.
"It was late in the race," Trombetta said. "(Jevian) Toledo hit her (In the Navy Now) a couple of times and she drifted a little right. In the stewards' opinion, it was just enough to give the win to A P Majetstic. It was just one of those things. The stewards could have gone with either one and been right. We just keep trying to climb the ladder."
Now, Trombetta has trained both horses to compete against each other once again at Pimlico, a day before the Preakness Stakes.
"They're both training very well," Trombetta said. "We put in plenty of time with this race. Even with the weather, which has been by far the biggest task, we've been getting good work in. I'm hoping for a good day weather-wise and a good showing. They finished very close the last time out.  It's interesting to see how this all holds up."
Romans, the only other trainer here with two runners, will take Go Maggie Go, the 5-2 second choice, and Ma Can Do It (30-1) to the post.
"In these bigger races, it becomes very rare that a trainer would have more than one," Trombetta said. "I'm very lucky. I'm doing pretty good. Any time you have stakes races on the weekend, then it makes things even better."
A P Majetstic is owned by Triple Threat, LLC, while In the Navy Now is owned by R. Larry Johnson and Trombetta's own RDM Racing Stables.
In the Navy Now has raced seven times lifetime with one win and earnings totaling $63,500. She'll have Trevor McCarthy in the irons.
A P Majetstic has also raced seven times with two wins and combined earnings of $105,312.  Oddly enough, both of A P Majetstic's victories have come via disqualifications, and she was moved up from third to second by disqualification in one other race.. She has yet to run under the wire first.  Victor Carrasco, the pilot in the Weber City Miss, will do the honors.
Trombetta said he did not favor one over the other.
"Not really," Trombetta said. "They both look very similar. Both seem to find each other on the course. One can be better than the other one day, but that depends on how far they can take it. It's yet to be determined who is better. One cost a little more (A P Majetstic) and the other seems to be in the right place at the right time."
In any case, Trombetta is enjoying his day in the sun.
"I think this is what we all aspire to," Trombetta said. "We work hard in this job for a reason. Any time you get a day like this with two in the same race, well, you're gifted. There was definitely a wide range of emotion that day, having two in the race. You just hope for the best. The owners of the two horses understand how it works. There are a lot of unknowns out there, but you have to take a shot."
There's some talent in the race.  Favored Land Over Sea (2-1) won the Grade 2 Fair Grounds Oaks and most recently was second in the Grade 1 Kentucky Oaks, Dothraki Queen (15-1) is a Grade 2 winner who has placed twice in Grade 1 events, and many other here have strong credentials.
It's an interesting race, one that Mike Trombetta hopes ends with him in the winner's circle– one way or another.