Shore Bets: Monmouth Park May 14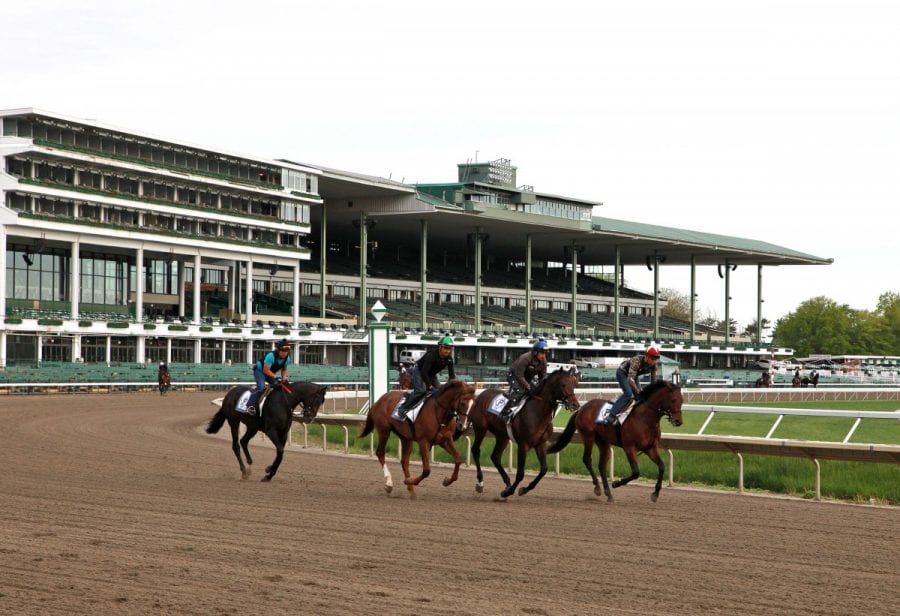 Photo by Bill Denver/Equiphoto.
We are pleased to welcome Shore Bets back for another season of Monmouth Park racing.
by John Piassek
It's finally here: opening day 2016 at Monmouth Park! Eleven races, with 104 horses, comprise the first program of the season, including the Decathlon Stakes. If you're in the area, be "shore" to come on out for the card. If you're not, there's plenty of great betting opportunities, so play along from wherever you are!
Race 1: Claiming $12,500 (n/w3L), 3yo and up, 6 Furlongs
Could there be a more appropriate way for the season to begin than with a Paco Lopez-ridden and Kelly Breen-trained winner? The answer is no, and I think we'll see that with the 7, Brother Bobo. In a field where a lot of horses are inconsistent at best, he's run a Brisnet figure of at least an 80 in each of his last three outings. He sat a great trip in his last race, sitting off the pace on the outside before drawing off to a victory. His running style calls for him to do something similar here: he projects to rate off the leaders, then use his great late speed to mow them down late. Now, Paco may attract a lot of money to this horse, and I wouldn't take too low of a win price on him. However, he's still the most likely winner, and a must-use on any early pick 5 tickets.
The 5, Blast Away, ran some strong races at Parx over the winter, earning figures of up to an 87. However, he was dull last out at Laurel, finishing thirteen lengths behind in an off-the-grass starter allowance contest. He's coming back in here off an eight-day layoff, so he'll hope to find the form that he showed over the winter. The 3, Inky Dinky Doo, ran five ascending figures in his last few races, has hit the board in his last four starts, and his last-out 81 is the second-best among the runners. He hasn't raced since March, but has been working out at Monmouth steadily. The big question is if he can re-capture his winter form first off the layoff.
7- Brother Bobo
5- Blast Away
3- Inky Dinky Do
Race 2: Claiming $5,000, 3yo and up, 1 Mile and 70 Yards
The most important part about this race is if the 8, Sourcesandmethods, will be able to sustain his run over a route of ground. If he can, he'll be your winner. He's one of the few here to run recently, having made his last start on April 8, just over a month ago. He earned an 82 while defeating a claiming field at 6 ½ furlongs, easily the best last-out figure in the race. He backs that up with figures of 79 and 85 in the starts prior. His last route, four starts ago, wasn't that great, as he finished a middling fourth, earning a 74. Still, that 74 is one of the best recent figures in the race, and his lack of rust is important. I'll stick with him.
The 6, Untamed, was last seen earning a 71 and a 76 in his last two at Parx back in mid-December. He's had a few workouts to prepare for this spot, but may need a race. The 7, Laghubaar, won at the $5,000 level last summer at Monmouth, but hasn't been seen since last July. His figures last year were very strong—he peaked at a 93—but it will nonetheless be a difficult task to try and duplicate.
8- Sourcesandmethods
6- Untamed
7- Laghubaar
Race 3: Claiming $16,000 (n/w2L), 3yo and up, 1 1/16 Miles (Grass)
Should the good weather hold up, this will be the first grass race of the 2016 Monmouth season. I'll try to kick things off with the 1, Killer Crossover. He's been having trouble getting himself into the winner's circle; his 2015 record was a mediocre 0-12. He was close plenty of times last year, however, accumulating a second and two thirds over the Monmouth grass last year. Perhaps most importantly, his figures were the best in the field; he earned a 79, a 74, and a 75 in his last three, making him one of two in here to run at least a 70 in all three of his starts. Even though he hasn't raced since December, he's shown two workouts at Monmouth leading up to this race, and trainer Willard Thompson is 14% with horses off a long layoff. Killer Crossover's worth a shot.
The 6, Royal Moment, is coming off a recent fifth-place finish at Gulfstream, where he earned a figure of 79 at this level. His figures in four out of his last five have all been above 70; three of those were at least a 78. He also gets a jockey upgrade to the dominant Paco Lopez. The 2, Sir Maurice, ran a career-best 80 last out at Aqueduct, his grass debut for 2016. His career record is 1-32, however, giving me doubt as to if he has the will to win.
1- Killer Crossover
6- Royal Moment
2- Sir Maurice
Dirt:
6- Royal Moment
1- Killer Crossover
2- Sir Maurice
Race 4: Maiden Special Weight, 3yo and up, 6 Furlongs
Usually, I don't like picking first-time-starters in maiden races with a lot of experienced horses. This is because, in most cases, the experienced horses have the edge.
In this race, though, none of the four horses who have run before have set the world on fire, and there's an intriguing first-timer in here. Because of that, I'll go with the 3, Leofric. He was a $330,000 yearling purchase, and has been working down in Florida all winter. All of those works have been sharp, and he'll make his debut here for Chad Brown, who hits at 20% with his debuters. Everything about this horse on paper looks like he's ready to fire, but watch the tote board on this one. If he's being bet heavily, forget about it. He'll win easily.
The 6, Scrap Iron Phil, ran a career-best 83 in his 2016 debut at Gulfstream last out. He picks up Paco Lopez, and trainer Pat McBurney is 21% with horses off a 46-90 day layoff. This is another one who looks like he can run a big one, and if Leofric doesn't fire first out, Scrap Iron Phil is by far the most likely to pick up the pieces. The 1, Hot Squad, disappointed last out when he was farther off the pace than usual. In his two races prior, he ran figures of 82 and 80, among the best in the race. Hopefully, he'll be more prompted today.
3- Leofric
6- Scrap Iron Phil
1- Hot Squad
Race 5: Maiden Claiming $40,000, 3yo and up, NJ-bred, 5 ½ Furlongs
The 2, Don's Marsh, is a standout over the rest of this state-bred bunch. His last race would beat these easily: he earned an 82 while losing by a head versus similar. Even though that race was in September, there's no need to fret. His two recent workouts have been excellent: he turned in four furlongs in :48.2 on May 2, followed by a :49 breeze on May 8. For a horse who had not worked since October prior to those drills, it's an encouraging sign that he's rounding back into shape. In the context of this field, running after such a long break is hardly unusual; only two others in here have run in 2016. There's no reason to think Don's Marsh won't turn in a top-notch effort.
The 3, Lil Red Caboose, ran figures of 74 and 77 in his first two starts at Parx last fall. He's also working decently coming into this spot. The 1, Sues Stones, has been improving in every race, peaking at a 76 last out while running second at Tampa Bay Downs. Expect him to get a ground-saving trip near the lead, which should set up well for him.
2- Don's Marsh
3- Lil Red Caboose
1- Sues Stones
Race 6: Allowance Optional Claiming (n/w1x), 3yo and up, Fillies and Mares, 6 Furlongs
We're starting to get to the meat and potatoes of the card. This one features a small but strong field of allowance fillies and mares. I'll take the 3, Boheme de Lavi, to take it home here. She was less-than-impressive last out at Gulfstream, finishing a disappointing fifth while earning a mere 83. Before that, she had reeled off three straight figures of at least 90. She came very close to winning three in a row, too, having won two races ago and missing by a neck in the two races prior. The idea for her will be to keep her close to the pace, then use her strong late speed to draw away from the pack.
The 7, Rowd E Allie, ran a career-high 89 while winning last out at Penn National. She's working strongly coming in here, and figures to get a good stalking trip on the outside. If Boheme de Lavi can't recover her form, Rowd E Allie will pick up the pieces. The 5, Bustin Out, is undefeated against Jersey-breds, where she has won all of her three races by at least four races. She hasn't broken through yet against open company, and will be making her first start since October. Still, she has enough early speed that she could just get a clear early lead and escape from the rest. We'll see.
3- Boheme de Lavi
7- Rowd E Allie
5- Bustin Out
Race 7: Claiming $25,000, 3yo and up, 1 1/16 Miles (Grass)
The first late pick 5 of the season begins with a competitive field of claimers on the green. I settled on the 2, Azure Dragon. He was probably best in his last race at Tampa Bay, where he had to check while pinned down on the inside, but still ran a respectable second, earning an 87. The winner of that race, Market Outlook, returned to win again against similar at Tampa Bay next out. He'll return to the Monmouth grass in this spot, where he's won two races from three tries, and earned his second-highest career figure of 84.
The 1, Ringold, has run at least an 82 in every start in his past performances, and is trained by Jamie Ness, one of the leading trainers last year at Monmouth. However, he is almost completely at the mercy of the pace, as he comes from far, far behind in most of his races. This is evidenced by his career record; he's only won once in his last ten races, and that win was by a desperate neck. The 4, Dr. Goldfarb, is almost the exactly the opposite: he's got the most early speed in the field by a longshot. He's run figures of 91 and 85 two and three races back, respectively, but tired badly last out when challenged for the lead. Based on pace figures, there aren't many who can run with him early, so the best strategy will be to try to run away and hide.
2- Azure Dragon
1- Ringold
4- Dr. Goldfarb
Dirt:
11- Iamahandsome Man
10- Saint Finian
7- Giant Finish
Race 8: Allowance Optional Claiming (n/w1x), 3yo and up, 1 Mile and 70 Yards
While I am not expecting much in the way of value, I have a hard time seeing how the 10, Gombey Dancer, loses. He's coming in here in fantastic form, having won two races in a row at Gulfstream, and earning a 95 and a 99 in those two outings. He also has an affinity for the Monmouth track, having won three races at the meet last year, running a 98, a 97, and a 93 in those three spots. He has a ton of early speed, and enough late speed that he should get out to the front, dismiss his early rivals near the lead, and draw off to score. Of course, having Jorge Navarro as the trainer and Paco Lopez as the jockey doesn't hurt.
The 9, Pax in Terra, comes in here for Todd Pletcher, and is making his first start since February and his second start in the past twelve months. In that one 2016 race, he closed from the back to miss by a neck, earning a figure of 97. He's been working out well coming into here, and figures to sit off the early pace. If the leaders—including Gombey Dancer—don't fire for whatever reason, Pax in Terra should pick up the pieces. The 2, Port Aggregate, has run an 87 and a 90 in back-to-back races, winning by eight against $15,000 company last time out.
10- Gombey Dancer
9- Pax in Terra
2- Port Aggregate
Race 9: Allowance (n/w1x), 3yo and up, NJ-bred, 6 Furlongs
There's a lot of rust on this band of ten: only one of them is coming off a layoff of less than 100 days. Because of this, it's important to look for horses who not only had good form when they were running, but for horses who will be ready to fire first off the layoff.
The 7, Mello Groove, fits both bills. He ran at least an 80 in each of his last four races, peaking at a strong 89 last time out. He hasn't raced since January 9, but trainer Rory Huston hits at 16% with his horses off a long layoff, one of the best rates in the field. Mello Groove's also been on a steady worktab since early April, most recently going four furlongs in :49.4 on Monday. There's not much reason to believe, knowing what we know, that Mello Groove won't turn in a strong effort here, and that would mean victory.
The 2, Credo also earned an 89 in his last race, back in December. That was by far his career peak, however, so I'm skeptical as to whether or not he will repeat it here. The 4, Candy Mine, consistently ran in the 70s at Tampa Bay Downs this winter, and also is coming in off the shortest layoff of anyone in the field, at 55 days.
7- Mello Groove
2- Credo
4- Candy Mine
Race 10: Decathlon Stakes, 3yo and up, 6 Furlongs
Today's feature race, named after the 1950s champion sprinter Decathlon, attracted a solid field of eight. However, there's only one standout in here: the 7, Delta Bluesman. In his last three dirt races, he's earned lights-out figures of 99, 98, and 101. Last time out, he dominated an allowance field by six lengths while taking them gate-to-wire. He turned in a brilliantly fast bullet workout—four furlongs in :47—just before this race, so his speed has been sharpened, and he's ready to turn in a big effort.
The 8, Fabulous Kid, is coming off a second-place finish in an allowance at Aqueduct, where he earned a figure of 97. He ran a 96 and a 103 in the two races before that, and he figures to sit just off the pace. Should Delta Bluesman and the other speed horse, Seeking the Sherif, burn themselves out, he'll get the first jump. The 1, Any Court Inastorm, ran a 100 while finishing second in the Ben's Cat Stakes at Laurel. He's another one who can take advantage of a pace meltdown.
7- Delta Bluesman
8- Fabulous Kid
1- Any Court Inastorm
Race 11: Maiden Claiming $40,000, 3yo and up, 1 1/16 Miles (Grass)
My pick to close the opening day show will be the 7, Osceola Pond. His figures have been superior to just about everyone else's—he earned a 72 in his last race, and has run figures of up to 89 in the past. He's also taking his first drop into maiden claiming company, from the maiden special weight level. He hasn't raced since a fourth-place finish against maidens at Tampa Bay in late March, but recently turned in a strong workout at Delaware Park to prepare for this race. His top figures, coupled with a drop class, should be a winning formula.
The 8, My Bucky's Boy, had the lead late last time out at Gulfstream, but was caught late to finish fourth. That was at a mile, so he'll have to stretch out his speed another 1/16 of a mile to win it here. The 1, Moonlight Party, has run figures of up to 75 in the past, and ran a 65 while finishing fifth against similar last out. With a race under his belt, he should be ready to run a big one.
7- Osceola Pond
8- My Bucky's Boy
1- Moonlight Party
Dirt:
11- Buon Gusto
1- Moonlight Party
12- Tyr