Nyquist jogs at Pimlico with exercise rider Garcia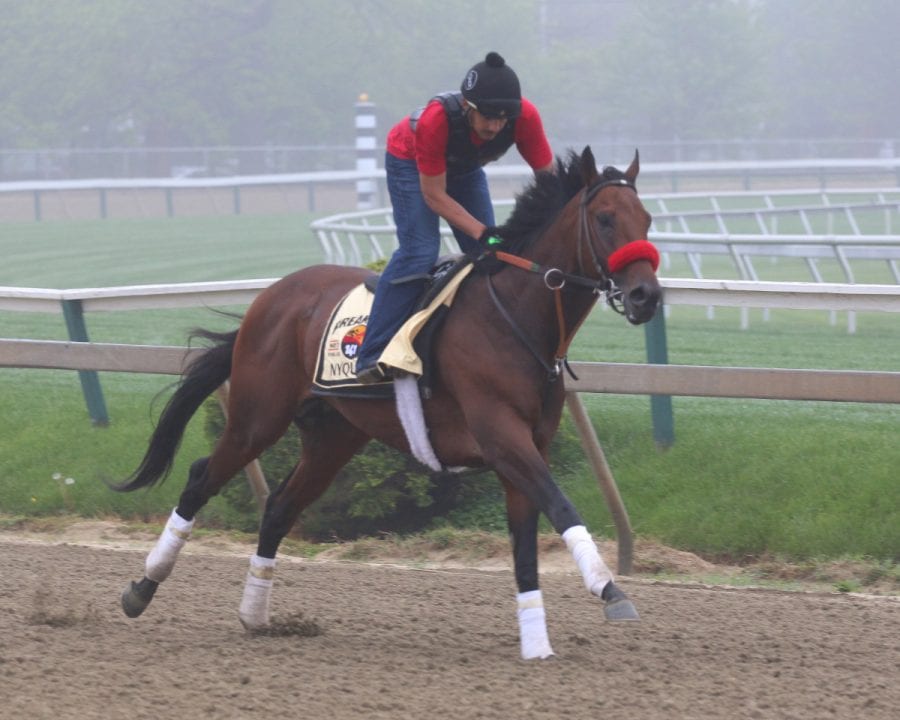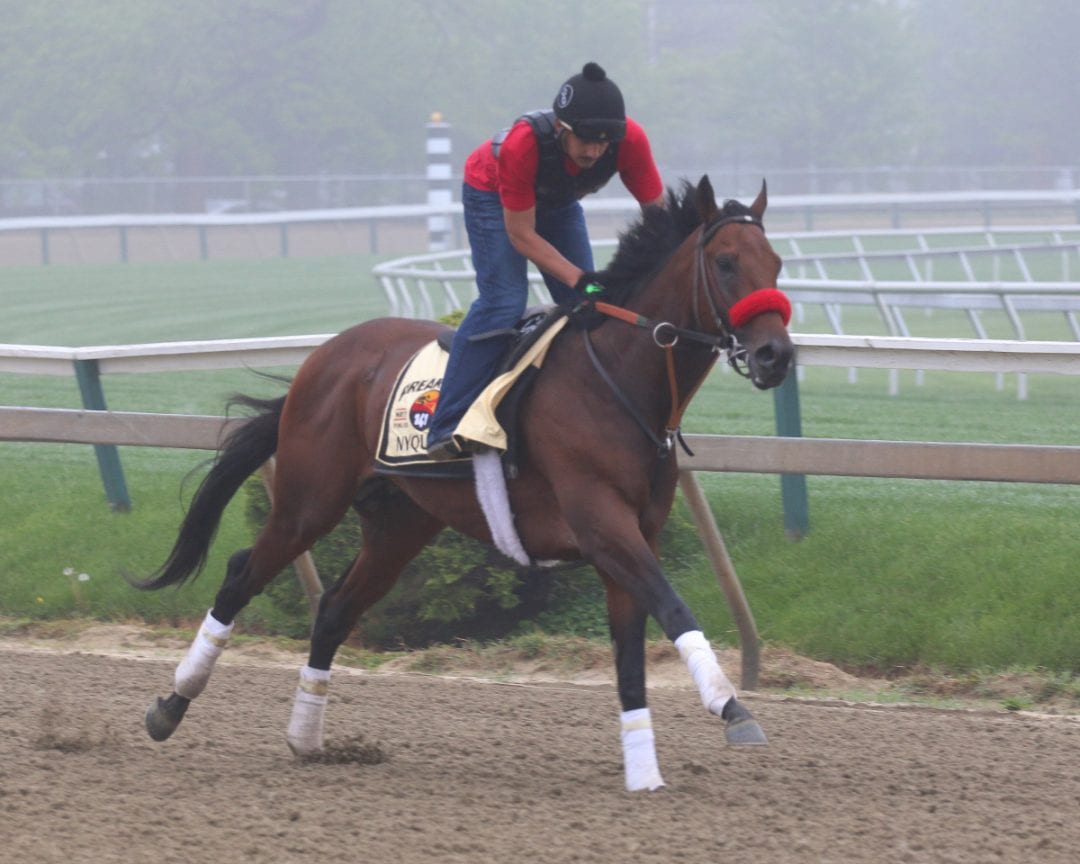 Nyquist at Pimlico 5-13-16. Photo by George Adams.
From a Maryland Jockey Club release
Reddam Racing LLC's Nyquist jogged twice around the Pimlico racetrack Saturday morning, a week before a highly anticipated bid to complete a Kentucky Derby-Preakness Stakes double in next Saturday's Middle Jewel of the Triple Crown.
Jonny Garcia was aboard for the Doug O'Neill-trained colt's morning exercise. Four years ago, the 30-year-old exercise rider was at Pimlico assisting in Kentucky Derby winner I'll Have Another's preparation for a run at a successful run in the Preakness Stakes (G1).
"I've been lucky to have these horses. It's been exciting to get on two Kentucky Derby winners. I'm so happy," Garcia said. "When you're growing up you never think you're going to ride a Kentucky Derby winner. The Kentucky Derby is a big race. You never think it can happen, and it's happened to me twice. I'm so lucky."
Garcia grew up in Mexico before moving to the United States in 2002 and subsequently went to work at Southern California racetracks.
"I was a hotwalker and a groom before I started riding horses," he said.
In 2008, he went to work for O'Neill and has become an important member of Team O'Neill.
"Jonny is so valuable. These horses really feed off our energy. If you're not excited, happy, appreciative to be here every morning serving them, they sense that. Jonny is always smiling. Like the rest of us, I think he feels very privileged to be able to ride horses every morning," O'Neill said. "Any horse he's able to get on really benefits from his horsemanship and his energy."
Garcia, who went home to visit his family after the Kentucky Derby, has been happy with Nyquist's physical condition since he rejoined the son of Uncle Mo Tuesday.
"He's so strong. Nyquist is so strong. At Churchill, he'd get so excited when he saw all the people," Garcia said. "Now, Nyquist is still strong but he's more relaxed."
Garcia and his fellow members of Team O'Neill attended Friday night's game between the Baltimore Orioles and Detroit Tigers at Oriole Park at Camden Yards. O'Neill, a Michigan native who has developed a special appreciation for Baltimore since 2012, didn't disclose if he was rooting for a particular team in the game won by the Orioles, 1-0.
"I was rooting for the under – not that I have a gambling problem, that's a rumor," O'Neill quipped. "I was rooting for a pitching duel and we got it, so it was a happy day for me."