In Focus: Kentucky Oaks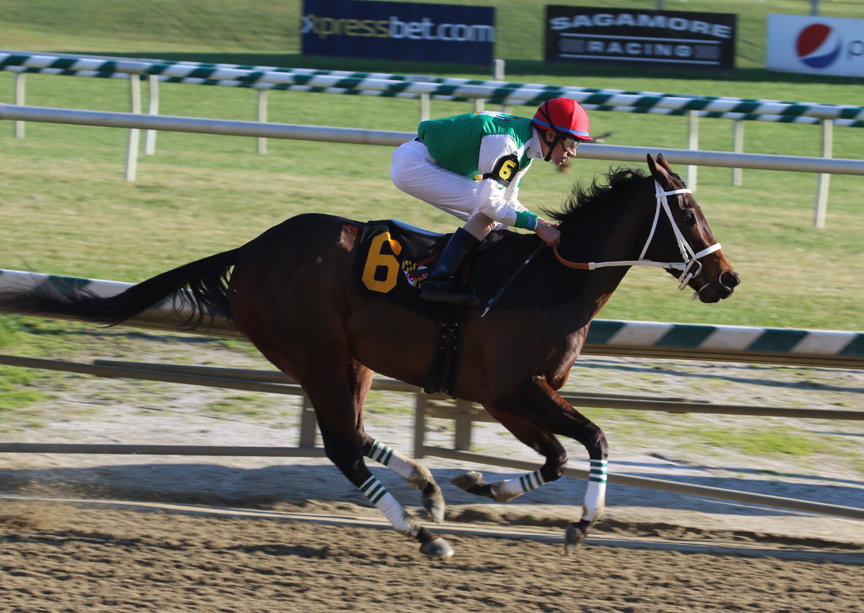 Cathryn Sophia wins the Gin Talking at Laurel Park in December 2015. Photo by Laurie Asseo.
The Kentucky Oaks has 14 entered, plus one on the also-eligible list.  The $1 million, Grade 1 test for sophomore fillies is race 11 on Friday at Churchill Downs.  Post time is 5:49 EDT.  The field:
Terra Promessa (10-1) — Trainer Steve Asmussen may have quite a hand this weekend with live contenders here and in the Derby… Not every day you get double-digit odds on a horse who's won four of five and is just a half-length from a perfect ledger… Wasn't the prettiest win last out in the G3 Fantasty after she encountered a bunch of first-turn trouble, but she buckled down and got the job done narrowly in a field that was well spread… The fourth-place finisher returned to run fourth in a minor stake next out… Tactical sort can work out a good trip… VERDICT: NEED A PRICE to play this miss.
Weep No More (9-2) — Everybody who saw that Ashland effort coming, stand on your heads.  Didn't think so… 30-1 outsider (in a five-horse field!) got the dream setup after super-speedy internal fractions took it out of speedier contenders and this one rolled up late… That was a big surprise, but in fairness, she's been headed in the right direction and lodged an easy win in the Suncoast prior… Breeding says she'll love the added ground, but no-speed running style says she'll need plenty of pace help… VERDICT: TOSS.
Lewis Bay (8-1) — One and only one runner in this field owns a win at the nine-furlong trip — and this miss has a pair… This runner was a well-beaten second to Cathryn Sophia in the Davona Dale, but that was a distance — 7f — better suited to that rival than to this gal… Not 100 percent sold on the quality of the Gazelle; yes, it was faster than the Wood later on the card, but not sold on that heat, either; at the same time, she looked good while doing it and was wrapped up late in an easy win… But there was nothing to sneeze at in her Demoiselle win — four of her rivals finished in the money in stakes company next out… Irad Ortiz stays aboard, this runner is proven at the distance, and trainer Chad Brown knows how to get a horse ready for a big race… VERDICT: TOP CONTENDER.
Go Maggie Go (12-1) — The quality's here; the experience is in question… Dale Romans-trained daughter of Ghostzapper has won both of her starts to date and done so with some panache… In first two-turn try, Go Maggie Go stalked early, grabbed the lead after three-quarters, and inched away; note that GP Oaks was faster to 6f than the Florida Derby seven races later… This filly was one of four next-out winners from her debut score; no horse has run back from her last… Has shown the ability to relax, typically a key in big field routes… VERDICT: CONTENDER.
Dream Dance (30-1) — Neil Howard's given this Afleet Alex filly an awfully tough assignment here; she's winless in five stakes tries, though she was in the money in all but one… With nine starts to her name, she's the most experienced runner here, but she'll need to show wheels the likes of which she's never shown before to make an impact here… VERDICT: TOSS.
Mokat (20-1) — West Coast-based Uncle Mo filly is winless in four tries on the main track, and no one's going to blame you for holding that against her… But note that in two of those, the winner was Songbird, who'd have been favored here, sporting a 7-for-7 ledger without having been challenged… She was beaten three lengths by Land Over Sea two back… She's another who'll do her running late, and she's another whose figs are a little on the light side — but she's also one moving in the right direction… VERDICT: TOSS.
Mo d'Amour (30-1) — The same connections who won this race in '13 with billion-to-one longshot Princess of Sylmar try it again here, but this filly doesn't look much like that one… Johnny Velazquez jumps ship to another Pletcher runner — favored Rachel's Valentina — and while this one did some of the early dirty work for Lewis Bay, that runner was tons the best… Two runners from her Busher win won their next start… Two from the Gazelle who beat her are here, and Lewis Bay's thrashed her twice… VERDICT: TOSS.
Royal Obsession (20-1) — This longshot Asmussen runner is moving in the right direction and gave a pretty good accounting of herself when a well-beaten second in the Gazelle; she was the lone runner who stuck with it to the end… That was her first nine-furlong start and just her fourth try overall… Only one of seven to run back from the Rachel Alexandra — where she was a close up fourth — won their next try… That race gave her the right kind of set-up — plenty of pace — but she couldn't get it done in a race won by a 74-1 outsider… She'll need another big step here… VERDICT: TOSS.
Paola Queen (30-1) — That was an awfully good try by this miss in the GP Oaks last month, leading the field through a solid half and staying on willingly to the bitter end to be second in her first try against winners, especially since she looked likely to get swallowed up nearing the quarter pole… Gustavo Delgado trainee looks like the main speed in here, but the obvious concern is what happened in the Oaks: a horse like Go Maggie Go stalking and pouncing… Javier Castellano, who rode her last out, jumps ship to Cathryn Sophia… VERDICT: TOSS.
Venus Valentine (30-1) — Deep, deep closer gets blinks for the first time after a well-beaten fifth in the Fair Grounds Oaks.. She benefited from the pace meltdown in the Rachel Alexandra, closing from the clouds at 74-1 to get the money, but that scenario seems unlikely here… Trainer Tom Amoss has been a win machine over the last five years (29 percent) — but notably, he's 0-for-4 adding blinks to horses for the first time in graded company, only one hitting the board… She still looks like a horse who needs a whole lot of things to go right to be around at the end… VERDICT: TOSS.
Rachel's Valentina (7-2) — Daughter of Rachel Alexandra – a 20-length Oaks winner — ran a big one in defeat in the Ashland, fighting back to hold off Cathryn Sophia before neither could contain Weep No More… Bernardini filly, trained by (yes) Todd Pletcher, really hasn't done a thing wrong: she's a G1 winner (Spinaway) and her two defeats, both second-place finishes, were to the terrific Songbird in the Breeders' Cup and last out when zippy internal fractions doomed her, Cathryn Sophia, and Carina Mia… Second off a five-month break for this one, and there's plenty of reason to think she could improve here… VERDICT: TOP CONTENDER.
Cathryn Sophia (9-2) — Maryland-bred whipped around rivals to put a head in front entering the lane in the Ashland, but she emptied out in her first try around two turns… That poses a concern with the added ground here, but Castellano stays aboard and will need to reserve his filly as long as he can… She's as talented as any runner here, and if you think she handles 9 furlongs, then you'll be betting with both hands at 9-2 morning line… VERDICT: CONTENDER.
Land Over Sea (5-1) — Speaking of loaded for bear, Doug O'Neill brings Nyquist for Saturday's festivities and this improving runner to the Oaks… That Fair Grounds Oaks wins was a virtuoso effort by the daughter of Bellamy Road: wide on both turns, running after Adore, who kicked away again entering the lane, this one nevertheless ran her down and won going away; the FG Oaks reached the mile marker in virtually the exact same time as Gun Runner did in the Louisiana Derby one race later… Though she has just two wins from eight starts, don't get too riled up about that ledger: in three of the six losses, she finished second to Songbird and in a fourth, she finished third behind Songbird and one other… VERDICT: TOP CONTENDER.
Taxable (20-1) — Just three starts in the bank for this Asmussen runner, and plenty to like so far, with two wins…  Mike Smith'll need to work out a trip from the far outside, but he has some history of figuring out how to win big races with horses who can close… She was green as grass in the G3 Fantasy last out, drifting in and out and switching leads late in the stretch drive, all of which might have cost her the money against Terra Promessa; she lost by just a neck… She'll need to step forward here, but who's to say she can't?… VERDICT: NEED A PRICE.
(ae) Dothraki Queen (30-1) — Where's the horse who won the G2 Pocahontas and ran third in the Breeders' Cup Juvenile Fillies?  This Pure Prize filly showed a ton of early promise, but it seems to have gone poof in her last couple: up-the-track efforts in the Golden Rod and the Appalachian… The most recent was on turf, but note that she won at first asking over the green… Gary Stevens is named, and this is a tall task if she draws in — but trainer Kenny McPeek has some history of getting longshots to deliver peak efforts in big races… VERDICT: TOSS.
The categories:
TOP CONTENDERS
Lewis Bay (8-1)
Rachel's Valentina (7-2)
Land Over Sea (5-1)
CONTENDERS
Go Maggie Go (12-1)
Cathryn Sophia (9-2)
NEED A PRICE
Terra Promessa (10-1)
Taxable (20-1)
TOSS
Weep No More (9-2)
Dream Dance (30-1)
Mokat (20-1)
Mo d'Amour (30-1)
Royal Obsession (20-1)
Paola Queen (20-1)
Venus Valentine (20-1)
Dothraki Queen (30-1)