Trio of Oaks-Derby runners head Top Midlantic-bred polls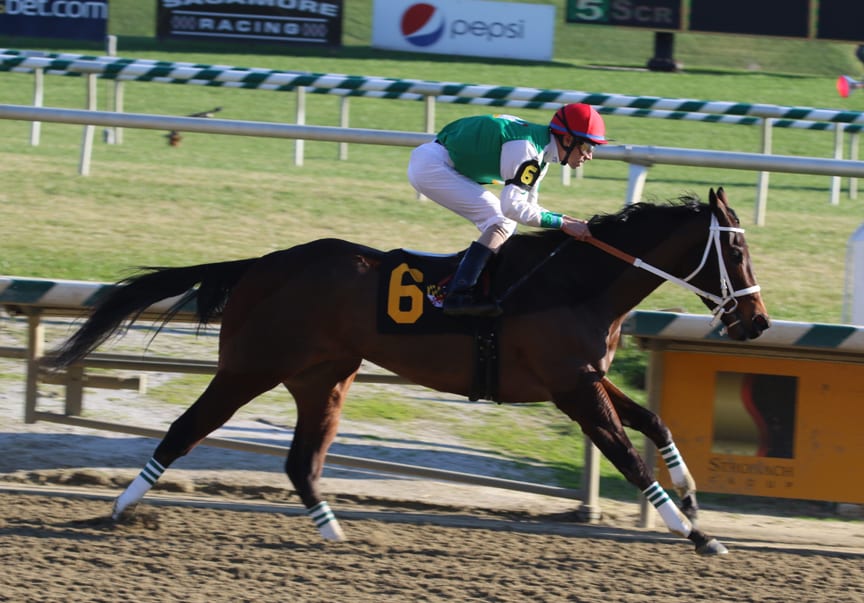 (Photo of Cathryn Sophia by Laurie Asseo.)
Staff report
The third monthly edition of the Mid-Atlantic Thoroughbred/The Racing Biz Top Midlantic-bred Poll, through April 30, saw little change from the prior month — but with a May full of big races on tap, that's likely to change.
Pennsylvania-bred Page McKenney, a dead game second in the Grade 2 Charles Town Classic last out, maintained his hold on the list of older horses.  Meanwhile, among the three-year-old set, Maryland-bred Cathryn Sophia remained in the lead despite a disappointing third-place finish as the favorite in the Grade 1 Ashland Stakes.
Perhaps the most significant change in either poll came in the older horse category.  There, Pennsylvania-bred Finest City scored an 8-1 upset in the Grade 2 Great Lady M Stakes at Los Alamitos, a win that enabled her to rise from a distant fifth on the poll to third.
Another Pennsylvania-bred, Raging Smoke, also made a mark in the poll.  The daughter of More Smoke lodged a $75 upset in the Sugar Maple Stakes on the Charles Town Classic undercard and now is ranked fifth in the poll of older horses.
Despite Cathryn Sophia's upset loss in the Ashland, there was even less change in the three-year-old poll.  Indeed, the only change was a shuffling, with the inactive New Jersey-bred Sunny Ridge dropping from fourth to fifth, swapping places with Morning Fire, whose lone April start was a fourth-place finish in the Bachelor Stakes at Oaklawn Park.
Six of the top 10 horses were bred in Pennsylvania.  Two were bred in Maryland, with one bred in Virginia and one in New Jersey.  The list includes seven males and three females.
The monthly Mid-Atlantic Thoroughbred is the only publication devoted to Thoroughbred breeding and racing in the Mid-Atlantic region. The Racing Biz, an online publication, is the independent voice for mid-Atlantic racing and breeding.
The poll is restricted to horses that have run in 2016 and were bred in Pennsylvania, Maryland, Virginia, West Virginia, New Jersey, Delaware, and the Carolinas.
THREE YEAR-OLDS
Cathryn Sophia (MD) — 42 points

Mor Spirit (PA) — 39
Tom's Ready (PA) — 21
Morning Fire (PA) — 14
Sunny Ridge (NJ) — 11
Others receiving votes: Concord Fast, A.P. Majetstic, Giant Run, Flash McCaul

OLDER HORSES
Page McKenney (PA) — 44
Valid (VA) — 37
Finest City (PA) — 20
Sonny Inspired (MD) — 16
Raging Smoke (PA) — 6
Others receiving votes: Ben's Cat, Rose Brier, Illuminant, Candida H., Exaggerated, All Call, Middleburg
IN ACTION THIS WEEKEND
Cathryn Sophia — 9-2 co-second choice in the Grade 1 Kentucky Oaks Friday.
Mor Spirit — 12-1 in the Grade 1 Kentucky Derby Saturday.
Tom's Ready — 30-1 in the Grade 1 Kentucky Derby Saturday.
Participating Voters: Ted Black (freelance writer), Michael Campbell (Thoroughbred Breeders' Association of New Jersey), Joe Clancy (Mid-Atlantic Thoroughbred), Cindy Deubler (Mid-Atlantic Thoroughbred), Linda Dougherty (freelance), Debbie Easter (Virginia Thoroughbred Association), Anne Frederick (Maryland Horse Breeders Association), Rich Glazier (Delaware Park), Cricket Goodall (Maryland Horse Breeders Association), Jim Hague (freelance), Nick Hahn (freelance), Carol Holden (West Virginia Breeders Classics), Tom LaMarra (The Blood-Horse), Jeff Nations (freelance), Kate Painter (West Virginia Thoroughbred Breeders Association), Vinnie Perrone (freelance), Frank Petramalo (Virginia Horsemen's Benevolent and Protective Association), Gary Quill (The Racing Biz), David Richardson (Maryland Thoroughbred Horsemen's Association), Brian Sanfratello (Pennsylvania Horse Breeders Association), John Scheinman (freelance), Sal Sinatra (Maryland Jockey Club), Dan Tordjman (freelance), Frank Vespe (The Racing Biz), Bill Watson (freelance), Lydia Williams (freelance), Bobby Zen (freelance).
Note — Not all participating voters will vote in every poll.