In Focus: Kentucky Derby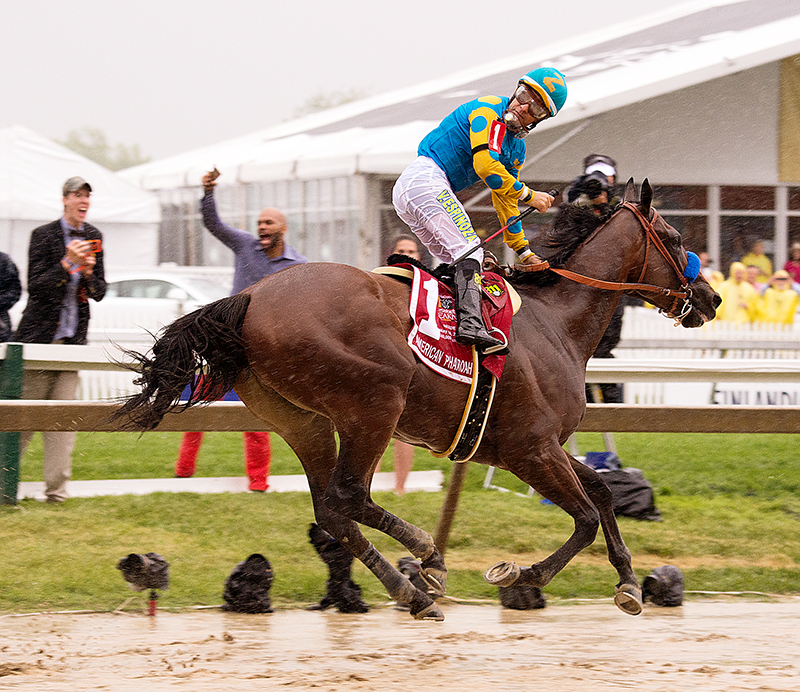 Photo of American Pharoah by the Maryland Jockey Club.
The Kentucky Derby has 20 entered, plus two on the also-eligible list.  The $2 million, Grade 1 test for sophomores is race 12 on Saturday at Churchill Downs.  Post time is 6:34 EDT.  The field:
Trojan Nation (50-1) — Street Cry colt rallied smartly up the rail to get the place in the Wood Memorial, bravely coming through a tight spot to miss narrowly — but the Patrick Gallagher trainee remains a maiden after six starts, and that has to be held against him; indeed, that was his first second-place finish… That was a pretty tepid group in the Wood, though, and this guy got all the pace in the world to run at, which may not happen here… VERDICT: TOSS.
Suddenbreakingnews (20-1) — Son of Mineshaft ought to relish the 10 furlongs here, and he rallied boldly for the place in the Arkansas Derby but ran out of real estate… That said, the pace was hot in that event and may not be here.. The Donnie Von Hemel trainee has a sharp 5f move over the strip in the interim, and his history says he'll be running late and will have to hope the front-runners are coming back to him… VERDICT: TOSS.
Creator (10-1) — The upset winner of the Arkansas Derby, like the runners inside of him, will be chugging late — he's been last in the early going of three of his last five, including his big last-out win, but has two wins, two seconds, and a third in those events… Asmussen trainee managed to pick through traffic before getting clear last out and ran well in the Rebel before that… He'll need help from the pace and from the trip, but most years, one closer gets those things… VERDICT: CONTENDER.
Mo Tom (20-1) — There are good reasons to exclude this runner, specifically that he's never run very fast (top Beyer of 88) or won a race more important than the G3 LeComte — but note that he was the favorite in the Louisiana Derby and suffered an absolutely disastrous trip that day, with jock Corey Lanerie nearly watching the end of that race from the infield… But how good was the Louisiana Derby?  Fair Grounds Oaks winner Land Over Sea ran a nearly identical mile time that day… Yet another closer worth an underneath look if the price is giant enough.. VERDICT: TOSS.
Gun Runner (10-1) — Louisiana Derby winner is drawn well here, with sluggish closers to his inside, and he can use his tactical speed to secure a good spot… He's not done much wrong, with just a single defeat from five starts, including in two of the three Fair Grounds preps… Son of Candy Ride should handle the distance fine and has the right running style — but it's been a long time since a horse used the New Orleans-Louisville route profitably, and the speed figs don't make him enticing… VERDICT: TOSS
My Man Sam (20-1) — Trappe Shot colt rallied nicely mid-track for second in the Bluegrass, another race with an enervating early pace, but has just a single win from four starts… Fell to Matt King Coal two back; that rival finished fourth in the Wood Memorial… Shows two middling works since locally since the Bluegrass… Irad Ortiz, who rode the Chad Brown trainee in his first three starts, reprises that role… VERDICT: TOSS.
Oscar Nominated (50-1) — Here's an interesting spot for a horse to make his main-track debut… Kitten's Joy colt has made six turf starts and one on synthetic, that last being his G3 Spiral win, which punched his ticket to the big dance… Neither Bill Mott, who had the horse for his first three starts, nor Mike Maker, who claimed him for Ken and Sarah Ramsey for $75,000 last October, saw fit to try him on dirt before now, which seems to suggest something, and he's never run close to fast enough to tackle this field… VERDICT: TOSS.
Lani (30-1) — Tapit colt punched his ticket stateside after winning the UAE Derby, a race that to date has produced zero Kentucky Derby winners… He's won three of six, all but the last coming in Japan… This is a heavy lift: he raced in Japan in February, Dubai in March, and now Kentucky in May — he'll be some kind of standout if he manages that triple successfully… VERDICT: TOSS.
Destin (15-1) — Maybe it was the warm Florida sun… Whatever the reason, Destin blossomed at Tampa Bay Downs and produced two of the top efforts in this field, winning the Sam F. Davis and Tampa Bay Derby while recording Beyers figs of 98 and 100… Giant's Causeway colt enjoyed a near-perfect trip in the latter race under Javier Castellano, and those two will do it again here… Causes for concern: no races in the two months since the March 12 Tampa Bay Derby and no starts beyond 1 1/16 miles… Three of his beaten rivals from the last won next out, including Wood winner Outwork and Bluegrass winner Brody's Cause… VERDICT: CONTENDER.
Whitmore (20-1) — Ron Moquett trainee ran three good races in Oaklawn Park's 3yo series without a win, finishing second or third in all three… Several who have bested him are here,  including Creator, Suddenbreakingnews, and Exaggerator… His only two wins have come at six furlongs, and in each of his last three he lost ground in the stretch… VERDICT: TOSS.
Exaggerator (8-1) — Yes, it was in the slop, and yes, he got a perfect pace setup — but no Derby prep this year was more visually impressive than this guy's rallying romp in the Santa Anita Derby, and he made just that sort of move before emptying out in the lane in the San Felipe… Consistent sort has already banked $1.6 million and has shown the ability to stalk and pounce or, as he did in that race, rally from the back, and that flexibility won't hurt here… Kent Desormeaux, a three-time winner of this race, will do the honors for brother Keith… He has finished behind Nyquist three prior times, however, and also behind Brody's Cause twice… VERDICT: TOP CONTENDER.
Tom's Ready (30-1) — What exactly this Pennsyvlania-bred, trained by Dallas Stewart, is ready for is the question: he has just a single win from eight starts and has lost ground in the lane in every start he's made beyond a mile… The son of More Than Ready would be a major surprise in this spot… VERDICT: TOSS.
Nyquist (3-1) — The deserving favorite hasn't done a thing wrong: seven wins from seven starts, and Doug O'Neill and Mario Gutierrez look to reprise their I'll Have Another glory of a few years back… He thrashed Mohaymen in the Florida Derby, leaving that one treading water, to stamp himself the clear choice here… Note that his last recorded work, at Keeneland, was a one-mile breeze… He ran a big one to win the Breeders' Cup Juvenile last October after getting thumped at the start and racing wide… If you're looking for a chink in the armor, his run in the lane in the Florida Derby was — though he was well clear — a little messy, as he wandered in and out and switched leads twice; just green?  Or something else?  Otherwise — all systems go… VERDICT: TOP CONTENDER.
Mohaymen (10-1) — Well, that stunk: Sent off at 4-5 in the Florida Derby, this son of Tapit ranged up at the head of the lane, but then surrendered without firing a shot… So the bettors' question: how much to hold his one and only stinker against him?  Kiaran McLaughlin trainee impressed in romping to wins in his first five starts, but it's fair to wonder what he beat in his two in Florida: the only one of 10 rivals in those two wins to win his next start did so via DQ… Note that he does own a 9-furlong victory ('15 Remsen), which gives some cause to excuse that last, and the off going and wide trip that day might not have helped either, so there's cause to imagine a rebound — unless Nyquist is just that good… VERDICT: CONTENDER.
Outwork (15-1) — Todd Pletcher sends out this lightly raced Uncle Mo colt for Uncle Mo's owners, Repole Stable… The lone defeat in his four starts was a length setback to Destin in the Tampa Bay Derby, and he made amends with a narrow score in the Wood Memorial — but still-a-maiden Trojan Nation might have been best that day… Johnny Velazquez stays aboard… The Tampa Bay Derby was extremely productive, producing three next-out winners from six starters… Figures to be forwardly placed early, but he'll need to bring it to be in the mix late… VERDICT: TOSS.
Shagaf (20-1) — G3 Gotham winner puked as the favorite in the Wood Memorial… Fast early-slow late race shape doesn't flatter this runner, who was second-to-last early, made a mild middle move along the inside and then emptied out in the lane… He'd generally shown more speed than that in prior starts but got away a beat slow and battled a bit of early traffic… Bernardini colt gets a new rider as regular pilot Irad Ortiz picks My Man Sam, which tells you something… Joel Rosario will do the honors… VERDICT: TOSS.
Mor Spirit (12-1) — PA-bred son of Eskendereya has never been worse that second in seven career starts and owns two graded wins, giving him among the most impressive credentials in the field… Runner-up effort in the Santa Anita Derby was the very definition of "best of the rest," as Exaggerator ran past him like he was tied to a post… Has been favored in every prior start, a streak that will end here, and failed as the fave in last two… You have the sense that he hasn't been fully cranked in his last couple, and you know trainer Bob Baffert will have him ready to roll here, and Gary Stevens has won three of these  — but you can't ignore that he's never been a threat to win in his last two either… VERDICT: NEED A PRICE.
Majesto (30-1) — It took this Tiznow colt five cracks to break his maiden, and he followed that up with a good second (though never a threat) to Nyquist in the Florida Derby… Place and show horses from his maiden score won next out, with place horse Dig Deep doubling up by subsequently winning the Robert Hilton Memorial at Charles Town… Javier Castellano, who rode him in his last two, jumps ship, leaving the riding duties to Emisael Jaramillo… He'll need another step forward here… VERDICT: TOSS.
Brody's Cause (12-1) — Giant's Causeway colt had no answers for Destin in the Tampa Bay Derby but made amends with a strong rally to win the Bluegrass… Deep-closing sort is one of only two in here — along with Nyquist — to own mutliple G1 wins (he also took the Breeders Futurity at Keeneland)… Owns a win over the strip and was a good third in the Breeders' Cup Juvenile… Inclined to toss the Tampa Bay Derby and say this guy's body of work rates a long look… Luis Saez will ride for trainer Dale Romans… Figs are a bit light, but they seem to be headed upwards…. VERDICT: TOP CONTENDER.
Danzing Candy (15-1) — Speedster has posted three gate-to-wire victories, including in the G2 San Felipe when earning a 100 Beyer speed figure, but he emptied out to fourth in the G1 Santa Anita Derby… His early zip will be an asset for a horse breaking from the far outside; figure Mike Smith will try to outbreak most rivals and edge closer to the fence by the time they hit the first turn… He was something of a one-horse speed duel in the Santa Anita Derby, not a promising development with the added ground here, and this Clifford Sise trainee will have to hope to catch a breather somewhere along the way… VERDICT: NEED A PRICE.
(ae) Laoban (50-1) — If he draws in and Trojan Nation remains in, that'll give us two maidens in the field… If he draws in, he also figures to be a pace presence, since he's grabbed the early lead in his last couple, a second in the G3 Gotham and fourth in the G1 Bluegrass… Cornelio Velaszquez will ride for trainer Eric Guillot… VERDICT: TOSS.
(ae) Cherry Wine (30-1) — Unlikely to draw in, as he needs two to defect, this Dale Romans runner also would need a lot of things to go right to be in the mix late… Does own a win over the strip… VERDICT: TOSS.
THE SKINNY
Top Contenders
Exaggerator (8-1) — love the way he's performed last couple.
Nyquist (3-1) — until they beat him, you gotta respect him.
Brody's Cause (12-1) — Two G1s have to count for something.
Contenders
Creator (10-1) — Ark. Derby winner one of a bevy of closers in here praying for pace help.
Destin (15-1) — Superb efforts at Tampa, but the long layoff (and fact he's never gone beyond 8.5f) gives pause
Mohaymen (10-1) — Inclined to give him one more crack, especially at what looks like a square price
Need a price
Mor Spirit (12-1) — Connections know where the Derby winner's circle is
Danzing Candy (20-1) — If he can clear and relax, we'll see how far he can take 'em