Bobcat targeting Preakness weekend test – but which one?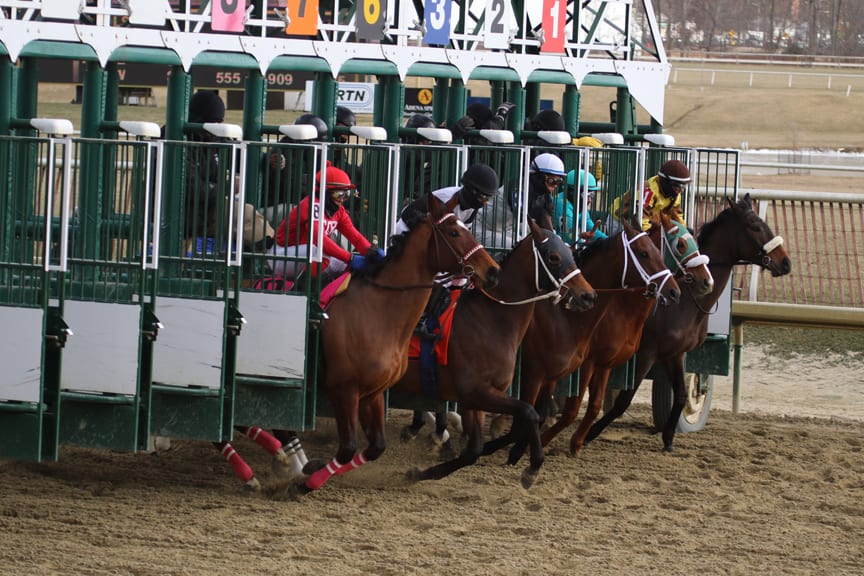 From a Maryland Jockey Club release
Rich Dalone Stable's undefeated 3-year-old gelding Bobcat emerged from his second straight victory in good shape and will be pointed a trio of stakes on Preakness Day, May 21, at Pimlico Race Course.
Laurel Park-based trainer Dale Capuano said any of the $100,000 Sir Barton at 1 1/16 miles, $100,000 Chick Lang at six furlongs or $100,000 James W. Murphy at one mile on the grass are possible for the dark bay son of 2002 champion sprinter Orientate.
"With a 3-year-old, there's not that many choices. Either you go in a stake or you run a two-other-than against older horses and you might as well be in a stake. I'll nominate him to those races at Pimlico," Capuano said. "There's a race going long, because I'm thinking about stretching him out long. We'll see how he does in his training. Then there's a sprint stake and there's a race on the turf and he's actually bred really well for the turf. I'll just kind of play it by ear and we'll see. Right now my plan is to run him Preakness Day in one of those races if he's doing well and I think he fits in one of them. It's great to have options. He'll tell me."
Unraced at 2, Bobcat debuted March 19 at Laurel with a 10-length romp over stablemate and workmate Tough Teddy going six furlongs in 1:12.56 over a good, sealed main track. Capuano purchased the horse for $15,000 out of Fasig-Tipton's Midlantic Eastern Fall Yearling Sale in September 2014.
For that effort, Bobcat received the nod as The Racing Biz Big Move of the Week.
"He's so laid back in his training and around the barn. He doesn't tout you, he just does what he has to do. He's done nothing wrong, but he's not flashy in any of his workouts," Capuano said. "He just kind of did what he had to do when he was working so when he won the first time like that I was a bit surprised. I knew he was fit but I didn't know he would run that well.
"He'd actually been working with Tough Teddy, who was second in the race. They worked together a few times and they just stayed right together and then he went and beat him by 10 lengths," he added. "I didn't expect that to happen by the workouts. It seems like he's saving it for the afternoon, which is perfect."
Bobcat returned April 22 in a matchup against another impressive debut winner, Blu Moon Ace, in a six-furlong optional claiming allowance. Bobcat took the lead to the eighth pole, lost it, but fought back to beat Blu Moon Ace by a half-length in 1:11.98 over a fast track.
"He came out of his last race very well. I thought he was pretty game. It looked like they could have gone by him at anytime around the turn and down the stretch but he dug in pretty well," Capuano said. "I am a little more impressed with the fact that he fought hard. The other horse, going by the charts, was a head in front at the eighth pole and he came back and beat him. It's a lot tougher to do that than it is to go out there and be on the outside like he did his first start and kind of open up. The second start was a little more impressive, I thought."